Nişantaşı is having a leisurely start to the year – a number of the neighbourhood's galleries have not yet exhibited their first show of 2014. Merkur Gallery has spent the first weeks of January at the Singaporean Art Fair, Galeri Linart has also not re-opened since closing their last show at the end of December and Chalabi Art Gallery has closed an exhibition in early January to exhibit lots for an Alif Art auction that was held this Tuesday. Their next auction is in March and we will be bringing you details closer to the date. However, there's still plenty of quality art to marvel at and buy at Nişantaşı and Teşvikiye's (above) distinguished galleries.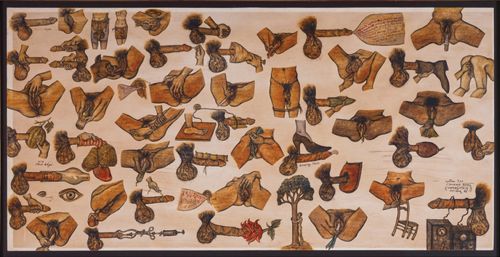 Yüksel Arslan's 'Arture 390 Man XXXI Onanistan', 1988, 40 x 80 cm
We start on Abdi Ipekçi Caddesi, where Dirimart, at No 7, is hosting acclaimed artist Yüksel Arslan's famed 'Artures', which show his unique style of painting using pigments he mixed himself made from plant extracts, oil, charcoal, stone and even egg yolk and honey. The human and animal figures Arslan depicted were either responses to philosophical questions of Western thought or rooted in his own biography. Director Doğa Oktem chose the above work completed in 1988 as one of his favourites – a graphically erotic piece appropriately entitled 'Man XXXI Onanistan' (his other favourite work, 'The Capital XIV (Unions)', part of Arlsan famed 1972 'Capital' series, moves away from the primal human experience and enters the arena of commerce). Some of the works are available for sale while others are on loan from collectors. Please enquire directly with Dirimart.
Oktem cites the Shirin Neshat show (displaying works between the Nişantaşı space and Santralistanbul) as one of the 'most attention grabbing' exhibitions of 2013. The video installation, Liberty Park, by Bjorn Melhus exhibited at Dirimart's temporary space Karaköy Külah was another highlight, as was the 13 works by Yüksel Arslan on display at Art Basel. Looking ahead, Oktem says audiences have a show by Hermann Nitsch, displaying his latest 'Action Paintings' series, to look forward to.

Yuşa Yalçıntaş, '2+2+2', 2014, pencil on paper, 200 x 77 cm
Further down the street, opposite Vakko and Bang & Olufsen, Kare Gallery at No 22 (on the second floor), is hosting a group exhibition entitled Break. The exhibition takes its inspiration from French sociologist Jean Baudrillard's theory developed in the mid-1970s that modernity, and its associated concepts, has come to an end. Exhibiting artists explore how the dynamics of desire can be interpreted in the context of the object and production. The gallery's director, Fatma Saka, particularly appreciate the works by Emin Mete Erdoğan and Yuşa Yalçintaş (above). All pieces are for sale and vary in price from 1,500TL to 12,500TL.
The standout events and shows for Saka in 2013 were Art Basel, Contemporary Istanbul and Emin Çizenel's solo show. Looking ahead, Saka is anticipating the next group show Impossible Structures, followed by solo exhibitions: first by Polish artist, Monika Bulanda, and then by Turkish-born, Chicago-based artist, Berke Yazicioğlu.
Fatih Alkan, 'A Short Film About Blind Chance', 2011, photography, 15 x 15 cm
Further down the street, x-ist, in the basement of Kaşıkçıoğlu Apartment at No 42, will also be offering a group show opening on January 30. Entitled A Universe Supplementary to this One, it will mark the first time the gallery is collaborating with an independent curator. 'The show is supplemented by a book written by the curator, Fatoş Üstek, compiled as a result of a dialogue between himself and the artists,' says the gallery director, Yasemin Elçi. The above work is by one of the three Turkish artists exhibiting, Fatih Alkan, who produced the work specifically for the project. This exhibition is non-for-profit and exhibited for curatorial purposes only.
Asked to reflect on 2013, Elçi cites Ali Elmacı's project You Will Find Me Not Where You Are Looking and Ansen's multi-disciplinary show Malevolence as highlights. The 2014 programme has a photography exhibition by Ahmet Polat, illustrations from Erkut Terliksiz and caricature works by Bahadır Baruter to look forward to.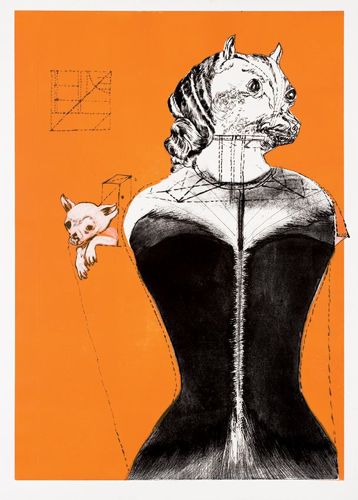 Agnieszka Cieślińska, 'Dog', 2013, engraving on wood, 100 x 70 cm
Cross the street and go down Atiye Sokak, a narrow street full of appetising restaurants. Come out on Teşvikiye Caddesi, where on your left and across the street, at No 6, Galeri Işık is hosting the works of Polish graphic artist Agnieszka Cieślińska. The first event presented by the Consulate General of the Republic of Poland in Istanbul to celebrate the 600th anniversary of diplomatic relations between Poland and Turkey, the show, entitled Figuratio, aims to show the artist's precise technique and the 'figurativeness' she employs throughout her oeuvre. Most of the works are engraved on various mediums, including wood. The above image shows one the pieces in the exhibition.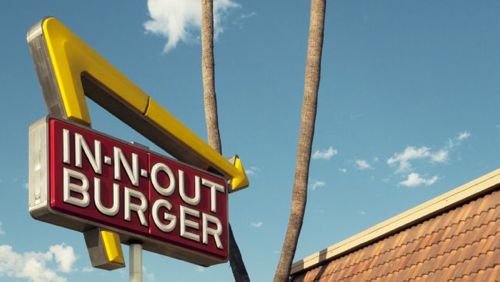 Ayşe Ulay, 'In-N-Out', 2012, C-Print, 106 x 66.5 cm, 900TL
Go back down the street, past Teşvikiye Mosque and the House Café, and at the intersection where the monument to Hüsrev Gerede stands, swerve to the left down Maçka Caddesi, where the Millî Reasürans Gallery is hosting the first solo exhibition of Ayşe Ulay. In ID:LA City and its reflections, Ulay, a graphic designer with an interest in typography, documents signage in Los Angeles in an attempt to blur the distinction between 'a city' and 'every city': characteristics of her photographs begin to point to a completely different space, one that has its own language, backstory and intrinsic connections. All works are on sale: they are C-Prints, ranging in sizes and priced between 800TL and 1,200TL.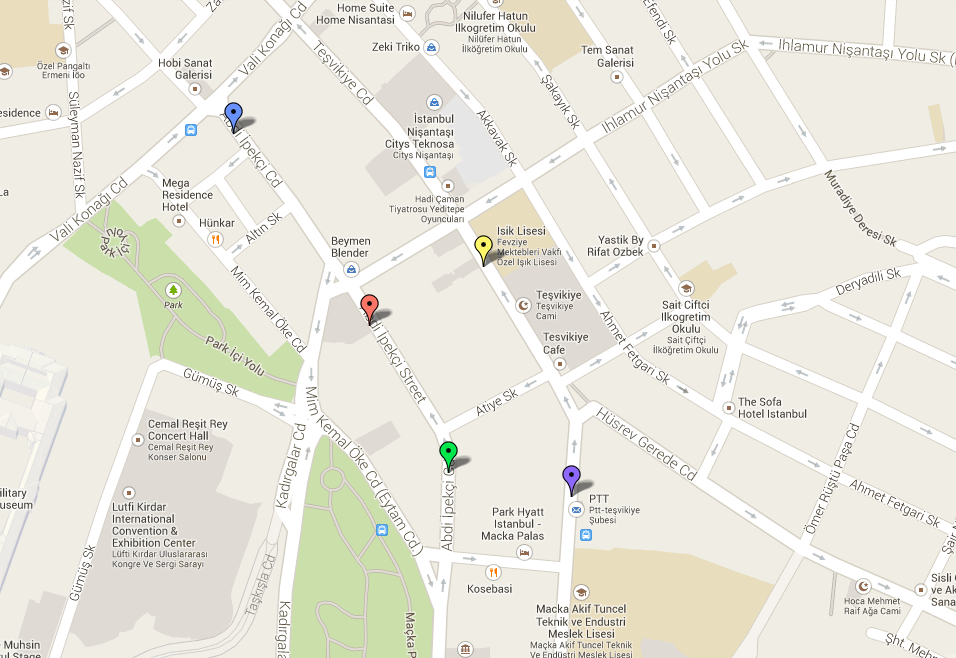 Key: Blue – Dirimart, Red – Kare Gallery, Green – x-ist, Yellow – Galeri Işık, Purple – Milli Reasürans Art Gallery
Click here for the interactive map.
All images, except the main image, courtesy of their respective galleries. Main image courtesy of WikiMedia Commons.