We are back in fashionable Nişantaşı this week for a mix of solo and group shows focusing on various disciplines: photography, architecture, performance art, sculpture and contemporary art jewellery. There are a few new additions to our walks as well.


Installation view of Hadiye Cangökçe's 'Somebody else's art'
HADIYE CANGÖKÇE'S SOMEBODY ELSE'S ART
Start on Mim Kemal Öke Caddesi. Opposite Maçka Park and near the Istanbul Technical University (main image), the veteran Maçka Art Gallery, founded in 1976, is hosting the first solo exhibition of the photographer Hadiye Cangökçe, entitled Somebody else's art. Cangökçe is well known on the Istanbul contemporary art scene – she photographs installation views of exhibitions at numerous galleries and museums, a subject she also explores in this show.
Ahmet Polat, 'The Other Kemal' series, 2006–2012, photo 'Street Dance at Night (Diyarbakir)'
AHMET POLAT'S THE OTHER KEMAL
Make your way to parallel Abdi Ipekçi Caddesi. At No 42, the consistently good x-ist (in the Kaşıkçıoğlu Apartment building) is in its last few days of displaying a group show A Universe Supplementary to this One, which we covered in a previous walk (click here). From this Thursday (March 6), an exciting new exhibition opens, showcasing the black-and-white photographs of the Dutch-Turkish photographer Ahmet Polat. In The Other Kemal, Polat presents photographs he took while travelling around the Black Sea region, Gaziantep and the southeast Aegean, interviewing Turkish youth. In this series Polat is less concerned with the subject matter than with his chosen medium.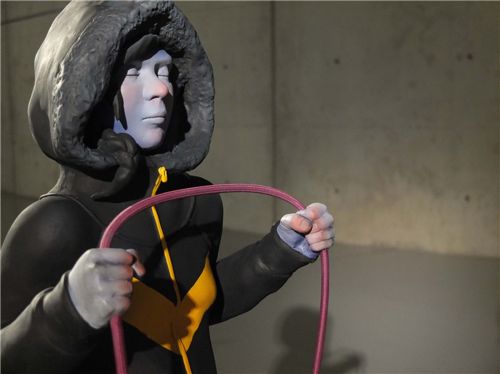 Hande Şekerciler, 'The Lunatic', 2013, epoxy and acrylic, 100 x 30 x 30 cm
BATTERIES NOT INCLUDED
Further down the street, in the midst of appetising eateries and exclusive boutiques, one of the neighbourhood's younger galleries, Galeri Linart at No 24, is hosting an exhibition of three artists whose work questions the system in which we live. Batteries Not Included features the above work by the emerging Turkish sculptor Hande Şekerciler, who explores the fine line between fantasy and insanity. Her realistic-looking sculpture comments on the emotional violence people inflict on themselves in today's society.
Murat Germen, 'Disarchitecture', 2014
IMPOSSIBLE STRUCTURES
Next door, at No 22, the more established Kare Gallery has another conceptual group show for us to feast on. Impossible Structures, opening this Tuesday (March 4), will look at the links between architecture and contemporary art, and takes its concept from the works of Baudrillard and the French architect Jean Nouvel. All the exhibiting artists are concerned with architectural elements. The gallery's director, Fatma Saka, says she particularly likes the work of Murat Germen (above), Arda Diben, Seçkin Prim and Ali Alışır. Prices range between TL 2,500 and TL 50,000.
Asked to comment on Istanbul's current art scene, Saka says: 'It's very colourful, both at the museums and the galleries.' The standout shows for her presently are the Marc Quinn retrospective at ARTER and the Aurora exhibition (contemporary glass art from Nordic countries) at the Pera Museum (covered in a previous gallery walk). 'Unfortunately, fewer people have been following and buying art these last few months. The impending elections and the uncertainty of our political situation puts the cultural environment in chaos as well,' Saka adds.
Hermann Nitsch, 'Untitled', 2012, acrylic on canvas, 300 x 150cm
HERMANN NITSCH'S ACTION PAINTINGS
Further down the street at No 7, the exemplary Dirimart is showing the latest Action Paintings by the renowned Austrian artist and member of the Viennese Actionism movement Hermann Nitsch. The majority of the paintings were created at the 66th Painting Action, which Nitsch performed during Contemporary Istanbul last year. The above work is one of Dirimart's favourites. Prices range from €55,000 to €75,000.
The gallery's associate director, Burcu Fikretoğlu, says of Istanbul's contemporary art scene: 'The city is a cultural hub for many reasons; a constant source of curiosity. There is a growing profile of collectors, which is very encouraging. New NGOs, galleries and initiatives by young art professionals are very exciting. Although we cannot make certain predictions, we can say that the figures in the Istanbul art scene are becoming more and more conscious and the current scene promises new developments to come.'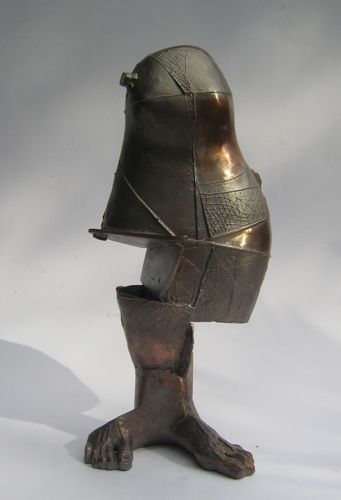 One of Ziyatin Nuriev's bronze sculptures
ZIYATIN NURIEV'S WHERE ARE YOU?
Make your way to the parallel Teşvikiye Caddesi and past the monstrous shopping mall. Here the Feyziye Mektepleri Foundation's art space Galeri Işık is hosting a solo exhibition from the renowned Turkish sculptor Ziyatin Nuriev, who hasn't exhibited in his homeland for over a decade. The artist presents sculptures made from a variety of materials, such as bronze, marble, basalt and wood, in Where are you?
Alptekin Yüksel
ALPTEKIN YÜKSEL'S I FELL ON THE MIRROR
Continue down Teşvikiye Caddesi. The monument to Hüsrev Gerede (an officer of the Ottoman and Turkish Army, and a politician of the Republic of Turkey) stands not so imposingly at the intersection and down Maçka Caddesi, past the Millî Reasürans Art Gallery (which is hosting an exhibtion covered in a previous walk), the small Galeri Eksen at No 29 is hosting the Turkish painter Alptekin Yüksel's colourful, abstract paintings in I fell in the mirror. Yüksel combines faces, places and feelings to present frenzied collages. The above is his interpretation of Istanbul.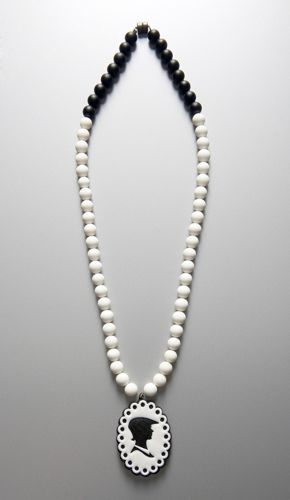 Leyla Taranto, necklace from the 'Silhouettes' jewellery collection
LEYLA TARANTO'S SILHOUETTES
Backtrack to Teşvikiye Caddesi and make your way down the perpindicular Osman F Seden Sokak. Turn left down the second street you come across, Şakayık Sokak, and at No 37 the contemporary art and design space SODA is showcasing the jewellery artist Leyla Taranto's Silhouettes collection. All pieces are available for purchase. Prices range between €80 and €250.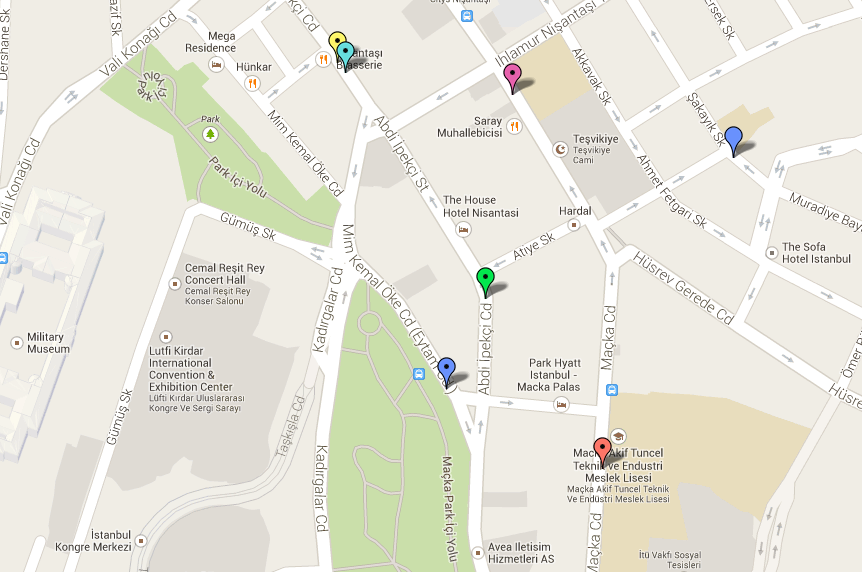 Key: Blue (dot) – Maçka Art Gallery, Red – Galeri Eksen, Green – x-ist, Light Blue – Linart, Yellow – Kare, Purple – Dirimart, Magenta – Işık, Blue (no dot) – SODA
Click here to see the interactive map.
All photos, except the main image, courtesy of respective galleries. Main image courtesy of WikiMedia Commons.