We have a chock-a-block gallery walk this week exploring Nişantaşı. Besides perusing the galleries on the two main streets of Mim Kemal Öke Caddesi and Abdi Ipekçi Caddesi, we will also venture further afield. As one of the first neighbourhoods to have commercial art galleries, Nişantaşı has a lot to offer.
Ali Ibrahim Öcal, 'Hand Knows 82.5', 8,489, rose thorns on paper, 2014
ALI IBRAHIM ÖCAL'S HEAVEN
Let's start on Mim Kemal Öke Caddesi, where the cosy Merkur Gallery at No 12 is hosting the latest solo show from the multi-disciplinary Turkish artist Ali Ibrahim Öcal. Merkur's director, Sabiha Kurtulmuş, says she was following Öcal's work even when Daire gallery was still representing him. 'When I look at the details of his animal images, I am met with cryptic messages about death and life,' she says. Heaven displays new works, and the use of thorns and lashes gives the images a kitsch style. Prices range from TL13,000 to TL19,000.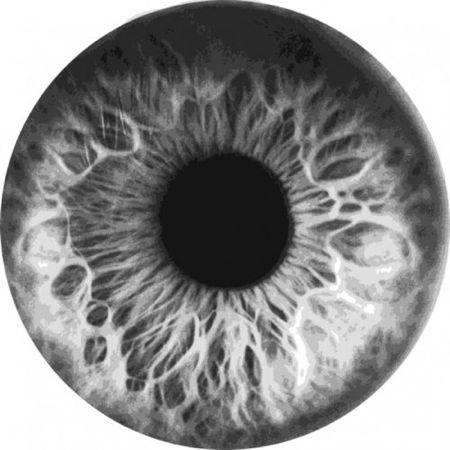 Ali Ibrahim Öcal, 'Eyes See 110' 2014, acrylic on paper
The artist says his own favourite work is 'Hand Knows' (above top), which is made from 8,489 rose thorns. It was the first work produced for the exhibition and, he says, 'gave it its soul'. The work's spiral shape reveals the esoteric, intrapersonal character of the artist – a reflection on the meditative state. Another favourite, complementing 'Hand Knows', is 'Eye Sees' (above).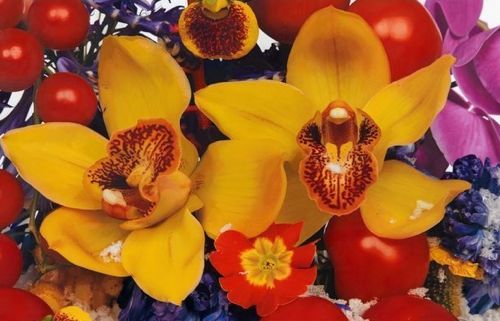 Marc Quinn, 'Hyde Park Gardens', 2010
MARC QUINN AT PORTAKAL
Next, pop into the auction house Portakal at No 8 to marvel at three of the British artist Marc Quinn's magnificent 'Flower' paintings and two gold jewellery pieces. Please enquire directly with Portakal for prices.
Mark Francis, 'Altair', 2013, acrylic and oil on canvas, 66 x 53 cm
MARK FRANCIS' THE EVIDENCE OF ABSENCE
Parallel on Abdi Ipekçi Caddesi, the consistently good Dirimart at No 7 has another renowned international artist for us to feast on – the Irish painter Mark Francis. 'We've been collaborating with Francis for over a year,' says the gallery's director, Doğa Oktem. 'The Evidence of Absence is his first solo show in Turkey and it was very exciting for us to make this happen.' Prices range from £25,000 to £45,000.
Mark Francis, 'Emission', 2014, acrylic and oil on canvas, 214 x 83cm
'I am dealing with the idea that all things are connected,' says Francis, who believes there is a harmony in the universe. He looks for it in cells, human organs, funghi, roots, mycelium; in the stars, in sounds, in all the energy of nature that science can reveal. The resulting works are unpretentious yet abstract, colourful pieces that are quite uplifting.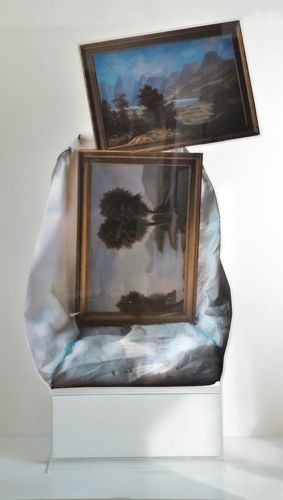 Monika Piorkowska's 'Art and Recycling' installation view
MONIKA PIORKOWSKA'S ART AND RECYCLING
Further down the street, the seasoned Kare Gallery at No 22 is hosting an installation exhibition by the Polish artist, Monika Piorkowska. 'I thought it would be interesting to exhibit Piorkowska's works as they question value systems within the art market and the contemporary world,' says the gallery's director, Fatma Saka, of the exhibition aptly titled Art and Recycling. Prices from €1,500 to €15,000.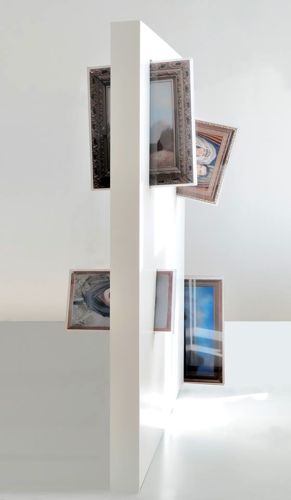 Monika Piorkowska's 'Art and Recycling' installation view
Asked about the concept behind the exhibition, the artist says it relates to the connections between the human existence and the process of collection. 'Society is easily manipulated. In this tightly networked world in which the art market is strongly affected by capitalism, is the role of contemporary art to make visible what society is happy to overlook? My exhibition aims to ignite a discussion about the philosophical/economical concept of "use and throw away".'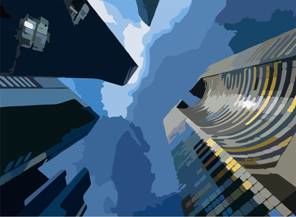 Murat Kösemen
Next door, the newer gallery Linart is in its last week of exhibiting the emerging talent Murat Kösemen. In Volume 1, Kösemen uses play dough and plasticine to create images of everyday life. 'We first displayed Kösemen's works at Contemporary Istanbul 2013,' says Linart. 'The works are original, and the artist's use of materials to create almost 3D pictures is very creative.' Prices range from $2,000 to $6,000.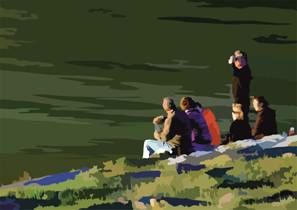 Murat Kösemen
The above images are two of the artist's favourites from the show.
Erkut Terliksiz, 'Days of Summer, 2014, mixed media on paper, 70 x 49.5 cm
ERKUT TERLIKSIZ'S HUNGER
Even further down, x-ist, in the basement of Kaşıkçıoğlu Apartment at No 42, is in its last week of hosting the Turkish artist, Erkut Terliksiz. In Hunger, Terliksiz weaves narratives and brings our dreams and nightmares to life in his imaginative, abstract and often grotesque paintings. Contact the gallery for prices.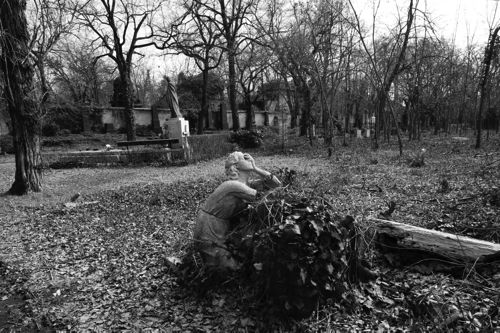 Hasan Deniz
HASAN DENIZ'S ALTE LIEBE
Make your way to the parallel Teşvikiye Caddesi through the narrow Atiye Sokak, filled to the brim with appetising cafes and chic bars. The monument to Hüsrev Gerede stands not so imposingly at the intersection, and down Maçka Caddesi slightly to the right is the not-for-profit art space Milli Reasürans Gallery, which is hosting an exhibition of gorgeous photographs by the Turkish artist Hasan Deniz entitled Alte Liebe. 'Two years ago we had Deniz's photographs in a group exhibition and discovered the quality of his work,' says the gallery's co-director, Ayşe Gür. Prices depend on the size of the print: 50 x75 cm prints are TL2,500, and 45x45 cm or 40x53 cm prints are TL1,750. See our blog for more on 'Alte Liebe'.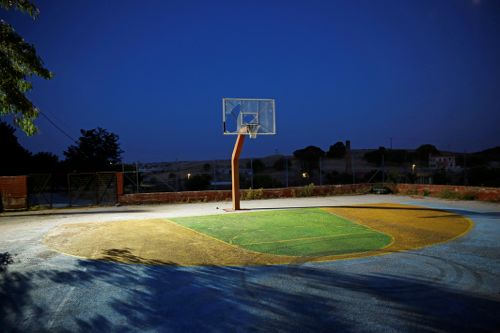 Hasan Deniz
Asked to pick his favourite works, Deniz selected the black-and-white image of a cemetery (above top). 'To me, it encompasses the history of art – the sculpture, the natural environment and the emptiness all contribute to this. It is five minutes from civilisation yet it is out of civilisation; it is abandoned,' he says. Another favourite is a colour photograph of a basketball court (above bottom). 'It is hopeful,' Deniz states.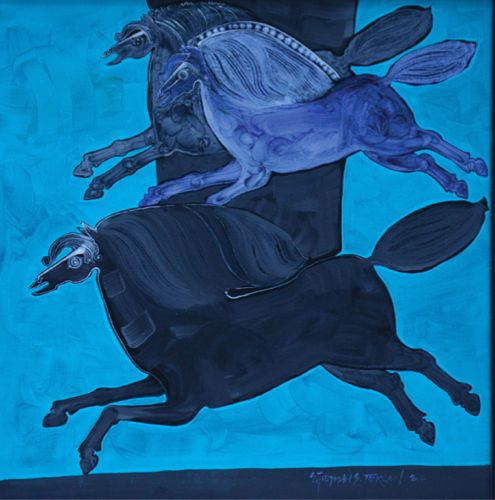 Süleyman Saim Tekcan, oil painting, 53 x 53cm
SÜLEYMAN SAIM TEKCAN'S SOUNDING HORSES
Back on Teşvikiye Caddesi at No 6, the Feyziye Mektepleri Foundation's art space Galeri Işık is hosting the veteran Turkish artist Süleyman Saim Tekcan. The artist has been using the imagery of the horse in his multi-disciplinary practice since the 1990s and this exhibition, aptly entitled Sounding Horses, explores just that.
Süleyman Saim Tekcan, wood sculpture, 64 x 55 x 12cm
The exhibition's organiser, Müge Ilgen, says of the artist: 'Tekcan's art is unique because he makes use of various cultural components of Anatolian civilisations, and of Seljuk and Ottoman art. What he is doing can be seen as a kind of "sensory archaeology".' Prices range from $500 to $800 for glass sculptures, $2,000 to $30,000 for bronze sculptures and $15,000 to $100,000 for oil paintings.
Derrick Santini, 'Suki versus Suki', 2010, lenticular lightbox, 120 x 90cm, edition of 5
SO FAR SODA
Make your way down the perpendicular Osman F Seden Sokak. Then turn left down the second street you come across, Şakayık Sokak, and at No 37 the contemporary art and design space SODA is exhibiting a group exhibition, SoFarSoda, featuring three artists: Derrick Santini, Frank Plant and Diederick Kraaijeveld.
Diederick Kraaijeveld, 'Steve', 2012, 104 x 75cm, originally coloured salvaged wood
The gallery has previously exhibited each of these artists separately but decided to combine them this time since all three comment on popular culture in their work. 'Lifestyle and fashion scenes, as well as portraits of famous people mark the artists' oeuvres,' says the gallery. Prices range between €3,000 EUR and €15,000.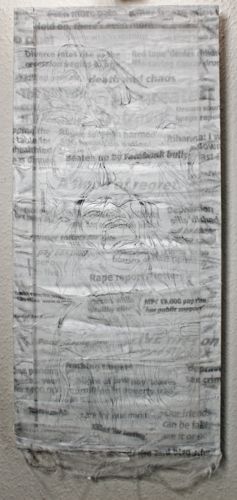 Froso Papdimitriou, Until When the Silence'
BETWEEN THE LINES
Further afield, the veteran Mine Art Gallery, hidden in an apartment building on Prof Dr Müfide Küley Sokak, is hosting a group exhibition in which artists working in different disciplines present works engaging in a dialogue about interpreting art between the lines. Prices range from TL10,000 to TL35,000.
All images, except the main image, courtesy of the respective galleries. Main image courtesy of mydestination.com.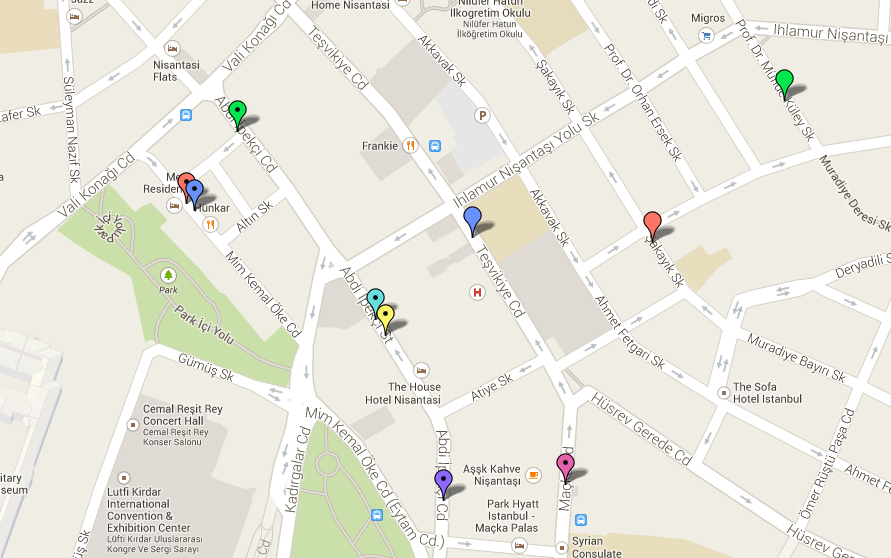 Key: Blue with dot – Merkur, Red with dot – Portakal, Green with dot – Dirimart, Turquoise with dot – Kare Gallery, Yellow with dot – Linart, Purple with dot – x-ist, Magenta with dot – Milli Reasürans Gallery, Blue – Galeri Işık, Red – SODA, Green – Mine Art Gallery
Click here for the interactive map.