We are in chic Nişantaşı this week for a very diverse gallery walk. Half-solo, half-group, the exhibitions we cover are concerned with many different themes and showcase international as well as local talent. As some of the galleries prepare to close for the summer months, this is one of the last chances to see some art this season.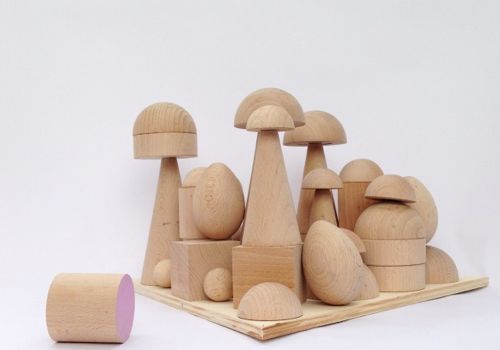 Monica Mazzone, 'The Perfect Universe', 2014, wood, 42 x 36 x 20 cm
Start at the north tip of Maçka Park. Down the leafy Mim Kemal Öke Caddesi, opposite Melanzana restaurant, Merkur Gallery at No 12 is hosting an exhibition of the young Italian artist Monica Mezzano, entitled The Perfect Universe, before closing for the summer at the end of June. The gallery's owner, Sabiha Kurtulmuş, says: 'This show, which we consider to be a project rather than an exhibition, displays a few works which explore the concepts of infinity, geometry and mathematics.' Prices range from €1,600 to €6,500.

Monica Mazzone, 'Golden Skin' 2014, wood, gold leaf, leather, 75 x 77 x 1 cm

Mazzone says, rather poetically: 'Everything stems from the need for unconditional love, where the concepts of time and attention play a key role in the search for the perfect emotion.'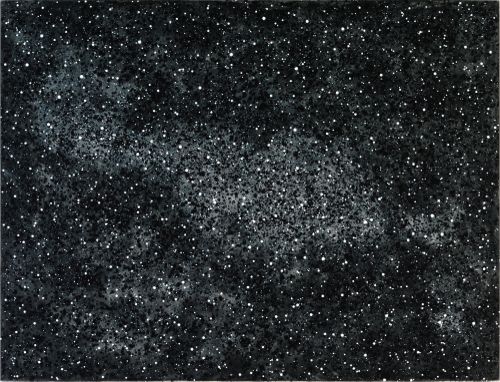 Doğan Doğan, 'Deep Emotion 3', 2013, 130 x 170 cm
Parallel, on the famously fashionable Abdi Ipekçi Caddesi (main image) at No 7, Dirimart opens a new show this Thursday (June 12). 'The series Deep Emotion is in a bit of a different vein from the artist Doğan Doğan,' says the gallery's manager, Doğa Oktem. 'Doğan uses with a different technique for each series. For this exhibition he was inspired by Pollock's drip paintings and uses an oil-paint thinner to act as watercolour. These paintings also have different layers, which create different levels of seeing and perceiving, and thus question the boundaries that both the artist and the audience are able to push.' Enquire directly with the gallery for prices.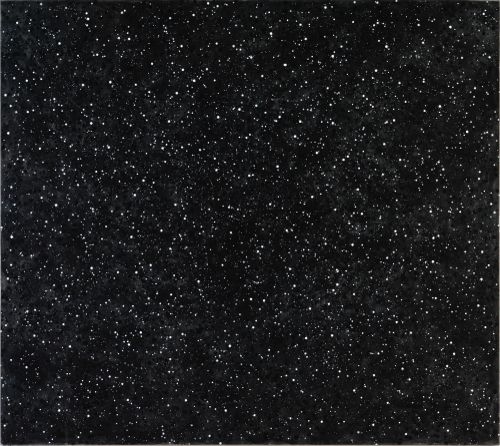 Doğan Doğan, 'Deep Emotion 8', 2013, 160 x 180 cm
'The series includes 10 pieces,' Oktem continues. 'Each piece has a similar principle. Doğan uses only three colours in his works: black, grey and white. His works are reminiscent of space and have uniformity between them. The whole series works as a kind of a divided space, or an endless sky.'
Can Akgümüş, Parallel Universes, 2013, C-print, 55 x 100 cm
Further up at No 22, Kare Gallery is hosting a conceptual group exhibition focusing on humans and their place in the universe, aptly entitled Where am I? The gallery's content writer, Rasit Mutlu, says: 'The exhibition displays eight artists. We invited artists on the basis of how their work responds to our theme. For example, Can Akgümüş deals with the concept on an abstract level, whereas Zeynep Beler explores it on more human-centred approach.' Prices range between TL1,000 and TL35,000.
Ismet Doğan, 'Autos Series', 2014, mixed technique on canvas, 160 x 160 cm
'Ismet Doğan's canvas is an important piece,' says Mutlu. 'Its ambiguous setting both in terms of time and space, along with the depiction of a figure standing at the centre of the work, alludes and corresponds to the theme very well.'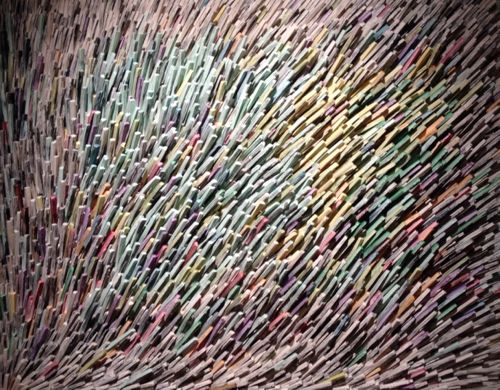 A work by Suh Jeong Min
In a completely opposite vein, next door, Galeri Linart, is offering a mixed exhibition featuring works by artists whom they represent, adhering to no particular theme. Mixed exhibition features works by Arda Yalkın, Suh Jeong Min, Sara Baruh, Murat Köseman and Engin Beyaz. Enquire directly with the gallery for prices. Galeri Linart will close for the summer after this exhibition.
Joackim Eskildsen, 'Mandai Nunez and Santamarina Brissa', Fresno, California
Even further down the street, x-ist in the basement of Kaşıkçıoğlu Apartments at No 42, has a striking photography show that will run throughout the summer. Collected North brings together works that effectively explore completely different themes – from the concept of time to displaced families in China and people living below the poverty line in America – by five renowned photographers, all from the Helsinki School of Photography. Prices range between €2,000 and €8,000.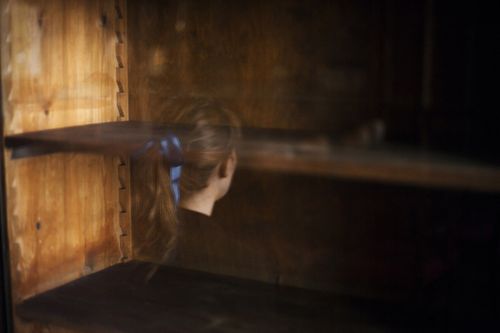 Anni Leppälä, 'Drawers (girl's head)'
The gallery's manager, Yasemin Elçi, says: 'Photography is a discipline that we as a gallery cherish greatly. The Helsinki School has never been exhibited in Turkey so we wanted our audiences to get acquainted with their work.'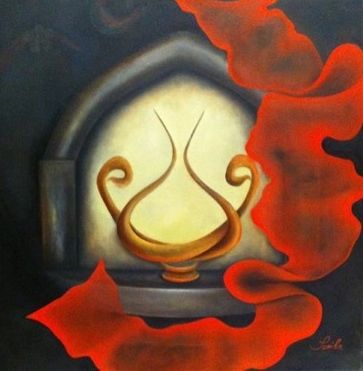 One of Semiha Șakir Elveren's works
Next we go down Atiye Sokak, a narrow street full of appetising restaurants, and onto Teşvikiye Caddesi. The monument to Hüsrev Gerede stands at the intersection and down Maçka Caddesi at No 29, Galeri Eksen is hosting an exhibition of paintings by Semiha Șakir Elveren, entitled Come. The gallery's Ayla Buyar says: 'A major part of Elveren's paintings is the use of text; she uses quotes from Halil Cibran, Mahmut Dervis and Rumi, as well as anonymous words and sayings. The artist wants to express her philosophies to Turkey and the world with her art.' Prices range between TL2,000 and TL4,000.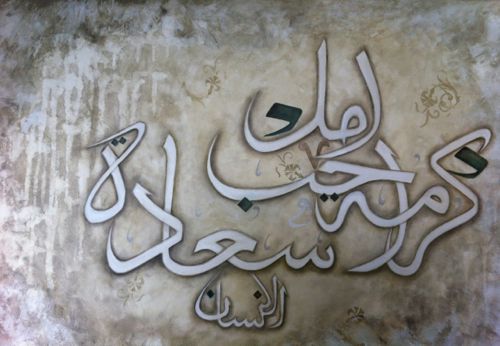 Semiha Șakir Elveren, 'Desire, love, happiness, as people are'
Semiha Șakir Elveren herself says: 'I love working with oil as I have the chance to express myself better with this medium.' Her paintings use colour and symbolism nicely, and these undoubtedly have the biggest Turkish flavour of all the art we have seen this week.
Main image courtesy of the The Sofa Hotel.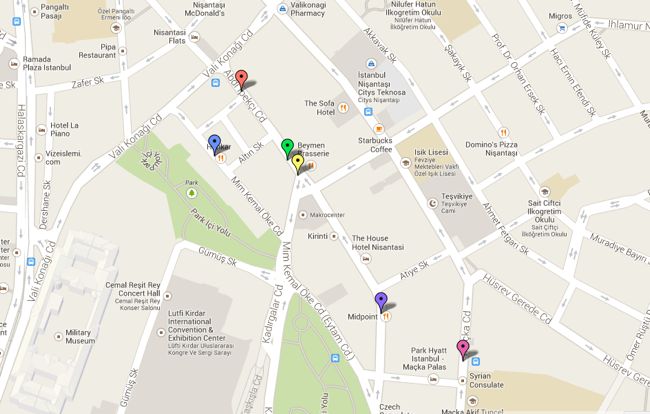 Key: Blue – Merkur Gallery, Red – Dirimart, Green – Kare, Yellow – Linart, Purple – x-ist, Magenta – Galeri Eksen
Click here for the interactive map.