We are in chic Nişantaşı this week for a gallery walk in which painting and abstract art feature heavily. Besides perusing the galleries on the two main streets of Mim Kemal Öke Caddesi and Abdi Ipekçi Caddesi, we will also venture further afield to two new additions to our walks – one veteran gallery (above) and one new.
Seçkin Pirim, 'Zero', 2014, metallic auto paint on plexiglass, 109 x 125 x 25 cm
SEÇKIN PIRIM'S GLITCH
Let's start on Mim Kemal Öke Caddesi, where the intimate Merkur Gallery, housed in a former apartment at No 12, is hosting an exhibition of the Turkish artist Seçkin Pirim, entitled Glitch. Noted for being highly disciplined, the artist presents his brand new series of minimalistic wall sculptures and accompanying drawings. Pirim's fascination with symmetry shows itself in the obsessively repetitious lines evident in his works, which together form a serene narrative. Prices range from $10,000 to $30,000.
Seçkin Pirim, 'Untitled – II', 2014, auto paint on Bristol paper cut, 80 x 110 cm

Merkur's owner Sabiha Kurtulmuş promises the gallery will continue to exhibit 'new and energetic works' by promising young artists throughout the coming season.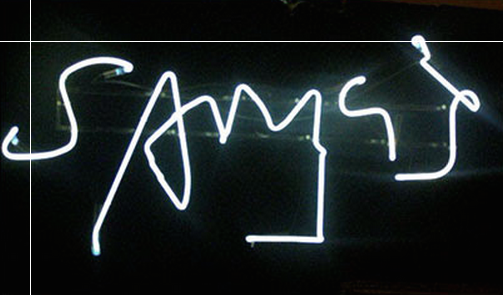 Sarkis, 'Signature', 2007, neon lights, 35 x 60cm
SARKIS' SIGNATURE
Pop into the excellent auction house Portakal at No 8 to marvel at Sarkis's neon signature. Please enquire directly with Portakal for the price.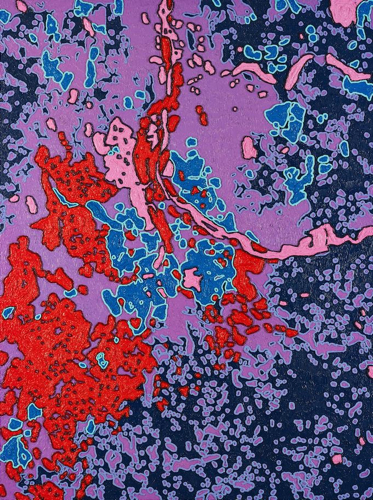 Cenk Akaltun, 'Untitled', 2013, oil on canvas, 200 x 150 cm
CENK AKALTUN'S STRATUM
Parallel on Abdi Ipekçi Caddesi, the consistently good Dirimart at No 7 hosts the first solo exhibition of the Turkish painter Cenk Akaltun, entitled Stratum. Akaltun, who studied both at Yıldız Technical University in Istanbul and at St Martins in London, examines the meaning of reality in his work. These rich, textured paintings look colourful and almost messy from afar, but up close present a totally different perspective.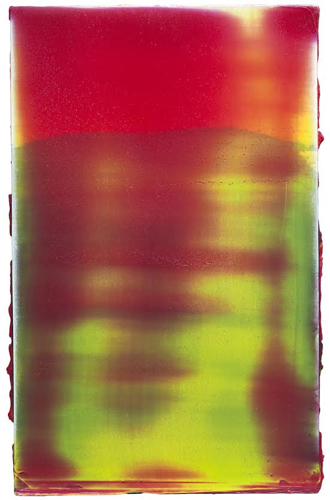 Nejat Satı, 'struktur 68', 2014, acrylic on canvas, 60 x 95cm, TL6,000
START WITH ABSTRACTION
Further down the street, the seasoned Kare Gallery at No 22 has opened with a group show presenting Turkish abstract artists, primarily through painting and sculpture. When Kare opened in 1992, it was mainly concerned with showcasing artists of the post-1960 Turkish abstract movement. The current exhibition, Start with Abstraction, focuses on the state of abstract art in Turkey today. Prices range from TL3,500 to TL36,000.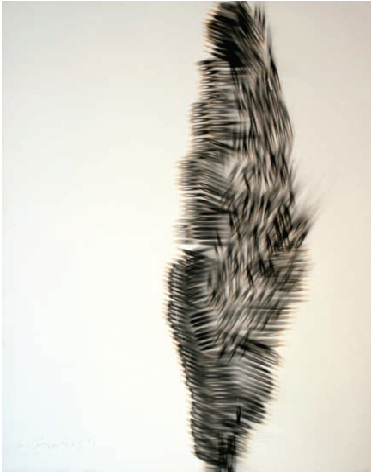 Emin Çizenel, 'Provocation' series, 2007, candle soot on canvas, 112 x 150cm, TL15,000
The gallery's founder, Fatma Saka, wants audiences to pay particular attention to the unique works of Emin Çizenel. The painting above, for instance, was drawn using candle soot.
Coming up is an exhibition of Fatma Tülin's new works, including prints on canvas and woven carpets, exploring the artist's favourite subjects: organic objects and the human body.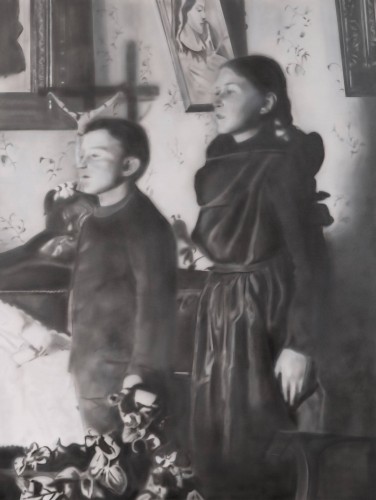 Engin Konuklu, 'Respect', 2014, acrylic on canvas, 150 x 200 cm
ENGIN KONUKLU'S ÉTERNITÉ
Further down, x-ist, in the basement of Kaşıkçıoğlu Apartment at No 42, is hosting the young Turkish artist Engin Konuklu, who aims to take his audience on a journey through their own memories via nostalgic imagery. His latest series of hyper-realistic, sepia-toned paintings, Éternite, explores death by mimicking post-mortem photographs. The accompanying series of doll paintings adds to the macabre feel of the show.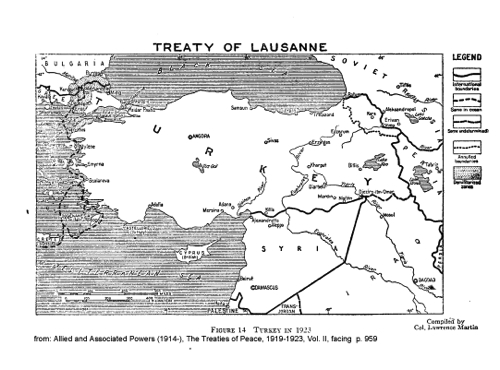 Treaty of Lausanne map
THE REPUBLIC OF LAUSANNE AND İSMET İNÖNÜ
Make your way to the parallel Teşvikiye Caddesi through the narrow Atiye Sokak and find Galeri Işık at No 6, which offers something entirely different. Held as one of the commerative events surrounding the 90th anniversary of the signing of the Treaty of Lausanne, The Republic of Lausanne and İsmet İnönü explores – through archival documents and photographs – the state of domestic and foreign policy and the various social, economic and cultural transformations achieved under the presidency of İsmet İnönü, Turkey's second, who served from 1938 to 1950.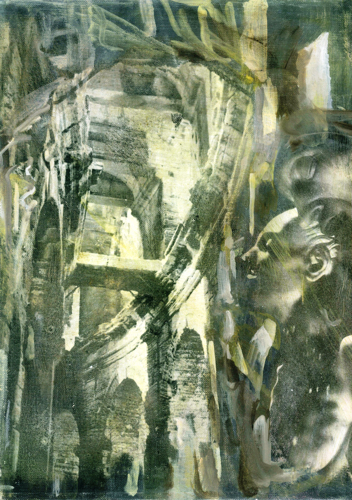 Utku Varlık, 'Fragment 6', 1992, mixed media on canvas, 27 x 21 cm
UTKU VARLIK'S FRAGMENTS
A bit further up the street, new kid on the block Bozlu Art Project opens its season with a comprehensive exhibition of the renowned figurative painter Utku Varlık. The artist has lived and worked in Paris for the past 40 years, so this show provides a rare opportunity to see his work. In Fragments, Varlık's technique comes to the forefront in dreamlike oils on canvas that combine modern-day figures with ancient architectural elements.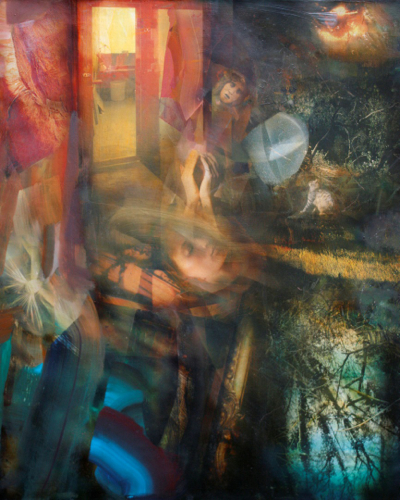 Utku Varlık, 'Evening', from the 'Fragments' series, 2013, mixed media on canvas, 113 x 93 cm
Bozlu Art Project's new season will showcase a range of work from the gallery's roster – a mix of young and established Turkish artists.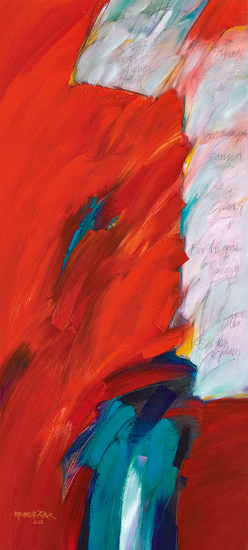 Mehmet Güler, 'The sun melted', 2012, 160 x 72 cm
WEDDING
Turn right down Valikonağı Caddesi and take a right at the third street. At No 14, the veteran TEM Art Gallery, one of the neighbourhood's oldest, is hosting the group exhibition Wedding. Having taken almost two years to come to fruition, the show combines poetry, paintings and sculpture, and showcases works from some of Turkey's greatest artists and poets, as well as up-and-coming talent. Prices range from TL1,500 to TL 30,000.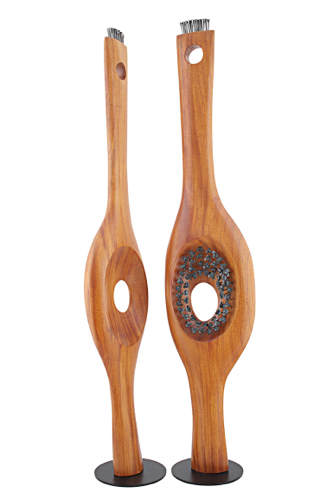 Abdulkadir Öztürk, 'Love Furnace', 2013,wood and metal, 154 x 55 x 32 cm
Looking ahead, there will be solo shows by such artists as Mehmet Güler, Gülden Artun, Abdulkadir Öztürk, Ömer Kaleşi and Devabil Kara.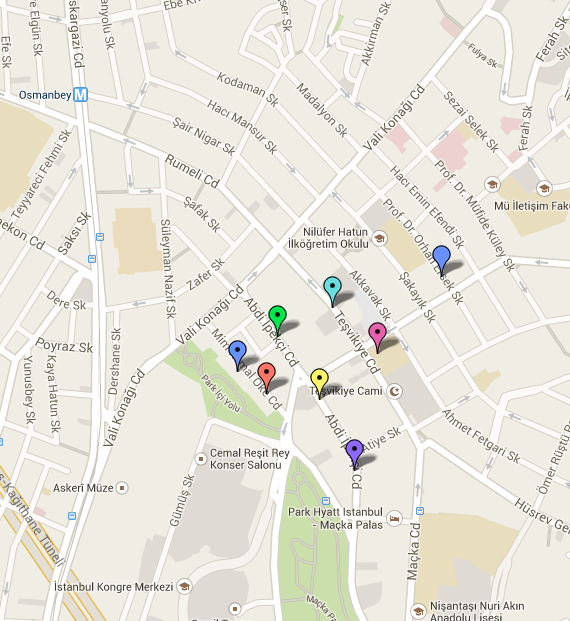 Key: Red – Merkur, Blue with dot – Portakal, Green – Dirimart, Yellow – Kare Gallery, Purple – x-ist, Magenta – Galeri Işık, Light Blue – Bozlu Art Project, Blue without dot – TEM Art Gallery
Click here for the interactive map.