We are in Nişantaşı with our gallery walk this week for predominantly solo shows of Turkish artists, mostly painters and sculptors.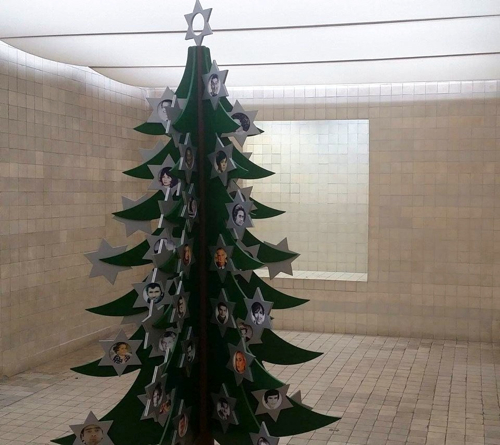 Murat Atabarut's Yeşilçam tree
Start on Mim Kemal Öke Caddesi. Opposite Maçka Park and near the Istanbul Technical University, Maçka Sanat (main image) at No 31 is opening its annual new-year exhibition tomorrow with a very fitting work for 2014, which marked 100 years of Turkish cinema. The designer Murat Atabarut has created a tree album of the past stars of Turkey's film industry's Yeşilçam era. Please enquire directly with the gallery for prices.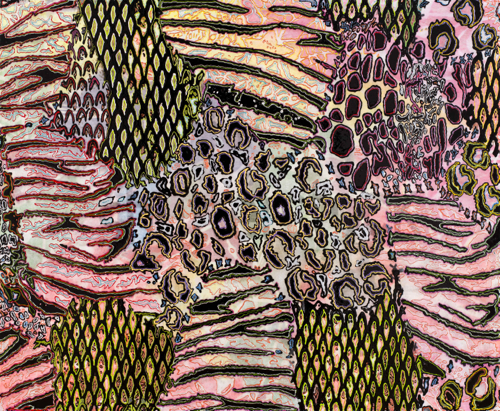 Şeyda Cesur, 'Skin', 2014, oil on canvas, 140 x 170 cm
Head away from Maçka. At No 12, Merkur Gallery is hosting the latest paintings from Şeyda Cesur. For Update, the artist has created works questioning how images are distorted by the media. Viewers can look forward to more technically advanced works from this Antalya-born artist.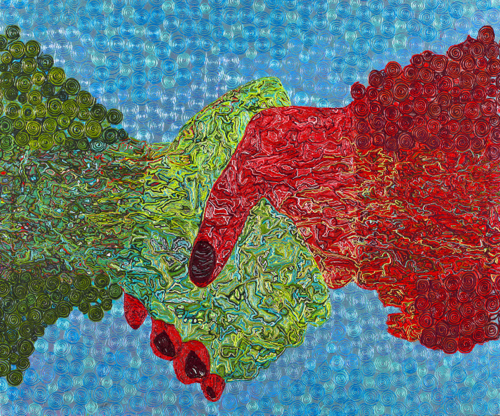 Şeyda Cesur, 'Deal', 2014, oil on canvas, 150 x 180 cm
Current affairs and their associated images play an immense part in Cesur's work, and the impact of media modernises itself on her canvases. Prices range from TL20,000 to TL22,500.

Nuri Bilge Ceylan, 'Sardes', 2003
On perpendicular Abdi İpekçi Caddesi, Dirimart at No 7 is ahead of the game with an exhibition of photographs by the master filmmaker Nuri Bilge Ceylan, making a name for himself as a photographer as well as an award-winning director in recent years. About Looking brings together Ceylan's enigmatic photographs, which are as atmospheric as his films. Please enquire directly with the gallery for prices.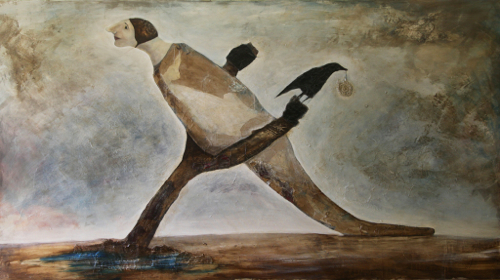 Cüneyt Aksoy, 'Şafak Habercisi', 2014, mixed media on canvas, 140 x 250 cm
Further along at No 22, Kare Gallery will open a new group exhibition this Thursday (December 4). The show is entitled Müphem, which translates as 'hazy', and as with the majority of Kare Gallery's shows, is highly conceptual in nature. Works come from all disciplines – painting, paper works, video, sculpture, photography and performance – and the idea was for participating artists to 'open the doors to [their] indecisive dreams'.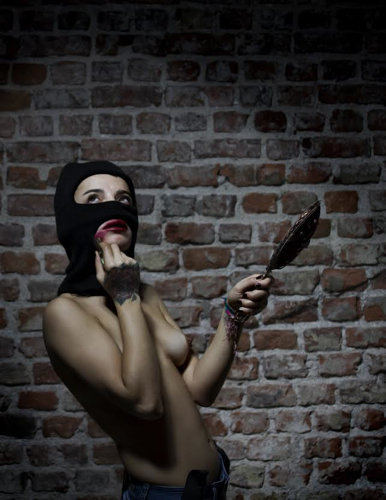 Hasan Özgür Top, 'Gündelik Hayat', 2013, light box, 43 x 55 cm
The gallery's director, Fatma Saka, particularly wants to draw the viewer's attention to this oil painting by Cüneyt Aksoy (above top) and the photography of Hasan Özgür Top (above). Prices range from TL500 to TL10,000.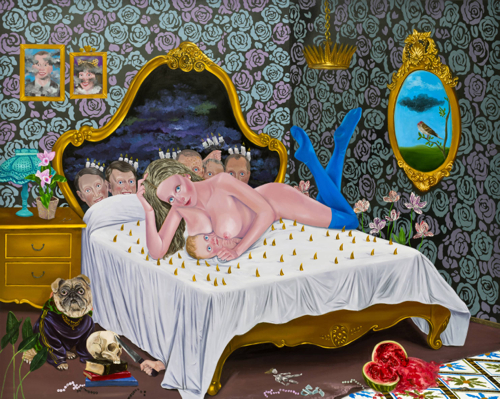 Ali Elmacı, 'Kill Him Make Me Laugh III', 2014, oil on canvas, 175 x 220 cm
Even further down, at No 42, x-ist is hosting the bold artist Ali Elmacı. His colourful paintings depict wacky scenes with a sinister undertow. The artist says he produces images of 'ugly and evil', which for him is synonymous with authority. Thus, the disturbing landscapes showcased in Kill Him Make Me Laugh have elements of 'what New Turkey looks like'. The symbolism in his über-detailed work speaks volumes about his views of the country's leadership. Prices range from €2,500 to €11,500.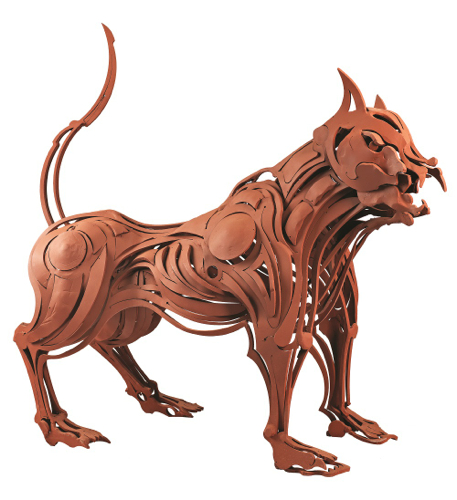 Kazım Karakaya, 'Dogs Series I', 2014, iron, 134 x 56 x 145 cm
On parallel Teşvikiye Caddesi, at No 131, Bozlu Art Project is hosting the sculptor Kazım Karakaya's exhibition Transformation. Consisting of recent works as well as 11 sculptures produced using waste materials during a 5-month tenure at an iron and steel plant in Bursa, the show aims to answer the question: can the same form and the same material carry intrinsically different meanings?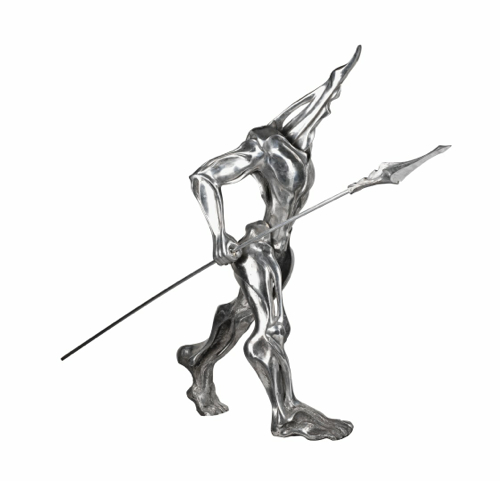 Kazım Karakaya, 'Warriors Series I', 2014, aluminium, 206 x 65 x 145 cm
The recycling of waste materials and transforming industrial production into artistic creations is not the only reason for the exhibition's name. The series 'Warriors' (above) questions the human condition and the 'transformation' of human beings. Underlining the way violence is becoming increasingly normalised in our society, it references the dualities of light and shadow, absence and fullness, to reflect the emotions and conflicts the human being experiences. Please enquire directly with the gallery for prices.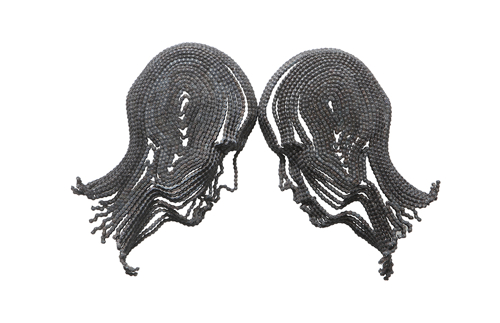 Seo Young Deok
Make your way down the perpendicular Osman F Seden Sokak. Then turn left into the second street you come across, Şakayık Sokak. At No 37, SODA is hosting the second solo exhibition of the South Korean sculptor Seo Young Deok. For Link, Deok has created five special pieces that are an expression of the restlessness felt by people living in a high-tech civilisation. Creating sculptures of human bodies and heads out of chains, the artist underlines our links to technology and our chains in society. Please enquire directly with the gallery for prices.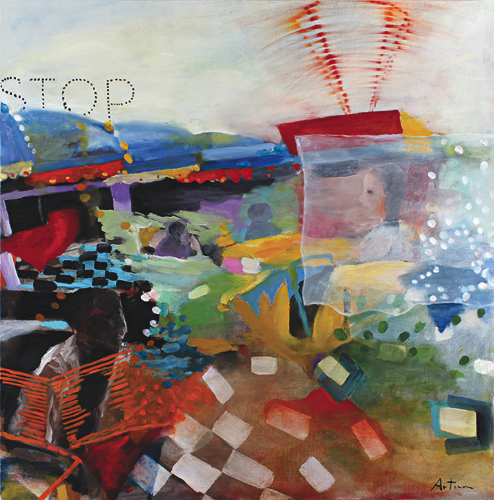 Gülden Artun, 'Stop', 2014, 80 x 80 cm
Retrace your steps down Şakayık Sokak. Take the second right (Ihlamur Nişantaşı Yolu) and then the first left onto Prof Dr Orhan Ersek Sokak. At No 14, TEM Gallery is hosting the veteran painter Gülden Artun.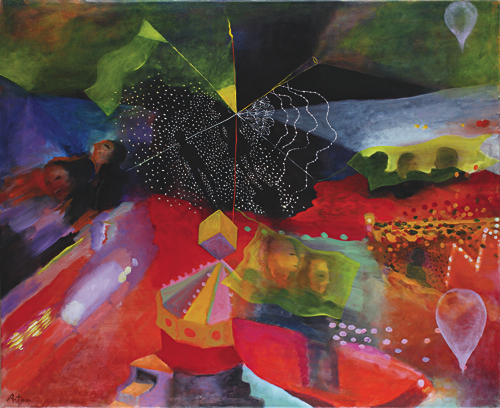 Gülden Artun, 'Yellow Flags', 2014, 120 x 147.6 cm
The gallery's owner, Besi Cecan, has been working with Artun since 1994. 'I search for honesty in an artist's work and I find this in Gülden's work. Painting is her joy and she paints what she lives and observes. That is why her work is so versatile. Her paintings make me think, and I love to analyse the psychology behind the contrasts depicted,' she says. Prices range from TL1,500 to TL17,500, depending on size.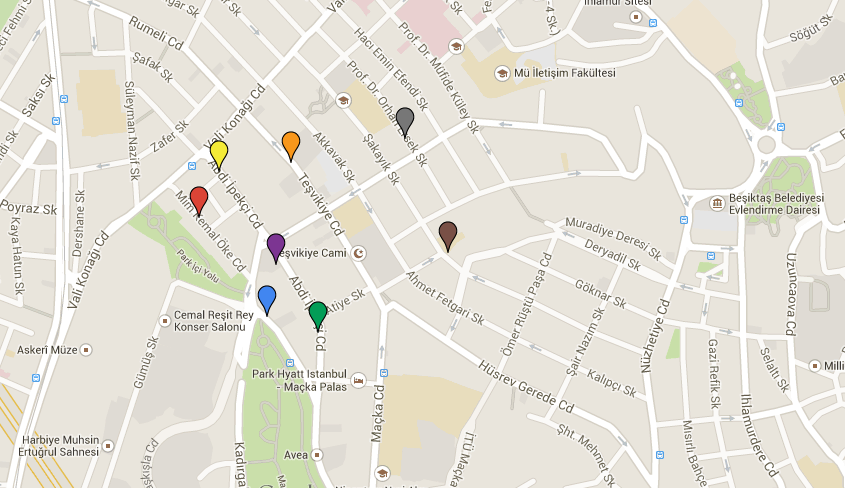 Key: Blue – Maçka Sanat, Red – Merkur Gallery, Yellow – Dirimart, Purple – Kare Gallery, Green – x-ist, Orange – Bozlu Art Project, Brown – SODA, Grey – TEM Art Gallery
Click here to see the interactive map.