Taksim is undoubtedly the heart of new Istanbul – and Cihangir its more chilled-out, bohemian sister. The three galleries we visit as part of this walk are all located on Sıraserviler Caddesi, the street that links Taksim to Cihangir. Past the kebap shops, hotels and nightclubs, in a 19th-century building at No 10, The Empire Project is hosting the Turkish/German artist Esra Rosthoff's show, Muse/Fling (above is a piece entitled 'Sesede sacrifice I, Brandenburg 2011').
The gallery's owner, Kerimcan Güleryüz, a veteran of Istanbul's contemporary art scene, says he chose to open the gallery in Taksim because the area is 'constantly changing' and offers 'something new to discover'. The art scene in Taksim/Cihangir, he says, is a relatively new – and exciting – phenomenon. Players in the surrounding areas, such as ARTER and SALT in Beyoğlu and Karaköy/Tophane's 'art island', have shifted the contemporary art scene from more commercial areas such as Nişantaşı to new parts of the city. In the wake of Gezi, Güleryüz was keen to exhibit something more 'hopeful, positive, upbeat and colourful' for The Empire Project's current show. As a contrast with the concurrently running Biennial, he wanted to present 'interesting work' without making 'grandiose statements'.
Across the street at No 49, Rodeo – brainchild of the wunderkind Sylvia Kouvali – is hosting the solo show of the British artist James Richards. Entitled The Screens, Richard's latest exhibition aims to comment on finding the personal amidst today's morass of visual media in a thought-provoking fashion.
A still from the video work 'Crisis and Control', 2013
Further down, at No 83, where Sıraserviler Caddesi is about to become Defterdar Yokuşu (with the famous Cihangir tea garden on the corner), Pilot Gallery is hosting the Turkish artist Burak Delier's exhibition Play Your Part and the Script Will Follow which examines current artistic practices and their relationship to economics, but in a humorous way. The Gallery strives to represent artists who are 'pioneers' in their field – with such names on their books as Halil Altındere and Şener Özmen, both of whom have been making quite a splash at this year's Biennial.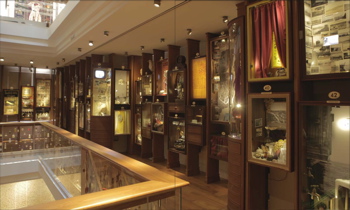 The Museum of Innocence
For a change of genre, there are two fascinating literary museums in the area. On the street perpendicular to Sıraserviler Caddesi, Akarsu Caddesi, the Orhan Kemal Museum at No 30 has a nice selection of the writer's paraphernalia and a mock-up of his bedroom. Further afield in neighbouring Çukurcuma (well-known as the city's antiques district) is Orhan Pamuk's Museum of Innocence (on Çukurcuma Caddesi).
There are also a few good lunch options in this area. Avoid the kebap shops and go straight for the homely vibe and delicious food at Journey at No 21 on Akarsu Caddesi, or try Changa (next door to Rodeo) which serves modern Turkish cuisine, or enjoy lunch with a view at the 5.Kat Restaurant, located on Soğancı Sokak. For an after-walk drink, you can't beat the cocktails at Kiki, at No 42 Sıraserviler Caddesi.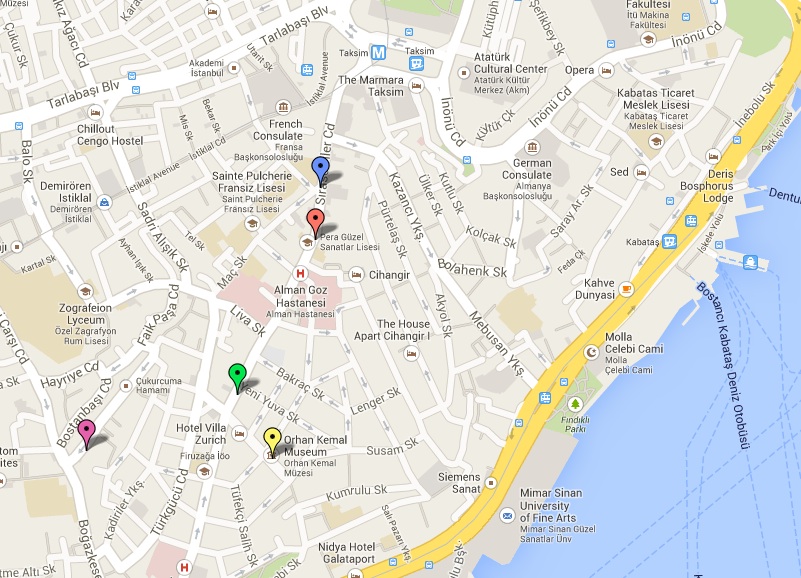 Key: Blue – The Empire Project; Red – Rodeo; Green – Pilot Gallery; Yellow – Orhan Kemal Museum; Purple – Museum of Innocence
Click here to see the interactive map.