We are in Taksim/Cihangir for our gallery walk this week, visiting three of our favourite galleries, who are each hosting an evocative solo exhibition.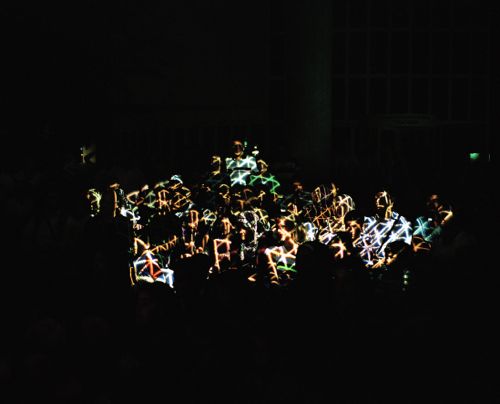 Cemil Batur Gökçeer, 'Untitled', 2012, C-print Dibond, 60 x 75 cm, 110 x 135 cm
CEMIL BATUR GÖKÇEER'S THE CLOSEST POSSIBILITY
The three galleries we visit are all located on Sıraserviler Caddesi, the street linking Taksim to Cihangir. At No 10 The Empire Project is hosting the first solo exhibition in Istanbul of the promising young photographer, Cemil Batur Gökçeer, entitled The Closest Possibility. The gallery's owner, Kerimcan Güleryüz, a veteran of Istanbul's contemporary art scene, says of Gökçeer: 'He is reminiscent of the young Italian journalist Italo Calvino, although his medium is film rather than words. I strongly feel that Gökçeer's works, as well as Ali Taptık's, are truly setting the new standard for photography – not just in Turkey, but in the industry as a whole.' Prices range from TL400 to TL5,000 + VAT.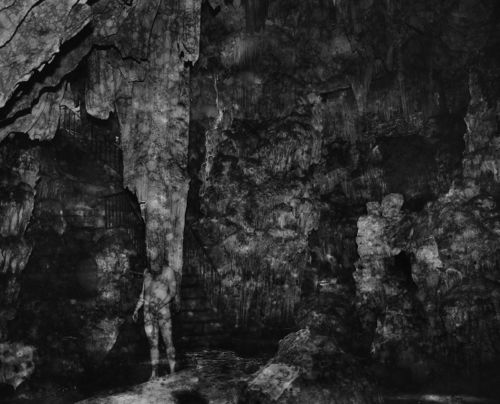 Cemil Batur Gökçeer, 'Untitled', 2012, fineart print, 8 x 10 cm
Güleryüz continues: 'The emphasis and the heavy-handed use of "narrative" has become almost the only method of artistic discourse in Turkey. However, Gökçeer refuses to fall prey to this. He is exploring and adding a lot of new territory to the scene. His brilliant use of the medium is refreshing and his self-assured courage enables him to let his audience fill in the gaps, which is very engaging.'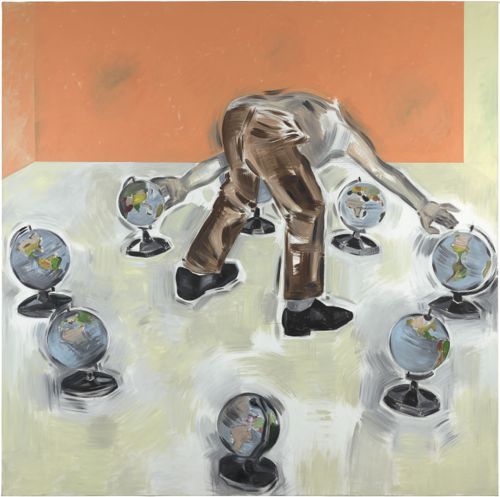 Apostolos Georgiou, 'Untitled', 2012, acrylic on canvas, 220 x 220 cm
APOSTOLOS GEORGIOU
Across the street at No 49, Sylvia Kouvali's Rodeo will open the solo show of the renowned Greek painter Apostolos Georgiou this Saturday (May 24). Georgiou's beautiful paintings, which resemble murals, are about people in spaces. He casts an expert but gentle eye on human relationships and moments in life, and this is what inspires him – family, friends, his physique, the pain and happiness he has experienced. Another source of inspiration is Greece in the 1950s and there is definitely something retro about his paintings. Enquire directly with the gallery for prices.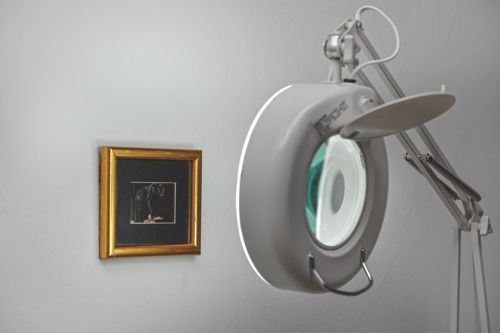 Elmas Deniz, 'Seeing the Black Panther', 2014, found object, illuminated magnifier, 13.5 x 16cm
ELMAS DENIZ'S SEEING THE BLACK PANTHER
Further down, at No 83, where Sıraserviler Caddesi is about to become Defterdar Yokuşu (with the famous Cihangir tea garden on the corner), the pioneering Pilot is hosting a solo show of the young Turkish artist, Elmas Deniz, entitled Seeing the Black Panther. The gallery's founder, Azra Tuzunoğlu, says: 'Deniz is an artist who focuses on ideas rather than on a specific medium. She deeply researches the issues of interest to her and chooses the most relevant medium for exploring them. I like the installation "Seeing the Black Panther", which depicts a black panther on a black background with an illuminated lens – she is trying to make the invisible visible. I also like the work about calculations whose message focuses on putting a monetary value on nature.' Prices range from €1,000 to €7,000.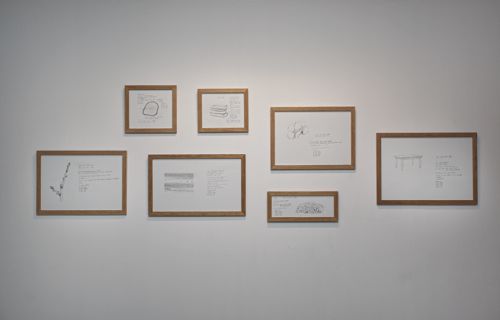 Elmas Deniz, 'Price Discovery (calculations)', 2014, pattern on paper, framed
Elmas Deniz herself says: 'The exhibition is about our relationship with nature and how our attitude has been affected, or better, infected by the current economic system. The main points I want to explore are monetary value, consumption culture and the commodification of nature. The core of the exhibition is a video work entitled "The Tree I Want to Buy". In this work I created a situation to show my broken relationship with nature. The other line of thought that is explored in the exhibition is the consumption of images – our perception and rating of them.'
Main image shows the colourful facades seen in Cihangir (courtesy of WikiMedia Commons).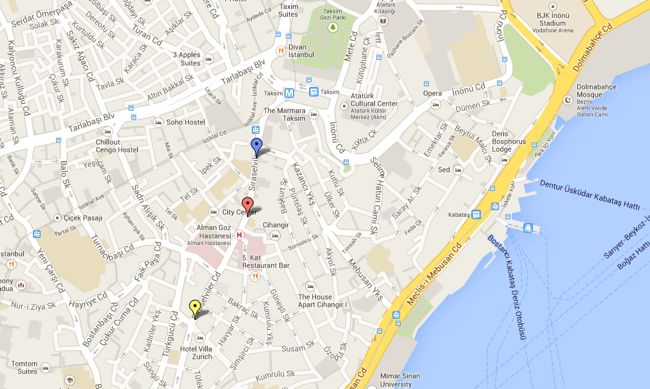 Key: Blue – The Empire Project, Red – Rodeo, Yellow – Pilot
Click here for interactive map.