We are in Taksim/Cihangir for a short walk this week, visiting two galleries which both – purely coincidentally – have shows by an artist called Halil. Another thing these artists have in common is that they are not afraid to push boundaries and produce candid, witty work.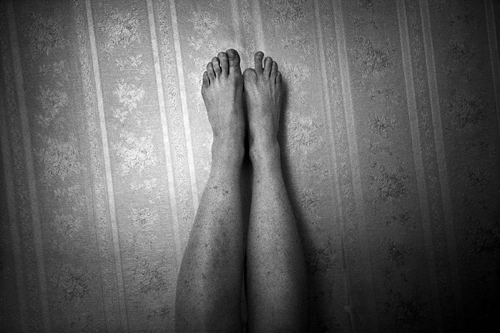 Halil, 'Untitled', from the 'Recoil' series, 2012, fine art print, 30 x 40 cm
HALIL'S I'M PLAYING PING PONG NOW
On Sıraserviler Caddesi, the street that links Taksim to Cihangir, The Empire Project, at No 10, is hosting the second solo exhibition of the photographer Halil. In I am playing ping pong now, audiences can enjoy the artist's most personal works to date, which have been selected from a recently published book by the same name. The black-and-white images of seemingly random subjects are often sexual in nature and utterly arresting.
The prints on display both highlight the contents of the book and show their strengths as standalone images. There's an interplay between the different ways of showing photographs: the temporary nature of exhibition in a gallery, and the permanence of being published in a book.
Halil, 'Untitled', from the 'Recoil' series, 2012, fine art print, 60 x 90 cm
The gallery's owner, Kerimcan Güleryüz, says: 'Halil is a true photographers' photographer. He has been a strong influence both as a master teacher and as an active artist in the Turkish photography scene. In a way, he is the missing link between photojournalists and artist photographers.'
Most works are available for sale in three different formats: small diptychs, and single prints sized 30 x 40 cm or 90 x 135 cm. Prices range between €500 and €2,750 for 1st edition works.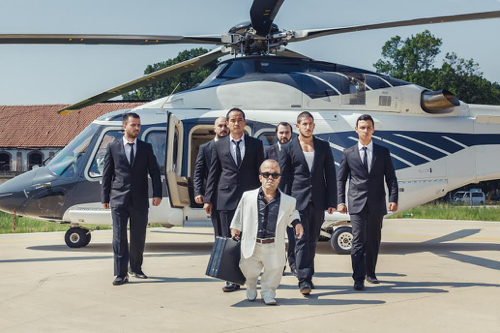 Halil Altındere, 'Angels of Hell', 2014, video, 13'26", photo: Ridvan Bayrakoglu
HALIL ALTINDERE
Further up and across the road, Pilot is opening an exhibition of the artist Halil Altındere this Friday (December 19). A video by the artist will be screened at Pilot (No 81) on the opening night, and then the exhibition will continue at the Co-Pilot space next door, while the main building undergoes renovations.
In Reality is Elsewhere, 15 of the artist's most recent works will be showcased – spanning video, sculpture, oil painting and objects – which have been presented at international exhibitions though not before in Turkey. The exhibition, divided into three parts, explores the idea of reality and aims, in doing so, to understand Turkey's past and present.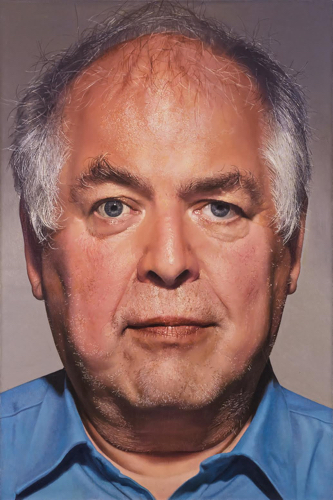 Halil Altındere, 'René', 2012, oil on canvas, 180 x 120 cm
The past year has been a rather big one for Altındere. A brave artist, who explores the repressive structures of political and municipal structures, Altındere made huge waves in the international art world when he released his video, Wonderland, a mock hip-hop clip in which three teenagers from Sulukule rhyme about issues of urban gentrification, isolation and poverty. The video premiered at the Istanbul Biennial last year and was purchased by MoMA in June this year.
Please enquire directly with the gallery for prices.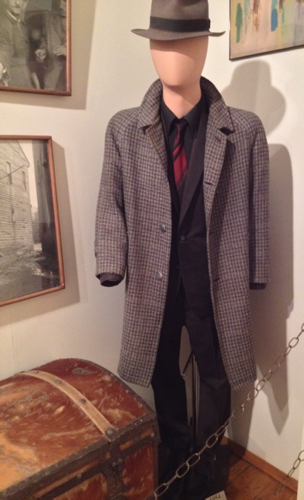 Orhan Kemal Museum
For something completely different, there are two interesting literary museums in the area – and if you haven't visited them yet, now's the time. On the street perpendicular to Sıraserviler Caddesi, Akarsu Caddesi, the Orhan Kemal Museum at No 30 has a selection of the writer's paraphernalia and a mock-up of his bedroom. Further afield in neighbouring Çukurcuma is Orhan Pamuk's Museum of Innocence (on Çukurcuma Caddesi).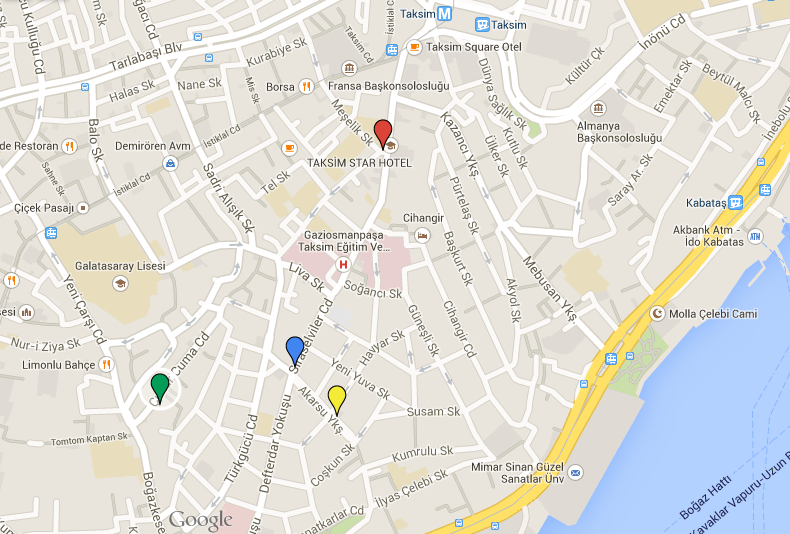 Key: Red – The Empire Project, Blue – Pilot, Yellow – Orhan Kemal Museum, Green – The Museum of Innocence
Click here for the interactive map.
Main image courtesy of birdutmasali.blogspot.com.