High culture is about to come to busy Beşiktaş, with the opening of the Naval Museum in October, but until recently it wasn't even remotely associated with an art scene. The Biennial still seems a long way away. A pity. The neighbourhood is home to no fewer than three top-notch universities, including the state conservatory and a leading architectural faculty. The conservatory, in an annexe to Dolmabahçe Palace, is next to what was for years the Museum of Painting and Sculpture. It faces a street of pretty town houses, known as Akaretler (above), the rows of houses built at the end of the 19th century to accommodate palace servants. The W Hotel, a sort of disco-boutique hotel, is on the corner of Akaretler, an uncomfortable fit for everyone concerned. The building could and should have become a museum to Fausto Zonaro, the greatest painter to work in Istanbul in the dying years of the Ottoman Empire, who lived and worked there. Until the two streets of Akaretler were otherwise admirably spruced up, he would have recognised every bare brick of the building.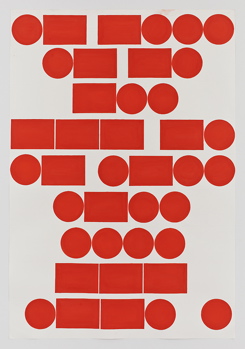 Claudia Parducci's work 'Use Your Words' (2013) is exhibited as part of A Marginal Revolution; gouache on paper, 107 x 76cm
Up the hill, past inviting brasseries and Café Nero, the consistently good Kuad Gallery is hosting a tongue-in-cheek mixed-media group show of local and international artists entitled A Marginal Revolution.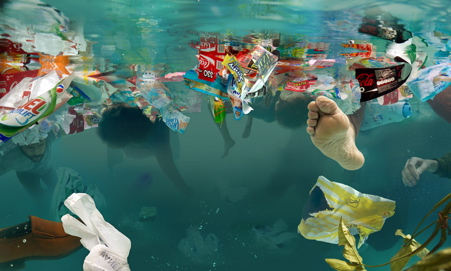 Daniel Canogar's 'Vortice IV', 2011
Şair Nedim Caddesi, the lower of the two Akaretler streets, is actually where most of the Akaretler galleries are located. Art ON Istanbul, a newbie at No 4, has a striking solo show by the audio-visual artist Daniel Canogar: Vortex includes super-detailed, large-scale photographs of people swimming in what appears to be rubbish, with a video of the artist providing much-needed explanations.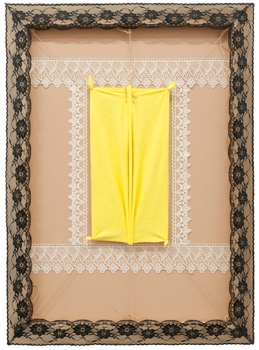 Cengiz Çekil's 'With a Cleaning Cloth (Detail)', 2012–3; acrylic paint, lace, tulle, string and cleaning cloth on 144 canvases, 81 x 60cm (each)
At No 20, past another heady mix of alluring cafés and exclusive boutiques, is the second exhibition hall of Rampa Istanbul, a spacious, all-white basement where the veteran Cengiz Çekil is showing pastel-coloured canvases emblazoned with cleaning cloths and lace in a show entitled With a Cleaning Cloth.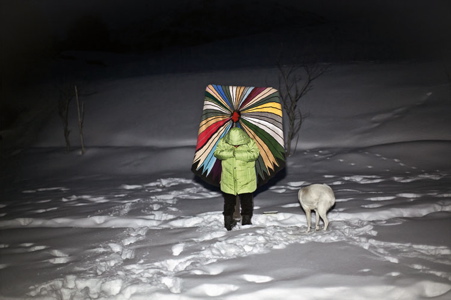 Nilbar Güreş's 'BERF' from the series Open Phone Booth, 2011; C-print, 150 x 108cm
Opposite, at No 21, next door to Kahve Dünyası, Rampa's main space has a memorable exhibition by the Turkish artist Nilbar Güreş, who caused a stir at London's Frieze Art Fair back in 2011. Her latest exhibition, Open Phone Booth, documents an Alevi-Kurdish village with stunning photography and an ironic, poignant video.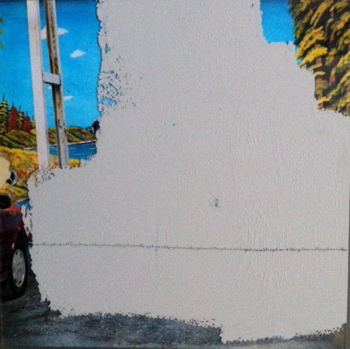 Sevim Sancaktar's work 'Forget Me Not' (2013) is exhibited at I Can Do This As Well; mixed media on diasec, 50 x 50 cm
Two doors down, CAM Galeri's letters are etched on cool steel on the façade. Inside, Emre Zeytinoğlu has curated a mixed-media group show entitled I Can Do This As Well.
Gazi Sansoy's work 'Faceless' at Themeless/Contactless 3
Now on to our final stop, located on the outskirts of Beşiktaş – more precisely Teşvikiye, the neighbourhood leading to fashionable Nişantaşı. Perhaps it's easier on the legs to hop in a cab for this one. Otherwise, if you need to walk off lunch, follow Şair Nedim Caddesi for a few hundred yards, past fruit markets and kebab shops, and turn left up the steep Hüsrev Gerede Caddesi (a one-way street coming down the hill). About halfway up, at No 37, Galeri Ilayda has a playful, wonderfully laid-out group show entitled Themeless/Contactless 3, now in its last week.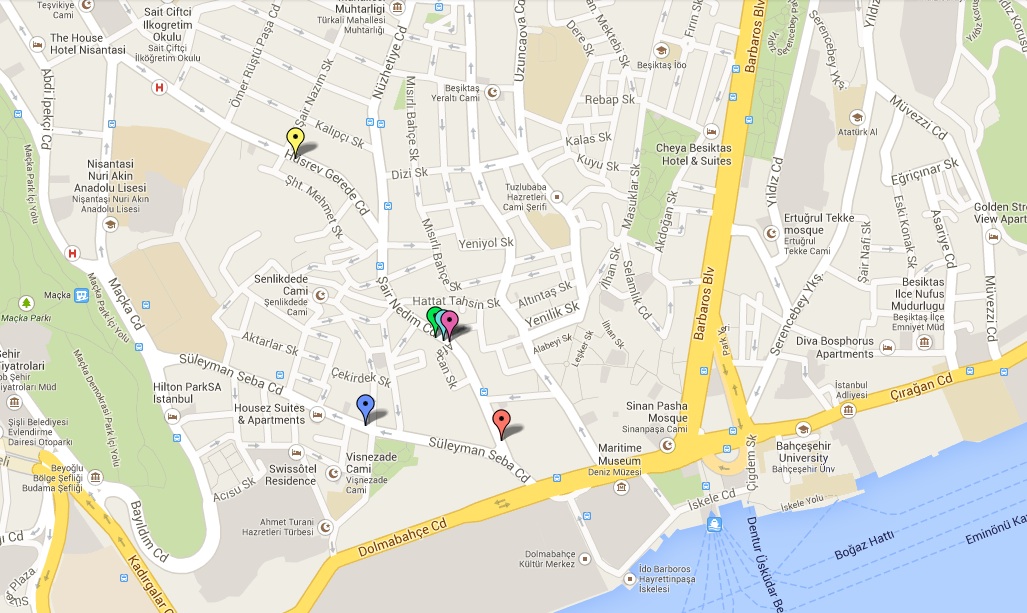 Key: Blue – Kuad Gallery; Red – Art ON Istanbul; Purple – Rampa basement hall (No 20); Light blue – Rampa main space (No 21); Green – C.A.M. Galeri; Yellow – Galeri Ilayda
Click here for the interactive map.