We are concentrating on the galleries around the Tophane area this week, as part of our two-part Karaköy/Tophane gallery walk. We visit some of the younger galleries on the Istanbul art scene, which are all fittingly exhibiting solo shows of emerging Turkish artists. Most of the galleries are located on Boğazkesen Caddesi (above image), a long street that links Tophane with Istiklâl Caddesi.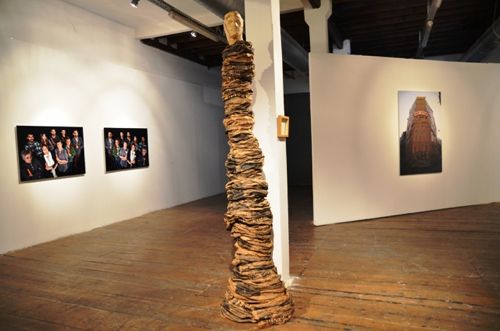 Gülçin Aksoy's 'Archive', 2012, installation
GÜLÇIN AKSOY'S DOUBLE STORY
Let's start at the bottom of Kumbaracı Yokuşu, just inland from the Tophane tram stop, where the former tobacco warehouse DEPO is hosting an interesting historical show. Gülçin Aksoy's Double Story explores 'the issues which arose after the 1980 military coup such as post-80s urbanisation and a lack of self-criticism and confrontation on a personal and social scale,' as according to DEPO's Asena Günal.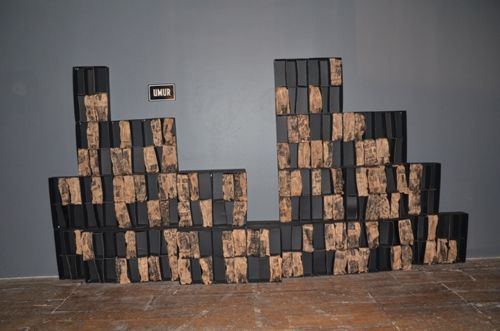 Gülçin Aksoy, 'Umur', 2014
Günal particularly likes the two works above: the first one is a sculpture of the artist's leftist brother who was killed during the coup, and the second is an installation showing the Umur building, which was inhabited by the artist's family, then by several leftist organisations and then demolished. Works are priced from TL1,000 to TL3,000. Contact the artist directly on gulcinaksoy@gmail.com.
'This exhibition examines collective memory through personal memory. The title 'Double Story' refers to the story of my twin siblings, one who died and the other who was forced to seek asylum, as well as the double narratives that developed around it. Double meanings, opposite or meaningless concepts, originating in any geography, take into consideration how significant geography is to a person's life,' says Aksoy.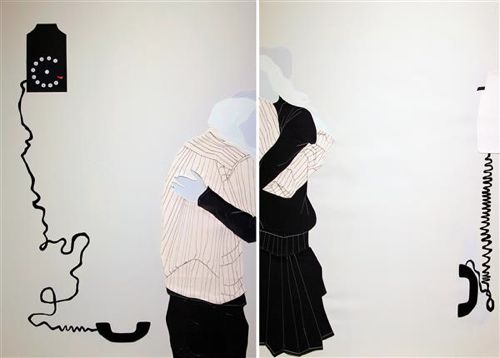 Meltem Sırtıkara, 'Online', 2014, diptych, oil on canvas, paper, rope, 175 x 130 cm
MELTEM SIRTIKARA'S MATTER OF TIMING
Backtrack across the park to the next street leading up to Istiklâl – directly opposite the Kılıç Ali Paşa complex – Boğazkesen Caddesi. At No 45, big, brash industrial space Mixer is hosting the solo exhibition of Meltem Sırtıkara. A Matter of Timing consists of installations, paintings and photography, and focuses on the impact of technology and mass communication devices on relationships. 'The artist argues that romantic relationships have now shifted to a level where the parts seem close to each other but eventually fall apart because of the rampant use of technology in everyday life,' says Mixer's director, Bengu Gün. Prices range from TL50 to TL8,000. Besides the temporary exhibition, artworks of other artists are displayed in the Open Space and Editions areas.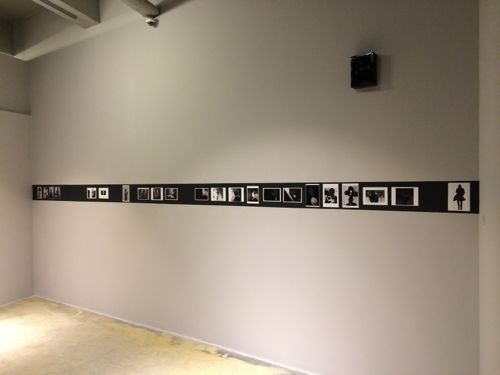 Meltem Sırtıkara, 'Zeroes in My Life' from the 'Imaginary One' series, photo collage installation
The artist's favourite work in the exhibition is the above piece. 'This is a photo collage installation focusing on identities transformed through time and the value we attribute to the characters in our lives. We as human beings are helpless when it comes to emotions. This is my favourite work because every single person has these kinds of concerns these days: identity is the core question in our lives,' she says.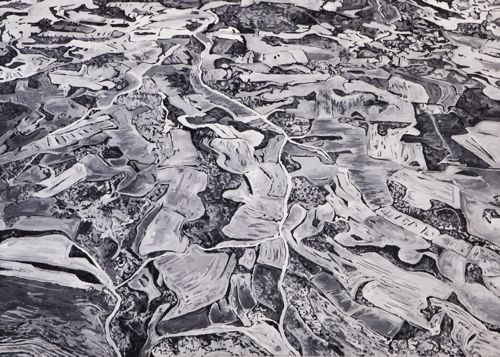 Ahmet Duru, 'Care to throw up 1', 2014, 110 x 80 cm
AHMET DURU'S SOMEWHERE AROUND HERE
Cross the road and in a few minutes you will reach Daire, which has moved from its previous location to No 76A. The gallery is hosting the first solo exhibition of the young artist Ahmet Duru. Somewhere around here consists of realistic acrylic paintings on canvas and drawings. 'Duru's paintings and drawings are presented in a complementary way. Some of these are small micro details of the 'big picture' drawings,' says the gallery's founder, Selin Söl. Prices range from TL500 to TL14,000.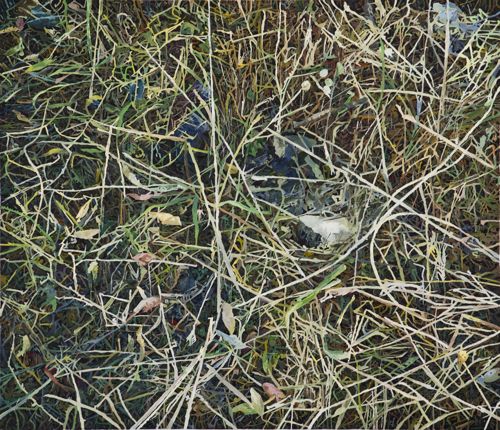 Ahmet Duru, 'Not nervous', 2014, 100 x 85 cm
Commenting on his production process, the artist says that: 'I first make sketches of my ideas in my mind and then I decide whether to draw or paint these ideas.'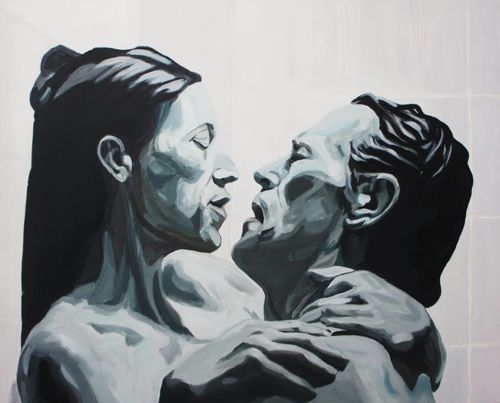 Füruzan Şimşek, 'Antichrist', 2014, acrylic on canvas, 150 x 118 cm
FÜRUZAN ŞIMŞEK'S BOUNDARY
Next door, a new addition to our gallery walks, Pg Art Gallery at No 76B which first opened in 1993, is hosting the solo show of Füruzan Şimşek, who is known for her paintings which depict scenes from the daily lives of urbanites and their existential problems. Boundary features a selection of Şimşek's latest paintings, which are look very realistic and are quietly effective.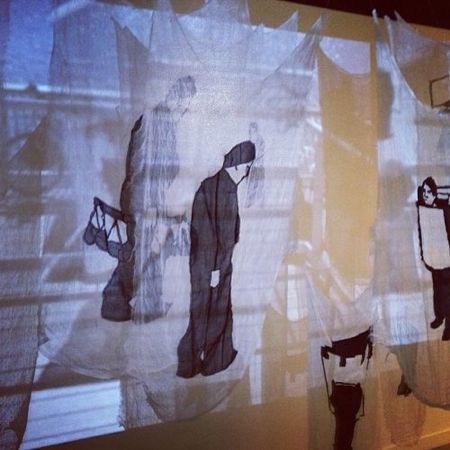 Güneş Terkol's 'Holographic Recording'
GÜNEŞ TERKOL'S HOLOGRAPHIC RECORDING
A steepish climb up the street, on a side street called Nur-i Ziya Sokak which will be on your left, Galeri NON is in its last week of exhibiting the solo show of Güneş Terkol, who tells her stories through the use of fabrics, slides, video installations, as well as more unusual techniques such as daylight, sounds and exteriors. In Holographic Recording, the artist focuses on various narratives she has constructed in different cities over the last two years.
All images, except for mail image, courtesy of respective galleries. Main image from http://www.gezenesor.com/mekan/bogazkesen-caddesi-beyoglu istanbul/resimler/65130.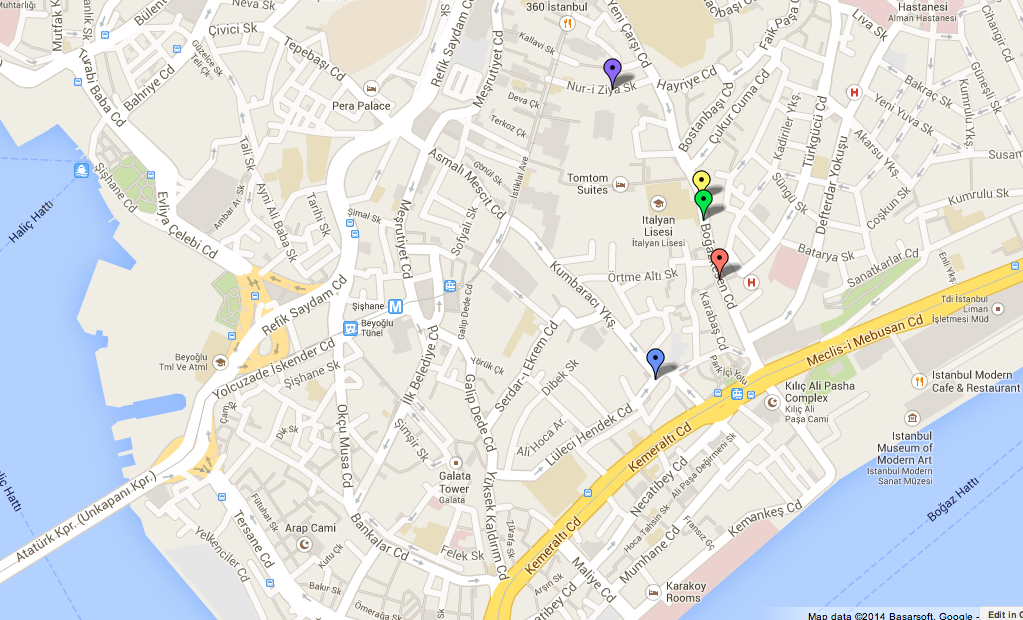 Key: Blue – DEPO, Red – Mixer, Green – Daire, Yellow – Pg Art Gallery, Purple – Galeri NON
Click here for the interactive map.