Art lovers are eagerly anticipating the opening of the 13th Istanbul Biennial on September 14, but in the meantime there is a plethora of exciting new shows (big and small) in Istanbul's galleries. This blog is the first instalment of what will be a regular series of guided gallery-walks around various neighbourhoods of the city.
Let's start our first gallery-walk in the city's new cultural hub, Karaköy/Tophane (scroll to the bottom for a map), at Istanbul Modern, the current daddy of Turkey's modern art scene. A big red sign on Meclis-i Mebusan Caddesi (visible from the Tophane tramstop) invites you down to the warehouses (antrepo) lining the quay, often dwarfed by cruise liners. The white warehouse in the far corner of the shadeless carpark houses the country's first private modern art museum. A lot to choose from here, from a collection of highlights of the permanent collection, entitled Past/Future, on the first floor, to two temporary exhibitions on the ground floor – Close Quarters (in the photography gallery, above image) and the calligraphy-inspired Erol Akyavaş retrospective. On your way out, pause to contemplate the pleasing hovering discs of Sky Spotting Stop – by young architects in a MoMa–Istanbul Modern collaboration.
Back at the Tophane tramstop, turn left at the pretty 18th-century Mahmud I fountain and head towards the sea (past an arcade of noxious nargiles). On the corner of Tophane Iskele Caddesi, Egeran Gallery is hosting the Gezi-inspired installation Reverse Corner by Işıl Eğrikavuk, winner of the 2012 FULL Art Prize (Turkey's first contemporary art award, open to artists under 40). A parallel event to the Biennial, it is all about 'us' and 'them' – the title comes from the deliberately confusing soccer tactic.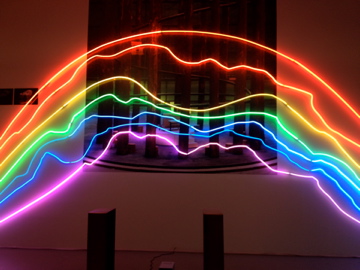 Sarkis' Rainbow exhibition
On then into the backstreets behind Egeran, where Tophane becomes Karaköy – a delicious mix of motorbike repair shops and fancy cafés. Galeri Mana, housed in a converted 19th-century wheat mill, is offering a very conceptual new show, Rainbow, by the Paris-based, Turkish-born Armenian artist Sarkis (Zabunyan). Nearby at Istanbul'74 are photographs of pop culture icons by the Dutch duo Inez & Vinoodh.
Inland from the Tophane tramstop and across a park, you might enjoy a rest at the appetising Falls in Galata café, at the bottom of Kumbaracı Yokuşu, the steep straight lane leading up to Istkiklal. Then brace yourself for another strong dose of Gezi at the non-commercial artspace DEPO, the warehouse next to the café, where the current exhibition is called Gezi: The Beginning.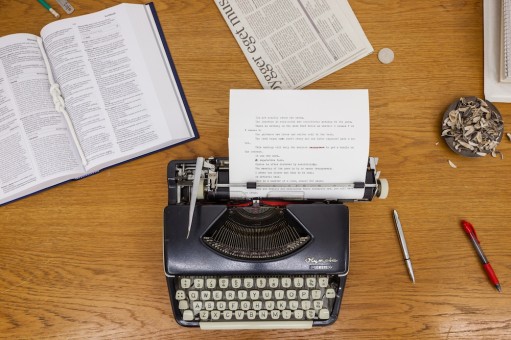 Meriç Algün Ringborg's 'A Work of Fiction', 2013, part of her exhibition, The Apparent Author
Backtrack across the park to the next artery leading up to Istiklal, directly opposite the Kılıç Ali Pasha Mosque. Boğazkesen Caddesi – and its side streets – has a few more galleries of interest, including Daire Gallery (at No. 65D), which is showing a group exhibition entitled Lost; industrial art space Mixer (at No. 45 in the basement) with another Biennial-parallel event, a site-specific installation entitled Hotel Italia; and Galeri NON (on a side street called Nur-i Ziya Sokak), which has the first solo exhibition by the Istanbul-born, Stockholm-based Meriç Algün Ringborg, entitled The Apparent Author.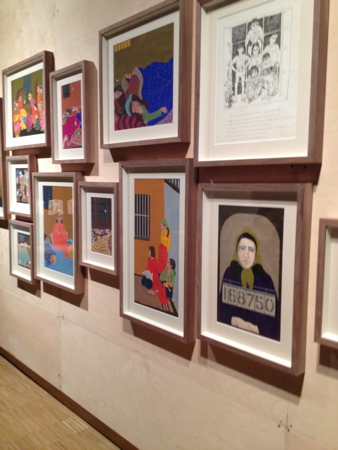 Gülsün Karamustafa's 'Prison Paintings' series, 1972–1978
A vigorous climb brings you up to the ever-hectic Istiklal Caddesi and SALT Beyoğlu (Istiklal Caddesi No 136), where the Turkish contemporary artist Gülsün Karamustafa offers A Promised Exhibition. Karamustafa's abstract paintings have never been exhibited before, and her unique installations and videos (she had a career as an art director in yeşilçam melodramas in the 1980s) reveal a passion for detail and composition.
Backtrack to Istiklal 163, on the fourth floor of the famous Mısır apartment, a building packed with galleries, Galeri Nev is hosting Turkey's renowned video artist Ali Kazma's Book, his first show focusing on his photography.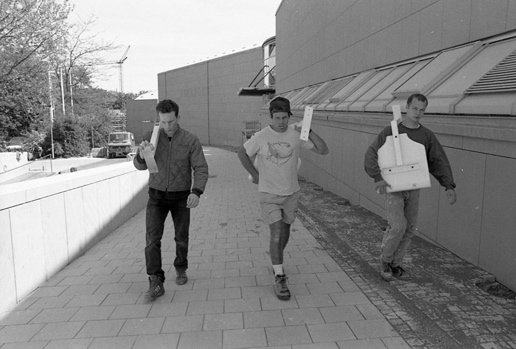 Elio Montanari's photograph of the artist Matthew Barney and assistants setting up for Barney's show 'Ottoshaft' for Documenta IX, Kassel, Germany, 1992
For more photography, head back down to Bankalar Caddesi from the Tünel Square, at the end of İstiklal. This is the grand street leading down to the main square of Karaköy, opposite the Galata Bridge. At the substantial former HQ of the Ottoman Bank, SALT Galata is exhibitiing the work of the Italian Istanbul-based 'photographer of the artists' Elio Montanari. Although One, No One and One Hundred Thousand is interesting in content, several series of photographs are hung in different areas over three floors of the building, thereby isolating each series and depriving the show of any sense of cohesion.
If you still have it in you, head down to Karaköy boat station, and catch a ferry to Kadıköy, where a five-minute taxi ride to Gallery Park Art (Osmanağa Mh. Yoğurtçu Park Caddesi No. 44, Kadıköy) brings you to a lovely gallery exhibiting a sequel to their Gezi protests show entitled Discovering Unity.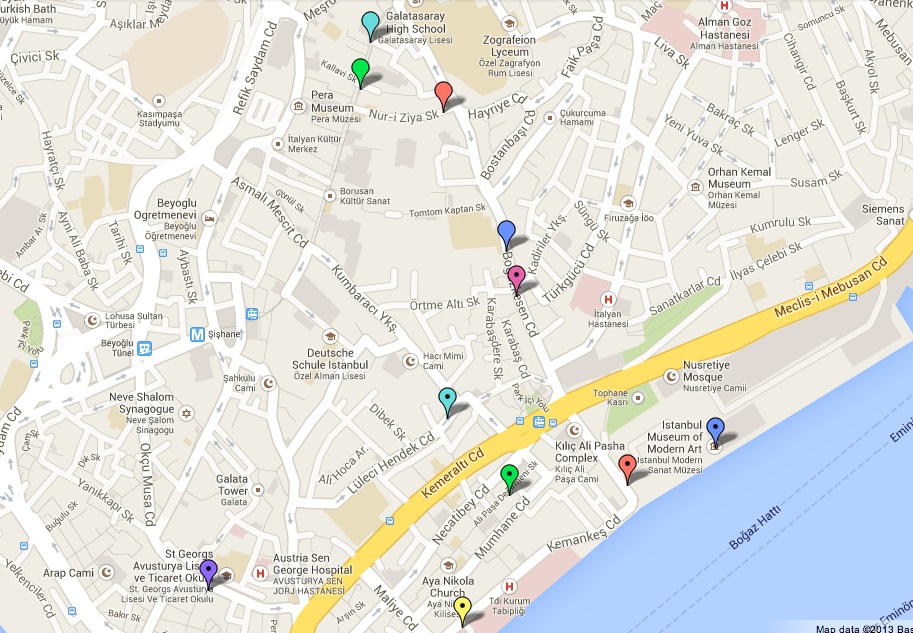 Key: Blue with dot – Istanbul Modern; red with dot – Egeran Galeri; green with dot – Galeri Mana; yellow with dot – Istanbul'74; light blue with dot – DEPO; purple with dot – Mixer; blue – Daire Gallery, red – Galeri Non; light blue – Galeri Nev; green – SALT Beyoğlu; purple with dot – SALT Galata
Click here for the interactive map.