Hawick, a town of 15,000 souls deep in the Scottish Borders, is not exactly the place you'd expect to encounter the street dogs of Istanbul. But for the last year the German director Andrea Luka Zimmerman has been doggedly touring her film, Taşkafa: Stories of the Street – in which they take the starring role – since it showed at the Istanbul Film Festival in 2013. She brought it to the tiny Alchemy Film and Moving Image Festival in Hawick, which took place at the beginning of this month, and screened it two days later in Bristol in England. After multiple screenings in both Germany and Britain, she's shortly showing it at the Taipei Film Festival in Taiwan, but wants to take it even further afield.
The fascination of writers and artists with the street dogs of Istanbul are as old as the city's attempts to control them, by means fair and foul. 'And sleeping happily, comfortably, serenely, among the hurrying feet, are the famed dogs of Constantinople,' Mark Twain famously wrote, 'though I never saw such utterly wretched, starving, sad-visaged, broken-hearted looking curs in my life'.
In 2010 the animated film, Barking Island, created a stir when it won the Palme d'Or for best short film at the 2010 Cannes International Film Festival for director Serge Avedikian, inspired by the early 19th century round-up that saw an estimated 80,000 dogs shipped to the deserted island of Hayırsız. Last year's Istanbul Biennial saw a soulful piece, I am the dog that was always here, a video film loop by the Swedish artist Annika Eriksson, when the dogs wax sad and philosophical about efforts to banish them to woodlands on the outskirts of the city.
Still from 'Taşkafa: Stories of the Street'
Filmed over three years, Taşkafa 'is really not as such about the dogs but about the relationship of human beings with other kind of creatures in an urban environment,' said Zimmerman. With a nostalgic soundtrack and readings by John Berger from his novel King, it won strong reviews in Istanbul and at the London Film Festival. It explores how Istanbul residents, and shop and street workers share the care of the city's canine population from Galata to the Princes' Islands. It was produced by Gülen Güler, one of Turkey's foremost documentary and fiction filmmakers who has worked with the artist Kutluğ Ataman.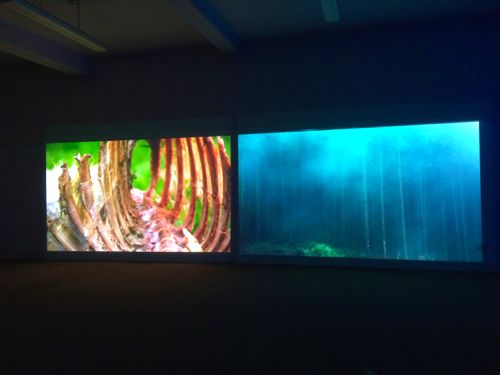 Stills from 'What It Is To Want It', 2014, Sarah Bliss, installation view of two-channel film installation
The Alchemy festival in Hawick, once one of Britain's wealthiest Victorian towns and still famous for its much-dwindled cashmere industry, is testimony to doing a lot with very little. On a budget of just £30,000, with a theme of 'Dreamlands' this year, director Richard Ashrowan skilfully picked from more than 600 entries of feature films, video art and installations; the festival is focussed firmly on the intersection of art and film. They would like more Turkish work. It was the installations that made the festival for me, particularly What It Is To Want It, a powerful film project by the filmmaker Sarah Bliss that juxtaposes readings from 17th-century Scottish religious texts with images of murky woodscapes and animal carcasses.
Taşkafa features an impromptu protest at the end of the film against proposals to ship thousands of dogs to forest areas. 'In Istanbul you have this complex and ambiguous relationship between dogs and the human population,' Zimmerman said. The dogs have long been famous in the city's history and subject to numerous academic studies, some suggesting they operate better in protecting doorways than CCTV cameras.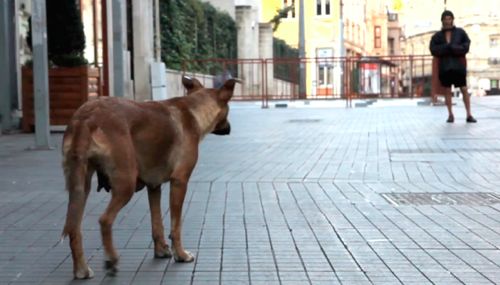 Still from 'Taşkafa: Stories of the Street'
Zimmerman hopes to take her film to countries beyond Western Europe where dogs remain in cities, particularly India. 'In Romania there are a lot of street dogs,' she said. 'In Moscow there are the famous dogs that travel by tube. In Mexico there are a lot of street animals, they are more or less looked after.' The film has also raised the issue of the care of other animals, and even birds; in her Bristol showing, Zimmerman found herself fielding questions on why people in UK, famously a nation of animal-lovers, didn't seem to like pigeons.
Click here to read Robin Thomson's review of Theodosia, a film about Crimea that also screened as part of Alchemy.
Main image is a still from 'Taşkafa: Stories of the Street'