What is a painter without paint or a brush? The ZERO: Countdown to the Future exhibition at the Sakıp Sabancı Museum more or less answers that question: a member of the ZERO art group, a network of avant-garde artists who wanted to wipe the slate clean in the post-war period and make a fresh start when it came to the creation of art. This large-scale exhibition, which ends on January 10, demonstrates how the ZERO artists replaced traditional painting with works that explored and emphasised the materials used to make art, including light, movement, space and colour.
The ZERO art group was formed by Heinz Mack and Otto Piene in 1957, with Günther Uecker – the third core member – joining in 1961. As recent graduates of the Düsseldorf Academy of Arts, Mack and Piene were tired of the destruction of the Second World War and the dreary years that followed. According to Piene, the title ZERO was not viewed 'as an expression of nihilism – or a Dada-like gag, but as a word indicating a zone of silence and of pure possibilities for a new beginning as at the countdown when rockets take off'. The lack of strict membership requirements or a definite national organisation allowed ZERO to continue expanding into a bona-fide international artists' network until 1966, when Mack formally disbanded the group.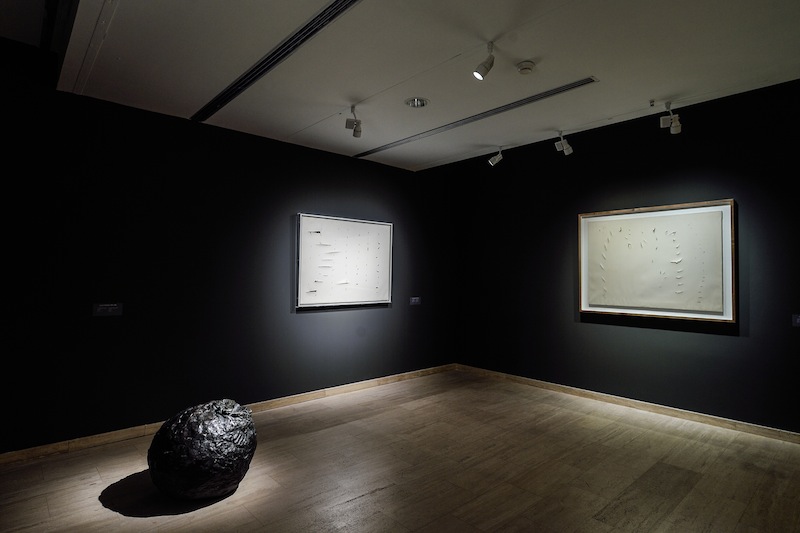 The first room of the exhibition featuring work by Lucio Fontana
The exhibition at the Sabancı Museum is one in a series of global shows organised by the ZERO Foundation at such museums as the Guggenheim in New York, Berlin's Martin-Gropius-Bau and Amsterdam's Stedelijk Museum. Works are displayed according to theme and generally grouped together with other pieces by the same artist, and Mack, Piene and Uecker feature heavily, with a few other ZERO artists, such as Yves Klein and Piero Manzoni also making an appearance.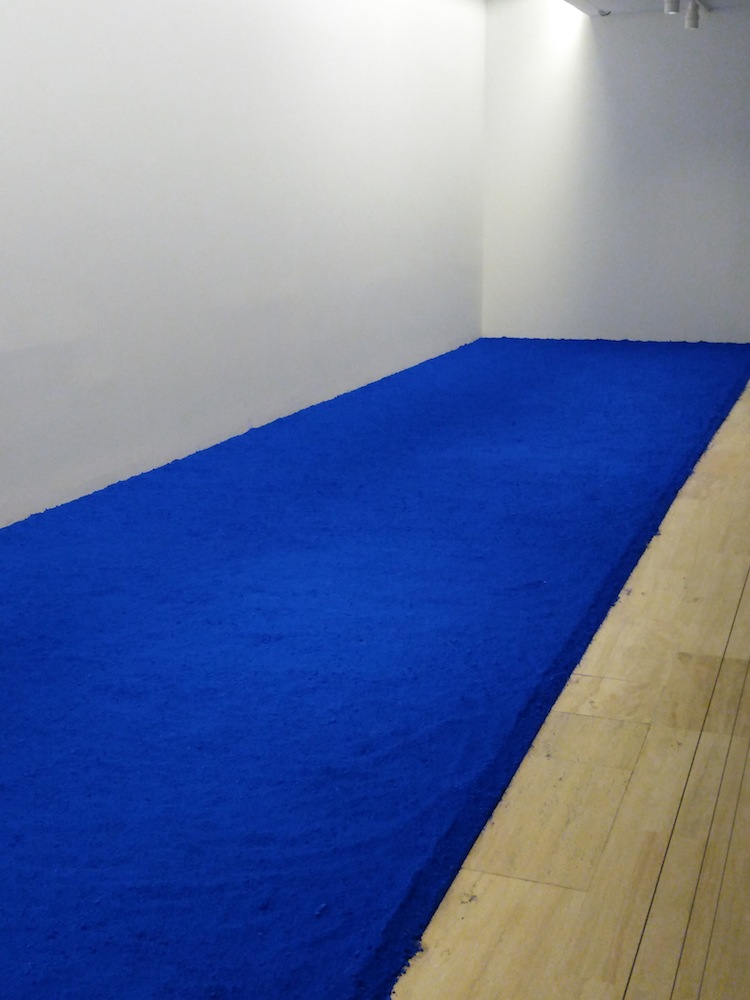 Yves Klein, 'Pure Pigment (PIG 1)', recreation of 1957 work, dry, powdered ultramarine blue pigment
The first theme that hits you right over the head as you enter the exhibition is 'colour'. The recreation of Yves Klein's 1957 work 'Pure Pigment (PIG 1)' demonstrates the incredible power of monochrome. A large section of the floor is covered in powdered ultramarine blue pigment in a way that emphasises the material itself and the surface it creates. Unburdened by figurative elements, the viewer is free to consider her own perception fully. Overall the piece is bursting with joy – it left me feeling euphoric and with a bounce in my step.
Another theme, 'vibration' – which was the focus of the eighth evening exhibition organised by Mack and Piene in their Düsseldorf studio in 1958 – seems to permeate almost all the works on display. The ZERO artists viewed this concept of visual movement as antithetical to the static surface of traditional painting. The aim was to create works that seemed to be set in motion, which in turn would invite the audience to participate in an interactive experience in which they had to confront their own perceptions.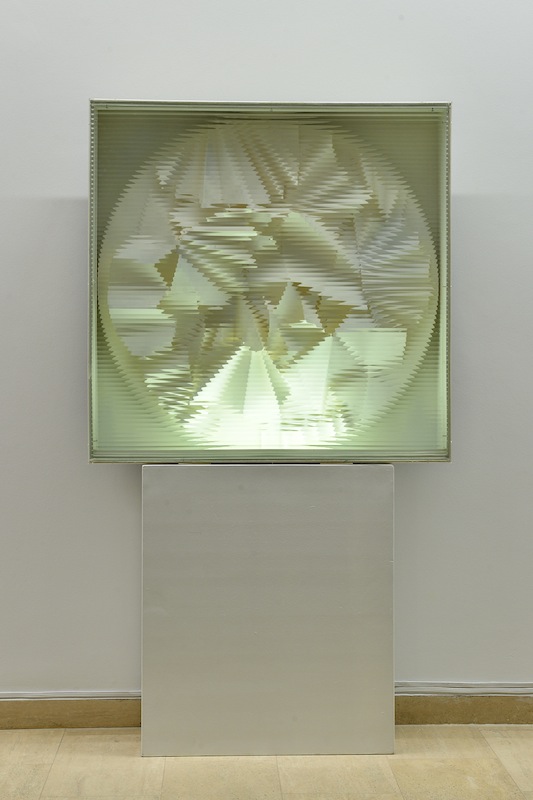 Heinz Mack, 'White Rotor', 1958, wood, corrugated glass, paper and electricity
This movement is not always illusory – some of the works are powered by motors. The way in which paper shapes slowly circulate behind corrugated glass in Heinz Mack's 'White Rotor' (1958) is mesmerising. The motor – hardly perceptible – adds a theatrical element to the work.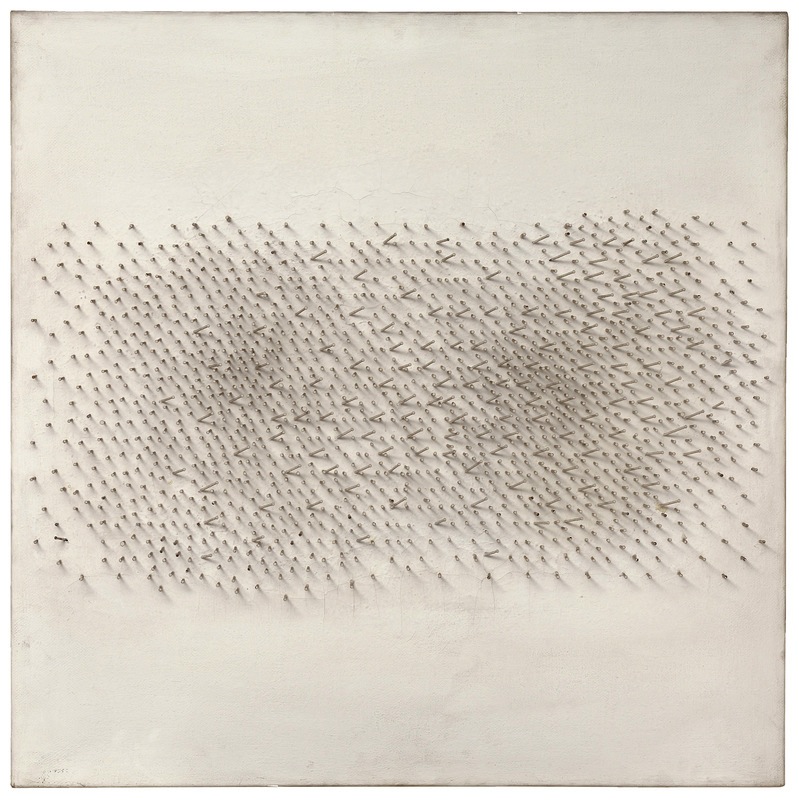 Günther Uecker, 'White Object', 1961, nails on canvas on wood, sprayed
Günther Uecker's 1961 work 'White Object', a canvas full of nails positioned at varying intervals and angles, also exudes the sensation of movement and vibration. Although it is not motorised, the piece seems to be set in motion and changes continuously when seen from different viewpoints and under different lighting. It's unclear where the nails end and their shadows begin.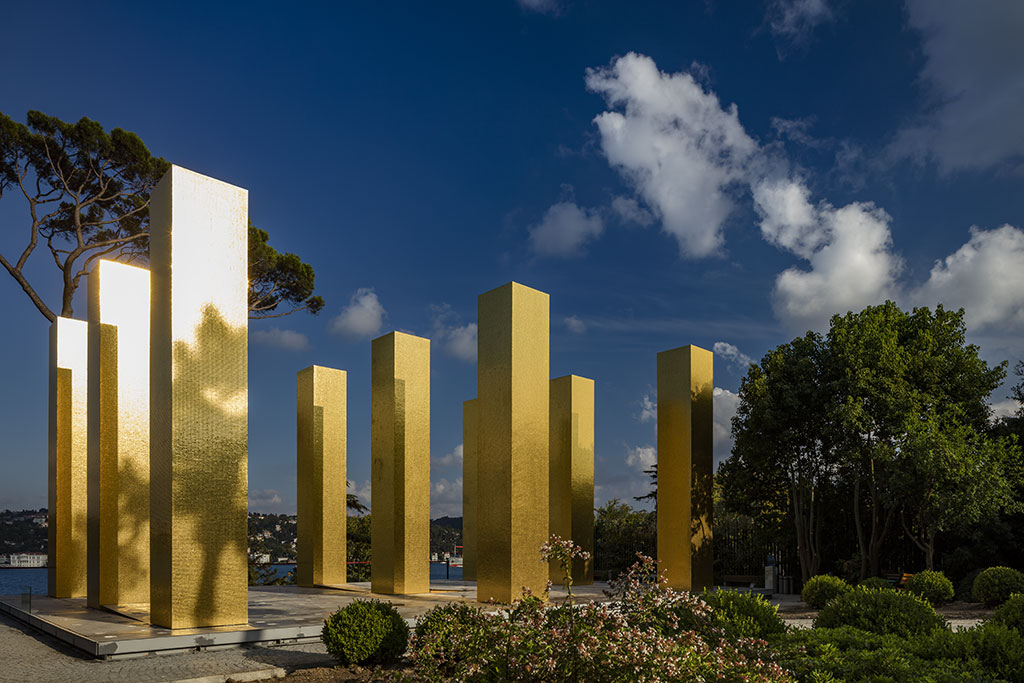 Heinz Mack, 'The Sky Over Nine Columns', 2012–14, 850,000 tessarae (mosaic stones, 24-carat gold leaf) on a construction of composite and platform in steel
The vibration in Uecker's piece is contingent upon light. The ZERO artists viewed light as a symbol of energy and innovation, as well as the ideal material for creating art – its abstract and evanescent nature symbolising a break from the inertia of traditional art. Their works incorporate the dynamism of light and reflection as a means to transform the viewer into an active participant. This interest in light as a material is made crystal clear before the viewer even sets foot in the museum – Mack's towering sculptures loom over the mansion's courtyard and glitter with 24-carat gold leaf which comes alive in both sunlight and lamplight.
In the museum, the section focused on 'light' is dominated by Otto Piene's works, many of which utilise smoke (soot) to create hazy grey and black forms against a light background. My favourite is 'Fireflower' (1965), one of Piene's fire paintings (main featured image). In these later works, Piene applied a layer of solvent to pigmented paper and then proceeded to burn it, creating images in the residual soot. He pierces the darkness with light, and creates dynamic and organic structures which bring a breath of life to the work.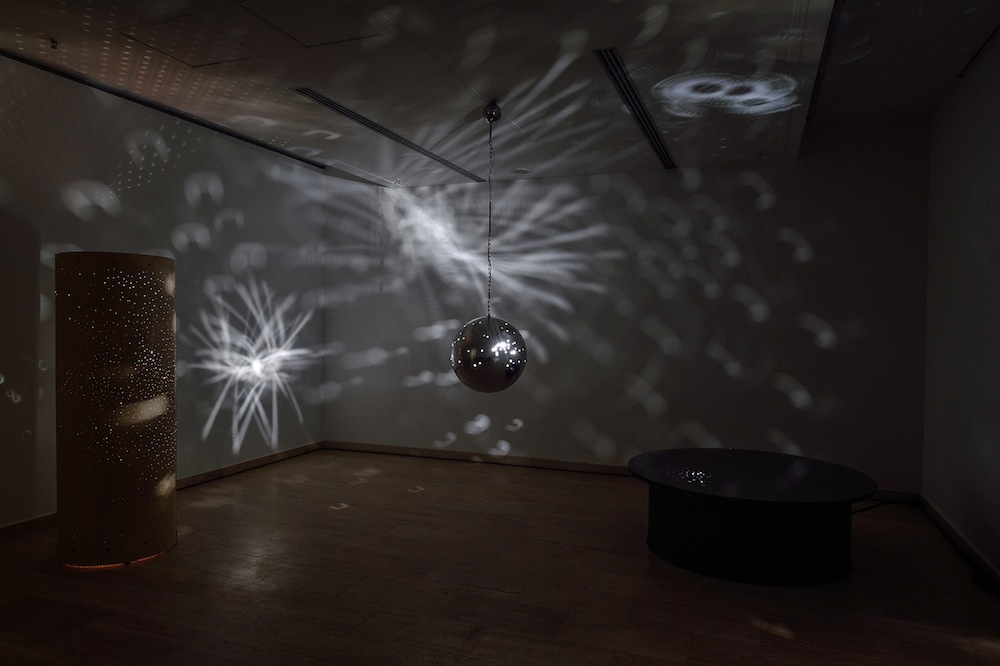 Otto Piene: 'Black Light Ballet Drum', 1967; 'Light Disc', 1963–86; 'Light Ball', 1971–72; 'Light Cylinder', 1975–90
Although Piene is best known for these fire and soot pieces, his light ballet was the more compelling piece – even though it utilised light in the most literal sense. Composed of four motorised light-based sculptures, the work occupies its own room at the museum. The sculptures create delicate moving creatures on the dark walls and ceiling that improbably change size and shape. The play of light is engrossing and encourages participation, whereas some of the fire and soot works feel more remote and inaccessible.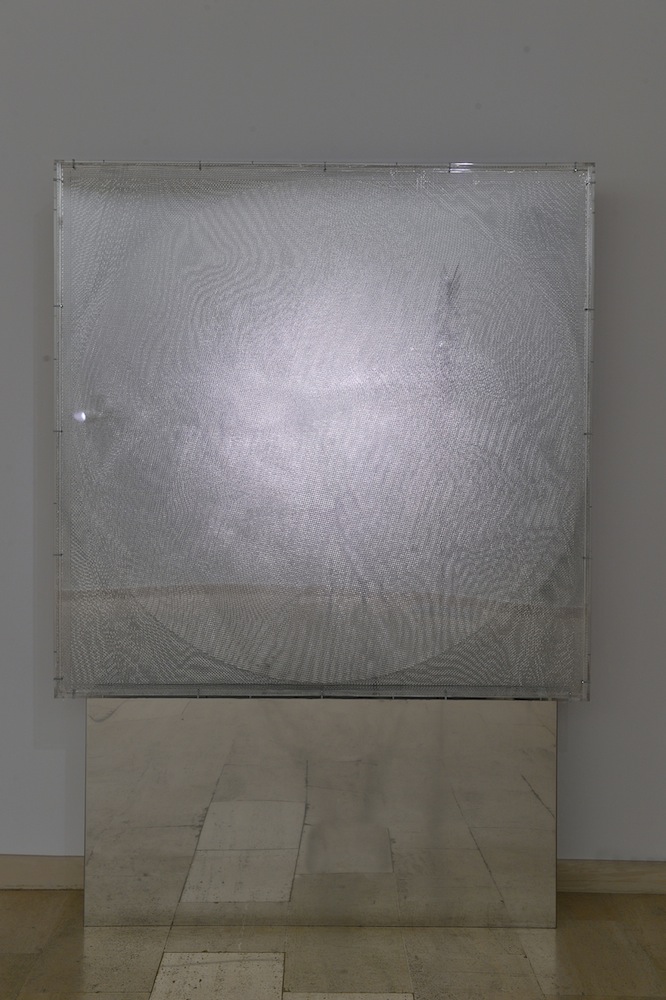 Heinz Mack, 'Rotor for Lightcurtain', 1967, aluminium, wood and plexiglass
The concept of light extends beyond Piene's work and includes Mack's 'Lightcurtain' series. Also incorporating a motor, his 'Rotor for Lightcurtain' piece creates a moving shadow consisting of aluminium, wood and plexiglass. It shimmers in an indistinct manner which forces the viewer to confront the pictorial surface. The various layers, taken together, form an object that visualises the movement of light.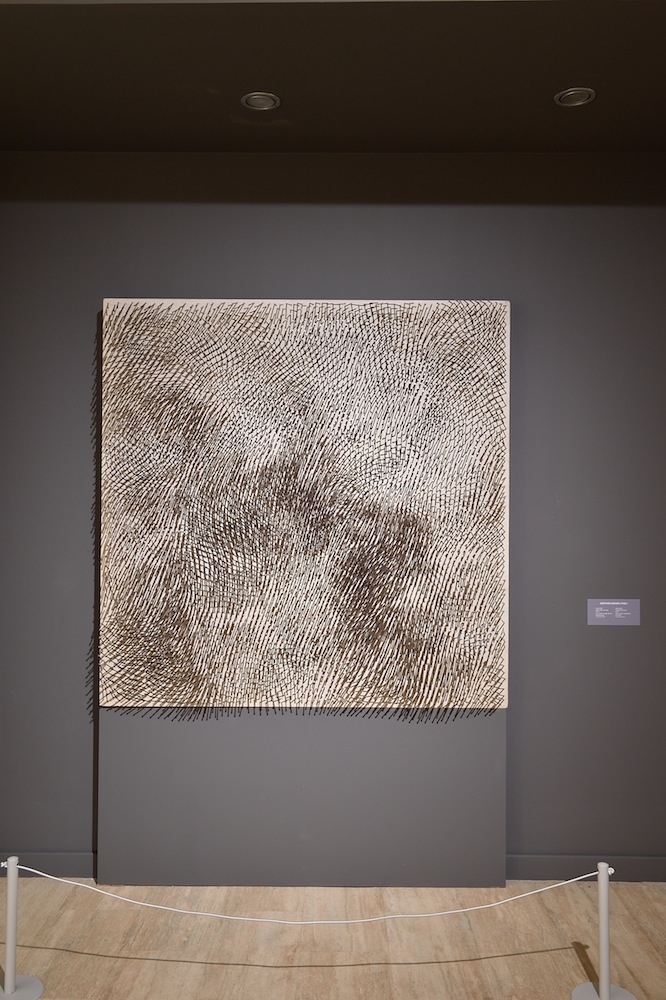 Günther Uecker, 'Everything Flows', 1972, nails, wood and nettlecloth on wood
The bottom floor of the museum is largely dedicated to 'space' and Uecker's exploration of spatiality using nails, an artistic idiom which he discovered during his days as a painter. A plaque tells us that Uecker describes the nail as a material 'which imposed itself on the space in which we live, and which enabled the reality of that space to express itself through light and shadows'. This intrusion into space is best seen in his work 'Everything Flows', where large nails jut from a piece of wood in a way that manages to be both menacing and delicate.
The exhibition ended in the same way it began – with works by Lucio Fontana. A generation older than the other ZERO artists, Fontana was a father-figure of sorts to the group, providing them with inspiration. Not only do his pieces and accompanying quotes bookend the show, they also ground the exhibition and supply the context necessary to understand the evolution of the ZERO movement.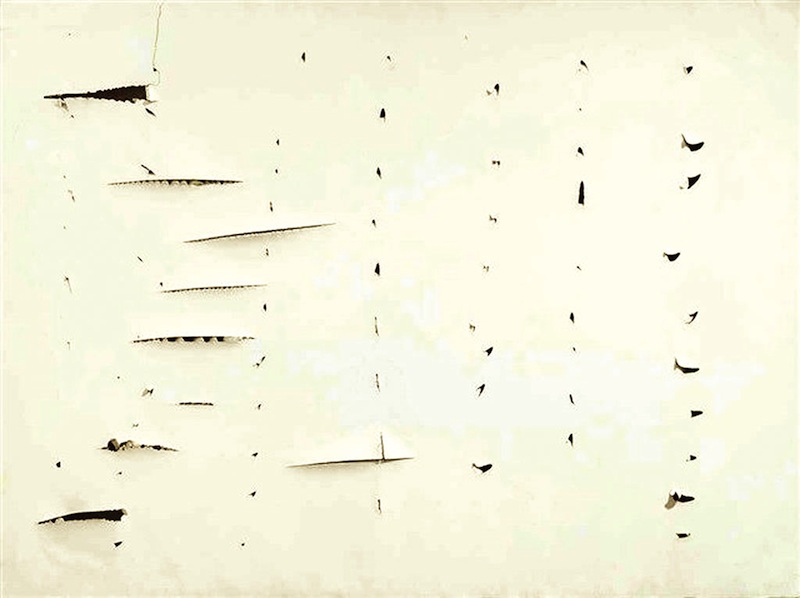 Lucio Fontana, 'Concetto Spaziale' ('Spatial Concept'), 1957–8, incisions on paper canvas
Fontana cites his biggest discovery as 'the hole', by which he means 'going outside the limitations of a picture frame and being free in one's conception of art'. By slashing and perforating the surfaces of different materials he rejects traditional art and literally looks behind the canvas to find what is hidden there. Like many of the works on display, they can at first appear bewildering – it's true that the sharp outlines of art are being blurred. But this exhibition demonstrates how ZERO artists approached these new beginnings with careful consideration and inexhaustible creativity, producing artworks which ultimately enlighten our sense of perception by challenging it.