Our round-up of contemporary art shows open this summer, by neighbourhood.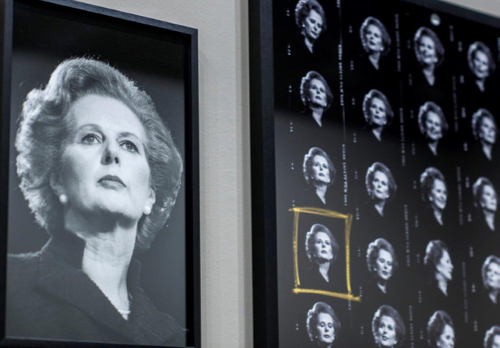 Magnum – Contact Sheets
A few things of interest at Istanbul Modern, starting with the excellent Mehmet Güleryüz retrospective Painter and Painting (main image), which has been extended until July 26. Meanwhile, in the Photography Gallery, the Magnum – Contact Sheet exhibition sheds light on the powerhouse Magnum Photos agency (until August 2). There's also the permanent collection exhibition, Past and Future, which looks at the transformation of modern and contemporary art in Turkey from its beginning to the present day. And in the courtyard, an incredible work by the Young Architects Programme's 2014–15 finalists will be a mainstay until November. The 'All That is Solid' installation is wonderfully bright, colourful, majestic, a delight for geometry lovers – and holds an important message. Bring sandwiches and cool drinks and wish the afternoon away.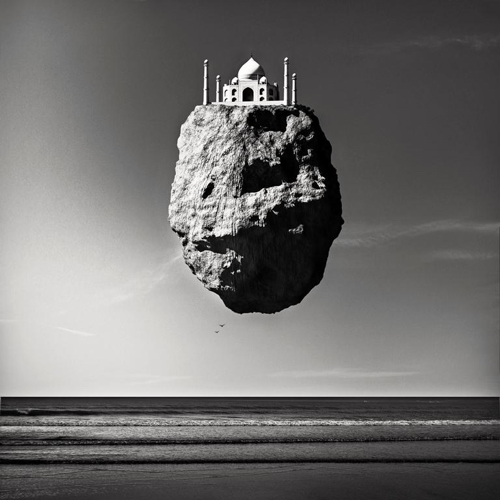 Giuseppe Lo Schiavo, 'Levitation Taj Mahal', 2012, archival pigment print, 50 cm x 50 cm, TL2,500
Mixer has opened a temporary space for the summer months in the backstreets of Karaköy at Mumhane Caddesi 48. Mixer's mixed selection displays prints, paintings, photography and drawings from the gallery's collection, going for TL100 to TL15,000. The space will be open until September, after which Mixer will begin its new season in its regular spot.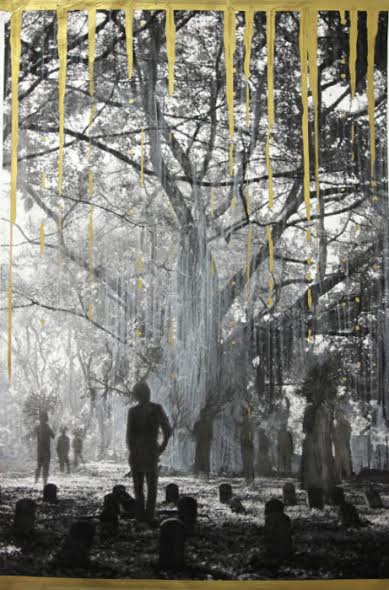 Benjamin Ong (Malaysia), Federico Fernandez Gartner (Colombia), Nini Sum (China), 'Cemetrees', mixed media, 2014, courtesy of SPACE DEBRIS
On parallel Hoca Tahsin Sokak, Space Debris Art at No 15 is opening a unique group exhibition tomorrow (July 8). The Airmail Project is a global art experiment: 16 artists in 16 countries collaborating by post. An artist starts a piece of work, sends it to another artist to work on, who sends it to a third to finish. After opening in Los Angeles and travelling to Beirut and London, it's now here for Istanbul audiences. Please enquire directly with the gallery for prices.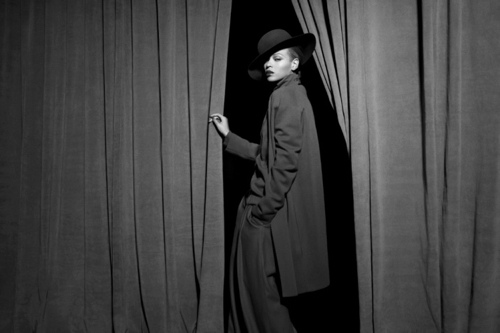 Francesco Carrozzini, 'Beyoncé', 2011
Nearby, Istanbul'74 is showcasing portraits of famous faces by the very talented Italian-born photographer and Emmy-Award-nominated director, Francesco Carrozzini. They are priced at $3,500 each, plus tax. Portraits continues until July 31. The gallery will remain open throughout the summer; check the website for future events.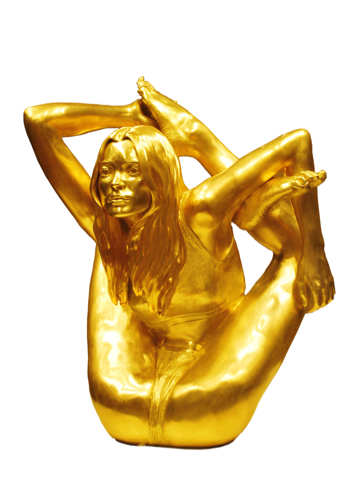 Marc Quinn, 'Maquette for Siren', 2008, sculpture, painted bronze, 24 carat gold leaf on bronze, edition of 12, 37.1 x 29 x 22.1 cm
On the main drag Kemeraltı Caddesi, opposite the Tophane tram stop, the sole gallery in Istanbul to represent only non-Turkish artists, Krampf Gallery (No 41) is hosting a Summer show features works by Seon Ghi Bahk, Yassine Mekhnache, Marc Quinn, Jon Kuhn and Li Wei. The show continues until September. Please enquire directly with the gallery for prices.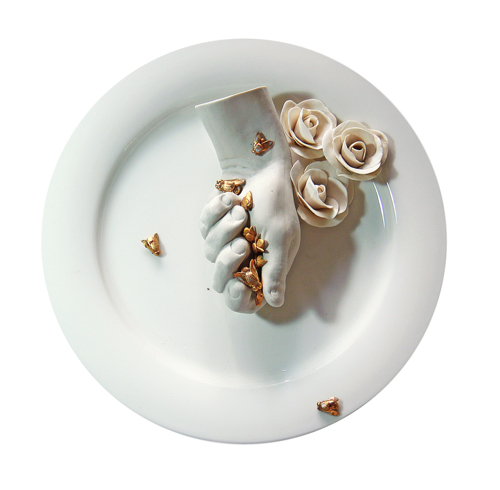 Melis Buyruk
Up on Boğazkesen Caddesi, at No 76, PG Art is opening the first solo show of the artist, Melis Buyruk tomorrow (July 8). In You are here, the artist presents ceramic plates which are at once ornamental and functional. Please enquire directly with the gallery for prices. The show continues until July 30 and the gallery takes a break in August.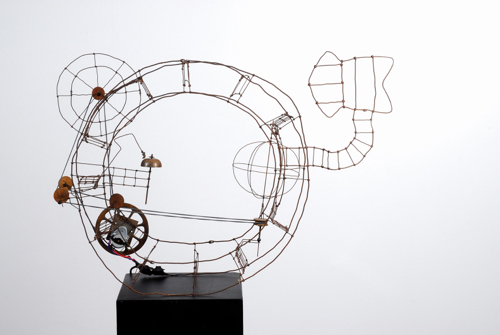 Harry Kramer, 'Not a Car at All', 1964, wire, electric motor, 60 x 34 x 86 cm, courtesy of the Foundation Künstler-Nekropole Kassel, photo: Reinhard Prüllage
At the Tünel end of İstiklâl Caddesi, ARTER is in its last month of the group exhibition, Spaceliner (above). If you haven't yet visited, we can't recommend it too strongly. Curated by Barbara Heinrich, the show examines the stylistic vocabulary of contemporary drawing and presents works by artists who explore the relationship between drawing and space. A wide range of important Turkish and European artists is exhibited. Next, Arter will be one of the venues of the 14th Istanbul Biennial.
In the backstreets of Asmalımescit, Galatea Art is displaying various works from its collection. Mostly comprising paintings and prints, the works range from Istanbul landscapes to figurative works to more abstract pieces by a range of Turkish artists. Prices range from TL200 to TL30,000. Art in every room runs until July 31.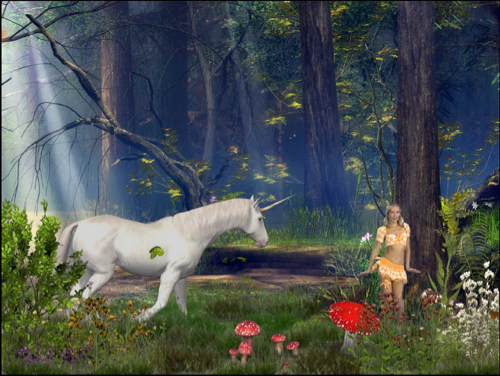 Petra Cortright, 'Enchanted forest strippers no pole easy'
In Tepebaşı, Galerist is hosting a group show, entitled Summertime, with a mixed selection of works from 16 Turkish and international artists. Prices range from $1,000 to $55,000.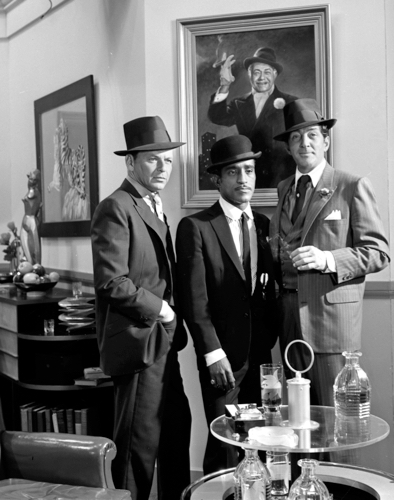 Cecil Beaton, 'Frank Sinatra, Dean Martin, Sammy Davis Jr', 1964, © The Cecil Beaton Studio Archive at Sotheby's
Next door, the Pera Museum has a few exhibitions of interest. Don't miss the excellent temporary shows Grayson Perry – Small Differences (read our review here) and Cecil Beaton: Portraits, both of which continue until July 26. If you haven't yet seen the permanent collection, Intersecting Worlds: Ambassadors and Painters, on the second floor, it's fascinating look into the relationship which existed between the Ottoman Empire and Europe for over three centuries through the eyes of court painters. On the first floor are Anatolia weights and measures and coffee paraphernalia, and on your way out, marvel at the sea/see/saw installation on the museum's façade, created on the occasion of its 10th birthday.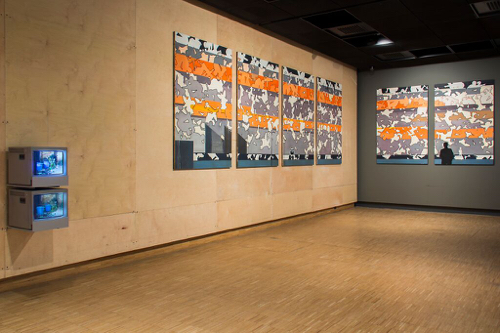 Exhibition view of 'Every Inclusion is an Exclusion of Other Possibilities'
There's still time to see the two shows currently on at SALT Beyoğlu, on perpendicular İstiklâl Caddesi. The major exhibition, Every Inclusion is an Exclusion of Other Possibilities, takes place across three floors and brings together artworks from three private collections to open up a dialogue about collecting art. Meanwhile, on the entrance floor, there's a fascinating exhibition about the Bosphorus, entitled Strait. Both shows run until August 2. An exhibition of Vahap Avşar's works will open on August 11.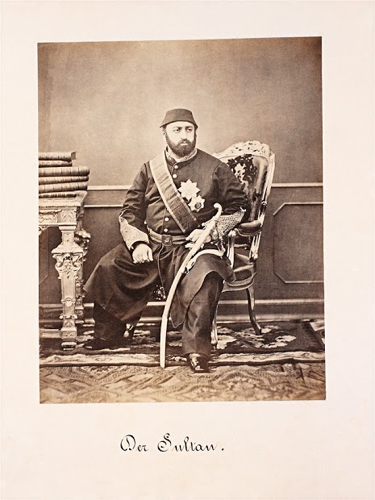 Sultan Abdülaziz, photograph by Abdullah Frères, albumen print, 1863, Ömer M. Koç Collection
Across the road, the RCAC is hosting Camera Ottomana, which looks at photography and modernity in the Ottoman Empire from 1840 to 1914. Materials are on loan from the Ömer M Koç Collection, with some of the displayed photographs from albums commissioned by Sultan Abdülhamid II. Don't miss it; it runs until August 19.
Ali Şentürk, 'Historical and Geological Corrections', 2015, stone and thread, 100 x 24 x 12 cm
Two galleries are open in the famous building packed with galleries, Mısır Apartment. First up is Galeri Zilberman, which has two exhibitions on offer both running until August 1. On the second floor, in its project space, the gallery is hosting Begüm Yamanlar's video installation Island. The artist's works were first shown at the gallery as part of the Young Fresh Different 5 show in 2014. This year's edition, Young Fresh Different 6, is taking place now on the third floor. Works by 10 emerging Turkish artists are displayed, including Ali Şentürk's nature-themed installation (above). Prices range from $300 to $5,000. There will be no exhibitions in August as the gallery prepares for its new season.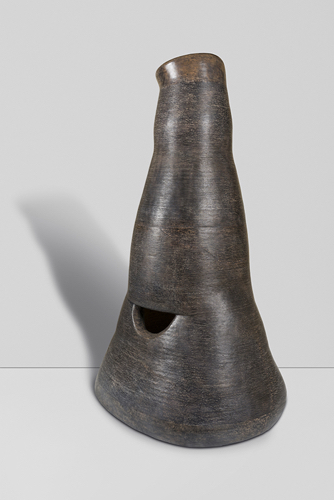 Koray Ariş, 'Cappadocia', wood and leather, 160 x 80 x 110cm
Meanwhile on the fourth floor, Galeri Nev is showcasing works by the veteran artist Koray Ariş, who delights with his musically-inspired sculptures in Euphony (until July 24). Prices range from TL100,000 to TL150,000. In August, the gallery will stage a group show with pieces from its collection. Check our Arts Diary in the coming weeks for more details.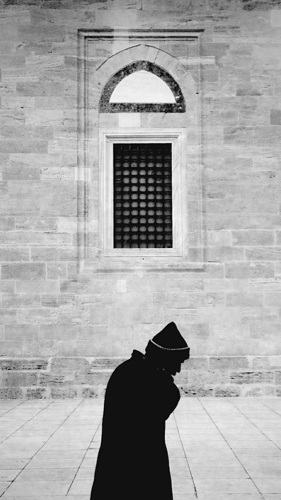 Elif Suyabatmaz
Behind the Galatasaray High School, the tiny Gama gallery is hosting the Baltimore-born Turkish photographer Elif Suyabatmaz's show Traces of Istanbul (until July 25). All the atmospheric black-and-white shots were taken on the artist's smart phone. Prices range from $250 (10 x 10 cm) to $500 (40 x 40 cm).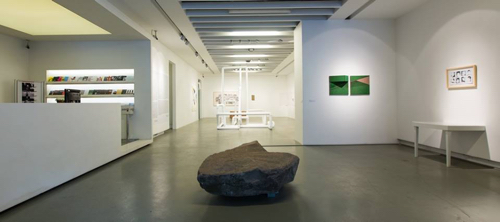 Exhibition view
Further down towards Taksim, Akbank Sanat is showcasing the works of the winners and finalists of this year's Akbank Contemporary Artist Prize. The space will close for August.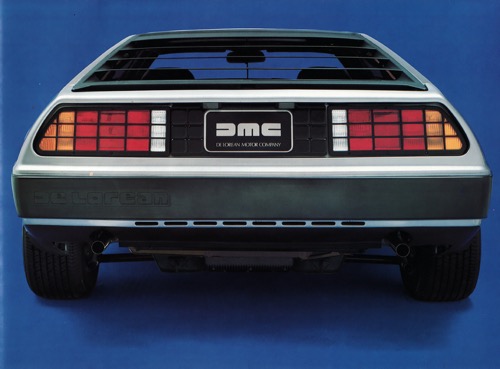 Duncan Campbell, 'Make It New John'
On parallel Sıraserviler Caddesi, Rodeo at No 49, is hosting The Fall, a group show concerned with artists' efforts to deconstruct patriarchy and structures based on hegemonic practices. Some fantastic, rather conceptual works on display. Please enquire directly with the gallery for prices. The gallery will close for August.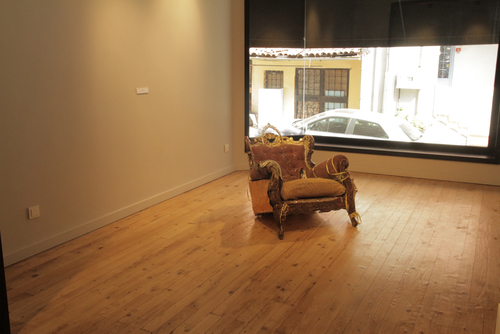 Exhibition view
Further afield in Cihangir, Blok Art Space is hosting a retrospective of all the exhibitions and events Blok Art Space has hosted since it opened in August 2014. Prices range between TL1,200 and TL22,000. Timeline runs until July 28 and will close thereafter until mid-September.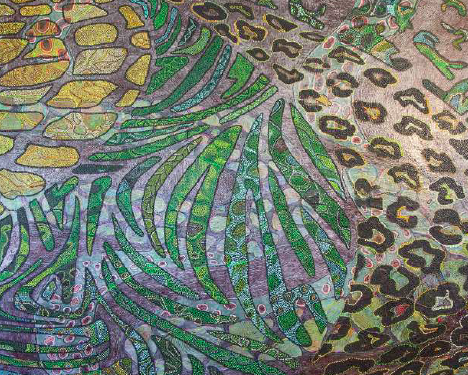 Şeyda Cesur, 'Untitled', 2015, mixed media on canvas, 148 x 177cm
On Mim Kemal Öke Caddesi, Merkur, at No 12, is hosting its group summer show, Merkur Summer, which includes works by the gallery's represented artists. Prices range from TL6,000 to TL80,000. Although the exhibition continues until September 4, the gallery is currently taking a break and will re-open on August 3.
Ali Bilge Akkaya, '2A', 2015, archival pigment print, 45 x 45 cm
On parallel Abdi İpekçi Caddesi, x-ist at No 42 is opening a new group exhibition this Thursday (July 9). For Variations on 'An Andalusian Dog', x-ist artists produced black-and-white works inspired by Salvador Dali and Luis Bunuel's cult masterpiece An Andalusian Dog. Please enquire directly with the gallery for prices. The show runs until August 18.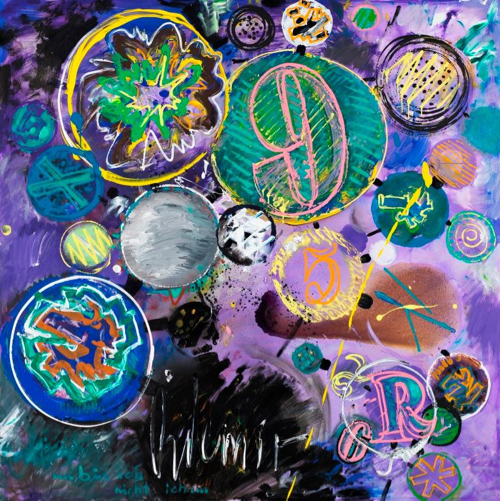 Özdemir Altan, 'Family Tree', 2014, acrylic on canvas, 180 x 180 cm
On parallel Teşvikiye Caddesi, Bozlu Art Project at No 45 is hosting a group show of some of Turkey's greatest 20th-century artists. Respect aims to pay respect to these artists, whilst at the same time taking art lovers on a journey of political, social, cultural and artistic transformations in Turkey. Please enquire directly with the gallery for prices. The show continues until August 29.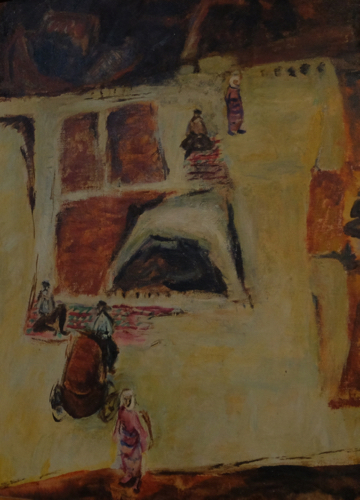 Nilüfer Çile, TL3,000
On Maçka Caddesi, Galeri Eksen at No 29 is hosting Karma, an exhibition of paintings, sculptures and ceramic works by well-known Turkish artists – past and present – displayed on rotation and changed weekly. Prices range from TL1,000 to TL50,000.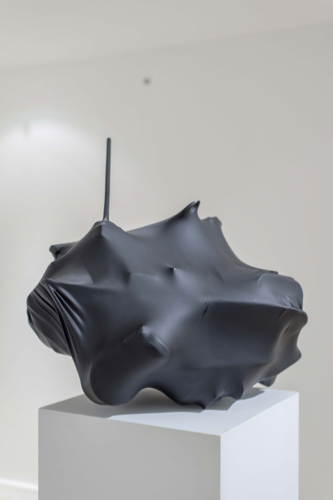 Haluk Atalayman, 'Untitled', sculpture, TL12,000
Meanwhile at No 16, Overthose is also hosting a summer group exhibition, Hidden, showcasing sculpture, installation, painting and photography by nine Turkish artists (until September 5). Prices range from TL1,500 to TL25,000.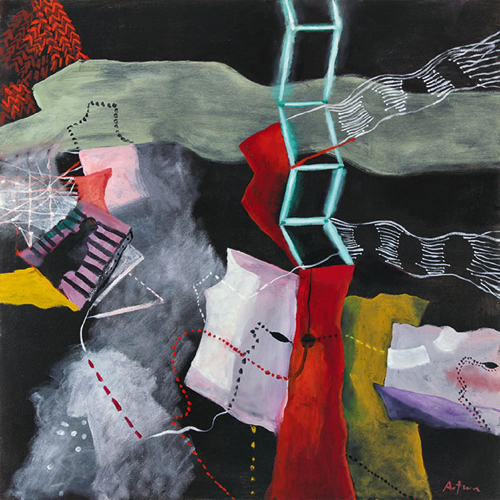 Gülden Artun, 'Fabrics and yarns', 2013, 80 x 80 cm
For even more sculpture, painting and photography, visit the veteran TEM Art Gallery further afield on Prof Dr Orhan Ersek Sokak 14, which is showcasing works by some of 20th-century's most important Turkish artists in Contemporary masters. Continues until September 22. Prices range from TL1,300 to TL66,500.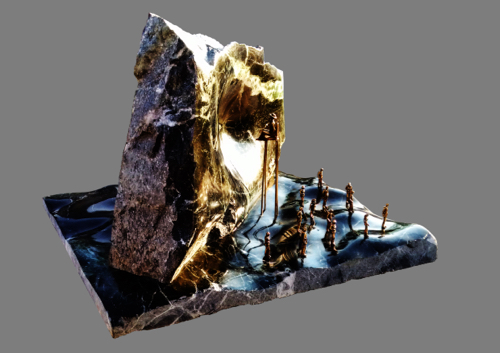 Caner Şengünalp, 'Deep Insight', 2015, serpentine and bronze, 70 x 53 x 50 cm
On the way down from Nişantaşı to Beşiktaş, Galeri Ilayda, at Hüsrev Gerede Caddesi 37, is hosting Summer collective, a group exhibition of the latest works of Galeri Ilayda's artists (until September 4). Prices range from TL6,000 to TL27,000.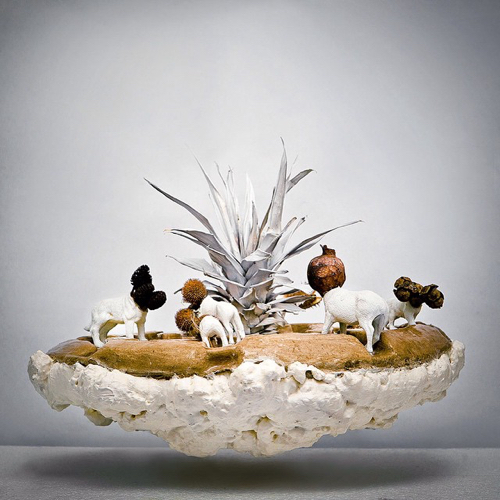 Özge Enginöz, 'Orplid', 2014, sculpture, 34 x 46 x 45 cm
Meanwhile, on the upper of the two Akaretler streets, Süleyman Seba Caddesi, Kuad Galeri at No 52 is hosting Fine-tune and multiple, a selection of 55 affordable paintings, drawings, collages and photographs by 24 artists. Please enquire directly with the gallery for prices. The show continues until August 1, after which the gallery will close until its new season in September. Please also note that the gallery has limited opening hours during summer – open Tuesday to Saturday from 12pm to 7pm – and will be closed from 12 to 20 July.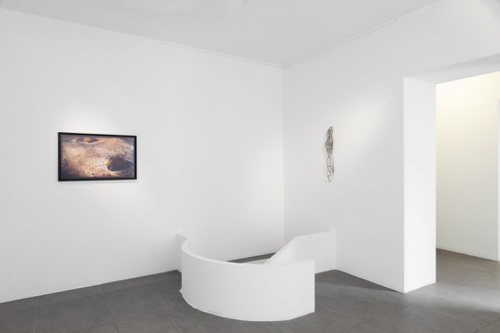 Exhibition view
On the lower of the Akaretler streets, Şair Nedim Caddesi, Art ON Istanbul at No 4, is hosting the group exhibition Our Wounds, Our Ballads until September 5. Artists from different generations working in various disciplines explore associations between poetic and visual language. Please enquire directly with the gallery for prices.
Kwan Sheung Chi and Wong Wai Yin, 'To defend the core values is the core of the core values', 2012, video still, courtesy of the artists
Further afield
Just past the second Bosphorus Bridge in Rumelihisarı, Borusan Contemporary has three interesting exhibitions running until August 23. Berlin-based artist Carsten Nicolai uses scientific models to explore natural phenomena that surround us in our everyday lives in Strange Attractions. Meanwhile, Essential Matters is a group exhibition bringing together more than 30 moving image works that review the course of moving image in China (above). And the last in the Common Ground trilogy of exhibitions, Common Ground: Air offers a thematic look into Borusan Contemporary's collection by bringing together works that have something in common with the concept of air. The museum is only open on weekends. Don't miss the epic view from the rooftop.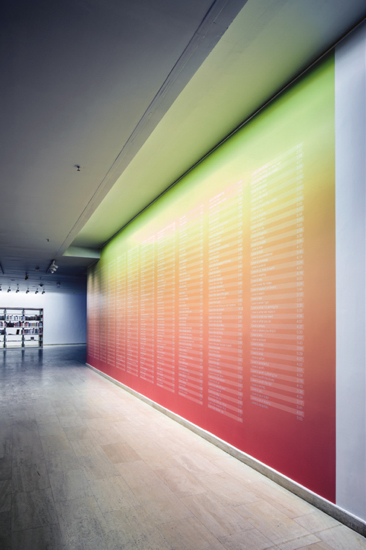 Erdem Taşdelen, 'Love is…', 2014, adhesive mural variable dimensions
To celebrate the 15th anniversary of the Sabancı University Visual Arts and Visual Communication Design Programme, the Sakıp Sabancı Museum in Emirgan is hosting Reunion, which brings together works produced by its alumni, who now all work as professional artists. Until August 26. For something different, the permanent exhibitions are Turkish Paintings from the Ottoman Reformation to the Republic and The Arts of the Book and Calligraphy Collection are well worth a visit.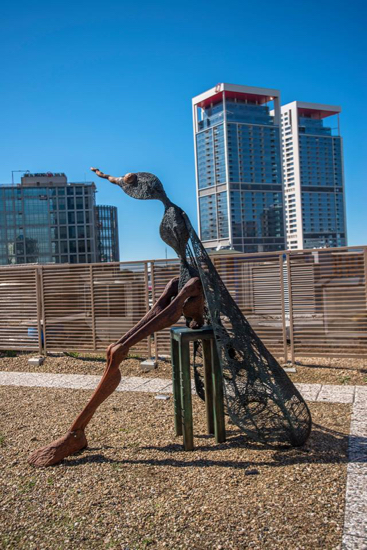 Exhibition view
In Maslak, Proje4L / Elgiz Museum of Contemporary Art continues its summer 'Terrace Exhibition' series on its 1,500 m2 open-air space. Fabulous sculptures by a long list of Turkish artists are showcased. Sculptures is on until November 7.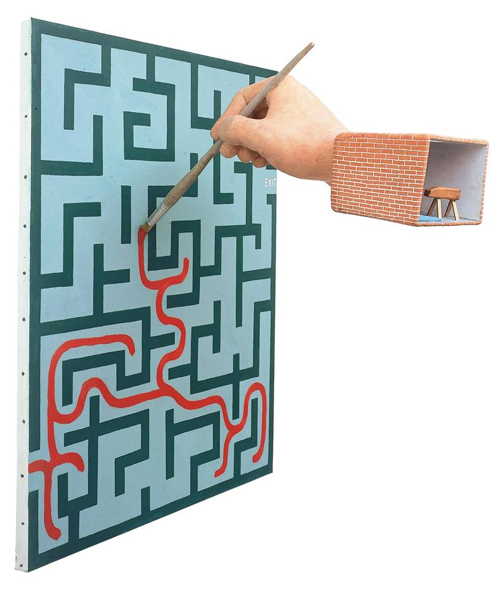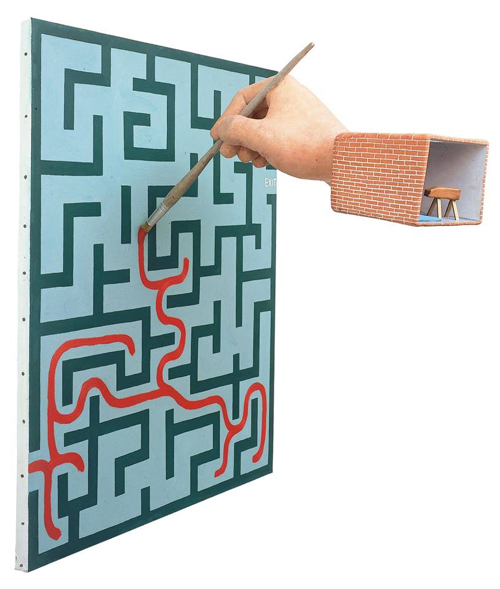 Alfredo García Revuelta, 'The exercise of painting', 2002, mixed technique, 62 x 73 x 68 cm
On the Anatolian side, Art350 on Bağdat Caddesi is hosting a group Summer exhibition of its represented artists, until September 6. Please enquire directly with the gallery for prices.