The !f Istanbul Film Festival, now in its 13th year, lands next Friday, February 13 for ten days of pure cinematic pleasure whether you are a die-hard cinephile or just an occasional filmgoer.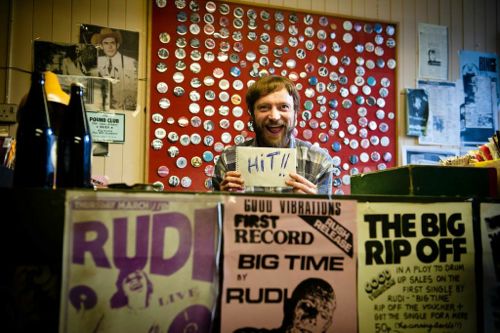 Still from Good Vibrations
As in previous years, the programme is divided into various categories. Some of these overtly disclose what sort of films are included – '!f Music' offers musically themed documentaries and features (last year's Good Vibrations about the punk scene in 1970s Belfast is a standout), 'Dark and Edgy' is reserved for midnight movies, and '!f Cult' will feature a screening of – you guessed it – a cult film. This year, the 1955 horror classic, The Night of the Hunter, will be screened. Others are not so obvious: 'Play' brings together quirky or alternative films, 'Love and Change' celebrates activism in cinema, 'Art and Life' focuses on portraits of artists and 'Rainbow' is a dedicated section for LGBT films.
!f has a partnership with the Sundance Institute, which culminates in screenings of Sundance favourites, as well as additional workshops. This year, the Sundance Screenwriters Lab will be led by Zeynep Dadak and Merve Kayan, directors of The Blue Wave (Mavi Dalga) (main image), which won big at last year's Golden Orange Film Festival in Antalya and made it to Sundance and Berlinale this year. The workshop will be held at SALT Beyoğlu on February 22 at 2.00pm.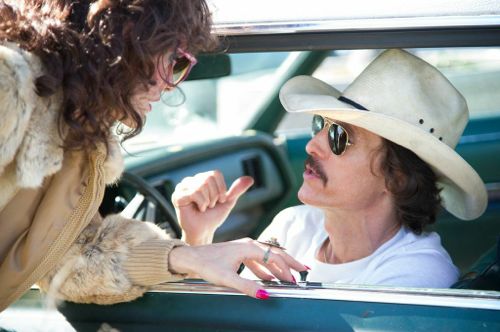 Still from Dallas Buyers Club
Over 80 films are being screened from most corners of the world. Much anticipated is Dallas Buyers Club (2013), one of those 'small' American indie films which sweeps awards at every festival and becomes a mainstream sensation. British filmmaker Clio Barnard's The Selfish Giant (2013), which is participating in the '!f Inspired' competition that celebrates emerging new talent, is a beautiful film about two teenagers in a poor English town loosely inspired by Oscar Wilde's tale of the same name.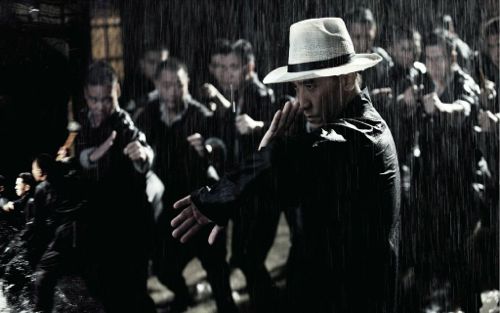 Still from The Grandmaster
New films from master directors come under the spotlight: there's The Grandmaster (2013) from China's Wong Kar Wai, who strays away from his usual intense dramas to bring us a kung fu movie; whimsical French director Michel Gondry's latest Is the Man Who Is Tall Happy?: An Animated Conversation with Noam Chomsky (2013); anime maestro Hayao Miyazaki's The Wind Rises (2013), which will be the last film of his career; and the two-part Nymphomaniac (2013) from controversial Danish director Lars von Trier.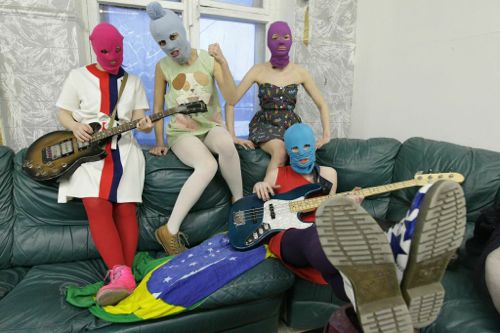 Still from Pussy Riot: A Punk Prayer
Pussy Riot: A Punk Prayer (2013), about the now world-famous Russian band that landed in the Siberian gulags after staging a prank at a church, and Cutie and the Boxer (2013), about the artist duo Shinoharas which has been nominated for Best Documentary at the upcoming Academy Awards, are two of the most hotly anticipated documentaries.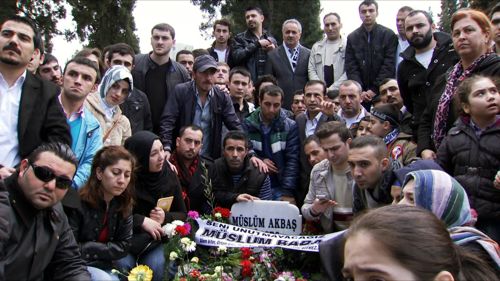 Still from The Children Of Müslüm Baba (Müslüm Babanın Evlatları), one of the films in the 'Home' category
There are ten Turkish films in the festival, with more than half of them belonging to the 'Home' category, which specifically focuses on the notion of family in Turkey and nearby regions. This genre seems to be profoundly favoured by the country's industry and I wonder if it is high time that film financers embrace other topics pertinent to modern Turkish life. The rest of the Turkish programme features the aforementioned The Blue Wave (2013), as well as Ladybug (Böcek) (2013), a wacky mockumentary about Uğur who runs a DVD store in Istanbul and decides to make a superhero movie. There's also Koray Kaya's Anarchic Harmony (Anarşik Harmoni) (2014), which features renowned Turkish musicians such as İlhan Mimaroğlu, Aydın Esen, İlhan Erşahin and Arto Tunçboyaciyan, and Voltrans (2014), a documentary about being transgender in Turkey. Mainstream cinema simply would not be interested in these latter three films so my above rant aside, it is a positive thing that festivals like !f exist. In addition, !f Shorts is dedicated to short films exclusively from Turkey.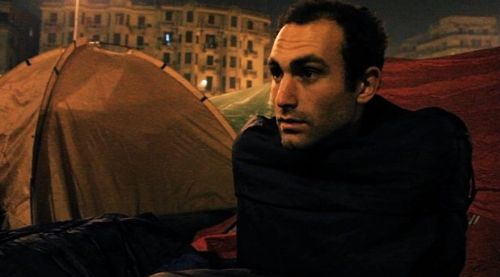 Still from The Square
There will also be a plethora of other events, including workshops, talks, concerts and panels. To complement the newly created 'Love and Change' category, a programme has been developed directed at politically and socially minded filmmakers, artists, musicians and activists who wield their camera or microphone for good rather than evil. A full day of talks on February 16 at SALT Beyoğlu is a highlight. At midday, Ali Kazma will talk about the body 'as a platform for resistance'. At 4.15pm, the director and producer of The Square (2013), a film about the revolution in Egypt which has been nominated for Best Foreign Film at the 2014 Academy Awards, will talk about the roles of the activist, the director and the producer during the filming. All talks on this day will either be in Turkish with simultaneous English translation or vice versa.
For a film festival so rich in independent and alternative cinema, the venues where screenings will take place are anything but. The giant cinema complex, Cinemaximum, is holding court with screenings taking place in three of its venues: Fitaş in Beyoğlu, Istinye Park and Budak at the Caddebostan Cultural Centre. Each film will be screened a number of times and usually at more than one of the three venues. Tickets are available through Biletix and pre-booking is strongly recommended. All screenings will have Turkish and English subtitles.
Following the festival in Istanbul, there will also be four days of screenings in Ankara (at Cinemaximum Armada) and Izmir (at Cinemaximum Konak Pier) from February 27 to March 2.