I hear 'Harem', İnci Eviner's 2009 single-channel video work currently on display at Istanbul Modern, before I see it. A large thunderclap reverberates across the exhibition space, followed in quick succession by the humdrum din of a crowd at work: coughing, papers being shuffled, a woman's voice, the beat of what sounds like a towering clock that could just as easily be a blacksmith methodically hammering iron.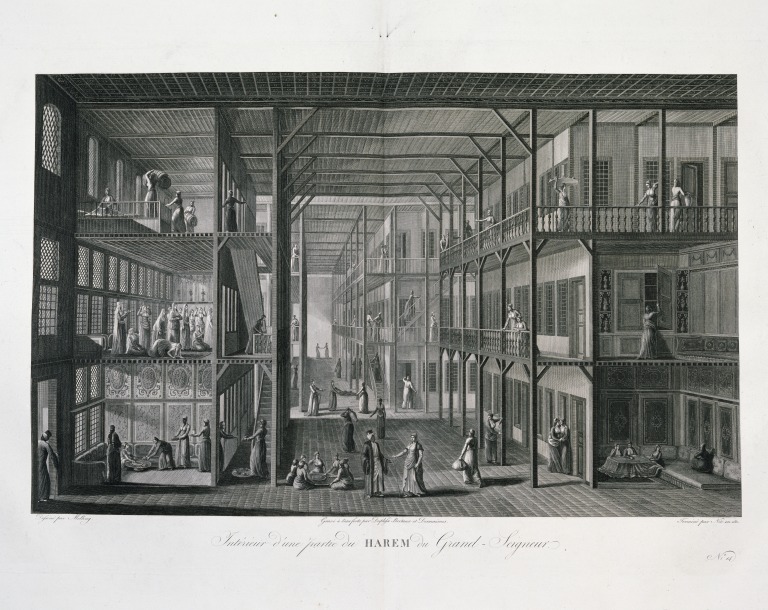 Antoine Ignace Melling, Voyage pittoresque de Constantinople et des Rives du Bosphore; No.14 Intérieur d'une partie du Harem du Grand Seigneur, 1811 (Source: V&A)
Yet the identity of each individual noise is inconsequential; as a whole, the soundtrack suggests activity. Indeed, the introduction of sound marks a turning point in the video, when the tiny figures in Antoine Ignace Melling's black-and-white engraving of the harem are erased and replaced by women whom Eviner has filmed. Wearing monochrome pants and tops resembling hospital scrubs, each woman is in motion, their movements jerky and amorphous, at times even wild. Eviner animates the static figures that Melling portrayed with an almost scientific precision in the vast and multi-storeyed wooden harem of his imagination. (During the 18 years he served as Imperial Architect under Sultan Selim III in the late 18th century, Melling made many detailed drawings of the Sultan's palaces and Ottoman society, yet he was never permitted to enter the harem.)
It was Eviner's intention, as expressed in her accompanying text, to 'free these frozen women from the state of being objects of information, to cause them to regain their own voices and to force them to reveal their secrets'. With a degree of intervention, 'these women, imprisoned by the painter's scientific skill, can reveal the self-seeking relationships underlying the duality of truth and fantasy'.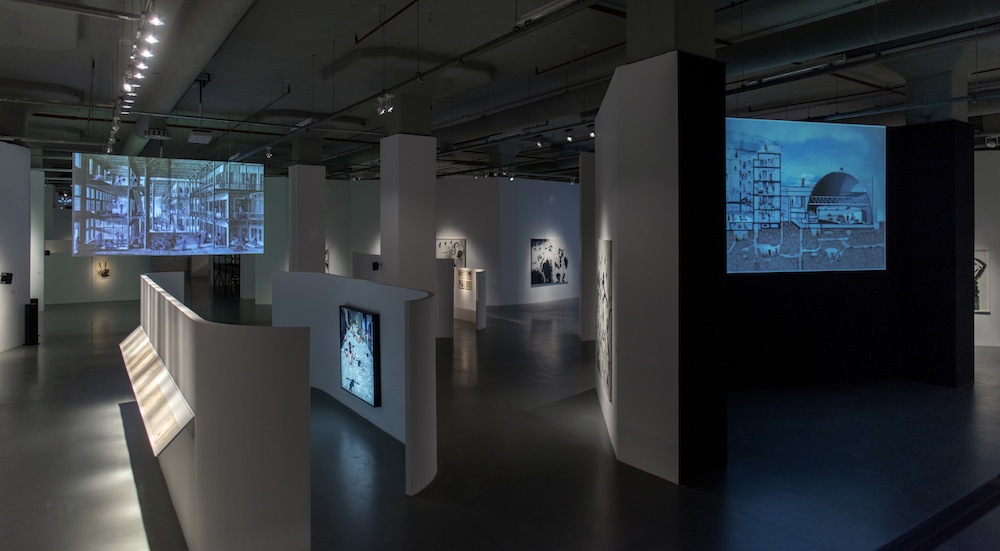 Istanbul Modern's İnci Eviner Retrospective exhibition, suitably subtitled 'Who's Inside You?', is teeming with works that challenge typical representations of women and womanhood, raise questions of identity, and draw connections between nature and the human subconscious. The open-plan design of the exhibition space combined with the decision not to present her works chronologically create an environment where Eviner's unique visual language, developed over time and articulated in various ways, can emerge. It's almost as if her drawings, paintings, videos, photographs and sculptures, produced over the course of nearly 40 years, merge together into one single, immersive installation.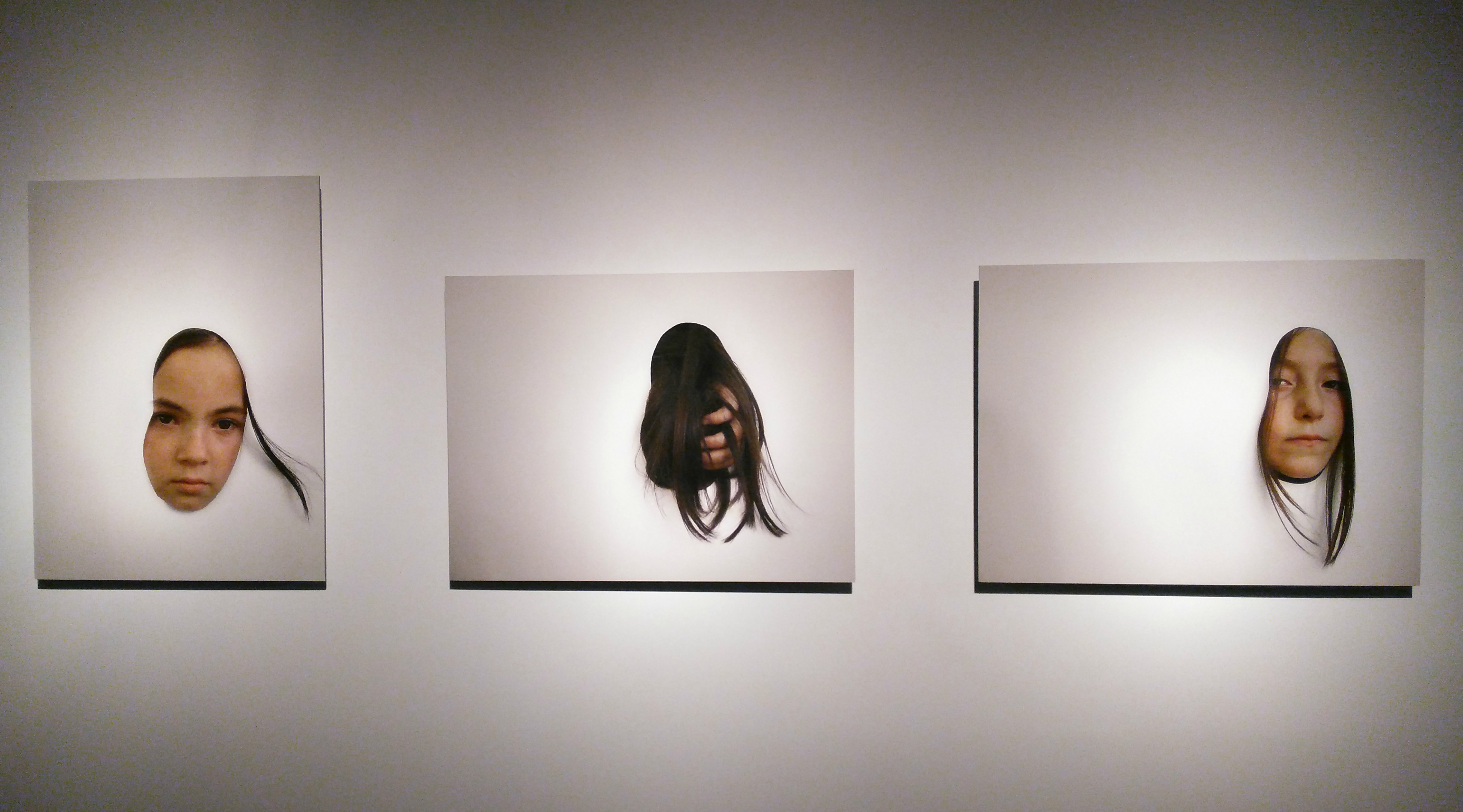 'Framed Childhood I', 2006, digital print, 67 x 50 cm, 50 x 67 cm, 50 x 67 cm, artist's collection
A large portion of Eviner's work confronts and subverts the ways that girls and women have been traditionally represented. In three digital prints titled 'Framed Childhood I' (2006), the face, hair and hand of a young girl named Merve are thrust through a kidney-shaped hole cut in a white sheet of paper, creating the illusion that her face is looking out from the canvas rather than being reflected on it. This twist on portraiture captures a face full of despair and hope, a heady mix typical of girlhood.
Other works focus on the female body, with an emphasis on deconstructing the sexualised image of women created by and for the male gaze. In its place, Eviner presents womanhood as a field of limitless possibility, exploring the quotidian gestures of women and their memorised behavioural models. The resulting works tell surreal stories, many of which are populated by strange beings that are part-animal and part-human, emphasising the thin civilisational line that separates us from beasts.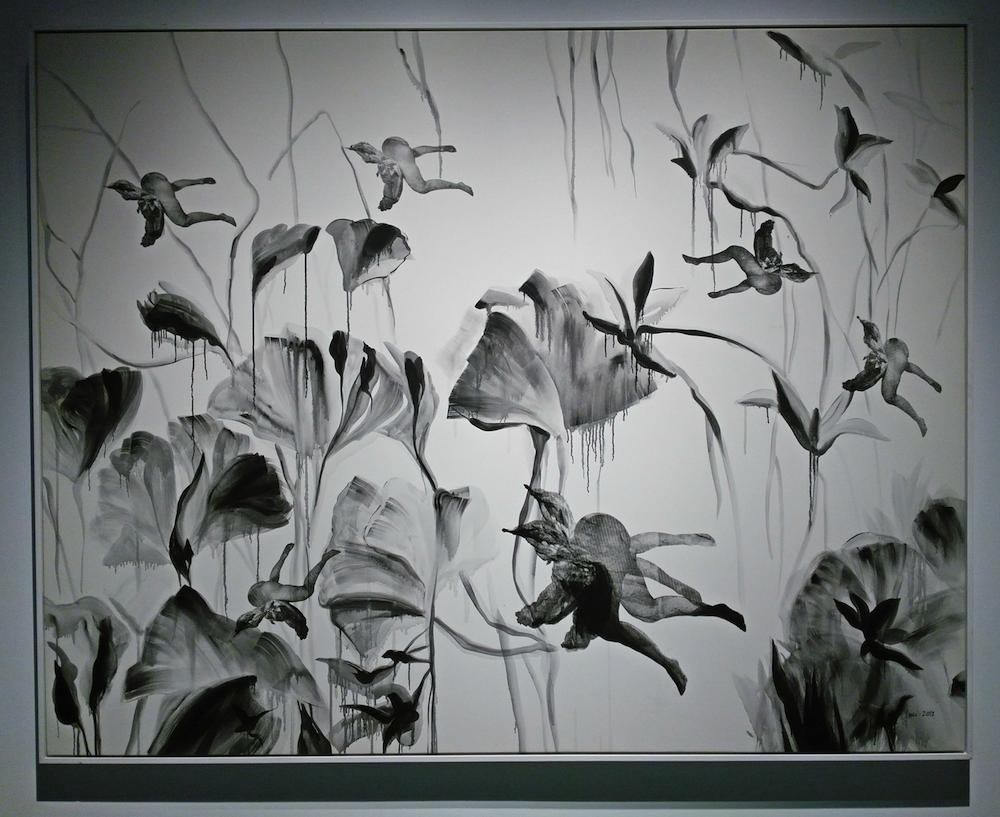 'The Joy of Marie-Louise O'Murphy', 2012, acrylic and silkscreen on canvas, 159 x 203 cm, Erol Tabanca Collection
In 'The Joy of Marie-Louise O'Murphy' (2012), the artist depicts hummingbirds whose bottom halves have been replaced by the sensuous legs of Marie-Louise O'Murphy, one of the lesser mistresses of King Louis XV of France, as portrayed in an 18th-century nude by François Boucher. These half-hummingbird, half-woman creatures are flitting around flowers whose black-and-white petals drip down the canvas; some even seem to be drinking nectar. The distortion is absurd at first glance – removed from their original erotic context, O'Murphy's legs are still suggestive, but uncomfortably so, attached as they are to the bodies of birds and pointing in all directions. Yet the longer I stare, the grotesque qualities of these creatures fade, and all that is left is the sublime.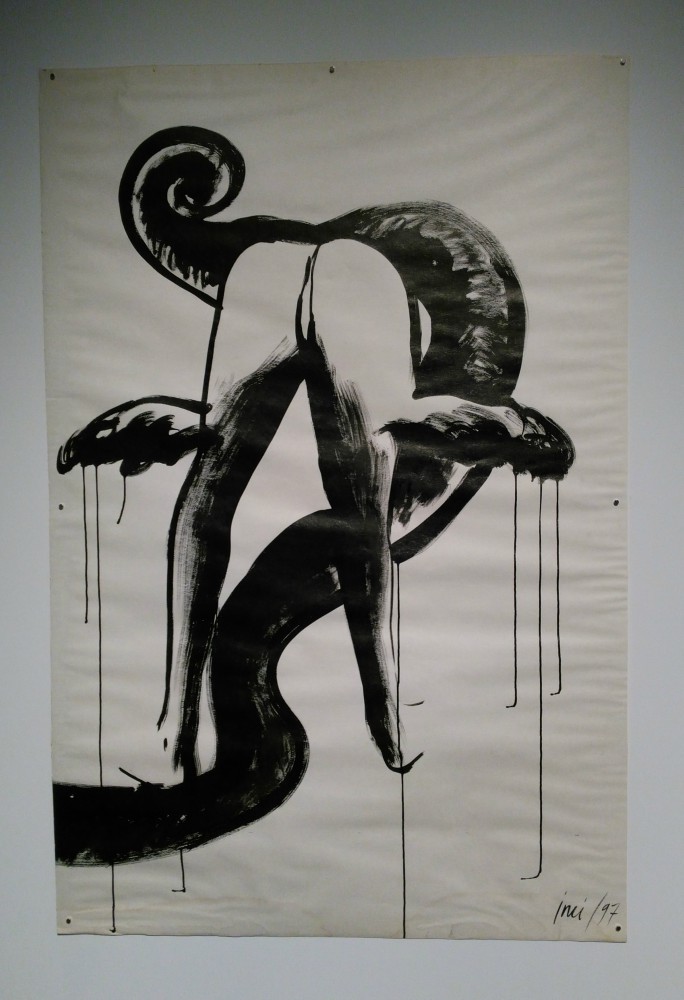 'Defeated Icarus', 1997, ink on paper, 152 x 101 cm, artist's collection
Eviner's sweeping black lines construct a visual language rich in art historical allegories, iconographies and mythologies. In 'Defeated Icarus' (1997), an ink drawing on paper, the son of Daedalus is reduced to a pair of legs, to which his melting wings are attached. The position of his straight legs – the viewer is looking at them from behind – conveys weakness, while the thick, dark line running across the top of his buttocks and under his legs upends any semblance of the pictorial plane. The drawing creates a mesmerising sense of unease.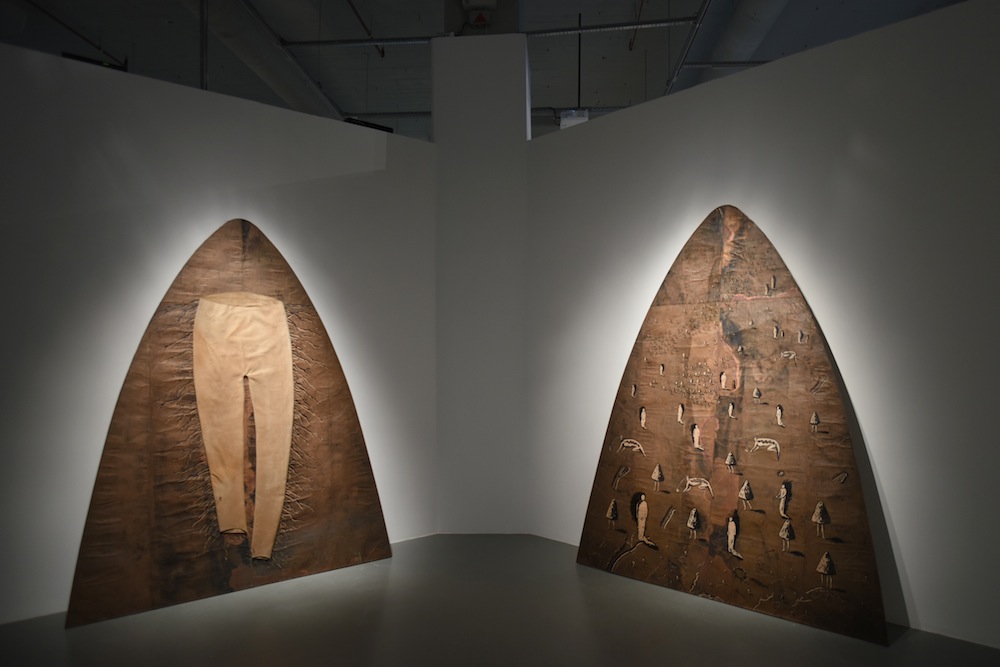 'Body Geography, Desert', 1995, copper, acrylic, asphalt and leather on plywood, 260 x 210 cm, Istanbul Museum of Modern Art Collection
The desire to dismantle the human body and its representation in art also seeped into Eviner's work in other mediums such as sculpture and photography. As Nazlı Gürlek explains in her article 'İnci Eviner: Theatre of the Unmentionable' for Art Asia Pacific, the artist's studio was located in Tarlabaşı during the 1990s. Witnessing 'life on the margins' led Eviner to experiment 'with acrylic paints and copper depicting disembodied clothes, disconnected heads and limbs painted on triangular plates of plywood, in works like 'Body Geography' (1993), and sculptural objects made in fortified leather such as 'Skinless' (1996)'.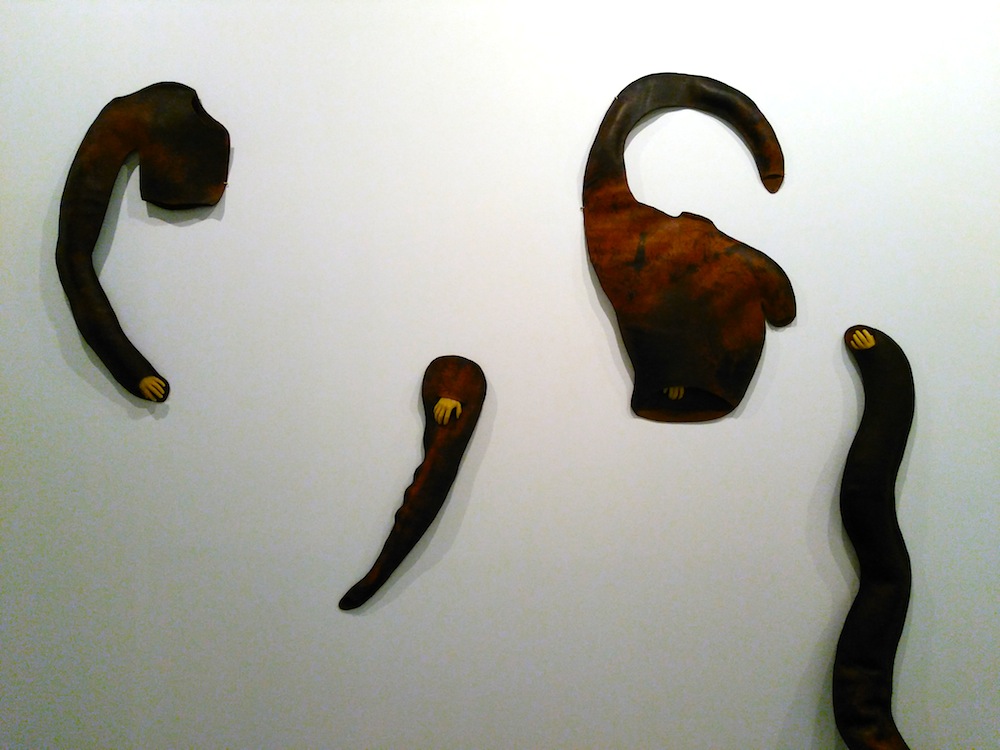 'Hold', 1995
Her sculpture 'Hold' (1995), in which exaggerated body parts made from fortified leather are hung across a large white wall in no apparent pattern, is also from this time period (and one of my favourites from the show). With tiny hands protruding from various gaps, the ghostly body parts look almost like clothing items, raising the question of what can be found inside.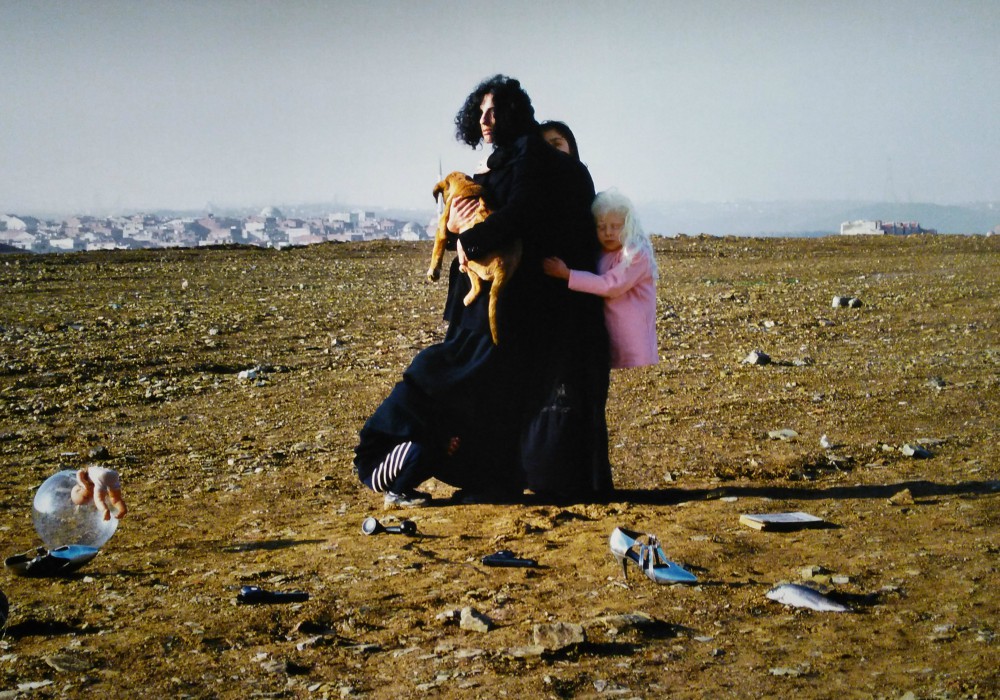 A close-up of 'Nowhere-Body-Here', 2000, C-Print, 125 x 254 cm, artist's collection
A similar thread can be seen in Eviner's photography series 'Nowhere-Body-Here' (2000). One photograph in particular features an albino girl grasping onto the back of a man cloaked in black. The bottom half of her body is missing – she is a free-floating entity in a harsh landscape. These vanishing limbs speak to the artist's desire to question how we view not just outsiders but also their bodies.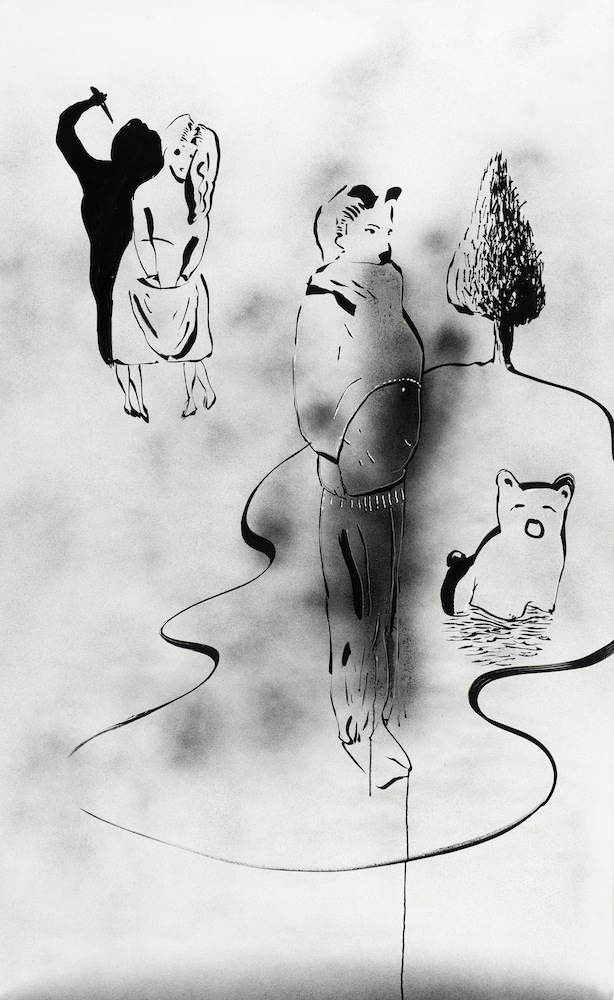 'Arthur Rimbaud', 2005, ink on paper, 174 x 107 cm, artist's collection
Despite her exceptional use of other mediums, Eviner is at her most compelling when working with lines. For the artist, drawing is her way of 'discovering and understanding the world', as quoted in the exhibition's accompanying text. This is punctuated by the inclusion of Eviner's sketches inspired by the Darülaceze Institution, a public hospice for the elderly and disabled that she discovered while a student at the State Academy of Fine Arts. As the curator and Istanbul Modern Director Levent Çalıkoğlu explains in the wall panel, this opportunity allowed Eviner to 'explore and try out her own possibilities and impossibilities in the face of established doctrine'. It also exposed her to a group of outsiders who were on the fringe of so-called 'normal' society. For me, these sketches provide a fascinating insight to the artist's rich search for expression, starting with the deceptively simple task of making the line and body become one.
'İnci Eviner Retrospective: Who's Inside You?' is on display at Istanbul Modern until November 27.