In this blog series, the photographer Lynn Gilbert takes us on a journey through Turkish homes.
Huge kitchens like the one above are found in old stone houses built high in the mountains in remote areas of' Çamlıhemşin in the early 20th century. Amonst them were many successful bakers, one of whom, a baker to the Tsar, went on to open a renowned bakery in Ankara. (In Cornucopia 12, Patricia Daunt visits a home in Çamlıhemşin and shares a family's memories of a Chekhovian rural life.)
Formal dining room are rare in traditional Turkish homes. In fact in nearly a decade of photographing houses throughout the country, I can't recall ever seeing anything like this. Rooms where meals are served are multi-purpose. Usually the midday meal is eaten around a huge round tray, sometimes of metal, sometimes a large wooden tabletop positioned on a low pedestal and big enough to accommodate 10 people. Some sit on the banquette, others on the floor, and rugs and large pieces of fabric are used to catch any food that might drop. People are absolutely meticulous about protecting their rugs. You never enter a house wearing shoes – the owners will provide house shoes if you want, but I just wear my socks.
The gigantic blackened arch-framed stone wall with two smaller alcoves below it formed the cooking area. What appears to be moss on the room's surface is actually light reflecting off a green globe.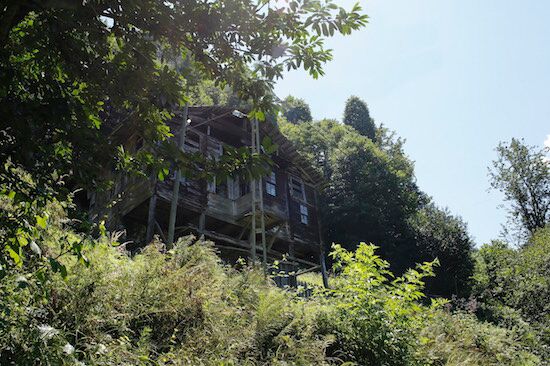 From the outside, this house looks weathered, dangerously fragile, as if it might collapse. But once inside you see it is quite solid, clearly built to stand for many more years.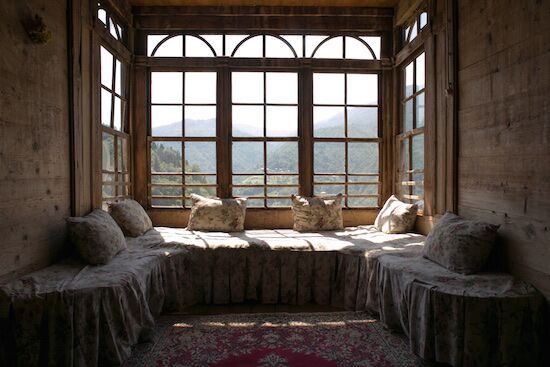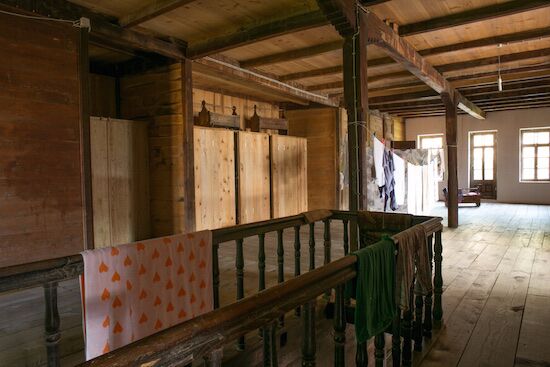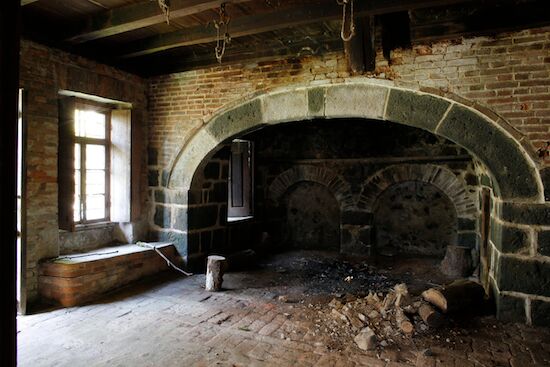 This designer touch is reflected in the rest of the house, each of the large rooms painstakingly cared for and composed like a beautiful painting. I photographed the lady of the house with her back to a glorious view of the mountains, leaning on a table with a plastic cover, peeling beans.
The main image is part of a selection of 31 photographs that will be displayed at the 'Along the Silk Roads' exhibition, which opens in October at the Queens College, Godwin-Ternbach Museum, in New York.
Lynn Gilbert, an established photographer, has been fascinated with people's living environments since her early teens. Visiting 60 countries in six decades, she has seen more than 3,000 houses and 20,000 rooms. In her nine extended trips to Turkey, Gilbert became fascinated with the unique quality of the Turkish home. Her photographic study documents – for the first time – the beautiful old houses, both humble and affluent, that form part of Turkey's cultural heritage. Please visit her website for more photographs.
Copyright Lynn Gilbert.