In this blog series, the photographer Lynn Gilbert takes us on a journey through Turkish homes.
The above room is housed in a stately old mansion situated on a treacherously steep cobblestone road in Ürgüp, Cappadocia. Built of large stone blocks, with an overhanging upper storey and small balcony, its imposing tall arched entryway contains heavy blue-painted wooden doors (below).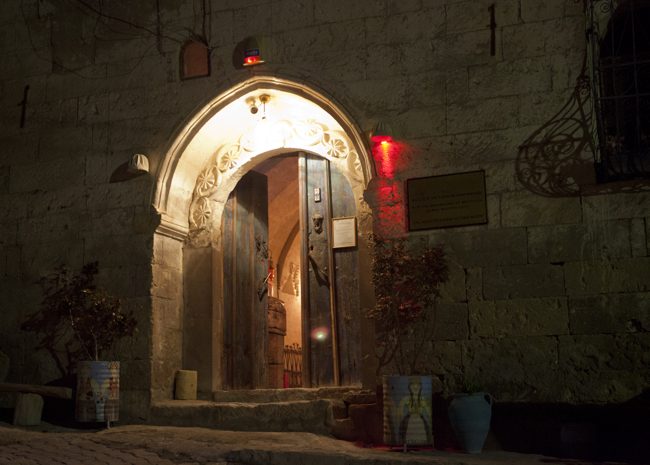 I first described part of this long, narrow, barrel-vaulted sitting room in a previous edition of Inside Story (read here). The end of the room I described was predominantly white, but the main feature of this side of the room is the weathered dark wood cabinetry, which houses miniature antique dolls and figurines from all over the world, framed by striking frescoes.
The two sides of the cabinetry don't match. The glass-windowed cabinet on the left contrasts with the wooden cabinet on the right, each revealing shelves of dolls neatly arranged by size. One lone marionette on the upper left is perched above the cabinet, with a hand raised as if to keep itself from falling. The quirkily shaped cubbyholes, painted in a range of bold colours, contain more figures.
Five different styles co-exist in the frescoes. Painted in about 1860, the symmetry is characteristic of the classical form, but the execution is done in a more folk style. At the top of the arch, there are crisp, geometric Art Deco-like fans; between them, the wreath with its swags, bows and flowers, is a fanciful version of a late 18th-century decoration. The main section, an alcove with cartoonlike brown billowing curtains, frames a delicate cornucopia of flowers.
The unusual wide raised band on the ceiling, framing this medley of styles, looks as though it is made of modern fabric even though it was painted in the same period as the rest of the room and remains untouched.
All these disparate elements make the wall more intriguing and encourage you to examine it more carefully. Remarkably everything blends harmoniously. Entering any home for the first time, one can experience a jolt when the outside and inside are not in sync. The transition here though is smooth. Outside and inside are perfectly married. It is no wonder then that this home, which also houses the Cappadocia Art and History Museum, is a Historic Property.
Lynn Gilbert, an established photographer, has been fascinated with people's living environments since her early teens. Visiting 60 countries in six decades, she has seen more than 3,000 houses and 20,000 rooms. In her nine extended trips to Turkey, Gilbert became fascinated with the unique quality of the Turkish home. Her photographic study documents – for the first time – the beautiful old houses, both humble and affluent, that form part of Turkey's cultural heritage. Please visit her website for more photographs.
Copyright Lynn Gilbert.