In our new blog series, the photographer Lynn Gilbert takes us on a journey through Turkish homes.
The above image shows a room in a house in Daday, in the Black Sea province of Kastamonu. Built at the top of a circular staircase and taking up the whole floor – which is quite unusual in Turkey – this room was more luxurious than many I have visited. Like an old friend weathered with age, it represented the beauty and timelessness of Turkish design: the carved wooden wall with small, arched openings for objects, and the stone fireplace, which in most parts of the country would have been draped with a curtain of patterned fabric. Here the fireplace was simple white stone, with two huge Arabic inscriptions painted on the wall above: striking, sensual and elegant.
On my visit, the late afternoon golden sunlight streaming through the windows dappled the cream-coloured stone floor. It illuminated the bottom of the fireplace and the aged fine Turkish carpet with a burst of light, and finally rested on the pear-shaped pewter urn.
As for the symbols above the fireplace, the one on the right 'يا معبود' means 'O, worshiped one', and the one on the left 'يا محمود' 'O, praised one'.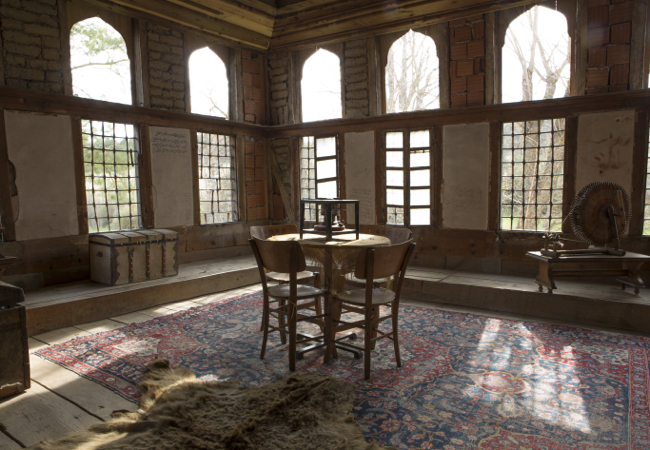 Two walls of tall mullioned windows in the second part of the room bathed the room in light. Exposed bricks and unfinished walls, together with the patterns of the window guards and the stripped moulding that framed the ceiling, contributed to the room's strong design element. In the centre, a large antique cooking device dominated the small round table, which was covered with a tattered piece of fringed burlap. A wide platform around the room's perimeter held an antique spinning wheel and a large old trunk. This tranquil space felt as if it were a private cathedral built for contemplation.
Lynn Gilbert, an established photographer, has been fascinated with people's living environments since her early teens. Visiting 60 countries in six decades, she has seen more than 3,000 houses and 20,000 rooms. In her nine extended trips to Turkey, Gilbert became fascinated with the unique quality of the Turkish home. Her photographic study documents – for the first time – the beautiful old houses, both humble and affluent, that form part of Turkey's cultural heritage. Please visit her website for more photographs.
Copyright Lynn Gilbert.