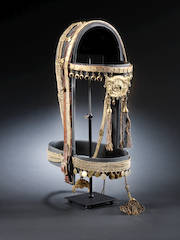 It's going to be a sterling show at Bonham's next week, what with the Modern and Contemporary Turkish Art and Islamic and Indian sales both taking place on 5 April. Arts Diary has already had a look at the former, but the latter definitely deserves a mention. Perhaps the most interesting piece on offer, historically speaking, is an eighteenth-century Ottoman gilt bridle, breast-plate and crupper (lot 150, est. £60-90'000, above). In and of itself, a perfectly nice piece - but this is no ordinary harness; rather, it was taken from the palace of Tipu Sultan (1750-99), Sultan of Mysore and scourge of the British East India Company, and was in fact specifically recorded as having belonged to Tipu. The set appears to have been a diplomatic gift from the Ottoman Sultan Selim III, to whose court the Indian ruler had sent emissaries requesting military cooperation against the British. Unfortunately for Tipu, all that the Sublime Porte could offer was political support, and this set was part of the booty taken following Tipu's death and the subsequent sacking of his capital, Seringapatam. The vividly illuminated late fifteenth-century below (lot 10, est. £40-60'000, below) is attributed to Şeyh Hamdullah, the creator and greatest exponent of the Ottoman school of calligraphy. A scribe under both Mehmet II and Bayezit II, he was so highly regarded that the latter would even hold his inkwell for him as he wrote. His influence extended until the very end of the Ottoman Empire, during which time he was known as the 'Point of Orientation' by calligraphers. This manuscript is known to have belonged to Pertevniyal, wife of Sultan Mahmud II (r. 1808-39), mother of Sultan Abdulaziz (r. 1861-76) and patron of the exquisite Valide Sultan Cami in Aksaray. Keep an eye on this piece - another Qur'an copied by Şeyh Hamdullah almost tripled its asking price to fetch £110'400 at Bonhams last year.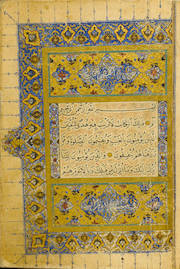 The pièce de résistance of the sale takes us back to India once again, in the form of a unique life-sized portrait of the Mughal Emperor Jehangir (r.1605-27). Estimated at between £1-1.5m, this painting (lot 322, below) is attributed to Abu'l Hasan, who was also known as Nadir al-Zaman ('Wonder of his Age') on account of his mastery of the craft. An inscription on the edge of the work states that it was made in 1617, and it combines the form of seventeenth-century European portraiture with typically Mughal symbolism, such as the nimbus around the Emperor's head and the globe which he grasps. It is the largest work of its kind, and also one of the most beautiful. Alice Bailey, head of Bonhams' Islamic and Indian department, has said that "the extraordinary detail and complexity of the painting both fascinate and bewitch the viewer." However, at Arts Diary we prefer simply to quote the inscription: "Just to cast their eyes on King Jahangir's face, The kings of Rum [Turkey] and China wait at the gate."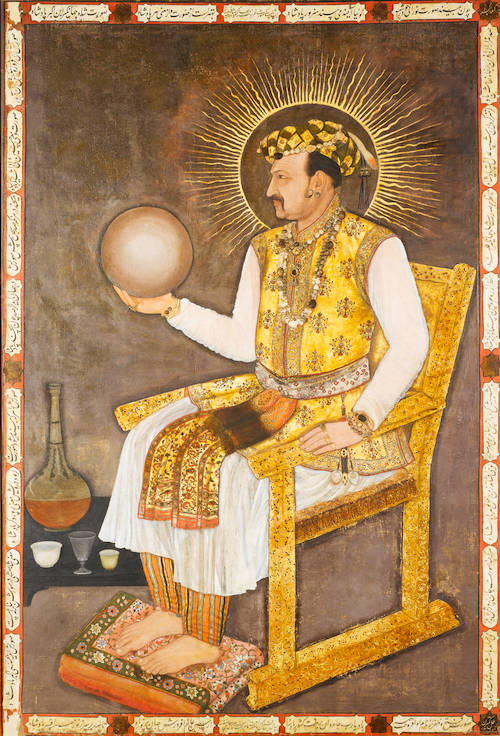 Bonhams London, 101 New Bond Street, W1S 1SR. Sale viewings, 1 and 3-4 April. Sale, Tuesday, 5 April: morning session (Islamic, lots 1-222) starts 10.30 am, afternoon session (Indian, lots 223-387) starts 2.30 pm.