Autumn is upon us, bringing with it a plethora of exhibition openings. This weekend we're sticking close to Karaköy and Tophane for three shows that have opened in the past week. They range from historical explorations and site-specific installations to a more traditional solo showing. All three can be seen in one day, but we suggest stopping by Karabatak at some point in the afternoon for a brief rest and a caffeinated beverage.
High Heels at DEPO, Tophane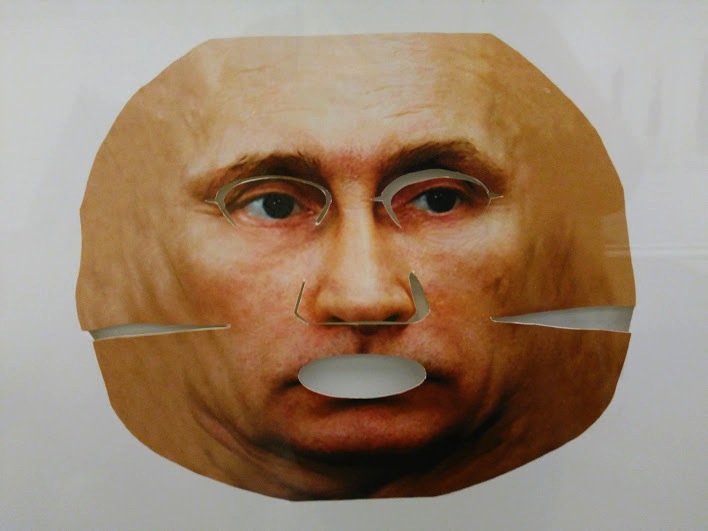 One of the many masks in Örenli's installation 'Money without Nationality', 2016, mixed media on archival paper (installation with beauty masks), 33 x 48.5 cm
Cities and capital: two zeitgeisty subjects that inspire strong reactions. Fahrettin Örenli's solo exhibition hits on both themes, critiquing them in a way that is more thought-provoking than prescriptive. Highlights include his mixed-media portrayals of cities as organic structures, such as the image of a Rubenesque woman giving birth to a city of yellow and gold in 'Mother Nature, Birth of Another Bastard City', and eerie masks made from photos of the global elite, which speak to their ability to move capital surreptitiously in a globalised economy. Örenli's use of multiple mediums – his drawings and mixed-media works like 'Money' (2014, main featured image) share the space with video and sound installations – adds depth, a feature sometimes lacking in Istanbul solo shows.
…Because We Are Where We Are Not… at Kasa Galeri, Karaköy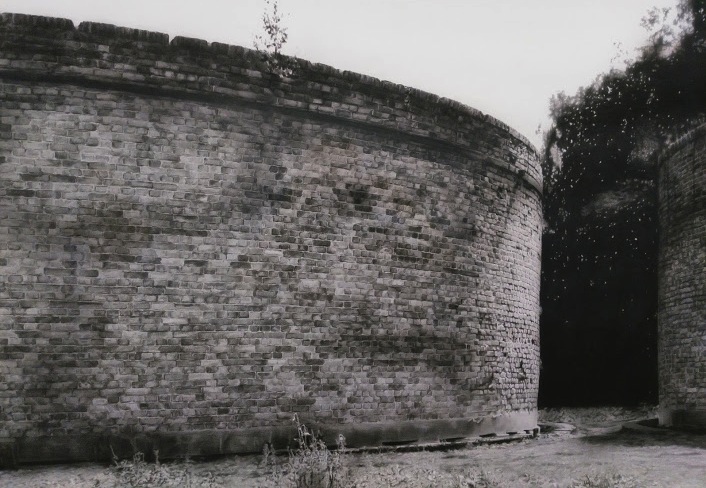 A detail from one of TUNCA's 'Rotunda I, II, III' drawings
Anyone who has ever read a panel at an exhibition, or better yet, a press release sent by a gallery, understands how difficult it can be to parse art speak. The act of determining the size and scope of a show is particularly challenging. Sometimes a single installation is explained in multiple pages, whereas a comprehensive retrospective gets one measly paragraph.
Reading the description of this exhibition, you may think that the show is quite broad in scope and be disappointed to see only two installations. But as long as you know what you're getting into, the two works by Hera Büyüktaşçıyan and TUNCA about the connections between place and socio-cultural memory are sure to delight. Büyüktaşçıyan's blue gates frame the doorways of the basement space and are a nod to the façade of the Minerva Han, the building housing the gallery. TUNCA's drawings, which at first glance look like photographs, are an especially exquisite study of old rotundas that look like portals to another time.
One and the Many at SALT Galata, Karaköy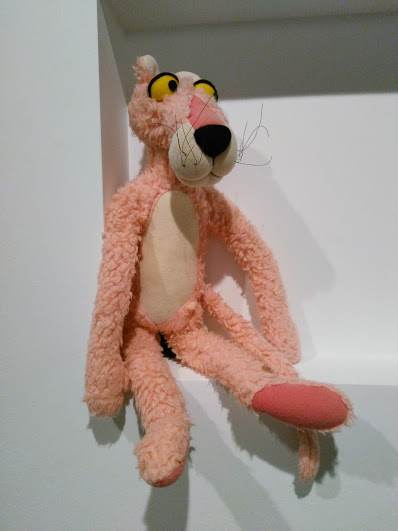 A Pink Panter doll created by Fatoş Toys in the 1970s
One of the most interactive exhibitions at SALT in recent memory, One and the Many triggers nostalgia for the 1980s, when Turkish production began ramping up and home-grown companies were creating 'genuine copies'. The exhibition defines a genuine copy as one that 'accepts the ability to learn via the act of producing'. The clearest example may be seen in the film industry – the Turkish Star Wars is a cult classic, and one of the rare collector toys is on view. Moreover, Cem Kaya's film Remake, Remix, RipOff, which explores this copy culture in the film industry, is shown on a constant loop in the gallery space (visitors can listen with headphones or read the subtitles in English). Yet the exhibition moves beyond the world of art, covering all types of goods made by Turkish businesses: cars, toys, shoes, glassware, appliances and many more. Typically for SALT, the exhibition is impeccably researched. The curators have even created a workshop space with resources for you to dive deeper into the study of this period of production.