Day by day, Istanbul looks more and more like a giant construction playground than a city whose history dates back 1500 years. With ever more narcissistic projects signed off by the bulldozer-happy Prime Minister Erdoğan, it is becoming increasingly hard to keep track of exactly what is going and what is staying. The map below zeroes in on the top ten most gruesome development projects.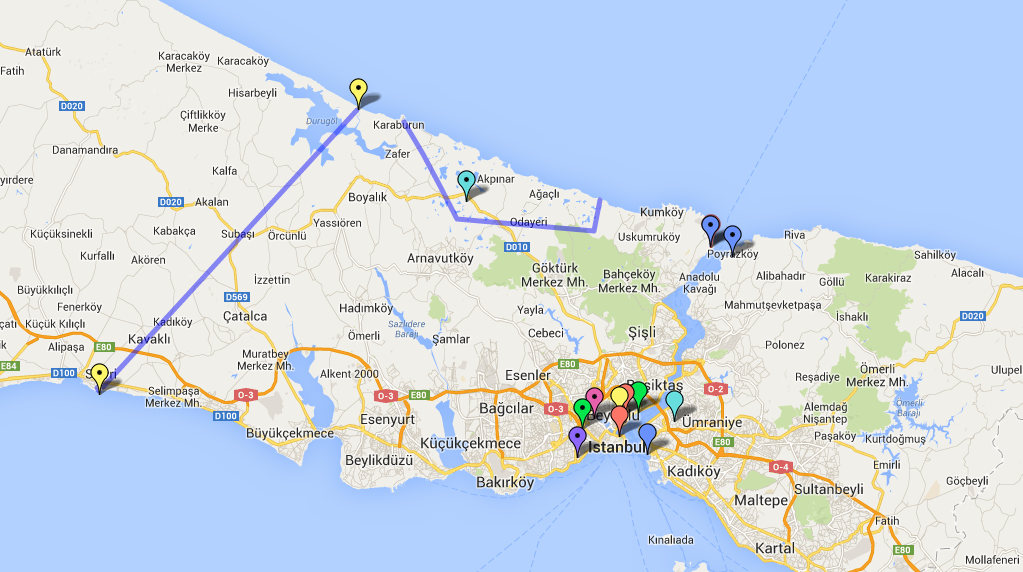 Key: Blue with dot – 1; Turquoise with dot – 2; Yellow with dot – 3; Red with dot – 4; Green with dot – 5; Purple with dot – 6; Magenta with dot – 7; Blue, Red and Green – 8; Turquoise – 9; Yellow – 10
Click here for the interactive map.
1. Third Bosphorus Bridge: The Yavuz Sultan Selim Bridge will link the European and Asian sides, from the tiny fishing village of Garipçe in Sarıyer to Poyrazköy in Beykoz. Plans were approved in 2012, and the project awarded to İçtaş-Astaldi consortium in May 2012. The foundation stone was laid on May 29, 2013, anniversary of the conquest of Constantinople in 1453. Work was briefly halted in July 2013 when it became evident that the site had been miscalculated, but by then thousands of trees had already been destroyed. With two bridges already linking the two sides, the question remains: is a third bridge really necessary?
Status: In progress – excavation works for the bridge and consequent highways in full swing
Read more: Roar Mag, Today's Zaman, Parallels, the Guardian, Bloomberg
Organisations trying to stop it: Northern Forests Defence
2. Third airport: A third airport promises to wipe out a significant proportion of the Belgrade Forest, the lungs of the city, and Terkoz Lake, its chief drinking-water source. The new airport is to be constructed around the areas of Arnavutköy, Göktürk and Çatalca, covering almost 80 sq k of land near Terkoz Lake. Some 62 sq k of this are state-owned forestland. Studies conducted into the environmental impact, published in April 2013, reported that very large numbers of trees would need to be cut down or moved. The Turkish Chamber of Environmental Engineers (ÇMO) has taken the project tender to court on the grounds that it has violated existing legislation by failing to conduct an environmental impact assessment report. Days after an Istanbul administrative court suspended construction in February this year, government officials pledged that it would continue.
Status: Court rules suspension, but construction continues
Read more: Today's Zaman, Wall Street Journal, Demotix, The Telegraph
Organisations trying to stop it: Northern Forests Defence, Turkish Chamber of Environmental Engineers, Chamber of Environmental Engineers Istanbul Branch
3. Kanal Istanbul: A project to build an artificial sea-level waterway connecting the Black Sea to the Sea of Marmara, bisecting the European side. Aimed at minimising shipping traffic on the Bosphorus, completion is intended for the 100th anniversary of the Turkish Republic in 2023. Environmental experts express very grave concerns, primarily that the Black Sea will drain into the Marmara. If the present height difference between the Black Sea and Sea of Marmara (currently 30 cm) decreases to 28 cm, a catastrophe could occur, causing major disruption to the ecological balances formed over the past 3,500 years – not to mention all the land wiped out to make way for the canal.
Status: In progress
Read more: BBC, Stratfor, Hürriyet Daily News, The Atlantic Cities, Baker Institute
Organisations trying to stop it: The Black Sea Uprise Platform, Pangea Ecology
4. Shopping centre in Gezi Park: All hell broke loose in May 2013 when plans to turn Gezi Park in Taksim into yet another shopping centre resulted in thousands of protesters occupying the park. The consequent demonstrations erupted into the hottest (politically speaking) summer in Turkey's recent history. But all the bloodshed and the tears and the tear gas were for nothing in the end. Though in late May a court issued an injunction preventing construction in Gezi Park, a higher court unanimously lifted this injunction in late July.
Status: Construction halted – for now
Read more: BBC, New York Times, Keele European Research Centre, Occupy Gezi
Organisations trying to stop it: Taksim Gezi Park Association
5. Fancy villas and a housing project in Sulukule: Istanbul's 1,000-year-old neighbourhood, home to the largest Roma community in the city, fell victim to urban transformation in 2008, when 3,400 Roma living in Sulukule were forced to sell their homes for TL500 per sq m to private investors and the Fatih Municipality. Despite worldwide protests, a UNESCO warning and court cases, forced evictions and demolitions came into full force. The residents were forced to move to Public Housing Project (TOKI) apartments in Taşoluk, 40km away. A source of much anger and frustration, this horrendous project provided the basis for a brilliant video work by the Turkish artist Halil Altındere, exhibited at the 2013 Istanbul Biennial.
Status: Most of the modern 'Ottoman-style' villas, offices and TOKI modern apartment buildings have been completed
Read more: Housing is a Human Right, the Guardian, Hürriyet Daily News, Reclaim Istanbul
Organisations trying to stop it: Istanbul Urban Movements, Istanbul Assembly for Urban and Housing Rights, Inter Forum Group on Urban Transformation
6. A development of shops and cafes at the Yedikule bostans: Our hearts bled at the news in July 2013 that the Fatih Municipality has ordered the destruction of one of the last bostans (market gardens) inside Istanbul's city walls. The land, acquired by the Municipality in 2010, stands in the shadow of the Byzantine/Ottoman fortress of Yedikule, in one of the Old City's most historically important districts. Among other plant species these 1600-year-old gardens are home to exquisite cos lettuce or marul in Turkish (Lactuca sativa L. var. longifolia). Alexander Sapov, a PhD student at Harvard and an expert in Ottoman agricultural practices, spent most of the summer and autumn in Istanbul with a team of ardent supporters fighting the good fight against the destruction of these gardens.
Status: Still fighting the good fight
Read more: The New Yorker, The Atlantic Cities, Istanbul Eats, Cornucopia 50
Organisations trying to stop it: Yedikule Gardens Preservation Initiative
7. 'Regeneration' of Fener–Balat on the Golden Horn: Part of the Golden Horn has already been destroyed for the ghastly Vialand, Turkey's own version of Disneyland, but that's not all. The seeds for the Fener–Balat urban regeneration project were planted in 2003. This project was originally planned to be sustainable, aimed at supporting the inhabitants of the neighbourhood, but it was terminated in 2007, at which point the Fatih Municipiality embarked on a new project to replace the individual buildings with large-scale luxury housing, hotels and shopping centres. A massive redevelopment has already destroyed neighbouring Ayvansaray and there's more to come.
Status: Project halted with court order
Read more: Hürriyet Daily News, Today's Zaman, Topographical Practices, the Fatih Municipiality fights back, Bianet, Marmara Government
Organisations trying to stop it: FEBAYDER, Istanbul Urban Movements
8. Train and boat stations: Kadiköy's Haydarpaşa Station was closed at the end of 2012 and is for sale. And a few weeks ago it was announced that the historic Sirkeci station is also under threat. Not to mention the century-old Beşiktaş boat station, behind the Shangri-La Hotel, which is to be sold or leased off.
Status: Selling to the highest bidder
Read more: Today's Zaman, Railly News
9. A mosque on Çamlıca Hill: Istanbul's highest hill (268m) and an important bird-migration point is to be developed and dwarfed by a new mosque. Besides environmental concerns, images of the new mosque reveal a 'pastiche' Ottoman-style concrete monstrosity. Erdoğan announced plans in 2012 but just a month later – following strong public discontent – the minister of culture and tourism, Ertuğrul Günay, denised the existence of any such plans, at least not concretely. A few weeks later, however, it became clear that the mosque would indeed be built. Erdoğan appointed Hacı Mehmet Güner, the public works director of the Kahramanmaraş Municipality, as the project's chief architect.
Status: In progress
Read more: CoLab Radio, Reuters, Global Site Plans, The National
Organisations trying to stop it: Istanbul Urban Movements
10. A shopping complex at the site of Emek Cinema: Istanbul's oldest and most famous cinema will be pulled down to make way for a shopping and entertainment centre. After a lengthy legal battle, a local court approved the developer's plans in December 2012. The wolves behind the redevelopment, Kamer Construction, told Radikal newspaper that the Emek Cinema 'is not being torn down, it is being saved from being torn down'. 'Under our project, Emek Theatre is being preserved in its entirety while being placed on a higher floor of the structure to be built through a technique called "moving". According to our project, Emek will be accompanied by 10 other movie theatres. The aim here is to create a movie complex with Emek at the centre of it," Kamer continued. Demonstrators against this development included some of the biggest names in the Turkish film industry, a specific initiative has been set up to fight the construction, and the 33rd Istanbul Film Festival is being used a timely platform.
Status: Cinema closed, awaiting further plans
Read more: The Guardian, BBC, Global Post, Vice
Organisations trying to stop it: The film industry, Emek Cinema Platform
For more, visit the excellent (both in terms of design and information) Istanbul Mega Projects website. Unfortunately, it is only in Turkish, but the interactive map doesn't need proficiency in a language to understand it.
Main image is of the construction in Sulukule, taken from the Global Post.