All sorts of sounds filled the garden of the old Beykoz shoe factory last night – the crack of batá drums, the deep notes of a double bass drawn out with a bow, the deafening reverberations of a horn section going full tilt. Yet the highlight of the performances by Ibeyi and Kamasi Washington, brought to Istanbul by IKSV for the 23rd Istanbul Jazz Festival, was deceptively simple: harmony.
It is hard to pinpoint the best moment of Ibeyi's performance, as the French-Cuban twin sisters Lisa-Kaindé Diaz (lead vocals and piano) and Naomi Diaz (backup vocals and percussion) shone from the second they strolled on stage. The duo were faced with the difficult task of warming up a distracted crowd – many were stuck in endless queues for food and drink when the set began.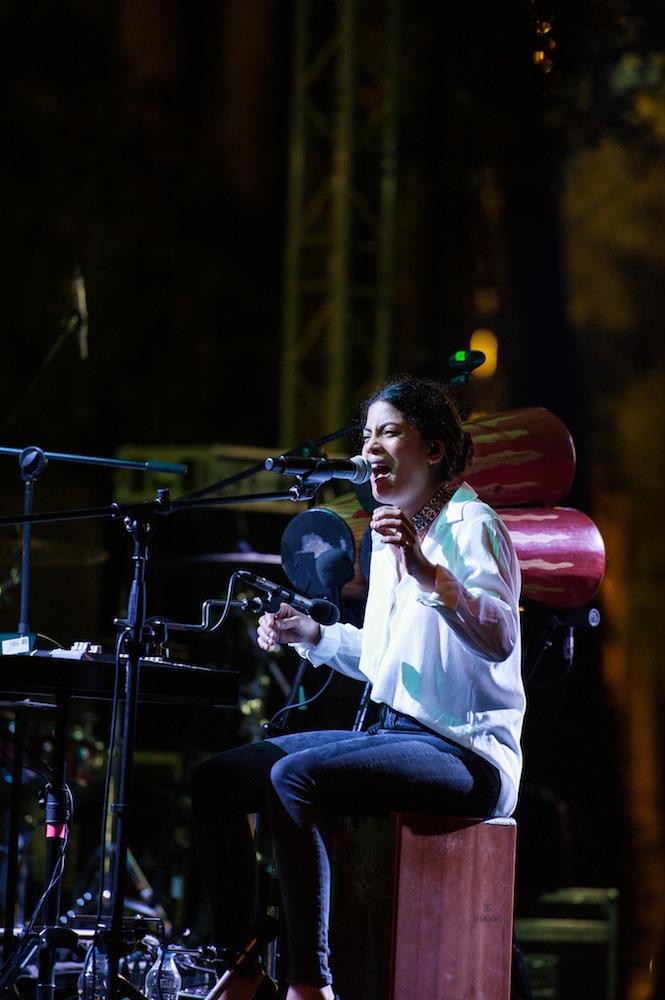 Naomi sitting on her cajón, with the batá drums pictured behind her
Despite the tall order, Ibeyi's haunting percussion and powerful vocals soon brought the crowd to their feet and even singing in call and response. What linked the songs, which ranged from big production hits like 'River' and 'Chains' to traditional Yoruba melodies sung a cappella while facing one another (main image), was the sisters' harmonising. As someone who grew up on the periphery of a hymn-heavy church community, I'm acutely aware of the sublime simplicity of singing in two- or four-part harmony, even more so because I lack the skills to do so on demand. When the twins sang together, usually with Naomi harmonising to Lisa-Kaindé's melody, the pitch-perfect mingling of their voices seemed as natural as breathing. By the end of their set I felt as if I were floating down a river, buoyed by powerful, silky vocals and pushed gently forward by the steady rat-a-tat-tat of Naomi's cajón, a Peruvian box-shaped percussion instrument.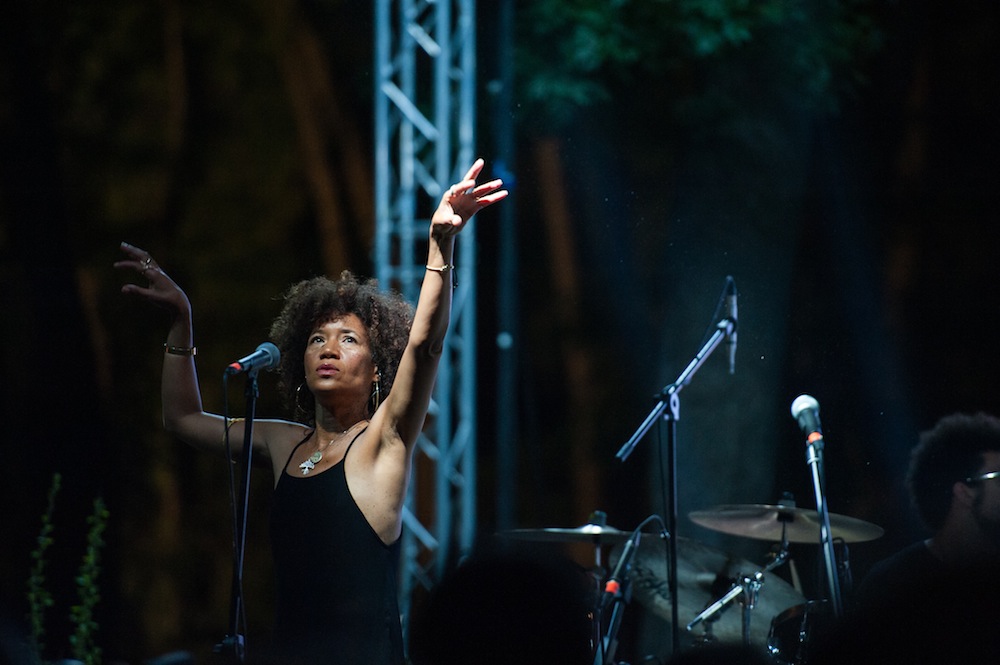 Patrice Quinn added a spiritual element to Kamasi Washington's performance
While Ibeyi's music vibrated with energy, the saxophonist Kamasi Washington and his seven-piece band came out roaring. The first song, 'Aşkım' (Kamasi apparently had a Turkish beloved at some point), expertly combined loud brass – the trombonist Ryan Porter played alongside Washington – with Patrice Quinn's impassioned, if sometimes hard-to-hear vocals and the funky, synth-like rifts of keyboardist Brandon Coleman.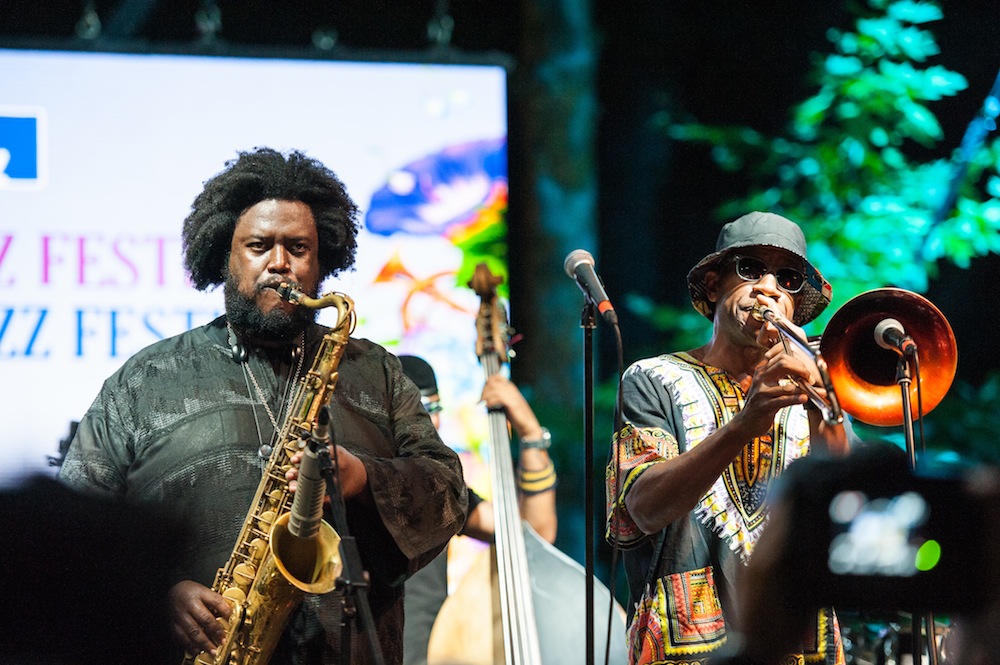 The horns harmonising (left, Kamasi Washington, right, Ryan Porter)
Yet again, what stood out from this multi-faceted, big-band sound was the way the brass section, rounded out by Washington's father, Ricky Washington, on soprano saxophone, harmonised, creating even more layers for the listener to discover. Almost every song was built around Kamasi's saxophone – it was the gravitational centre of this particular musical galaxy. He was even able to achieve that rare feat in Turkey – a silent audience – during his moving opening to 'Malcolm's Theme', an emotional composition that ended with Patrice screaming out in anguish.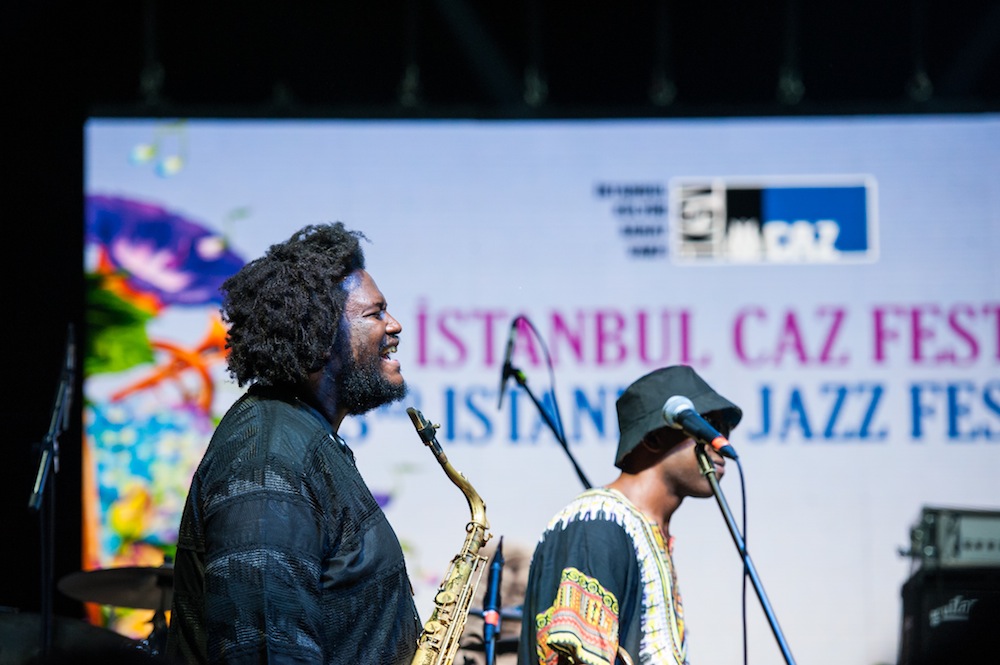 Kamasi enjoying a solo by one of his band mates
The group continued to gain momentum as they cycled through songs that highlighted the individual talents of each member, from the song written by Ryan, the trombonist, for his daughter to an improvisation piece where the two drummers, Tony Austin and Robert Miller, were in conversation with one another solely through their instruments. It was refreshing to see a bandleader so supportive of his fellow band mates – a look of pure joy would cross Kamasi's face, or his brow would scrunch in appreciation when one of the other group members played a particularly spectacular solo.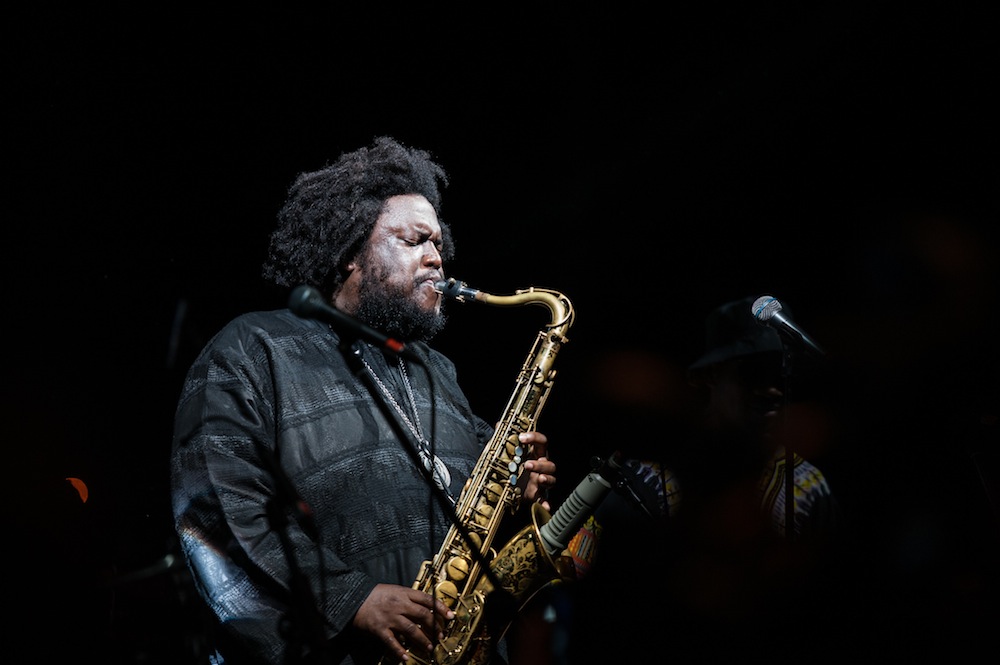 Kamasi carried the show
While Kamasi surrounded himself with excellent musicians, he was always the beating heart of the group. With his saxophone, at times playful, at others sombre, he deftly steered his band on a journey through the world of jazz, hip-hop, soul and even rap. This trip ended with 'The Rhythm Changes', a song that began with a solo on the saxophone but quickly expanded to include staccato drums, harmonising horns, bubblegum rifts on the keyboard and Patrice singing out, 'I'm here' over and over in an extravagant crescendo. As Kamasi stood with his fist in the air, the crowd crowed with delight.
Both Ibeyi and Kamasi Washington bend the boundaries of jazz, creating music that makes you question the necessity of genre. Yet their appeal is also firmly rooted in the simple pleasure of harmony. Similarly, IKSV searches out experimental and innovative acts for the Istanbul Jazz Festival, while at the same time relying on a basic formula: talented musicians paired with unique venues. It's no wonder this long-running festival goes from strength to strength.
The 23rd Istanbul Jazz Festival continues until July 25. Click here to see the remaining programme. We at Cornucopia are particularly excited to see Laura Mvula and Jacob Collier perform on July 22 (editor's note: unfortunately, it looks as if Laura Mvula will be unable to perform) and Allan Harris, Roy Hargrove and Roberta Gambarini perform with the TRT Big Band on July 25 to close the festival.
Due to the events of July 15, a number of performances have been cancelled or postponed. Click here to see the full list of changes.
All photos provided by IKSV.