London is awash with acquirable booty this week. Sotheby's, Christie's and Bonhams have set out stacks of gorgeous objets in anticipation of Islamic sales week. All three are open for viewing on Sunday afternoon.
SEVEN SALES IN FOUR DAYS For viewing times see Events.
Tuesday Bonhams kicks off with Islamic and Indian Art (10.30am), Christie's with Oriental Rugs and Carpets (11am), Sotheby's with The Orientalist Sale (2.30pm), including Ahmed Şeker Pasha's quinces, above.
Wednesday Sotheby's unleashes its Arts of the Islamic World (10.30am).
Thursday Christie's stages a splendid Art of the Islamic and Indian Worlds sale in its King Street rooms.
Friday, April 11 Christie's South Kensington mops up the loose change with Arts and Textiles of the Islamic Worlds.
April 8 BONHAMS BOND STREET: ISLAMIC AND INDIAN ART
Indian tends to outshine Ottoman in this sale, with objects ranging from Jaipur jewellery to a glorious tiger miniature from Udaipur, c1860 (Lot 275), but there are a few Ottoman items to add to your wishlist.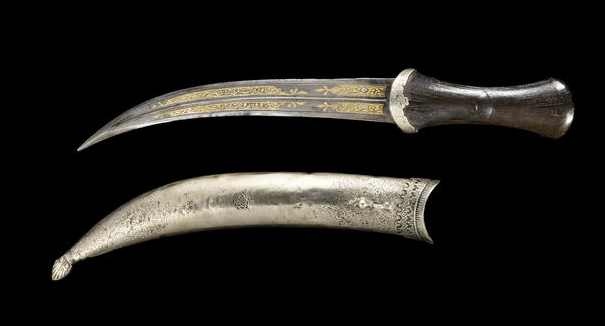 Among them this lethal beauty with delicately nielloed scabbard (Lot 180 Bonhams, est £12–16,000), dated to the late 16th or early 17th-century Ottoman.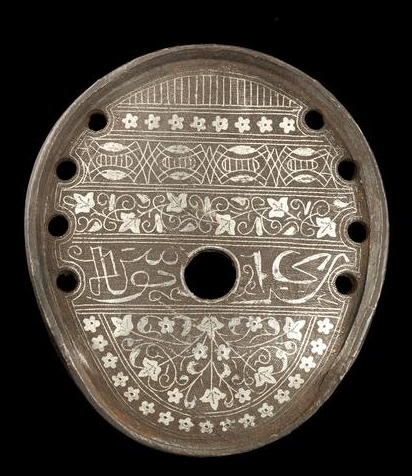 This finely wrought silver-inlaid iron plaque is inscribed with the words 'The house where chain-mail is made' and is Balkan in origin. It is in fact an Ottoman horseshoe (Lot 182, est £3–5,000).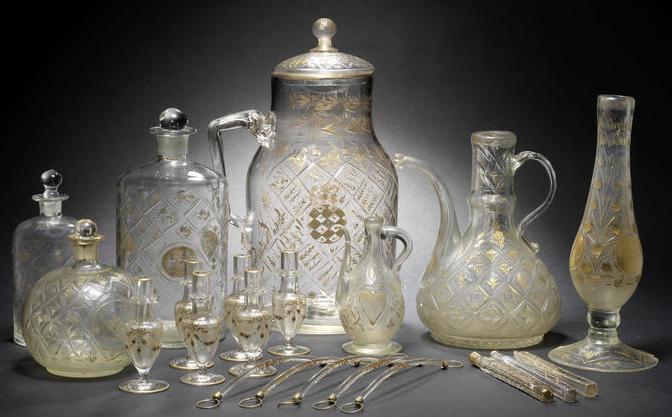 And not everything at Bonhams has to be fabulously expensive. Take this lovely set of Beykoz glass at Bonhams, for example (Lot 130), with a modest estimate of £3,000–4,000).
April 8 CHRISTIE'S KING STREET: ORIENTAL RUGS AND CARPETS
Christie's seem to have cornered the market in Oriental rugs and always have a splendid display in their central galleries.
This year's offerings include the Bernheimer Coupled-Columned Prayer Rug (Lot 13, est £50–80,000), woven in Western Anatolia in the mid-17th century, which Otto Bernheimer, the legendary dealer, had acquired by 1959.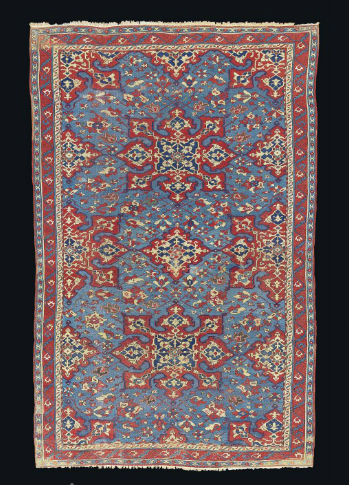 Also rated is a Star Ushak rug from a Florentine collection, which Christie's date to the late 16th century (Lot 50, est £70–100,000).
April 8 SOTHEBY'S BOND STREET: THE ORIENTALIST SALE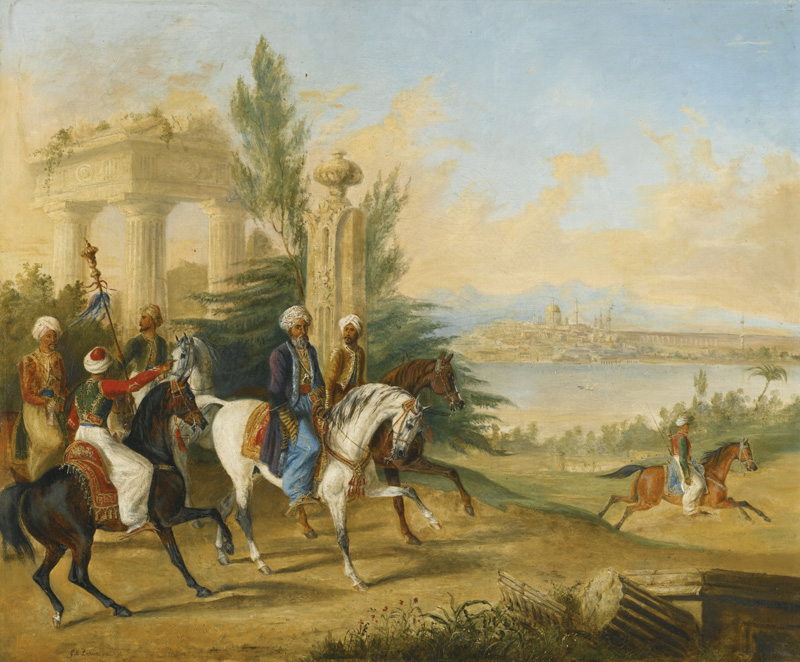 The Orientalist Sale at Sotheby's (April 8) will appeal more to Arab/North African taste than to Turkophiles. When Istanbul does appear, it is often lightweight and barely recognisable, as in the British artist George Henry Laporte's Noblemen before Constantinople, signed and dated 1835 – perfectly OK for the cover for an Oriental bodice-ripper (est £20–30,000).
More illuminating is a painting by the French artist Louis-Emile Pinel de Grandchamp (1831–94) of the brand-new Nusretiye Mosque in Tophane, the first of the Istanbul 'ballroom mosques', built between 1823 and 1826 by Mahmud II. A little naive in terms of perspective, the painting does have a charm, with every window (and what a lot there are) carefully delineated (Lot 33, est £50–70,000).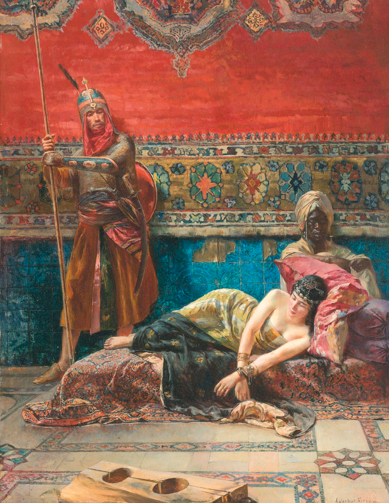 A typical, if demure, painting of its genre is Captive in the Harem, by the Hungarian Ferencz Eisenhut (1857–1903), an inventory of sorts of dubious bazaar brocante (Lot 22, est £50–70,000). The great Ottoman Orientalist-cum-archaeologist Osman Hamdi Bey's stiff but more scientific variations on the theme, strictly for Western audiences, now fetch millions.
At least one collector in Izmir will not want to miss out on 'Fatima of Smirne' by Ippolito Caffi (1809–1866) (Lot 31, est £20–40,000). The Italian artist, admired for his treatment of light, drowned while bravely attempting to paint the Battle of Lissa at first hand. The Italian ship he was on was sunk on July 20, 1866, by the Austrian navy in the first major sea battle involving ironclads.
A highlight of the sale is a still life by one of the few Turkish artists represented, the Paris-trained Şeker Ahmed Pasha (1841–1906), many of whose works can be found in the Sakıp Sabancı Museum's vaults. His wonderful still-life with quinces and apples, Lot 35, signed 'Ahmed Aly' in both Latin and Arabic alphabet and dated 1900, is expected to fetch up to £150,000. The saying Taş yerinde ağırdır! – a stone is heavier in its place of origin – should ensure that it flies home to Turkey, or at least will do if the country puts its growing economic and political uncertainties behind it.
April 9 SOTHEBY'S BOND STREET: ARTS OF THE ISLAMIC WORLD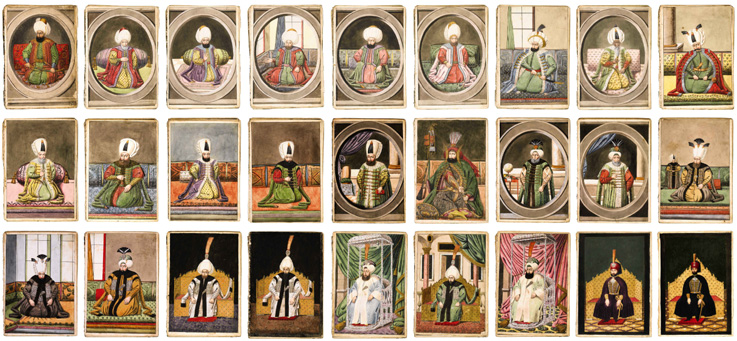 First on the list of Ottoman wonders at Sotheby's is a collection of 27 sultan's portraits in watercolour. The last, sitting in a fez next to Mahmud II, is Abdülmecid I, who reigned from 1825 to 1861, which dates the group to the mid-19th century (Lot 94, est £100–150,000).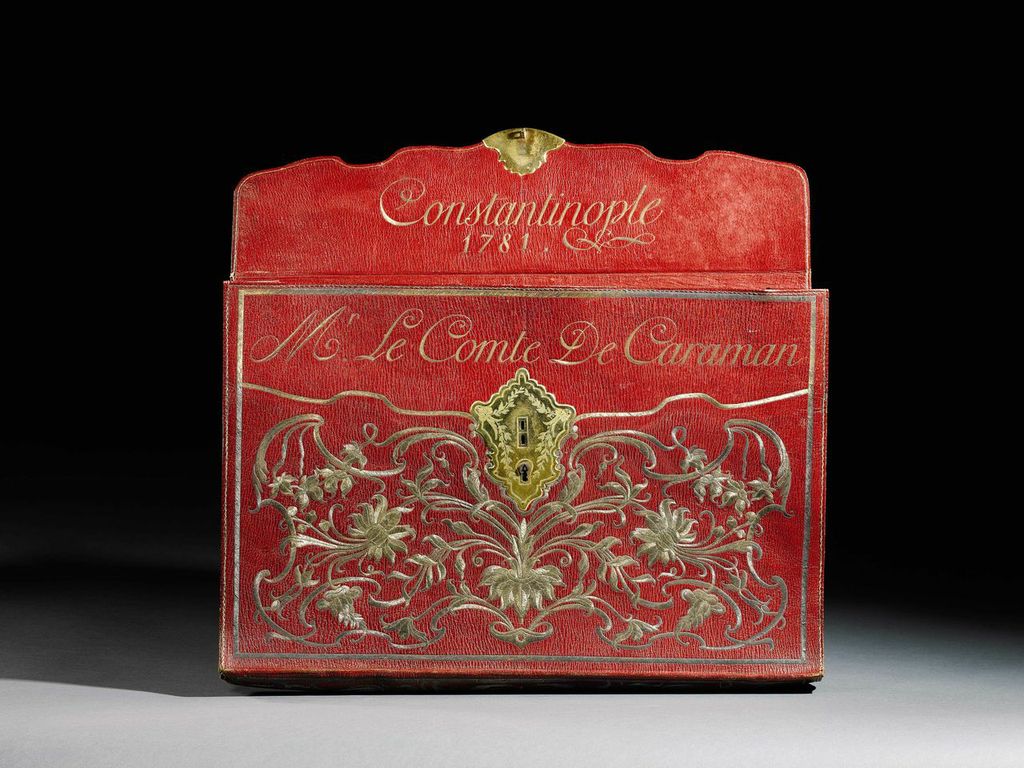 Sotheby's Lot 183 (est £20–30,000) is a beautiful Ottoman leather document of the kind in favour with 18th-century ambassadors to the Sublime Porte, though this one has obviously been carefully preserved and never used. On the back it is inscribed 'M Le Comte de Caraman, 1781' and has the heraldic emblem of the illustrious Caraman-Chimay. What makes this such a poignant piece is that Victor Maurice de Riquet de Caraman-Chimay was the passionate landscape designer who helped his Austrian friend, the ill-fated Marie-Antoinette, to create her hamlet in Versailles gardens.
Sotheby's also has some fabulous rock-crystal, one of the most luxurious materials in the Islamic world, coveted not only for its beauty but because carving the stone demands such a feat of craftsmanship.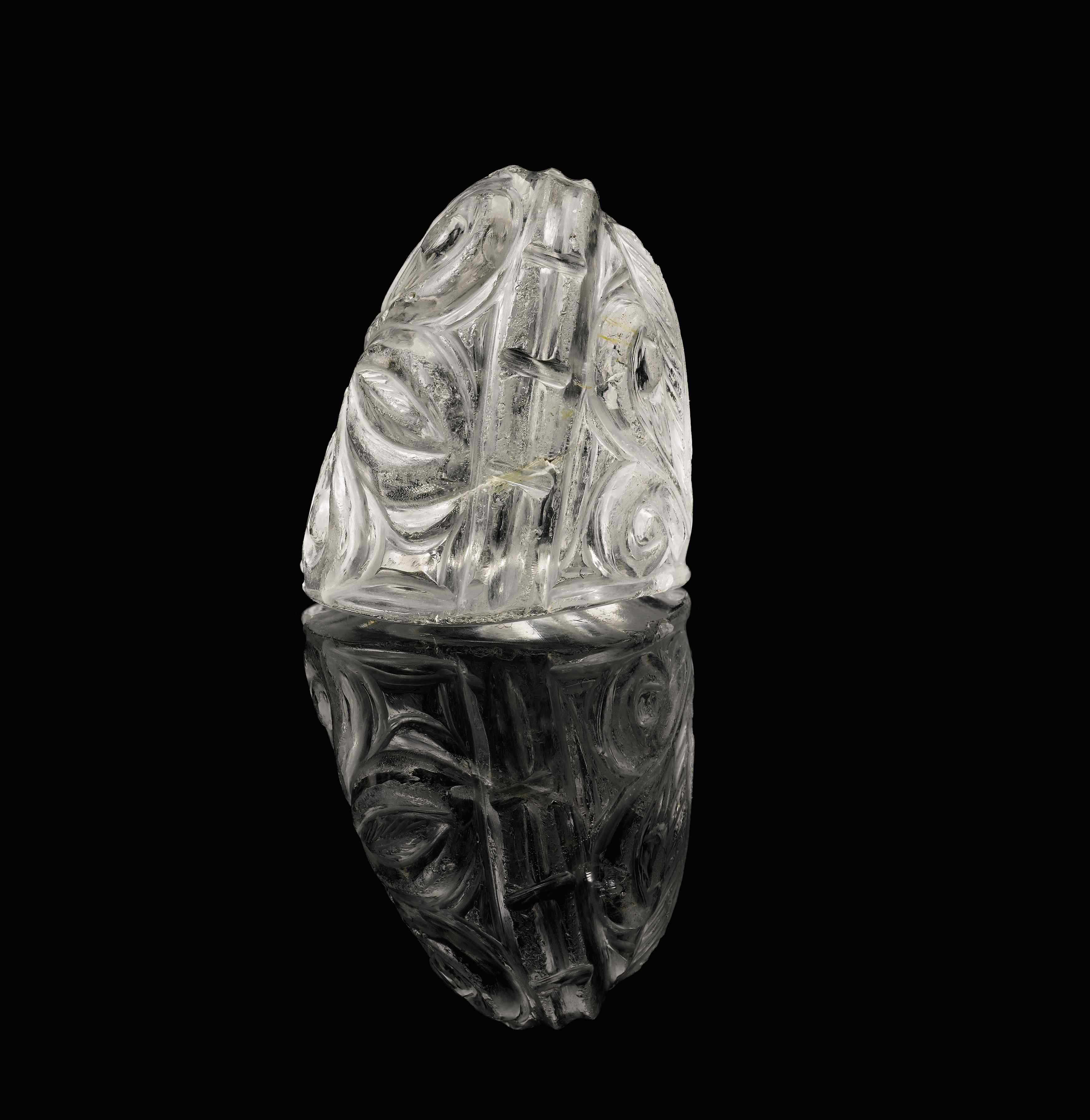 Lot 100 is a rock-crystal chess piece from 11th-century Egypt, which must have belonged to a set carved for a distinguished figure in the Fatimid or Abbasid Caliphate (est £80-100,000). How such a tiny nugget of beauty, just 4cm high, managed to survive down the centuries is simply astonishing.
Lot 138 (est £30–50,000) is an 18th-century Mughal cup carved out of a block of rock-crystal and inlaid with rubies, emeralds and diamonds. The intricate tendrils of gold wire are held in place in incredibly finely drilled grooves.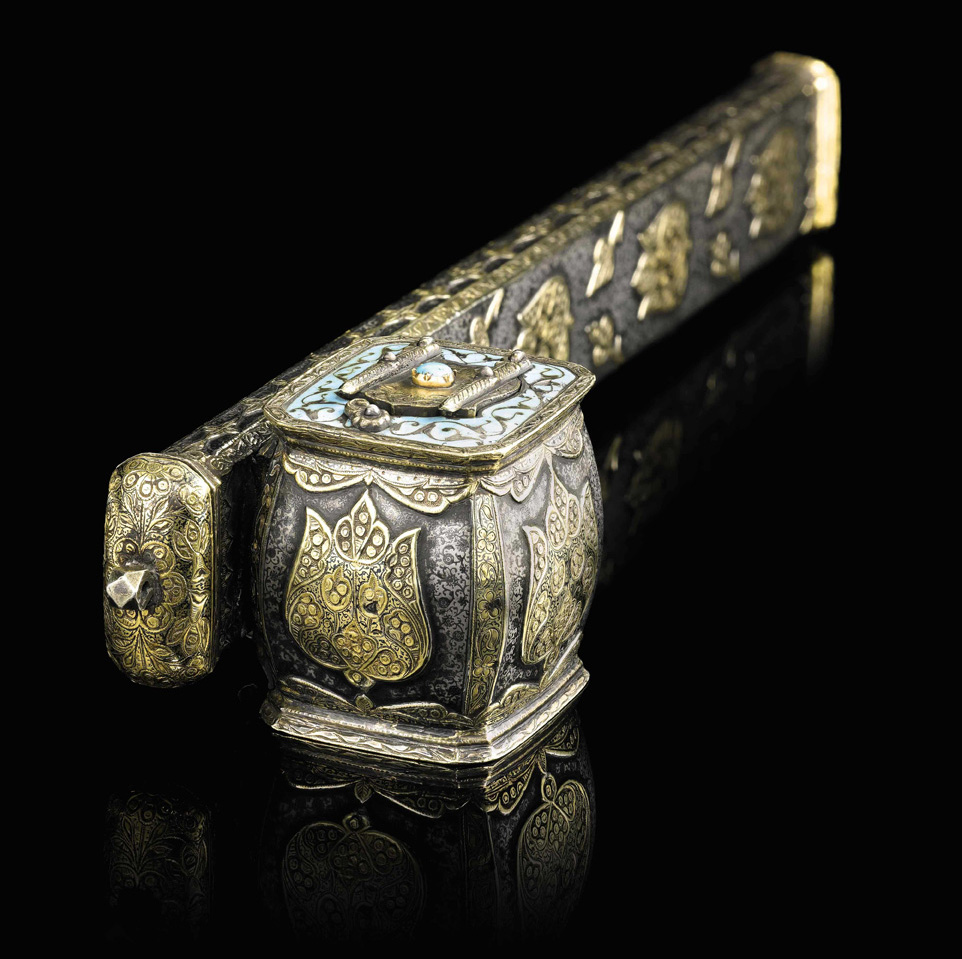 Returning to the Ottomans, the most historically fascinating object in London this week, perhaps, is one of the earliest known classic Ottoman penboxes. This nielloed silver object bears the tuğra of Mehmed IV (1648-87). Note the gilt tulip flowers so popular in 17th-century Istanbul intricately worked onto each facet of the inkwell, and its turquoise enamel lid set with a turquoise stone.
April 10 CHRISTIE'S KING STREET: ART OF THE ISLAMIC AND INDIAN WORLDS
In this sale Christie's include part five of a private collection donated to benefit the University of Oxford.
The star of Christie's Ottoman offerings has to be a dramatic blue and white Iznik bowl c1510 (Lot 188, est. £300–500,000).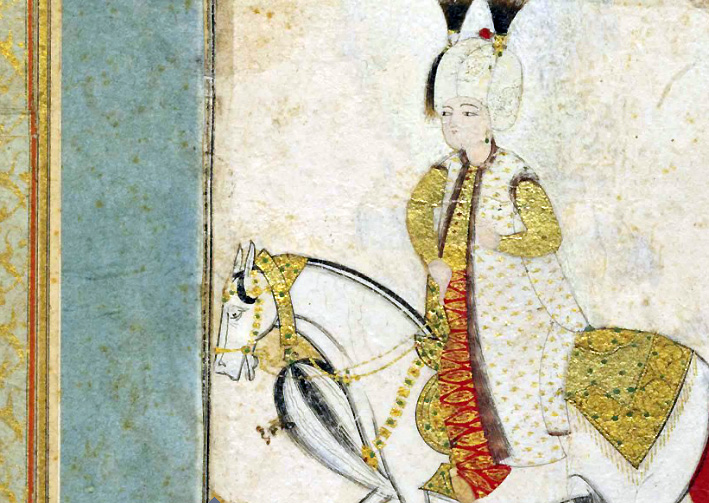 Among the manuscripts look out for this delightful portrait of Ahmed III from the early 18th century (Lot 213, est £8–12,000).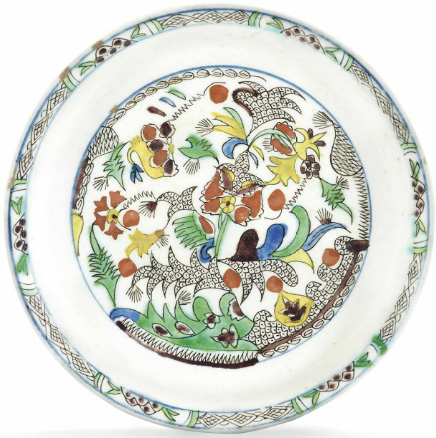 Form court to country: also from the 18th century is this mad ceramic saucer from Kütahya, measuring 14.6cm in diameter (Lot 209, est £5,000–7,000).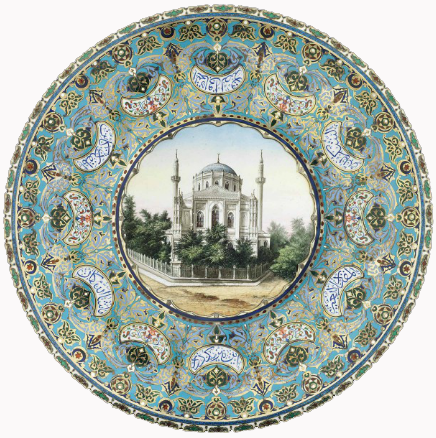 And finally something utterly 19th century: a piece of silver-gilt enamelled with Abdülhamid II's Yıldız Mosque, to be featured in the next issue of Cornucopia (Lot 224, est £20–30,000)
April 11 CHRISTIE'S SOUTH KENSINGTON: ARTS AND TEXTILES OF THE ISLAMIC AND INDIAN WORLDS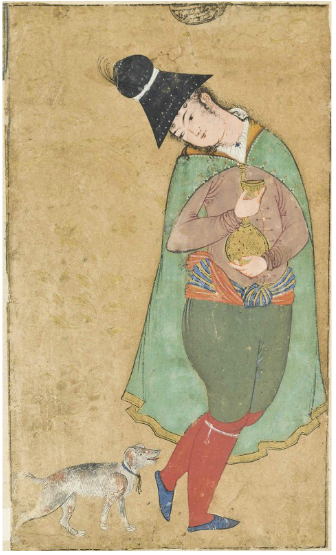 For more purely decorative shopping, head for Christie's South Kensington, where you will find this delightful Safavid with his dog, c1620–30 (Lot 154, est £3,000–5,000).