What a happy mix, the mingling of Islamic and Indian worlds under the umbrella of Islamic sales week in London. The three big auction houses stage their biannual Islamic art sales this week, and it is not too late to see what's on offer. At Sotheby's, Arts of the Islamic World is on Wednesday (10.30am, October 8), followed by their Art of Imperial India sale in the afternoon – this includes the delightful miniature of ladies at their toilet, above (Lot 277, est. £25,000–35,000). Christie's start with Oriental Rugs and Carpets on Tuesday morning (October 7, 11am) and continue with Art of the Islamic and Indian Worlds on Thursday (October 9, 10.30am), both at King Street, and Arts and Textiles of the Islamic World at Christie's South Kensington. Bonhams, meanwhile, is holding its Islamic and Indian Art sale at 10.30am on Tuesday. Here are a handful of the rich pickings, typical of the incredible aesthetic diversity on show. A feast for the eyes.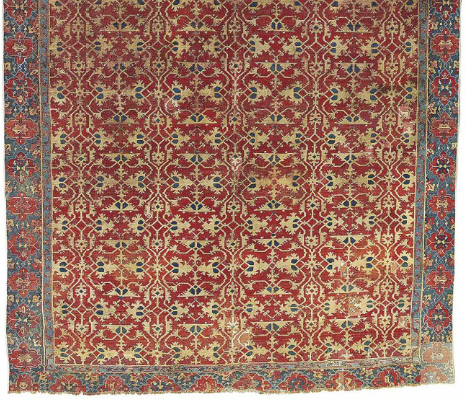 This magnificent late 16th-century Lotto Carpet from Uşak in Western Anatolia (Christie's, October 7, Lot 25, est. £250–300,000), measuring an astonishing 19 by 9ft (580 x 272cm).
The Duke of Northumberland's 40-volume printer's copy of Edward William Lane's Arabic–Turkish Lexicon, the fruit of the great Egyptologist's last 34 years and still in production at his death in 1876. This monumental work of scholarship, annotated in the author's hand, is being sold with ten volumes of al-Saghani's Ubad, dated H653/AD1255 (Sotheby's October 8, Lot 59, est £200–300,000).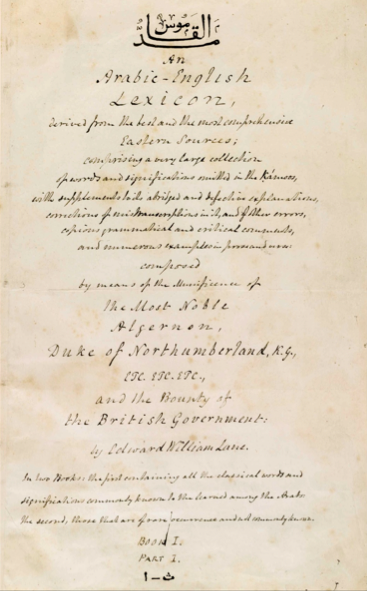 The Lexicon was commissioned by Algernon Percy, 4th Duke of Northumberland, who travelled to the Ottoman Empire in 1826. The then Lord Prudhoe (he was the second son of the second Duke of Northumberland) met both Lane in Cairo and another great Egyptologist, Jean-François Chompollion.
Also at Sotheby's, this exquisite 16th-century Ottoman miniature Koran, just 4cm in diameter, complete with the silver gilt box that contained it (October 8, Lot 52, est £10,000–15,000).
Lot 148 at Sotheby's is this 18th-century Ottoman gaming board, inlaid with tortoiseshell and mother of pearl (est. £20,000–30,000) – such pieces were in great demand in Europe.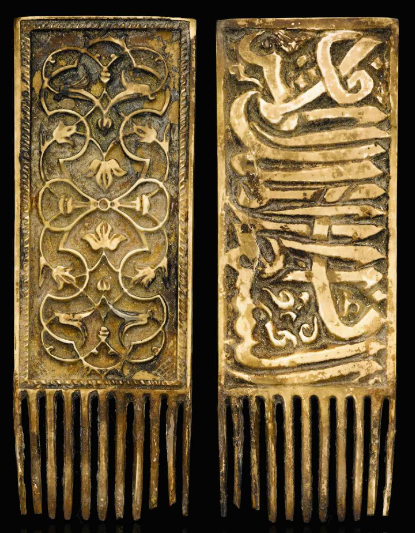 A Mamluk ivory comb (Sotheby's Lot 100, est 14,000–20,000), seen here back and front, from 14th-century Syria or Egypt. Few such examples have survived, but there was such a vogue for them that the city of Al Qantarah El Sharqiyya, close to the Suez Canal, had a souk dedicated to combs. The inscription reads al-Sultan al-Malik al-Ashraf, a title used by several Mamluk sultans of the period.
The Ottoman star of the sale at Christie's is this handsome 15th-century blue and white pottery dish. Made in Bursa or Edirne, it is clearly influenced by Chinese porcelain (est. £120,000–180,000).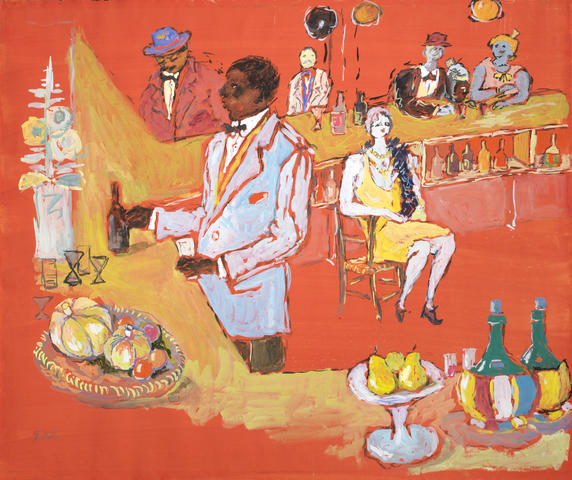 Indian art dominates the Bonhams sale, but note the charming Fikret Mualla's 'Paris Bar Scene' (Bonhams, Islamic and Indian Art, Lot 101, £12,000–18,000).