Two years ago the Mancunian trio GoGo Penguin hypnotised the audience at Salon IKSV with a mix of jazz and trance. Replace the bass with a saxophone, and you've got another group from England, Mammal Hands.
The comparisons go beyond sound. Both bands let the music do the talking, keeping on-stage banter to a minimum. When Jesse Barrett, the drummer of Mammal Hands, did speak, it was with an awkwardness that was charmingly British. Moreover, any description of Mammal Hands is bound to reference GoGo Penguin, since the latter popularised acoustic electronica. Nick Blacka, the bassist of GoGo Penguin, even had a hand in connecting Mammal Hands to its label, Gondwana Records. The two bands are inextricably linked.
And yet... The screeching saxophone, played ferociously by Jordan Smart, his body bending around the instrument, inched Mammal Hands' sound closer to jazz. And the piano, unlike in GoGo Penguin's performance, took a backseat. Nick Smart's rhythmic patterns on the baby grand laid the foundation for Jordan and Jesse to build on.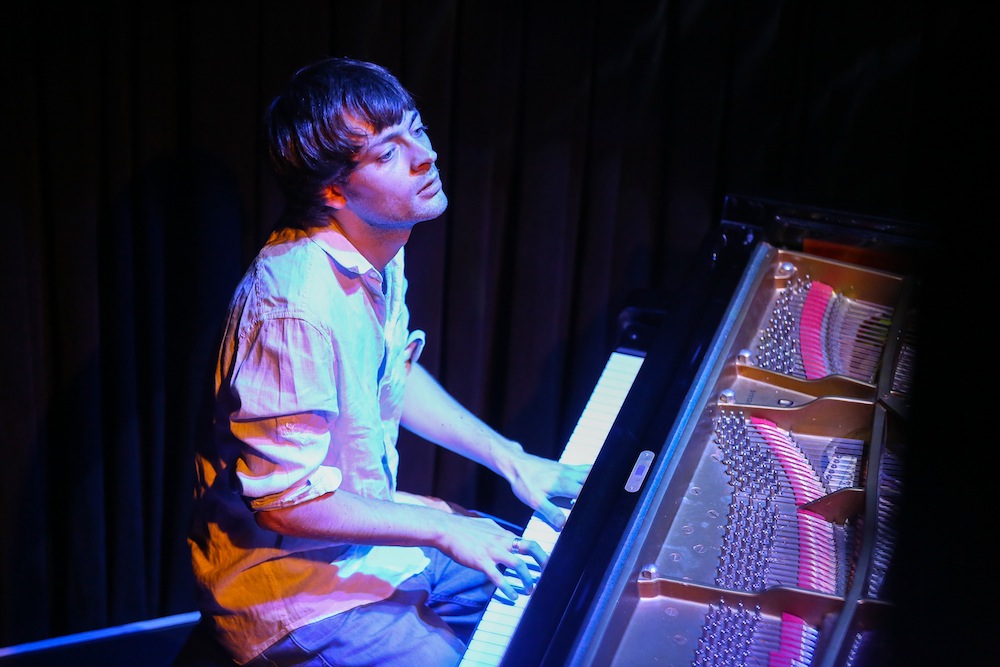 Nick Smart on piano is the backbone of Mammal Hands
Whether melancholic or euphoric, the group's songs were patiently crafted. Speed wasn't the aim – Mammal Hands was in no rush. Instead, the sax and drums would alternate solos until the song reached fever pitch and one or both instruments would suddenly drop out, only to regroup with a more muted sound. Dramatic stops and starts were the commonality between songs whose influences ranged from Irish folk music to African drumbeats.
The repetition and rhythmic loops lulled me into a meditative state, similar to the one I find myself in on long hikes. The continuous piano loops were like placing one foot in front of the other. The swells mimicked the highs of climbing a ridge, while the lulls echoed the pauses to take in the scenery. Unexpected thoughts and memories cropped up. Normally I would try to push them away when watching a live concert. But I let myself indulge this time – the music seemed to call for it.
I left Salon IKSV on Thursday with a new respect for Mammal Hands. Despite repeated comparisons to GoGo Penguin, the group have carved out their own sound whose depth, clarity and intensity are unmatched.
The November programme at Salon is packed. We recommend getting tickets for The Veils, a London-based indie-rock band, and Oh Land, a Danish singer with a delicate and breezy voice. Before a concert at Salon, we like to stop by Galata House to sample their Caucasian dishes, like the soupy Georgian khinkali (dumplings).
All photographs by Ali Guler for Salon IKSV.