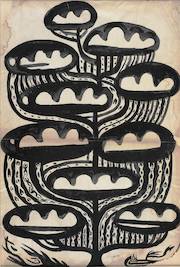 As part of the Islamic Week sales in London, Bonhams will be presenting their inaugural auction of Modern and Contemporary Turkish art. Scheduled to take place on 5 April, it sees Bonhams following Sotheby's into this vibrant area of art - and, of course, into a potentially enormous market. Under the direction of Erdem Sontur, Bonhams' recently appointed representative in Turkey, and with help from Kristina Sanne and Mehreen Rizvi, a formidable collection of twentieth century art has been assembled from sources in Turkey and abroad. The focus here seems to be more on the modern side of things, largely eschewing potentially flash-in-the-pan contemporary artists for their more reliable elders. Bedri Rahmi Eyüboğlu, for example, is well represented here, with three paintings up for sale; Cloudy (above, lot 3) is estimated at £6-8'000. Meanwhile, collectors are expected to dig deep into their pockets to buy Erol Akyavaş's, End of Encounter (below, lot 19) which is expected to go for £280-340'000.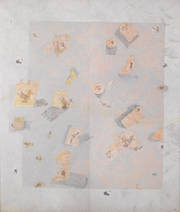 However, this is not to say that contemporary art is overlooked in this sale; given the extraordinary vitality of young Turkish artists, it would be impossible to ignore. Kezban Barca Batıbeki's Stairs (below, lot 54) is hoped to fetch £6-8'000, and works by well-known names such as Şükran Moral, Ahmet Güneştekin and Selma Gürbüz will no doubt attract the attention of collectors, dealers and museums. Combine a visit to this with the Bonhams Islamic and Indian Sale on the same day for the ultimate juxtaposition of Turkish art old and new.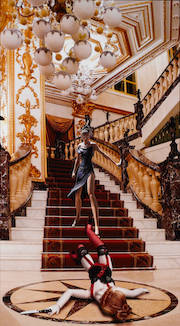 Bonhams London, 101 New Bond Street, W1S 1SR. Sale viewings, 1 and 3-4 April. Sale, Tuesday, 5 April, 11 am.