Nihat Gökyiğit (photographed here by Kenan Kaya) is a hero of Cornucopia's, so it was good to see an FT tribute to the 88-year-old Turkish industrialist and philanthropist this weekend. In Istanbul botanic garden is Turkey's answer to spaghetti junction Matthew Wilson describes how the 32-hectare Nezahat Gokyigit Botanik Bahcesi (NGBB), dedicated to his late wife, is 'defiantly holding its ground' on the Asian side of Istanbul in the midst of the relocation 'en bloc of the entire Turkish banking industry'. It has to be 'a contender for the title of "place least likely to play host to a brand new botanic garden"', writes the managing director of Clifton Nurseries, in London's Little Venice.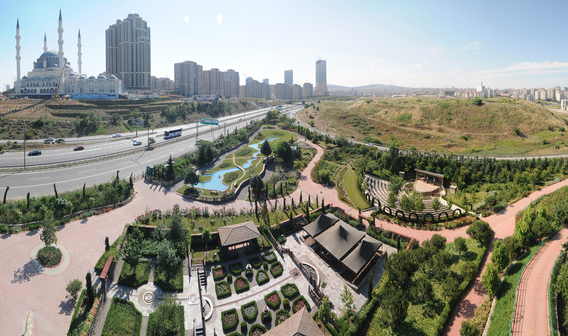 'Led by Professor Dr Adil Guner, the team at NGBB have initiated a master plan to create ecological niches within the eight islands where as broad a range as possible of plant material from Turkey and beyond can be grown… There is an eclectic, energetic feel to this young garden. Perhaps that comes from Nihat himself, who seems to have an unquenchable appetite for ecological projects.'
Wilson also describes Nihat Bey's other achievements. 'A serial philanthropist with age-defying vigour, his interests range from the Tekfen Philharmonic Orchestra – featuring Eurasian and Middle Eastern instrumentation and musicians from a dozen countries – to TEMA, the Turkish Foundation for Combating Soil Erosion, for Reforestation and the Protection of Natural Habitats, which he co-founded. The scale of some of TEMA's schemes is huge; an afforestation campaign for Anatolia, a region notable for 23 endemic oak taxa, aims to "put 10bn oak acorns in the ground".' And then there is the amazing story of 'the Caucasian bee (Apis mellifera caucasica), a crevice-nesting subspecies of the western honey bee found primarily in Georgia and northern Turkey. Believed to be locally extinct, colonies were rediscovered after a nine-month search.' The bee is 'docile', 'productive' and 'pure', and Nihat has started a programme to raise tens of thousands of queens to generate income for the region.
It is amazing how few people living in Istanbul know about this wonderful garden. We strongly recommend it. Even though it is still young in gardening terms, and therefore more of a strictly botanical than a pleasure garden, the creation of micro-climates already makes it fascinating to explore, and it is hugely rewarding to catch a garden when it is young and see it mature. A visit does involve quite a lot of serious walking, though, so good shoes and a hat against the sun are essential. Because it is on motorway property, any selling of refreshments, let alone plants, is strictly forbidden. However, the island closest to the Ataşehir carpark has shady picnic tables, so you are welcome to bring your own food and drink. There is a good botanical library for those interested, and the tunnels between the motorway islands have been used for beautifully lit poster exhibitiions. A catalogue of the Ottoman horticulture exhibition, prepared with the help of Prof Dr Nurhan Atasoy, is available online from the Cornucopia bookshop.