There's just two more weeks to apply for this edition of the Leyla Gencer Voice Competition. Organised by the Istanbul Foundation for Culture and Arts (IKSV) and the Accademia Teatro alla Scala – and named after the first lady of Turkish opera, the late Leyla Gencer – the competition is run every two to three years, with the aim of finding the brightest new opera stars in Europe.
This edition is being supported by the Süreyya Opera House in Kadıköy, the Istituto Italiano di Cultura, the Adam Mickiewicz Institute, Teatr Wielki – Polish National Opera and Borusan Culture and Arts, with the finals taking place in Istanbul at the Süreyya Opera House in September 2015. The great Italian soprano Luciana Serra will preside the jury this year, which also includes influential figures from the industry, as well as previous competition winners, who have gone on to have their own impressibe careers.
The deadline for applications is Monday, June 1, 2015. Applicants should send their documents to info@leylagencer.org. Check the competition's website for application guidelines and further information.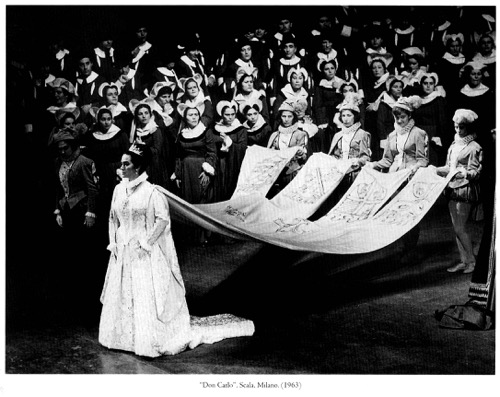 Gencer in 'Don Carlo', performed at the Scala in Milan in 1963
After applications close, a series of preliminary auditions will be held around Europe in June: in Paris on the 10th, in London on the 11th, in Berlin on the 14th, in Milan on the 18th and 19th, in Warsaw on the 23rd, and in Istanbul on the 29th and 30th. Forty contestants will be chosen and announced on July 13 on the competition's website.
The contestants will then come to Istanbul for a series of final auditons, taking place between September 6 and 11. The eight finalists to come out of the semi final will perform with the Borusan Istanbul Philharmonic Orchestra, under the baton of Antonio Pirolli, before a jury and an audience at the final on September 11.
The prizes up for grabs are impressive. First prize is €12,500, second prize is €7,500 and third prize is €3,500. In addition, the Accademia Teatro alla Scala will also grant a three-month scholarship to one of the finalists. Also, the winner of the Special Award given out by the Polish National Opera will perform in one of its productions. And, the winner of the Audience Award, chosen by the audience, will get the opportunity to perform at the 44th Istanbul Music Festival in 2016. Good luck!
Main image courtesy of Pozzar, Trieste, via www.iksvphoto.com.