The wavy stem of a tulip, the fanning of a carnation, the lattice pattern created by delicate peony blossoms… the floral motifs of classical Ottoman silks are simply sumptuous. No wonder they were the first choice of Sultans, who commissioned teams of weavers trained in the art of silk hand-weaving to create opulent (and immensely valuable) kaftans. Most of the finest examples of these textiles are locked away in museums, where they're sometimes on view behind thick panes of glass. Yet Ros Pollock (pictured above) and Carol Karadag, the two British women behind Ottoman Silks, are bringing these luminous garments back to life and putting them into the hands of customers in the UK and beyond through their new joint label with Glyndebourne.
The inspiration for Ottoman Silks came to Pollock after she moved to Ankara in 2011. Noticing the ubiquity of tulips and carnations, as well as other floral motifs, in Turkish design, she began to dig deeper into their history, giving herself a crash course in Ottoman textiles. She devoured Ipek: Crescent and Rose, a magnificent (and now sadly out of print) book by Nurhan Atasoy, Walter B Denny, Louise W Mackie and Hülya Tezcan, and back issues of Cornucopia (particularly Issue 34, Ottoman Kaftans), and marvelled at the traditional Ottoman textiles sewn by women at the Ankara Olgunlaşma Institute, a vocational training school founded in 1945 for girls and women of all ages.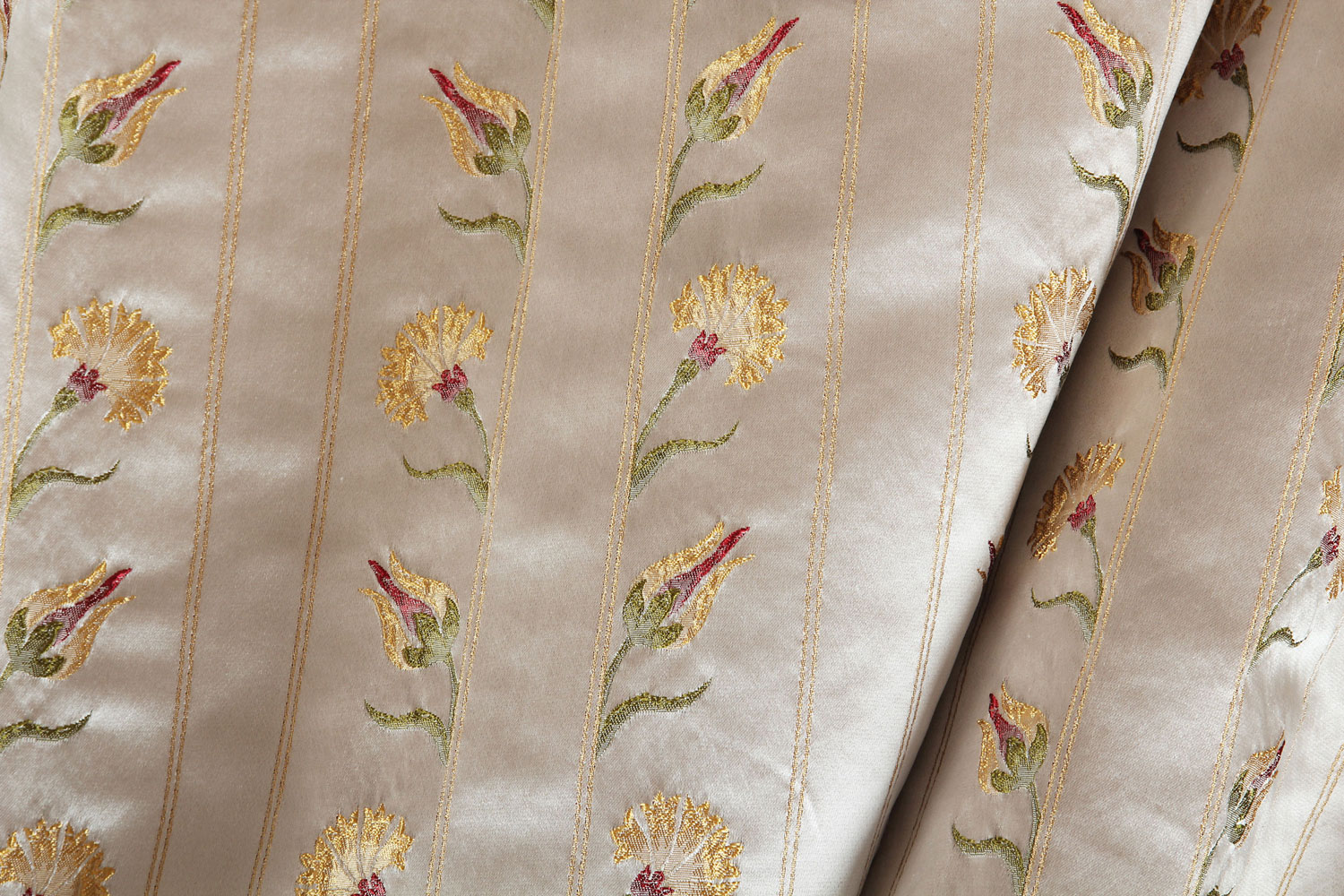 The Ayse fabric has alternating plain and floral vertical bands of tulips and carnations framed by double gold stripes
'It was then that I thought, somebody, somewhere must be making and selling these designs. I went to Istanbul and made contacts at the Grand Bazaar, but realised after a year that no one was doing Ottoman designs in silk. True, Armaggan sells handwoven silk kaftans. But buying a kaftan at that price point is like buying art – it's not necessarily something you could wear,' explains Pollock.
Despite no former experience in the textile business, Pollock and Karadag were able to search out one of the top-quality producers in Turkey, Persan, and convince them to weave their designs at a mill in Bursa, Turkey's silk capital. After speaking to Sibel Alpaslan Arca, curator of the of Sultans' Costumes Collection at Topkapı Palace Museum, to ensure the colours were correct, their Ottoman-inspired silk fabric was finally ready to be woven.
The Feriye jacket in Saliha fabric
The end result was better than they could have imagined – Arca at Topkapı was thrilled to see the historical designs reproduced using modern techniques and congratulated the duo on producing such a high-quality textile (although Pollock notes that they have 'the great advantage of using jacquard looms'). The experience also demonstrated to Pollock the 'exceptional quality of fabric that can be produced in Turkey'. As she explains, 'There is the snob value of fabrics from Europe, but what many people don't realise is that a lot of the European fabrics are made in Turkey.'
From their luxurious Ottoman-style fabrics Pollock and Karadag have fashioned kaftans, shoes, handbags and waistcoats, along with other accessories. Of these, a bespoke collection of kaftans (opera coats) and handbags is available at Glyndebourne. The joint label is a match made in heaven – Glyndebourne is an independent and privately funded opera house founded by John Christie and his opera singer wife, Audrey Mildmay, while Ottoman Silks' kaftans are the perfect statement piece for a night at the opera.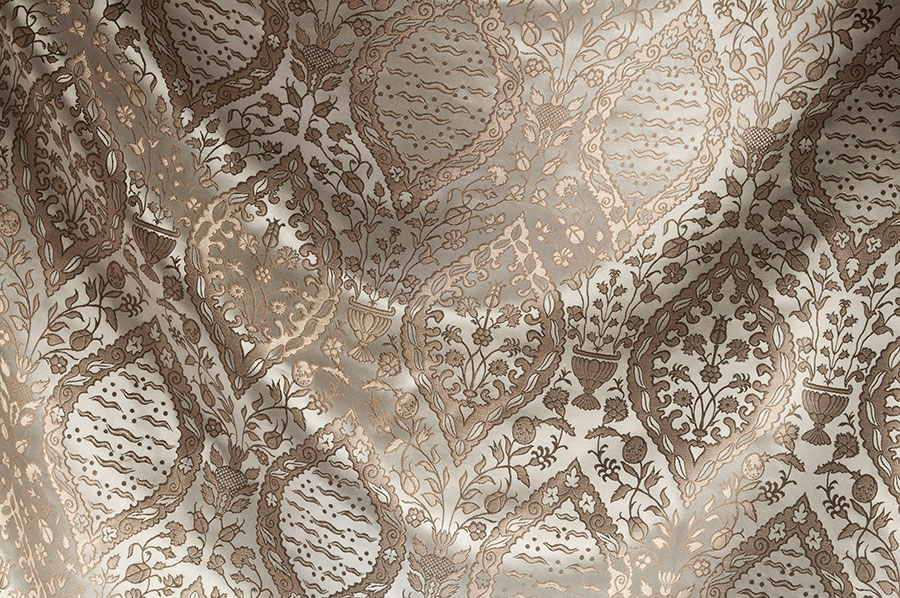 Yeni Nilufer is one of the fabrics in the new contemporary colour range, which are intended for interior design
The duo has also begun manufacturing fabrics for use in interior design. These fabrics have the traditional Ottoman motifs, but are reproduced in such shades as ivory, charcoal and oyster to make them more compatible with modern interiors. What's more, they've recently put out a line of ottomans (the furniture, not the people) that are handmade in England with horsehair, beechwood and their traditional Ottoman textiles. Talk about a conversation piece!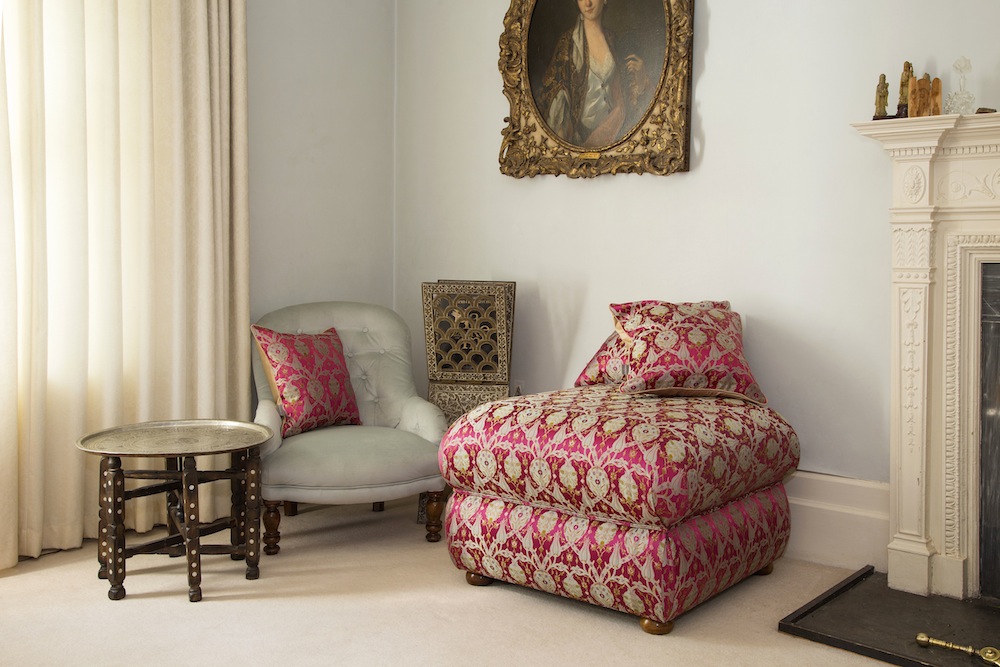 The Pasha ottoman adds a burst of colour to your living room
Getting people to understand that there is more to the word 'Ottoman' than the stool is one of the biggest challenges facing Pollock, who now lives in the UK. 'It's frightening how ignorant Brits are about the Ottoman Empire,' she says. With these gorgeous textiles, Pollock is trying to weave a tale of Ottoman wealth and power, and the role of silk in the Empire. As she explains, 'I'm selling something that is beautiful, but it's not just a purse with a pretty design. There's also a fantastic story behind it.'
Visit Glyndebourne to shop the bespoke Ottoman Silks collection and the Ottoman Silks website to purchase all clothes, accessories and fabrics. You can also follow Ottoman Silks on Facebook and Twitter. Ottoman Silks will also be exhibiting their wares at Spirit of Summer Fair, which will be held at Olympia, London from June 22–25.