Is it coincidence, or the nationality of the last Jameel Prize winners, Turkish fashion designers, Ece and Ayşe Ege of Dice Kayek (see Cornucopia 44), that means Istanbul will host the fourth Jameel Prize? Whichever it is, today's announcement that the Pera Museum will be the first external venue for the prize gives us all something to look forward to on June 8. The first three prizes were launched at London's V&A, and they will host it again in 2018, which goes to show that the Pera Museum's contemporary art world clout doesn't stop at Grayson Perry.
Awarded every two years to a contemporary artist or designer inspired by Islamic traditions of craft and design, this year's prize shortlist of 11 contains two Istanbullus: Canan and Cevdet Erek.
Canan, whose solo show, The Shining Darkness, is currently at Rampa Gallery until February, lives and works in Istanbul. Having made her name as an artist who defends women's rights, Canan will show two Ottoman-style miniatures made in 2014: Resistance on Istiklal Street and Bosphorus Bridge. The first is a representation of the resistance during the Gezi Park protests of 2013, while the second illustrates a moment when a group of protestors succeeded in crossing the Bosphorus Bridge to reach Gezi Park despite the use of water cannon and tear gas by the police. (Canan is giving a talk entitled 'The Artist's Body as an Instrument of Struggle' at the Pera Museum on January 27 as part of the current show, This is Not a Love Song.)
Cevdet Erek is an artist working specifically with sound, space and rhythm. For the prize he has entered a series called Ruler, in which he takes the humble instrument of measure and converts it to an instrument representing time using the Muslim daily prayer times to mark the sequence of day and night as a repetitive and subtly changing black and white pattern. Ruler 100 Years (2011) pits the years before the Turkish Alphabet Reform in 1928 in Arabic numerals against the dates coming after the Reform in Latin numerals. It also refers to the shift from the Islamic calendar to the Gregorian calendar in 1926, hidden in the Arabic part of the ruler.
The other shortlisted artists are: David Chalmers Alesworth, Rasheed Araeen, Lara Assouad, Sahand Hesamiyan, Lucia Koch, Ghulan Mohammad, Shahpour Pouyan, Bahia Shehab and Wael Shawky.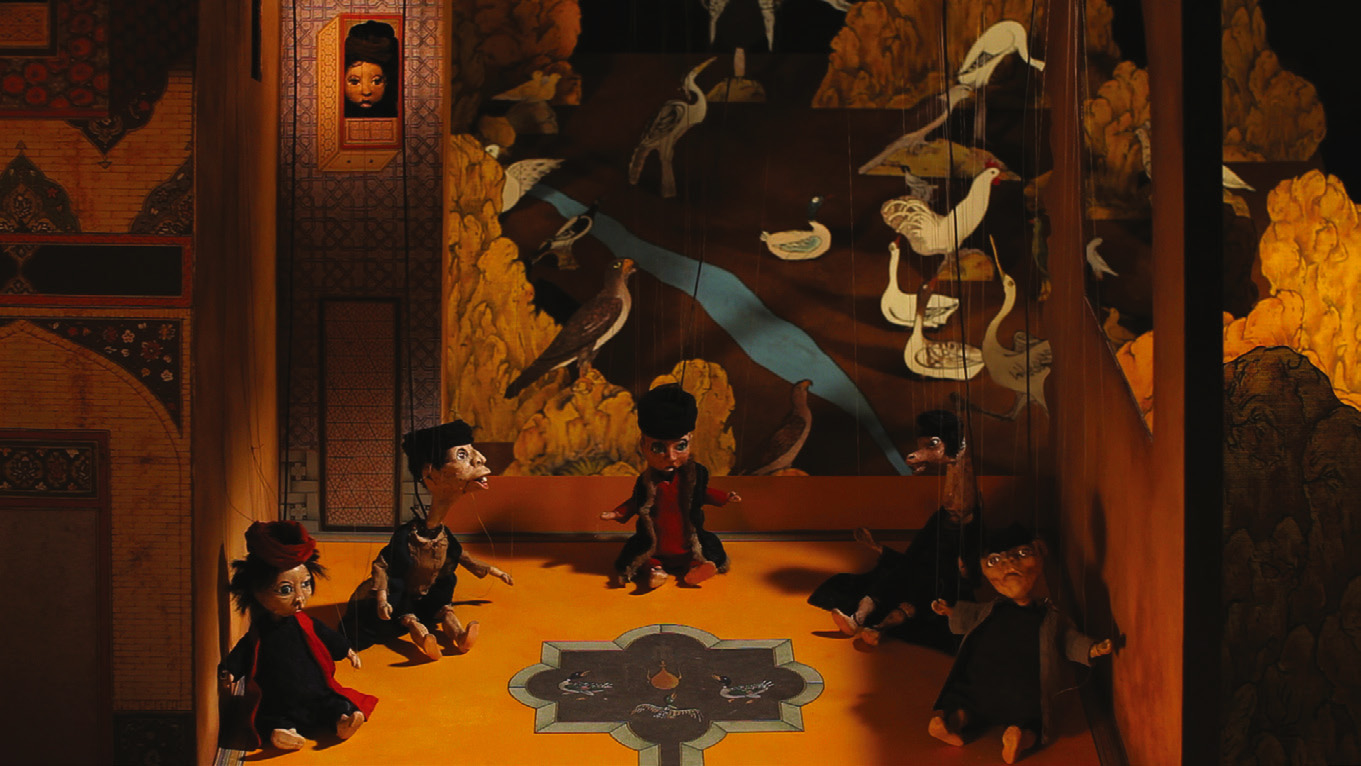 Visitors to the 2015 Istanbul Biennial Saltwater will remember Shawky's enthralling film shown in the Küçük Mustafa Paşa Hamam, in which Murano glass puppets enacted the story of Hussein's fall at Kerbala, as part of his Cabaret Crusades – also see Puppet Master, Victoria Khroundina's review of his Serpentine exhibition in London in 2013–14. For the prize he has entered part 2 of the trilogy, The Path to Cairo.