There's an app on my daughter's phone which distorts faces, pulls them round, to give people Habsburg chins or googly eyes or enormous teeth, writes Jason Goodwin (portrait by Monica Fritz). It's amusing enough, but it isn't really very illuminating. It merely makes monsters of us all, unlike Yusuf Bey's entrancing caricatures of the pashas and popstars of Pera in its late 19th-century heyday.
The show is at ANAMED on Istiklal Avenue. I caught it at the tail end of a whirlwind weekend in Istanbul, and in many ways it was the highlight of my visit.
Centrepiece of ANAMED's imaginative historical exhibition is Yusuf Bey's extraordinary manscript album of caricatures (photo: Monica Fritz). The exhibition continues until June 1, 2017. A facsimile of the book is available, price £160
You will have read about the collection of caricatures in the magazine: how in 1957 the pictures, bound into a single volume, turned up on a stall in the Grand Bazaar (rather like the saucy frescoes Gentile Bellini painted for Mehmed II at the Topkapı, after Bayezit primly removed them). They were discovered by a visiting American diplomat who promptly bought the book for $135. The stallholder let Herbert Brooks Walker take the volume away with him, to Iran of all places, on the promise of a cheque in the post, and the witty and perceptive drawings travelled the world until, at last, Omer M Koç and his curatorial team at the Collection succeeded in bringing them home to Istanbul.
Negotiations were delicate, according to the Turkish art historian and curator Bahattin Öztuncay, who first travelled to Toronto to view the album after the family had offered to sell it to the Aga Khan Museum. It took a great deal of bargaining and even a flight to Reykjavik to seal the deal 'in a fish restaurant over an ugly looking but great tasting catfish and beer', as Mr Öztuncay recalls in the accompanying catalogue.
It's all a triumph. The drawings, done in watercolour and pencil, are startlingly fine, and although we can't know quite how Yusuf Franko Bey, a Christian Ottoman diplomat, acquired his skills, they reveal a complex imagination and familiarity with the tradition of European caricature drawing. They also wonderfully illuminate the Pera scene in the 1880s and 1890s, a part of the Ottoman city turned upside down by the arrival of trains and theatres, steam ferries, newspapers and diplomatic gatherings, and drawn to play its own part in the concert of Europe.
To mount a show based on book-sized illustrations is a challenge, and the curators have seized it with both hands, using a range of props and panels, including a model theatre for Sara Bernhardt – she played regular gigs on the Pera stage in the 1880s and 1890s. The room is swagged and coloured in heavy reds and ochres; the walls glitter; Saint-Saens' Danse Macabre, plucked from one of the caricatures itself, plays enigmatically in the background. We're somewhere that isn't quite a fairground illusion, but isn't absolutely terra firma, either – a world of allusive hints and sly mockery, of fin-de-siecle decorum and absurdity.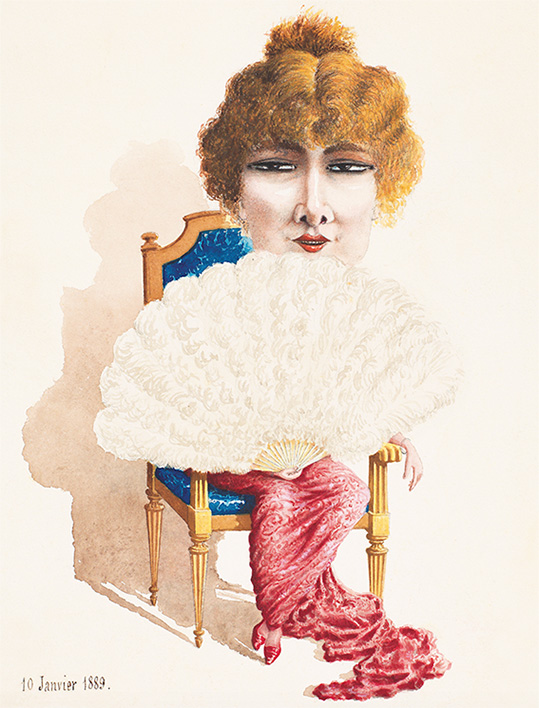 There's nothing crude and seldom hostile in the drawings, which Yusuf Bey seems to have shared with at least some of his circle of friends. He shows these foreign and Ottoman diplomats, financiers and entertainers (such as Sarah Berhardt, above), and sometimes their wives and daughters, not necessarily as they would wish to be seen, but how they appear to others, with their weak chins and whiskers, their pretensions and passions.
In one of the most detailed pictures a young French diplomat, N.A. Jarosjinski (above), cradles a saz in a room decorated wildly à la turc, crammed with cushions and screens and Iznik tiles; he is holding the instrument back to front.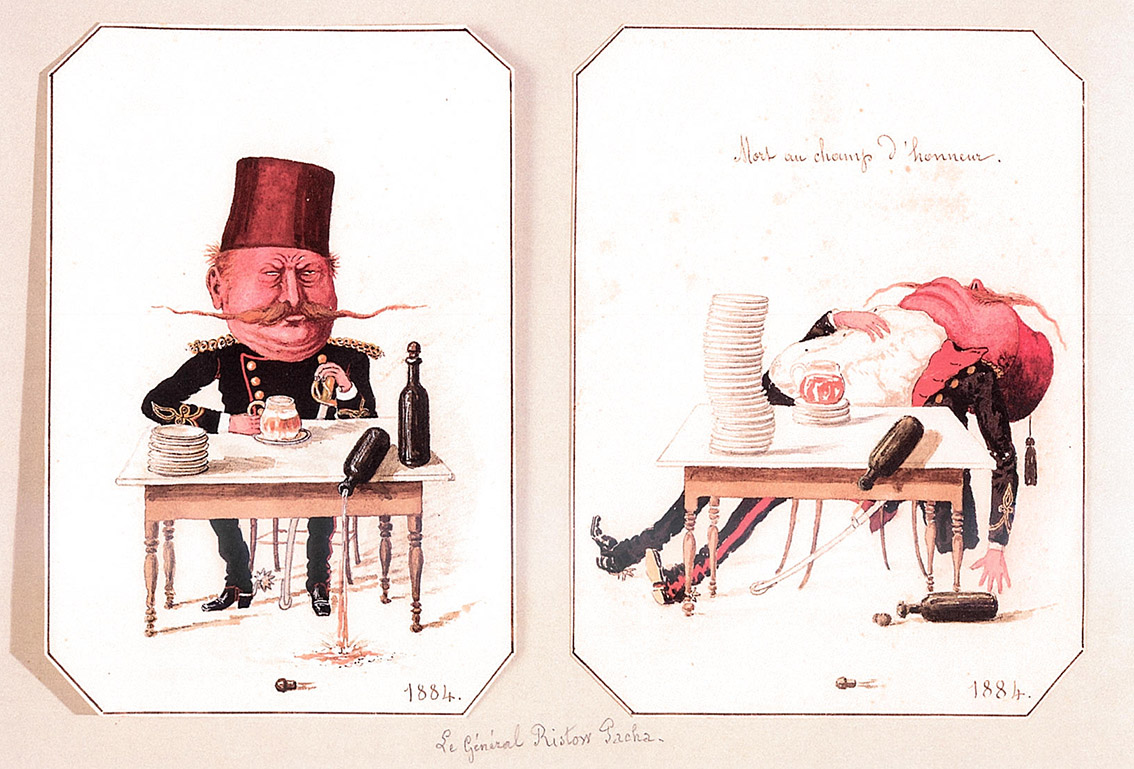 Ristow Pasha, a member of a German military training mission, appears apoplectic with drink; he apparently spent much of his time at the beer hall and earned the ironic honorific Bira Pasha: we see him expire, red-faced, 'on the field of honour', a bottle rolling under the table.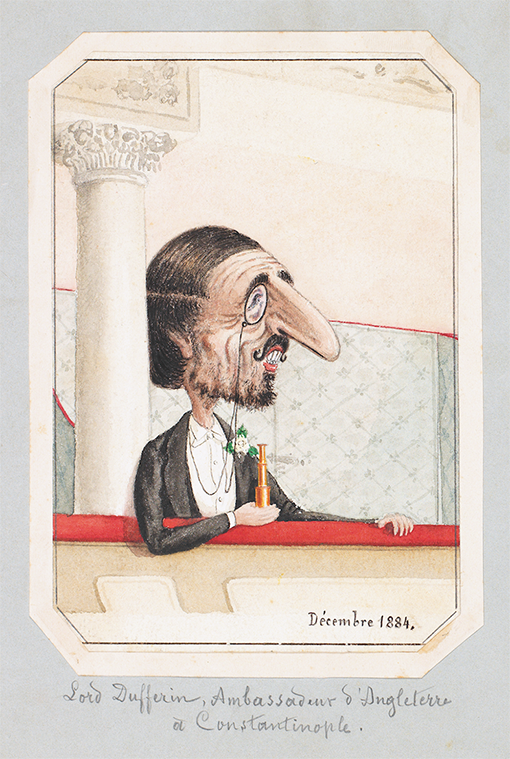 Lord Dufferin, the British Ambassador, is all monocle and rabbit teeth. People appear as monkeys, spiders and giraffes, or unable to prevent a peacock tail sprouting from their uniforms. Yet the most violent of them is a self-portrait in which Yusuf Bey pictures himself broken necked, dead, swinging from a rope hauled aloft by his over-sensitive victims.
In the context of this exhibition the drawings give depth and weight to a very particular branch of European society at the close of the 19th century. On one of those marvellous insurance maps of the period the curators have spun a multi-coloured web of strings plotting the links between Yusuf Bey's subjects, all criss-crossing along the Rue du Pera – the very street where the exhibition is being held. These extraordinary people, Yusuf's victims, revolved in one political, diplomatic and social milieu, taking tea, leaving cards, visiting the opera, intriguing, plotting, and possibly laughing at one another up their sleeves. I recommend the illustrated volume of essays which accompanies the exhibition.
We had a bit of a Pera moment earlier in the weekend, at a gathering at Homer Kitap attended by editors, writers, art historians, film makers and others from around the world to celebrate the launch of Yashim Cooks Istanbul: Culinary Adventures in the Ottoman Kitchen. Of course we lament the passing of an old friend, and the cosy, crammed Homer Books is no more; but we love its ritzier, more spacious and equally welcoming reincarnation a few doors down the street, with that Periot flourish, as you step inside, of a tulip-shaped double staircase leading to the first floor of books. Aysen Boylu tells me that it was a private house – hers, in fact – until the move.
The cookbook was inspired by Cornucopia's Art Editor, Clive Crook, who laid down the style book, resulting in clear, clean pages and a layout that feels fresh and unfussed. For shots of the city I turned to Tuba Şatana, who fizzes through the local food scene with her blog, Istanbulfood.com, and the tours which she arranges for visiting luminaries – in fact, my first glimpse of Tuba was on Rick Stein's tv show, where she took him to Lades Lokantası and explained the essence of Turkish food.
At Homer Books we did a knockabout routine together where I explained how my readers had tested all the recipes and how one of them had just written a cookbook with Nur Ilkin Hanim, wife of the Turkish ambassador to Washington.
The historian Barnaby Rogerson, one of the Yashim's new friends
I kept a few photos of the event, but I wish I had more. Obviously what I most wish is that Yusuf Bey could have dropped in, and pierced us all with his affectionate but unsparing eye, and woven our event into the constellation of gatherings and conversations that characterise Periot civilisation in the early 21st century.
Order 'Yashim Cooks Istanbul', by Jason Goodwin (Argonaut Books, £25) for £22.50 post-free worldwide to subscribers.