My favourite bassline is, without a doubt, from Jackson 5's hit song 'I Want You Back'. It's a playful, melodic and funky beat that does more than just ground the song – it makes it memorable. Listening to 'I Want You Back' on repeat as a kid, I learned for the first time how a bass could be the star and not just the supportive sidekick. Forget Michael Jackson's smooth vocals, it was the deep, powerful bassline that got stuck in my head for days, randomly popping up when I was least expecting it.
The same could be said for Thundercat, the alter-ego of bassist and singer-songwriter Stephen Bruner, who played at Salon IKSV on Tuesday night. He takes the bass out of the shadow of backstage and thrusts it into the spotlight, where it leads songs that are equal parts psychedelic funk, jazz improvisation, soul and delicate vocals.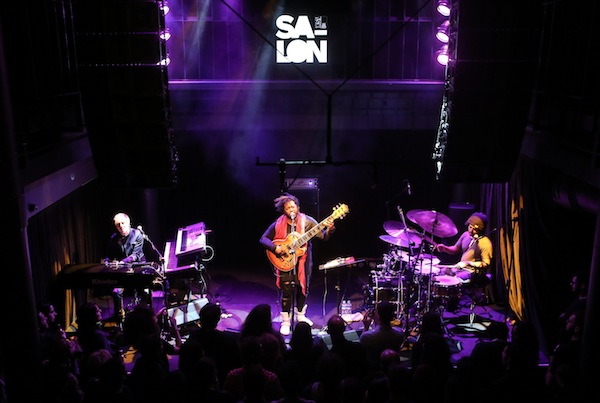 The show began on time, as concerts at Salon IKSV often do – a godsend on weeknights. Bruner, who was joined onstage by Dennis Hamm on piano and Justin Brown on drums, kicked off the evening with 'Song for the Dead' from his latest mini-album, The Beyond / Where the Giants Roam. What sounds ethereal on the recorded track was filled out in this live performance. Bruner still sang in a robust falsetto, with Hamm harmonising, but the addition of drums, which Brown played with a ferocity that left his notes sounding like gunshots, amplified the number. I felt like I was watching a jazz group go full tilt, and it was only the first song.
He moved next to 'Tron Song', from his album Apocalypse (2013), which features more fast-paced and straightforward tracks. The number opened and closed with Bruner's mesmerising vocals, but the middle of this track was dominated by his nimble and speedy bass playing – as were almost all of the evening's songs. His six-string bass, a custom instrument with a maple neck and body, produced a bright tone and allowed him to play a much wider range of chords than one would normally expect from a standard four-string bass. For the funkier parts, he would use a filter and envelope (most likely a Moogerfooger of some kind) to create synth-like sounds.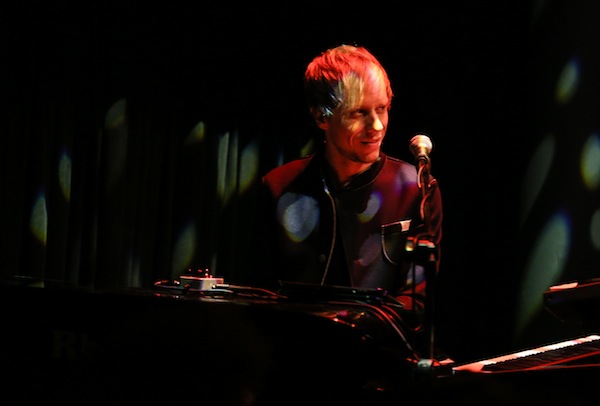 As the evening progressed, the crowd seemed to recognise more of the songs and sang along more fervently (admittedly liquid courage could have played a role as well) – the woman next to me practically propelled herself forward as she belted out the lyrics of 'Complexion', a Kendrick Lamar song that Bruner covered (Bruner was a major contributor to Kendrick Lamar's 2015 rap album To Pimp a Butterfly, which recently garnered Lamar 11 Grammy nominations). The bass and drums combined to create a heavy, dark sound that felt more like a wake-up call than a descent into gloom.
The best moments, though, were when Bruner and his bandmates would 'break', so to speak. At the end of 'Them Changes' – by far his most funkadelic song – Bruner broke into giggles as he sang the last bit of solo vocals, the calming falsetto that seemed to end most songs. Similarly 'Lotus and the Jondy' began with a burst of Bruner's surprised laughter, and during the song Hamm, Brown and Bruner seemed to delight in each other's musical decisions, almost as though they were pushing the musical limits to get a reaction – a widening of the eyes, a mischievous smile – from the others.
It was times like these that made me feel like I was at a jazz concert. The almost imperceptible nods and signals jazz artists give one another when one soloist takes over from another or the song enters a new phase. But I wouldn't describe it as a jazz show. Yes, there was comping at times, during which the soloist would kill it while the other two had his back. More often than not, though, each member of the band would play around one another, creating a nuanced, playful and layered composition that continually surprised as it concocted new mixtures of funk and jazz.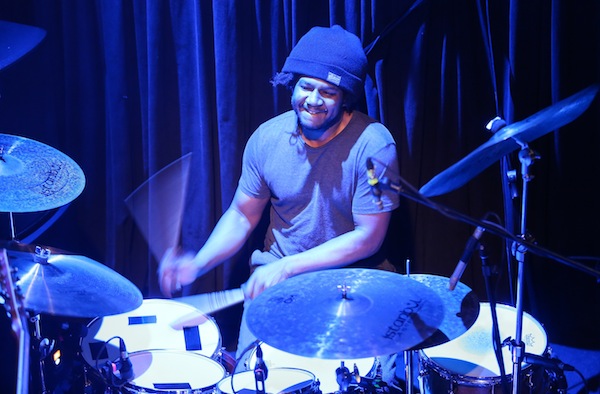 Yet despite the spontaneity within the songs themselves, the overall arch of each number seemed to follow a similar pattern – soft vocals, instrumental build-up with various solos, soft vocals. This repetition became a bit tiresome by the end of the show. And even though the last song before the encore – 'Oh Sheit, It's X!' – perfectly captured the excitement of the room, the encore itself was a bit flat. I imagine they were trying to slow things down, but the last few songs paled in comparison to the jubilant funk numbers that preceded them.
Whatever gripes I had, they quickly faded. And Bruner's bass has stayed with me. I even found myself singing the opening bassline for 'Them Changes' as I was making breakfast this morning (though it hasn't replaced 'I Want You Back' as my favourite bassline – at least not yet). Bruner's live show at Salon revived my love for the bass and demonstrated how this oft-neglected instrument can lead the way in exploring what lies beyond the boundaries of jazz and funk.
All photos provided by Salon IKSV.