When Hüseyin Çelikel, a 64-year old shopkeeper, set out to paint the steps leading from Fındıklı to Cihangir last week, all he wanted to do was to brighten up people's day and 'make them smile'. At first, Çelikel painted just three of the steps, but then, after positive comments from passers-by, he decided to paint them all. Joined by three friends, he spent around 1500 Turkish liras on 40 kilos of paint and spent four days painting. The results were a spectacular display of rainbow colours.
Çelikel wasn't making a political statement. This wasn't an act of solidarity with the LBGT community (although he did become an 'accidental hero' of the community). He simply thought the stairs looked boring in grey and wanted to liven them up. Alas, Çelikel's rainbow dream was to come to an abrupt end.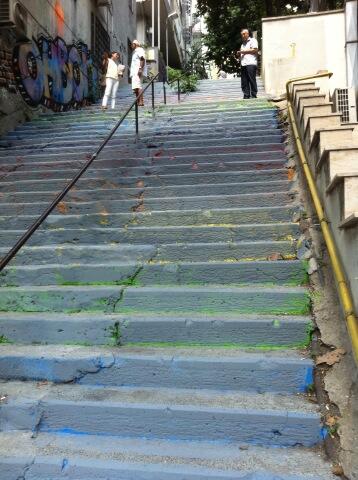 Last Saturday (August 31), just three days later, the steps were painted back to grey by the Beyoğlu municipality. Adding salt to the wound, the steps were repainted overnight, undoubtedly to avoid any protest from Çelikel, the steps' supporters or from residents who thought Çelikel's work added a much-needed dose of colour. To make matters even worse, the municipality then denied having anything to do with it.
Although eventually the municipiality admitted to the act and, according to Hurriyet, Beyoğlu's mayor had personally expressed his regret over the controversial "graying" of the previously rainbow steps', attributing it to a 'complaint' (from whom is not clear), could it be that the real reason the steps were repainted has more to do with the increasingly authoritarian nature of the government? Indeed, Beyoğlu's mayor, Ahmet Misbah Demircan, told the media that even though Çelikel had offered Beyoğlu 'a beautiful project', he had made a 'methodological mistake' in that he did he hadn't applied to the municipality or informed the neighbourhood's residents. Well, it would be nice if the municipality applied to residents each time they wanted to carry out a project. But that doesn't happen, does it?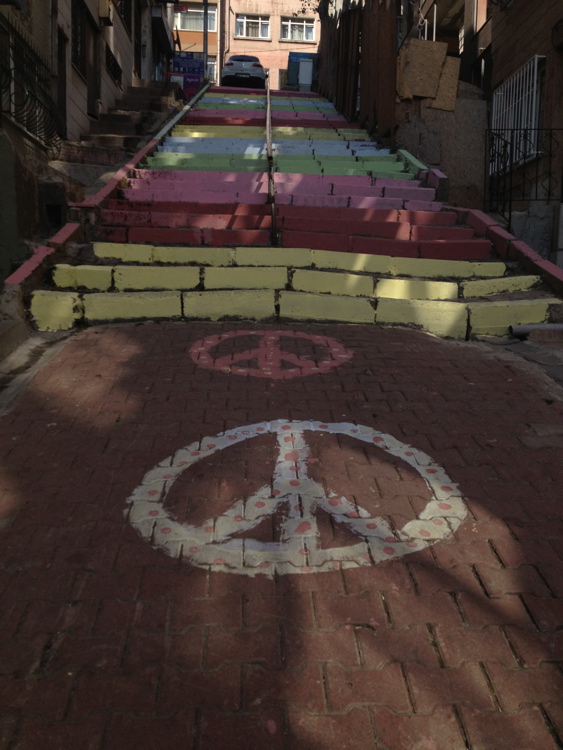 The backlash came almost immediately, with countless social-media posts and plans to paint the steps back that very day. It seems the neighbourhood's reidents hadn't been 'complaining' about the colourful steps at all, though they definitely were complaining about them being re-painted. Steps were painted in other cities and neighbourhoods around Istanbul, including the above effort on the steps leading from Dizi Sokak to Nüzhetiye Caddesi in Beşiktaş. The peace symbol is a nice touch.
As Sebnem Arsu and Robert Mackey write in their blog in the New York Times: 'For many Turks who visited the Findikli stairs this weekend, the paint duel seemed to be yet another demonstration of a government bent on controlling their public and private lives.' But when will enough be enough?