Exciting news from the Istanbul Foundation for Culture and Arts (IKSV) last week, with the announcement that the artist Sarkis will represent Turkey at next year's Venice Biennale.
A new installation by Sarkis will be displayed at a dedicated new location at the Arsenale, which has been secured by the IKSV for the next 20 years.
The Turkish Pavilion will be curated by Defne Ayas, director and curator of the Witte de With Center for Contemporary Art in Rotterdam, but at this point the nature of Sarkis's installation remains shrouded in mystery. Knowing Sarkis, the daddy of installation art, it will be highly conceptual and will ignite fervent debate. Ayas, whose interests include tracing what remains of the people, places and cultures that were once part of the Ottoman Empire (she founded and co-curates the Blind Dates Project), will hopefully do Sarkis and his new work justice.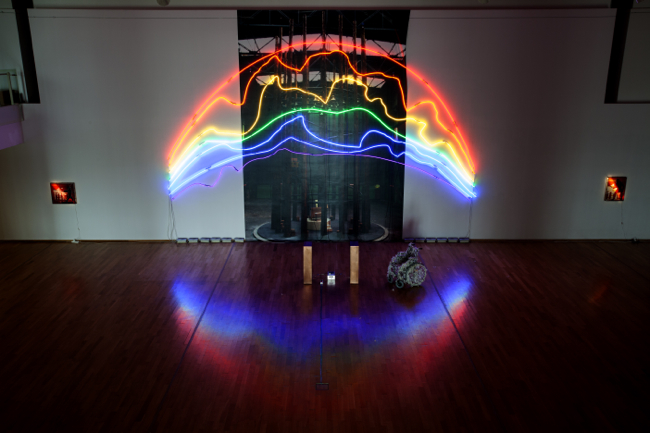 Sarkis, 'Rainbow' (photo: Sarkis)
Sarkis Zabunyan (known simply as 'Sarkis'), who had his first exhibition in Istanbul in 1960, is an iconic Turkish artist who has lived in Paris since 1964 but remains an important fixture in the contemporary art scene in Turkey. He has already participated in the first, second and tenth Istanbul Biennials, and has exhibited at many important art institutions worldwide. His recent shows in Istanbul have included Twins at Galeri Mana in May 2013, followed by Rainbow in September 2013 and the Interpretation of Cage / Ryoanji at ARTER in November 2013. Currently, his works are displayed as part of the Plurivocality exhibition at Istanbul Modern and the Common Ground: Earth exhibition at the Borusan Contemporary.
It has also been announced that the video artist Ali Kazma's work Resistance, presented at the Turkish Pavilion at last year's Biennale, is to be showcased at ARTER next spring.
The 56th International Art Exhibition, la Biennale di Venezia, will be held between May 9 and November 22, 2015.