The last decade has seen an explosion of contemporary art in the city, but Istanbul's art market is still more affordable, and much younger, than New York or London, it is said. It's more chaotic, harder to predict, says one dealer at the show; prices for the same artist, in a different gallery, can swing up or down. 'It's all new,' says another. 'The collectors are so young. Everything is so young.'
The galleries fill three floors of the Istanbul Convention and Exhibition Centre, as well as a video art and new media section in the Istanbul Congress Centre. Five minutes in each gallery, and that's an eight-hour visit. A minute for every artist, would make it a 12-hour day. For the big spenders, top offers included Joan Miro's 'Deux femmes dans la nuit' from 1970 at 390,000 euros, and David Mach's 'Tiger, 2012' at 250,000 euros. Istanbul's Krampf Gallery's stand featured Marc Quinn's 'Kontur Tagh Highlands 2011' (above).
I'm a compulsive window-shopper at art shows large and small, and an absolute newcomer to Turkish art. But the challenge at Contemporary Istanbul is the same as it might be at Frieze in London. How do you navigate 20, or 40, 200 or 2,000 works of contemporary art, and keep a head clear enough to separate the wheat from the chaff, single out what's original or accomplished?
That, surely, is the fun of the fair: snap judgements, guessing what's hot, what's not, what'll last, what will pass; what's value for money, what you can live with and what might – the biggest guess of all – make your grandchildren rich. After two absorbing afternoons, browsing just a few of the stands, here are the works at Contemporary Istanbul that would join my fantasy collection. I've left out Joan Miro and Francis Bacon, though both were on offer; Contemporary Istanbul prides itself on a rising number of international galleries but it is Turkish, or Turkish-inspired art, that singles it out.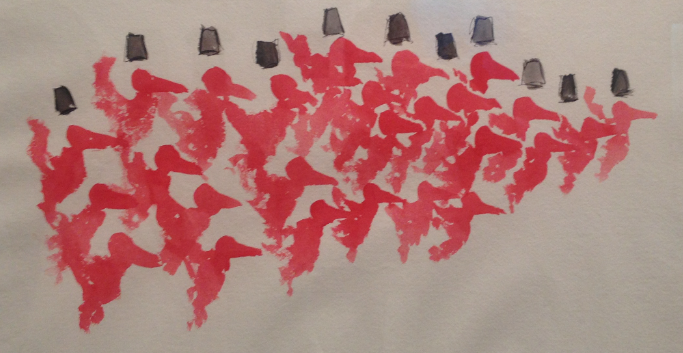 Alyâa Kamel's 'In The Move' was almost the last work in the last gallery I saw, and a moment of appealing simplicity after all the noise. The piece was hanging in the Beyoglu gallery Gama's stand, priced at just 500 euros. Kamel is an Egyptian artist, though raised in Switzerland, who was invited to Istanbul this spring. The work shows lightly painted dancing red birds, karga (crows), whimsically topped by Dervish hats. Gama's directors show a sharp sense of humour: from 'One Money', a refashioned dollar bill (washable, so it's legal) by Jean Luc Cornec, to a plasticated reproduction of Ingres' famous 1862 Orientalist painting 'The Turkish Bath' by another French artist, Cyril le Van. But Gama was also showing Caroline de Bossieu's work 'Sakineh', powerfully addressing the fate of the woman famously sentenced to death for adultery in Iran; it shows Sakineh with her face scarred or ripped half away, like a smeared and torn poster.
At Gallery Ilyada, Aysel Alver's sculpture 'Dikkat', won my prize for best value in show. This lifelike, vulnerable, metal and papier sculpture of a boy and girl, dressed partly in newsprint, had a feeling of helplessness; at TL20,000 for a considerable sculpture, it had been snapped up by the first afternoon; you'd wouldn't get those prices at Frieze.
The most eye-catching image of Istanbul was surely 'Vedute Yalı' by the French artist Jean Francis-Rauzier, at Villa del Arte Galleries (vedute meaning a detailed, factual image of a city or town). It was a 'hyperphoto' collage of high-gloss finish on aluminium, showing row upon row of yalıs reaching back into the far distance, an arresting sight at 20,000 euros, however, it was a slower sale.
Equally arresting were several works at the Çağla Cabaoğlu Gallery, in pole position just near the entrance. Mehmet Sinan Kuran's 'Present Perfect Continuous' (25,000 euros) was a sheet-sized ink-on-paper work hanging on a clothesline, with strange, surreal figures and shapes with staring eyes; a cross between Where the Wild Things Are and the cross-dressing British artist Grayson Perry.
Nor could you miss, in the same gallery, Mehmet Turgut's 'single ladies' series. He has reframed classic works with Turkish models; his diasec photograph of the Mona Lisa (5,000 euros) has a sly sense of humour much saucier than La Gioconda's smile.
At the Galeri Selvin, one of my favourite stand-out paintings was 'Izimsiz (Untitled)' by the Turkish artist Nejdet Vergili, a semi-abstract portrait of a doleful guitarist, priced at TL12,000.
A strong contender for best title was 'Başka Şeyler de Yaptım' ('I've done other things too') by Doğu Çankaya at Galeri/Miz. The work (TL10,000) is a playful lattice of heavily painted wood over red chicken wire, with objets from toy soldiers to a credit embedded in it; the artist, when not being an artist, is a doctor in Bodrum.
About a year ago, the Narart gallery opened in Beylerbeyi, on the Asian shore, just upstream from the First Bosphorus Bridge; it was a brave decision, but the directors are now eyeing a move into the city because passing trade is rare. They featured the thoroughly pleasing works of Altan Çelem, a professor at Yeditepe University, impressionistic landscapes and city scenes including of the Golden Horn ($10,000 or TL20,000).
As a newcomer to Istanbul this year, I can't help but look for the political context. How does a contemporary art scene strenghthening its ties to Berlin or New York respond creatively to talk of investigating mixed-sex housing at universities? Where's the anger over the quiescence of the mainstream media? Red Art was the only Kadiköy gallery represented; owner Yiğit Aydın says he's doing very well out of that location, and other galleries have talked to him about a move. Red Art's stand has a brash, breezy and thoroughly provocative in flavour, including sexy semi-nudes cavorting with a giant goldfish.
For just TL5,000, there's protest art on offer: the 'Toxic Girl' series by 23-year-old Arya Karin Sofuoğlu, which features young women in gas masks next to Miyazaki characters – the flavour of Banksy on canvas.