Embroidery was king at the London Antique Rug and Textile Art Fair (LARTA). If the middle market for traditional textiles and carpets is slow, auction prices for embroidery – typically silk on cotton, often from Uzbekistan – are running strong.
Top of the line at LARTA was a dowry suzani (the term, of Persian origin, literally means needlework) from Shakhrisabz, Uzbekistan, with dealer James Cohen and priced at £38,500, dating from the late 18th or early 19th century (above).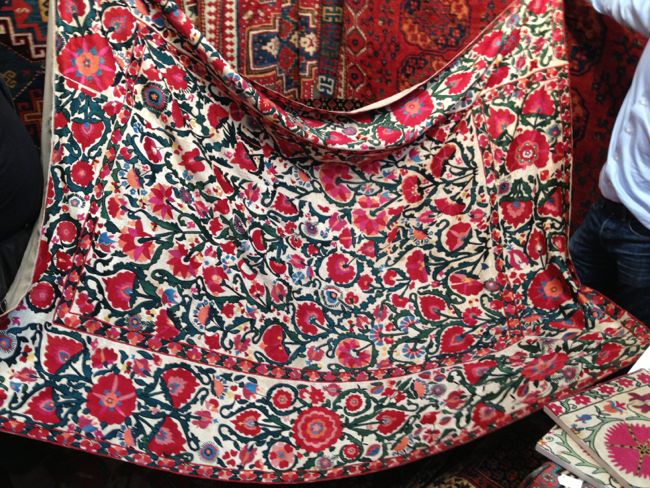 Typically the design would have been drawn in pencil on the ground cloth, by a bazaar professional, before the material was divided into strips for members of the bride's family to prove their skills at embroidery. The result is a swirl of strong reds and greens in a flower design full of 'energy and motion' and in great condition, said Cohen.
The fair was in its fourth year at the Showroom Gallery in NW8, a curiously insalubrious location off Edgware Road, though the closely gathered stands over two floors did have a bit of the bazaar about them. LARTA ran from April 3rd to 6th, and seemed a little quiet this year, but many of the featured pieces are still on sale, and a new 'virtual fair' on the fair's website drew 700 views.
While things at the top of the carpets and textiles market have 'never been better', the middle market is tough; a familiar story from the fine arts market in recent years. Collectors are ageing, 'dropping off at the top, and not really coming in at the bottom', one dealer said. Blame it on the short attention span in today's culture, or a higher entry price for quality goods.
That being said, embroidery is running strongly in the auction market at the moment, with good pieces making serious money. There were several fine examples among the 11 dealers at the fair, with more due in the sales this week.
My personal favourite – for a complete novice in the trade – was this Tekke Turkmen asmalyk (literally 'hanging' in Turkish), a wedding camel trapping, in the typical pentagon shape but in a beautifully simple red and dark indigo blue embroidery, at €19,000, on sale from Andy Lloyd.
At Aaron Nejad's stand, a silk embroidery on a greeny-black velvet had a decorative style with paisley swirls that was typically Persian, said to resemble in style a Zoroastrian wedding shawl, and priced at £3,750 (above).
Aaron Nejad dates the velvet embroidery to the last quarter of the 19th century. The sewn inscription on the deep green velvet simply reads 'Bukhara Sharif'.
On offer at Markus Voigt Textiles was a rare landscape scene, a silk embroidery on linen with gold and silver metal thread, featuring a mosque and other buildings, dated to the 1800s, showing the influence of Rococo on Ottoman design of the time. The only end of a cummerbund to survive, it was priced at £1,200. Embroideries are 'highly sought after', said Voigt, with pieces that were brought back to Western Europe in the days of the Grand Tour now being bought by Turkish dealers for the Istanbul trade.
A second small embroidery on Voigt's stand was a bath towel in similar style, with the weft showing the surface loops, a technique developed in Turkey to better soak up moisture in a hamam. It was picked up by English weavers who named their large towels 'Turkish towels'.
At the Joss Graham Gallery, a Moroccan djellaba cloak caught the eye, dating to about 1930, made by one particular tribe in the Atlas Mountains on a warp-weighted loom going back to Roman times. It was priced at £1,800.
Graham was also offering a fragment of psychedelically coloured silk from Bokhara, with natural dyes creating unnaturally vivid blues and reds. 'When the Europeans first visited there in the 19th century they complained that people were unbearably gaudy,' said Graham. 'It has taken a psychedelic revolution for us to appreciate their colour sense.'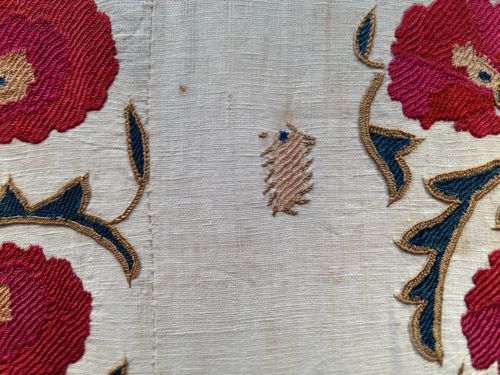 But one of his key pieces was a fine embroidered Bukhara suzani, £9,000, again a dowry piece made in strips and put back together. It had shades of three different reds, with what looked like carnations alongside blue irises. Then there were the all important details, from birds to upturned water jugs, symbolising fertility in the desert, and a curious apotropaic symbol (above), looking something like a thistle, against the power of evil.