As many of the city's galleries shut up shop for the summer, our gallery walks also come to an end until September. But some galleries, museums and art institutions are still hosting a plethora of exciting exhibitions over the next two months. We bring you a round-up, by neighbourhood.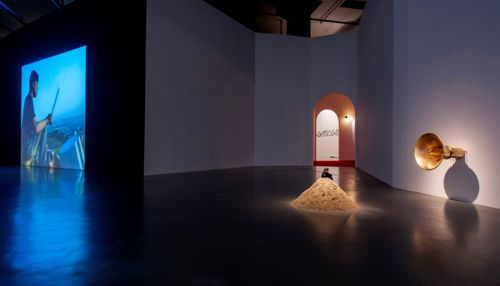 'Plurivocality' exhibition view
In Karaköy, head straight to the daddy of contemporary art, Istanbul Modern. Celebrating its 10th anniversary this year, the museum has staged a number of special events and shows. The latest is Plurivocality, an exhibition investigating the relationship between auditory and visual arts in Turkey. Curated by Çelenk Bafra and Levent Çalıkoğlu, the museum's chief curator, the paintings, sculptures, videos and installations on display shed light on the cultural and socio-political role played by sound and music in Turkey and Turkish art practices. Seventeen important Turkish artists are exhibited, including the Cypriot-born couturier Hussein Chalayan, the late abstract painter Burhan Doğançay, one of Turkey's pioneering contemporary artists Füsun Onur and the renowned conceptual artist Sarkis. The exhibition runs through to November 27.
At the Photography Gallery, a new exhibition brings together a compilation of photographs from the Nar Photos archives, presenting a panorama of events that took place in Turkey's history and thus act as a sort of collective memory of the country's recent past. On the Road was curated by Sena Çakırkaya and features 75 photographs from 20 artists. These emotive photographs show Turkish cities and urban transformation, migrants, night life, celebrations, diverse panoramas of such places as Kars and Ararat, Armenians, Kurds, Greeks, Assyrians and their ceremonies, seasonal workers, strikes and LGBT and women's marches. The exhibition concludes on November 9.
On Boğazkesen Caddesi, Mixer has a new exhibition starting tomorrow (July 16), bringing together artists working in various disciplines to explore the multi-layered relationship that exists between the image and the viewer. Non-existing images was curated by Mehmet Kahraman and Elvin Vural and runs until September 14. Works are for sale and prices range between TL500 and TL7,000.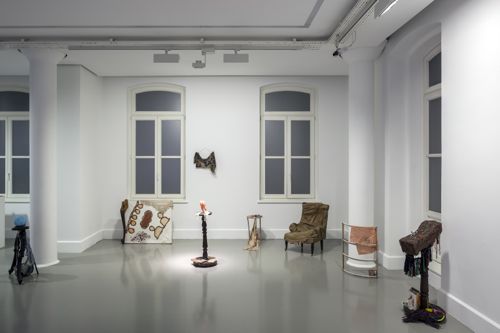 Füsun Onur, 'Dream of Old Furniture', 1985, installation view, photo: Murat Germen
In Beyoğlu, İstiklâl Caddesi has quite a few things of interest. At No 211, ARTER continues its exemplary 2014 season with a comprehensive exhibition by the abovementioned Füsun Onur. Curated by the gallery's exhibitions director, Emre Baykal, the show borrows its title from Lewis Carroll's famous book Through the Looking Glass, and brings together more than 40 works spanning the artist's entire career. Focusing on the strategies that Onur has developed in order to expand the boundaries of painting and sculpture, there are early abstract geometric drawings, sculptures presented as linear drawings, three-dimensional spatial objects and installations that employ ordinary materials such as furniture, textiles, beads and toys. The exhibition runs until August 17.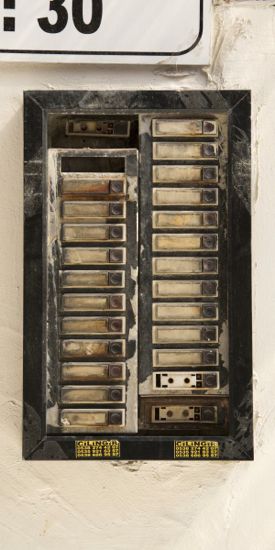 Photo: Hasan Deniz
At No 181, the RCAC starts a new exhibition this Friday (July 18). An Innocent City: Modern Musings on Everyday Istanbul focuses on the everyday objects of Istanbul. The objects exhibited are inspired by those on display in the nearby Museum of Innocence in Çukurcuma, a museum that grew out of Orhan Pamuk's novel of the same name. Graduate students from Koç University chose 12 objects from the museum and researched their origins and history, and this unique exhibition offers an alternative perspective on the cultural heritage of the city through everyday objects such as a teacup or a hairpin. The exhibition runs until September 3.
İnci Eviner, 'Untitled', 2010, ink on paper, 30x30 cm
In the famous apartment building packed with galleries, Mısır Apartment at No 163, Galeri Nev on the fourth floor is hosting a Summer Show displaying works by selected artists represented by the gallery including the renowned video artist Ali Kazma; İnci Eviner, whose work deals with the tensions and complexities of being female in a country that straddles East and West; and the multidisciplinary artist Murat Morova. Prices range from €1,200 to €100,000 and the show runs through to September 27.
Across the hall, Pi Artworks is likewise hosting a Summer Show of its represented artists, including Nancy Atakan, Osman Dinç, Nejat Sati, Horosan and Ümmühan Yörük. The show is partly curated by the artists themselves and runs until September 12. Prices range from TL2,000 TL to TL70,000.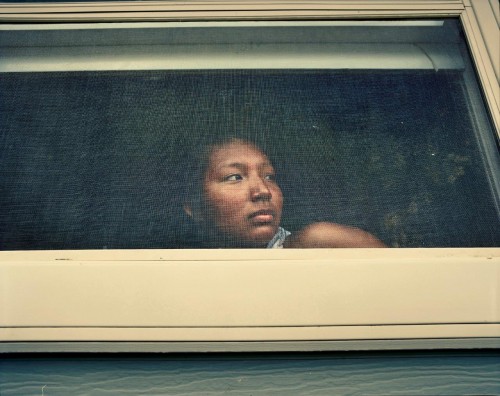 Joakim Eskildsen, 'American Realities Series: Spirit Grass (South Dakota)', photography, pigment print on archival paper, Edition of 7 + 2 AP, 91.5 x 109.5 cm (with frame), 89 x 107 cm, 2011
In Nişantaşı, x-ist hosts Collected North, an exhibition offering a selection of works from five internationally known photographers, all of whom belong to the Helsinki School of Photography. The Helsinki School, initiated in the mid-1990s in the photographic department of Aalto University, has since become one of the most recognisable programmes of its kind and is an educational leader in the perception, interpretation and use of the photographic process in the 21st century. Works are for sale and prices range between €2,000 and €8,000. The exhibition runs through to September 6.
At the Bozlu Art Project, 13 artists explore human intervention in nature through painting, sculpture and video works. Curated by Özlem Inay Erten, Climate Change runs until August 16. Works are for sale but please enquire directly with the gallery for prices.
Galeri Işık is hosting an exhibition showcasing the works of the latest graduates of Işık University's Fine Arts Faculty in Graduates 2014. Please enquire directly with the gallery for prices. The exhibition runs until August 25.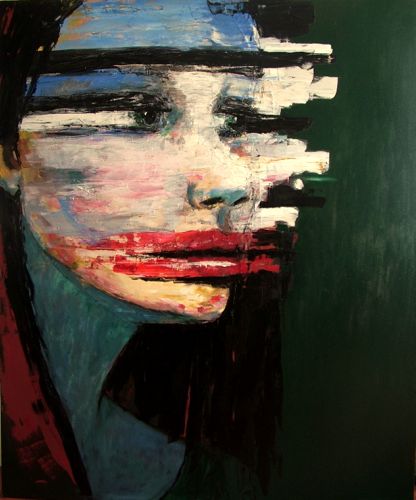 Barış Cihanoğlu, 'Ophelia', 2014, oil on canvas, 165 x 135, TL13,000, Galeri Ilayda
Not much in Beşiktaş, but Galeri Ilayda has a group exhibition of its nine represented artists, Themeless/Contactless 4, bringing together paintings, sculptures and mixed-media works. Prices range between TL5,000 and TL25,000 and the exhibition runs until August 31.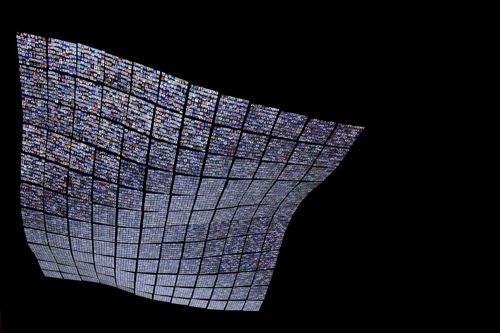 Sakıp Sabancı by Kutluğ Ataman
Further afield, the Sakıp Sabancı Museum in Emirgan is showing a unique work by the renowned video artist Kutluğ Ataman, produced to honour Sakıp Sabancı, businessman and patron of the arts, on the 10th anniversary of his death. One of the largest video art works in the world, it consists of passport-sized photographs of the thousands of people whose paths crossed with the much-loved businessman. Don't miss it; it is on display until August 10.
In Maslak, the Elgiz Museum/Proje4 is hosting the third of its annual Terrace Exhibition in its 1500 square-metre open-air space. This exhibition shows works from 32 Turkish sculptors under the age of 40, chosen by an advisory committee which included the renowned sculptor Seyhun Topuz. The exhibition finishes on August 23.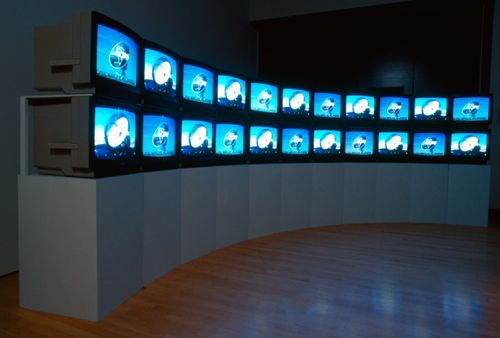 Steina Vasulka, 'The West', 1983, video
At the Borusan Contemporary in Rumelihisarı, a new exhibition marks a rare occasion in which works from SFMOMA's media arts collection are on view outside this revered institution, famous for having one of the pre-eminent collections of media artworks in the world. West Coast Visions was curated by Rudolf Frieling, curator of media arts at SFMOMA, and runs until November 1. Common Ground: Earth – an exhibition which brings together works from the Borusan collection which are in some way connected with soil – has also been extended until November.
Main image shows Tolga Sezgin's photograph taken in Antakya in 2008. Mari Aydın is gathering tomatoes in a greenhouse in Vakıflı, one of the few Armenian villages remaining in Turkey. The village has been practising organic farming since 2004. The photograph is part of the 'On the Road' exhibition at Istanbul Modern.