Translators, your day in the sun has come. The Istanbul Foundation for Culture and Arts (IKSV) has established the Talât Sait Halman Translation Award to be given out annually in support of outstanding translations of literary works into Turkish, including but not limited to poetry, short stories and novels. The application deadline is Friday, November 6.
Talât Sait Halman, who passed away last year, was one of Turkey's most admired cultural figures, and a gentleman of huge charm, diffidence and kindness. Turkey's first ever Minister of Culture and later its ambassador for Cultural Affairs, he also held positions at the United Nations and UNESCO. Halman was no less accomplished in the academic realm. He taught at some of the world's best universities: Columbia University, Princeton University, the University of Pennsylvania and New York University, where he also served as chairman of the Department of Near Eastern Languages and Literatures for ten years. Halman also founded the Department of Turkish Literature at Bilkent University.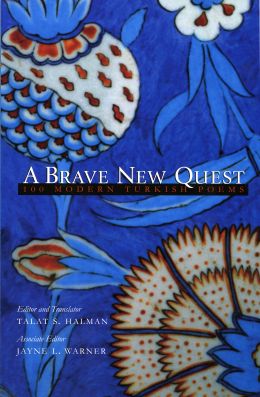 Yet at the heart of it all, Halman was a writer, poet and translator. And a prolific one at that – he published 75 books and over 3,000 articles, studies, newspaper columns and essays in English and Turkish (he even found the time to write for Cornucopia). Halman is also well-known for his own poems and his translations of poetry. I first became acquainted with Halman's work when I was gifted Nightingales and Pleasure Gardens: Turkish Love Poems, a treasured book that has accompanied me on many cross-continental moves. Most notably, Halman translated the complete sonnets of Shakespeare into Turkish, and his last book published before his death was William Shakespeare: Aşk ve Anlatı Şiirleri (Shakespeare's Poems of Love and Narration). With this 4,000 verse book, Shakespeare's complete works have been translated into the Turkish language.
Applications must be e-mailed to tshbasvuru@iksv.org or sent to IKSV (Nejat Eczacıbaşı Binası, Sadi Konuralp Cad. No: 5, 34433 Şişhane, Istanbul). Either publishers or translators themselves can submit a translation for consideration. Only literary works translated into Turkish are eligible for submission; the original language of the text is irrelevant. Books translated into Turkish in the same calendar year as the award are eligible.
The selection committee, which is headed by the author Doğan Hızlan and consists of the author, translator, and critic Sevin Okyay, the author and translator Ahmet Cemal, the author and translator Yiğit Bener and the author Kaya Genç, will determine the winning translation. The committee's decision will be announced in December 2015, and the winning translator will be presented with a onetime award of 15,000 TL.
Good luck!