Great translation, despite being incredibly difficult, often goes underappreciated.So we were delighted to learn that the 2016 Talât Sait Halman Translation Award is now accepting submissions.
For the second year the Istanbul Foundation for Culture and Arts (IKSV) will be giving out this award in an effort to support outstanding translations of literary works, including but not limited to poetry, short stories and novels. The 2015 Talât Sait Halman Translation Award was presented to Siren İdemen for her outstanding translation of Georges Perec's La Boutique Obscure: 124 Rêves, titled in Turkish Karanlık Dükkân: 124 Rüya.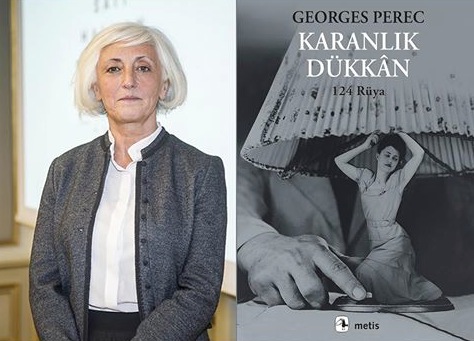 Siren İdemen (left) won the 2015 award for her translation of Georges Perec's 'La Boutique Obscure: 124 Rêves'
The committee has chosen an outstanding individual to honour with this award: Talât Sait Halman (main image) was a prolific translator and writer, equally talented in English and Turkish. Halman published 75 books, 30 of which were in English, and more than 3,000 articles, studies, newspaper columns and essays. He also endeavoured to raise the profile of Turkish literary works in the English-speaking world. In addition to translating more than 5,000 poems from Turkish into English, he served as the general editor of the Journal of Turkish Literature, the first and only scholarly English-language journal devoted entirely to Turkish literature. His efforts paved the way for the abundance of Turkish works currently available in translation, with more being translated each day. (Laurent Mignon reviewed two exceptional new translations, Felâtun Bey and Râkim Efendi and Madonna in a Fur Coat, for Cornucopia's Issue 54.)
Yet this is just the tip of what Halman accomplished. A gentleman with a heart of gold, he was one of Turkey's most admired cultural figures and the country's first ever minister of culture. In addition to holding positions as deputy permanent representative at the United Nations and as a member of the board of directors of PEN American Centre, Halman was also a member of the UNESCO executive board for four years and served as president of the İKSV Board of Trustees from 2008 until his death in 2014. The last book he published was William Shakespeare: Aşk ve Anlatı Şiirleri (Shakespeare's Poems of Love and Narration) – with this 4,000-verse book, all of Shakespeare's works have now been translated into the Turkish language.
Either publishers or translators themselves can submit literary works for consideration. These must be translated into Turkish from another language, although there are no restrictions regarding the original language of the text. Books translated into Turkish in the same calendar year as the award will be eligible. The selection committee, headed by the author Doğan Hızlan, will determine the winning translator, who will be presented with a one-time award of 15,000 TL. The author, translator and critic Sevin Okyay, the author and translator Ahmet Cemal, the author and translator Yiğit Bener, and the author Kaya Genç round out the selection committee.
The deadline for submissions is 17.00 on November 4. Click here to download the application.