The Cornucopia Blog has been following the Gezi resistance from a cultural perspective, and we have shown examples of how the movement has added meaning and beauty to some of the art, music and writing being created in the city. Elsewhere on this blog I have posted information about which cultural events were affected by the protests and the perspectives of various cultural institutions in relation to this. However, the resistance has also inspired exhibitions dealing directly with the protests. Last week I visited two such events showing artists' representations of some of the many powerful images that will undoubtedly be etched into Turkey's collective consciousness for years to come.
Galatea Art's Free Gezi/Özgür Gezi exhibition opened on July 2 and has been extended until July 26, showing works by 28 of Istanbul's most renowned photographers. The Aesthetics of Resistance/Direnişin Estetiği at Gallery Park Art in Kadıköy is in a different mood, with pieces by amateur and some more well-known artists using a variety of media. Originally scheduled for one month from July 5, this exhibition, too, has been extended, until August 31.
What struck me at the Free Gezi exhibition was the sheer intimacy of many of the photographs. Perhaps, having witnessed the protests myself and been involved in a few of the processions and forums, that sense of intimacy came from inside me. Whatever it was, the photos stirred up all the emotions I'd felt in the midst of the action. Some of the pictures are beautiful to look at (despite the subject matter), some are humorous and others distressing, but all capture the atmosphere of the resistance which started in Istanbul on May 31, pretty soon spread to many corners of the country and still doesn't seem to be letting go.
Timurtaş Onan, one of Istanbul's best-known photographers, continues his love affair with the city in these interesting times with his arresting image (above) of a man standing inside the Atatürk Cultural Center, arms spread, holding a Turkish flag and looking at the thousands gathered in Taksim Square in front of him. Of course nationalism, love for one's country and standing up for what you believe in are all themes that spring to mind, but that solitary figure of a man – an almost mythical representation of Atatürk – on the other side of the protesters also reminds us that every individual counts. As does every tree.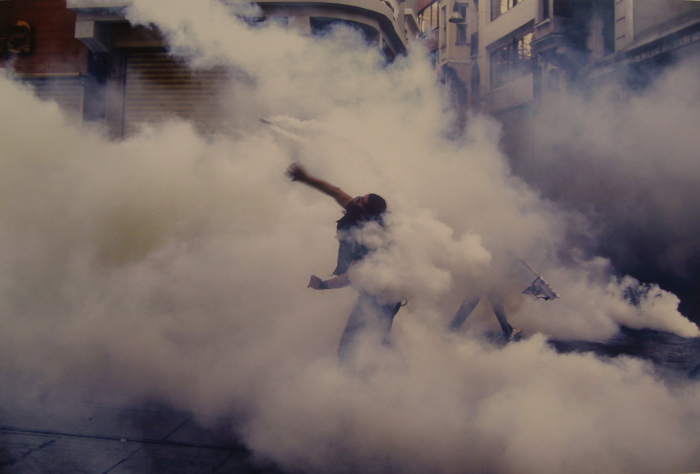 Emin Özmen
Yasin Akgül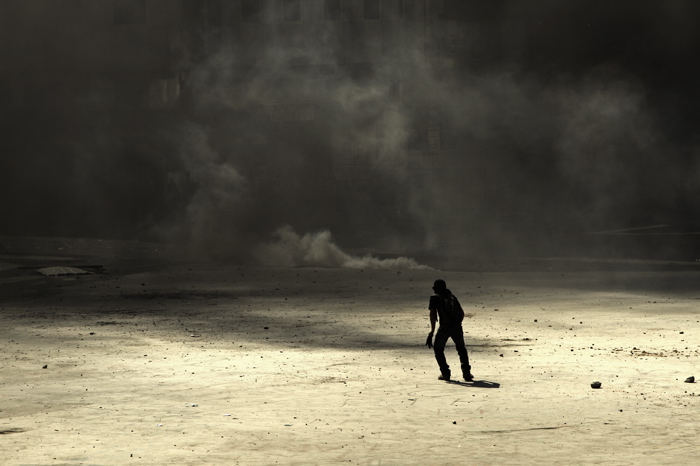 Veysel Çolak
As well as artworks, the Gezi resistance inspired many slogans, a few of which alluded to the unnecessary amounts of tear gas that police were diffusing onto protesters (or anyone else in their way). 'Welcome to the Gas Festival' was one such slogan, and the above photos by Emin Özmen, Yasin Akgül and Veysel Çolak certainly encapsulate what was meant by that. Çolak's image is particularly salient and could easily be a still from a film about a nuclear apocalypse. After all, art does imitate life.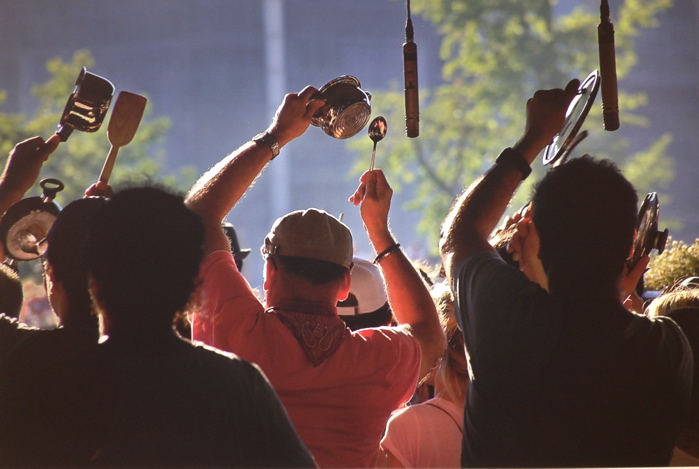 Other symbols of the resistance – the banging of pots and pans, for instance – were among favourite subjects, such as in the above photo by Sema Köseoğlu Karlıova.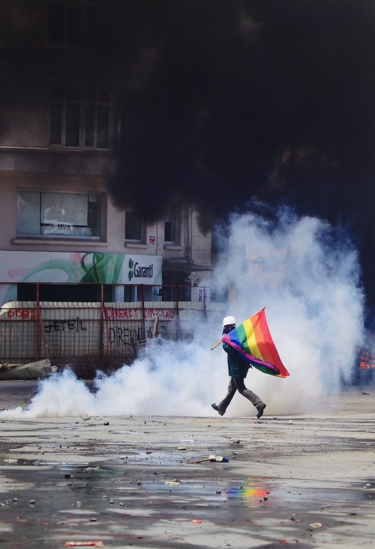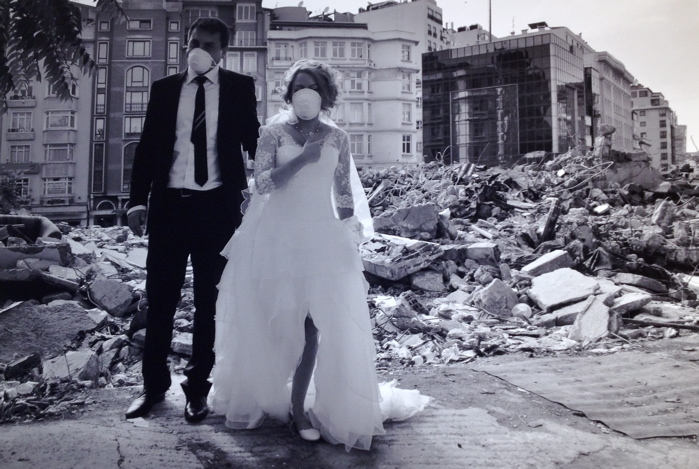 Some photographers took a more humorous, lighter approach, as in the above series by Ahmet Hadrovic, showing more unlikely characters of the resistance – a man holding a rainbow pride flag and a couple's wedding day interrupted by tear gas.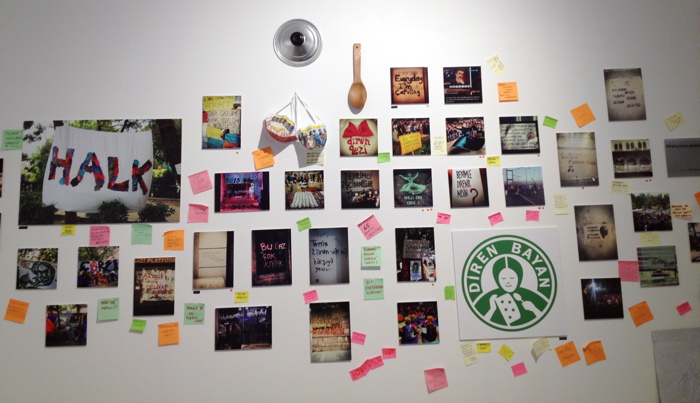 Whereas the Free Gezi exhibition brought back the emotions of my experience in the protests, The Aesthetics of Resistance reminded me of the community involvement and many acts of kindness spawned by the resistance. There is something almost 'art-classy' about this exhibition. The idea came from the protesters meeting at the Yoğurtçu Park forums, and volunteers helped determine how the exhibition would be set up. Over 3,000 submissions were received from amateur and better-known artists. A diversity of artistic styles is represented and all pieces have been freely donated. In addition, people attending the exhibition are encouraged to add their own comments on coloured sticky notes, making an already dynamic exhibition even livelier. All this adds to the feeling akin to walking around an exhibition of your classmates' views of a subject you have all studied and care about passionately.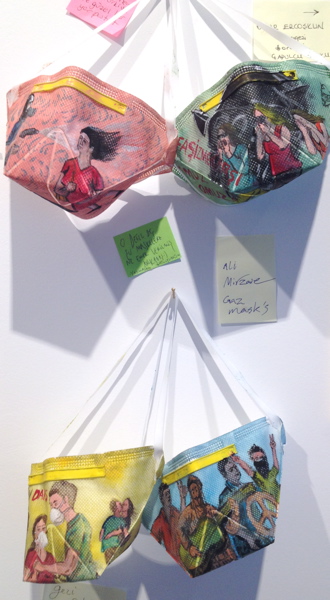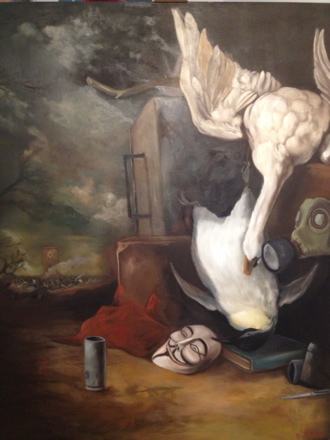 The works of 62 artists were chosen for the exhibition, representing every type of medium from painting to photography, installation, digital art, illustration and sculpture. The artists chose to say their bit about the resistance in a myriad ways – whether through decorated gas masks as in the case of Ali Mirzaiee (above, top) or through a grand painting calling to mind great painters of the past, as in the case of Ağıt Uğur Uludağ (above, bottom).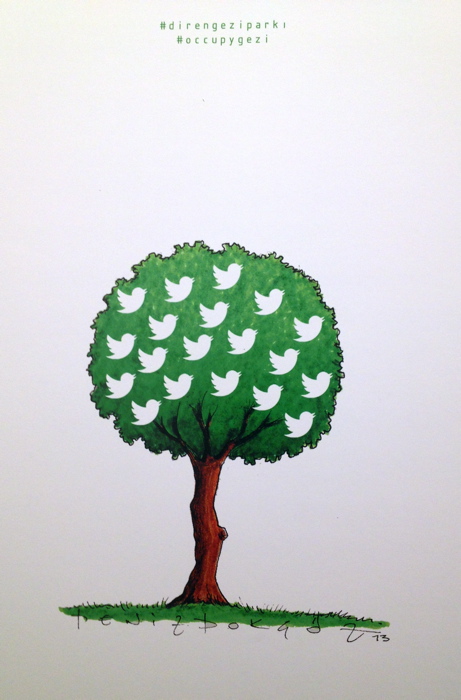 Deniz Dokgöz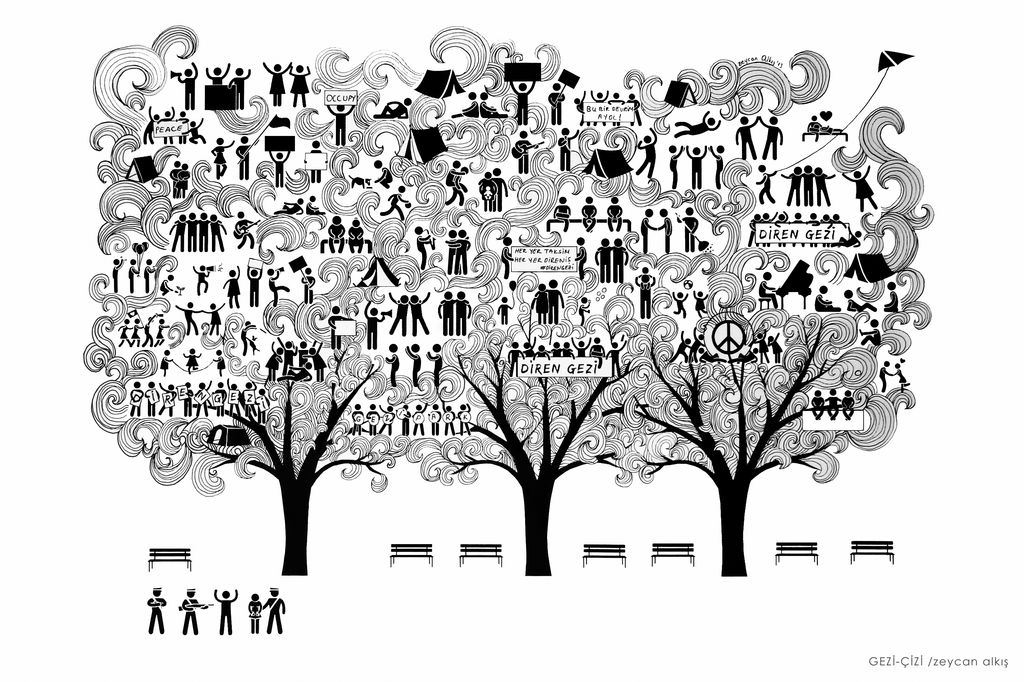 Zeycan Alkış
The works focus on a number of different aspects of the resistance. Deniz Dokgöz and Zeycan Alkış, for example, tackle it from an environmental perspective with their representations of trees and their deeper significance for communities. Alkış's set of icon illustrations drawn together to portray a bigger picture is particularly effective.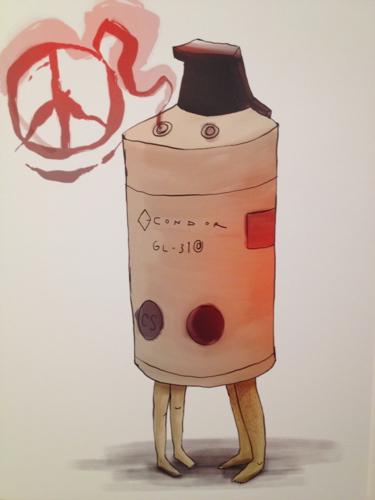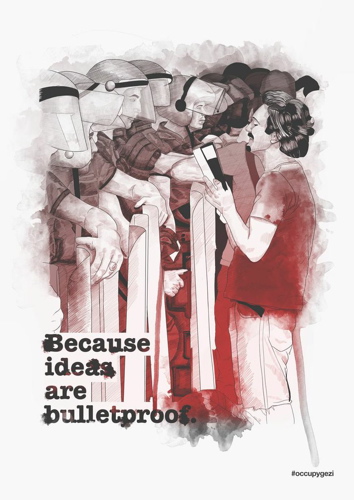 Some artists approached the movement from a more political-social point of view. In his piece (above top), Kaan Bağcı uses graffiti to paint one of the prime symbols of the resistance – a tear gas can – which in this instance is being used for good rather than evil and is shown painting a symbol of peace. Ethem Bağırsakçı's piece (above bottom) comments on the power of social media throughout the protests. While most of the local media failed to cover the events sufficiently – or even not at all (I'm looking at you, NTV) – people took to Facebook, Twitter and YouTube to get their messages across. One slogan of the resistance, 'The revolution will not be televised, it will be tweeted', is rather fitting to Bağırsakçı's piece.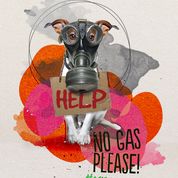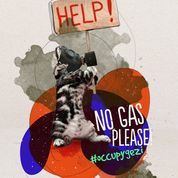 Humour, of course, also plays a part. There are a number of cartoons, such as the above offering from Yasin Halaç (above top) in which a mother goes to visit her son, who is policing Gezi Park. When he asks her what she is doing there, she tells him the governor has instructed people to take control of their children, so she has come to take him home. Selman Hoşgör's series (above bottom) uses animals, looking rather absurd in gas masks, to drive home the point about the ridiculousness of the tear gas attacks.
If time permits, I strongly recommend visiting both exhibitions. Out of the rubble, away from the chaos, the exhibiting galleries provide the opportunity to learn about the movement, and to be inspired by it, in an open, calm and friendly environment.