Unlike the majority of ARTER's exhibitions, Ali Kazma's timemaker doesn't immediataely draw you in off the street. And that is because, unlike Marc Quinn's show with his giant shell sculpture, or the Füsun Onur retrospective with her 'Mirrored Labyrinth' piece – both of which pieces were plainly visible through the gallery's top-to-floor glass windows – Kazma's show is strictly video-based, and the only thing greeting audiences is a giant black poster. On the other hand, perhaps this just adds to the suspense.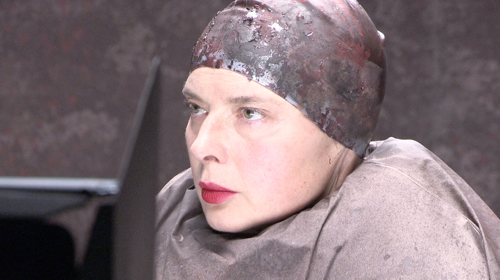 Ali Kazma, 'Film', 2013, from the series 'Resistance', 8', single-channel video, video still, courtesy of the Istanbul Foundation for Culture and Arts
The exhibition features numerous works from two of the video documentarist's series, along with other works. It was curated by Emre Baykal, ARTER's chief curator and the man who worked with Kazma when he represented Turkey at the 2013 Venice Biennale (Sarkis has the honours this year). It is clear that Baykal has a deep understanding of Kazma's oeuvre and style. Together they have turned four of ARTER's floors into a giant cinema, with screens around every corner. Being familiar with a few of Kazma's works, what really struck me about this exhibition is that it allows audiences to see the threads between Kazma's videos and to grasp his seemingly simple but unique style. There is an effortlessness to his videos, and though many of them contain seemingly mundane scenes of people involved in one activity or another, the artist's editing style ensures viewers are kept engaged. He makes you feel like a fly on the wall.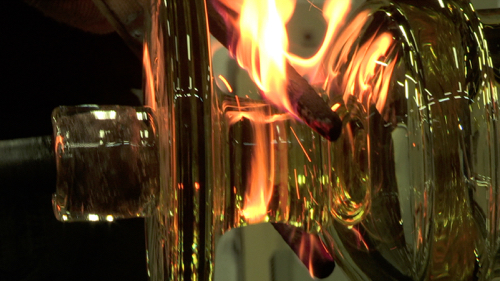 Ali Kazma, 'Crystal', 2015, from the series 'Obstructions', 11, single-channel video, video still, courtesy of the Vehbi Koç Foundation
timemaker focuses on Kazma's production in the last decade. The title was inspired by the way Kazma incorporates the concept of time in his creative process, sparking debate around the ideas and questions about time introduced in his videos. Six works come from the Obstructions series, dealing with the body and production. Most of the videos are marked by repetition and routine, showing people undertaking various jobs. In 'Clock Master' (2006), we see a clockmaker first dismantle and then reassemble an 18th-century French clock. In 'Jean Factory' (2008), factory workers make denim products. And in 'Crystal' (2015), made especially for this show, glassmakers blow and bend glass into everyday and decorative items of different colours and forms. There is something calming about watching these processes and seeing the results they yield. On a deeper level, Kazma's 'obstructions' are intended to signify the activities humans engage in in order to avoid facing the fact that we're all going to die.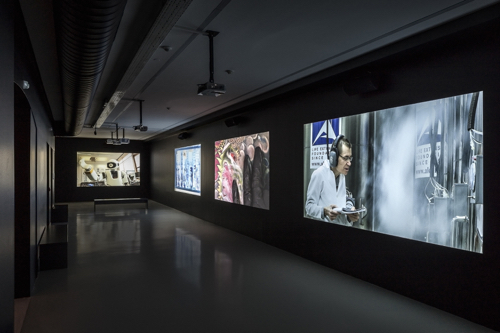 Ali Kazma, 'timemaker', ARTER, 2015, installation view from the exhibition, photo: Murat Germen
From Obstructions, the Resistance series was born. Eleven works are on show, in which the artist explores the networks that shape the human body within social, cultural, economic, political, scientific and mental layers. The relationship between 'being a body' and 'having a body' is also explored. 'This series is concerned with whether the body can be a site of resistance that each and every one of us constitute within ourselves against totalitarian thought and oppressive ideology,' says the artist.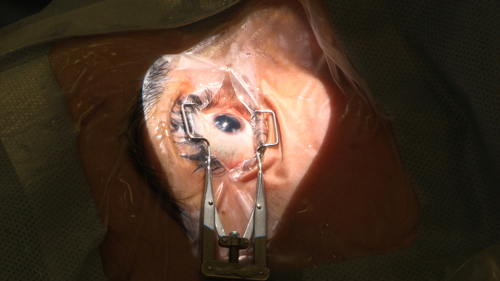 Ali Kazma, 'Eye', 2013, from the series 'Resistance', 5', single-channel video, video still, courtesy of the Istanbul Foundation for Culture and Arts
Some of the videos portray this explicitly – in 'Eye' (2013) a patient undergoes eye surgery and we are privy to all the gory details; in 'Tattoo' (2013) the body becomes the site of performance itself; and in 'Calligraphy' (2013) and 'Play' (2013) the body is 'doing' the performance. 'The stage and the film set were very important to me as I researched the possibilities of the body,' says Kazma.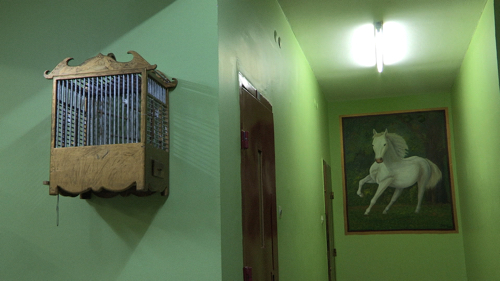 Ali Kazma, 'Prison', 2013, from the series 'Resistance', courtesy of the artist and Istanbul Foundation for Culture and Arts
In other videos the links with the body are more tenuous. In particular 'School' (2013), 'Prison' (2013) and 'Home' (2014), which was previously shown at the aforementioned Füsun Onur retrospective, do not show people or the 'body' engaged in activity. Instead, close-ups of the exteriors and interiors of three different places, societal institutions or private spaces, show settings where bodies are either restricted or free.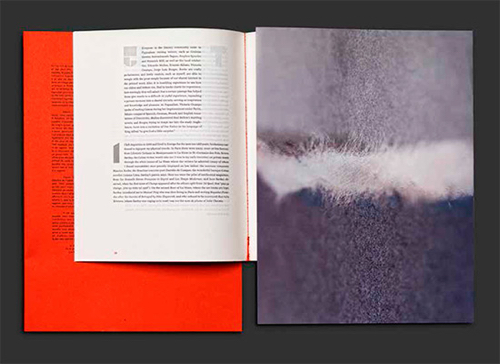 Ali Kazma, 'Recto Verso', 2013
There are six other works with connections to the series: five videos and the only non-video work, 'Recto Verso', previously shown at the Book/Kitap exhibition at Galeri Nev in September 2013. The exhibition, Kazma's first photography show in Turkey, and the work delve into the production processes of books and the nature of places where readers and books meet.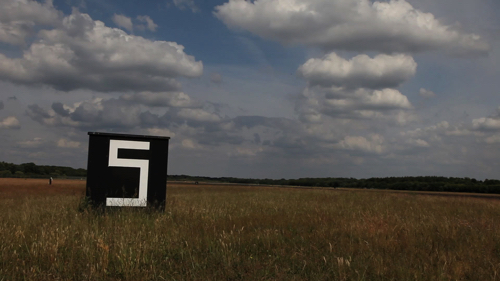 Ali Kazma, 'Absence', 2012, two-channel video, endless loop, video still, courtesy of SKOR, Amsterdam & CBKU, Utrecht
'Absence', which Kazma says is the 'cornerstone of the exhibition', is a two-channel video showing a NATO base which was positioned to face the threat of attacks from East Germany and closed down in 1996. 'The existence of this structure was planned such that it would be able to exist for a long period of time to resist all of humanity's destructive energy,' says Kazma. 'Here we see the relationship between humanity's sturdiest structure and nature. It is also about machines that can continue working in an environment where humanity doesn't exist. It is a place where human traces are present but the human body is absent.'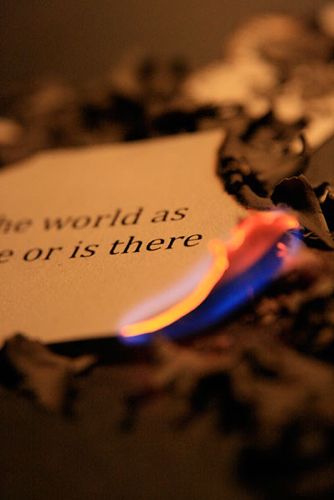 Ali Kazma, 'Written', 2011
I also like 'Written', a continuous-loop video that shows the process of burning pieces of paper with text, sometimes in reverse, and 'Clerk' (2010), in which a clerk furiously stamps documents.
timemaker ends on April 5, so you still have time to see this excellent show. For a discerning look into the oeuvre of one of Turkey's best video artists, it really shouldn't be missed.
Main image shows Ali Kazma, 'timemaker', ARTER, 2015, installation view from the exhibition, photo: Murat Germen