I was delighted to hear that a new photography festival is descending on my neighbourhood. From this Saturday (October 18), the Beşiktaş municipality will host a month-long festival featuring 50 exhibits and numerous lectures, roundtable discussions, workshops and special presentations.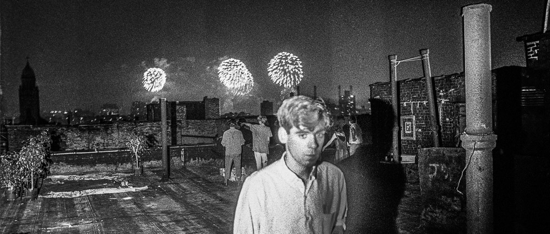 Ken Schles's 'Nightwalk'
The municipality worked with a team of art directors, curators and photographers to put together an ambitious-sounding programme. And all power to them. Istanbul lacks a comprehensive photography festival and I hope this one delivers the goods. The loose theme is 'cities and stories', with many of the exhibiting photographers embracing the 'the city' – real and imaginary, past and present.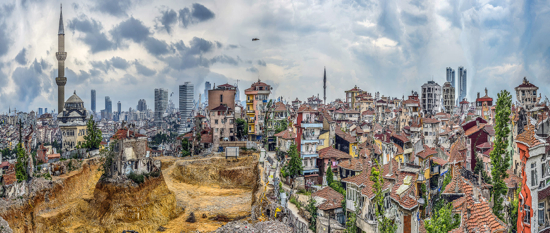 Murat Germen's 'Muta morphosis'
The majority of the exhibits will be displayed on Barbaros Square in the middle of Beşiktaş, accessible by many buses and boats. There's lots to interest: intimate black-and-white portraits of passengers on Brooklyn's elevated trains by the award-winning American photographer Thomas Roma; the excellent Istanbul-based photographer Murat Germen's Muta morphosis project, documenting the damage construction projects are inflicting on Istanbul; Yusuf Darıyerli's landscapes of the Anatolian countryside; the Iranian photographer Gohar Dashti's series of women born after the Iranian revolution in their many guises; the veteran photographer Ozan Sağdıç's A Tale of Two Cities, which collates his shots of Istanbul and Ankara taken over the last decade; the English photographer Guy Martin's compelling series centred on Turkish soap operas; the documentary photographer Kerem Yücel's series on Syrian refugees who have called Turkey home in the past three years; and much, much more.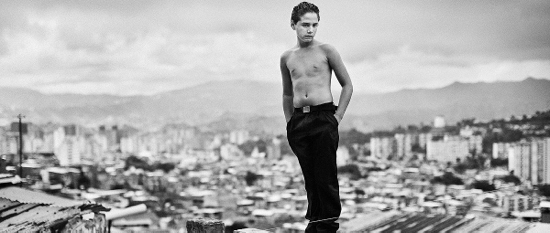 Chris Anderson's 'Capitolio'
Just down the road – where Barbaros Bulvari starts – the smaller Democracy Square is displaying a few exhibits. The biggest names are the American-born French photographer and filmmaker William Klein, known for his avant-garde photography, and the Magnum photographer Christopher Anderson. A collection of photographs has been chosen from Klein's four city books – Rome, New York, Moscow and Tokyo. Meanwhile, Anderson's photo essay on the transformation of Caracas, Venezuela is displayed.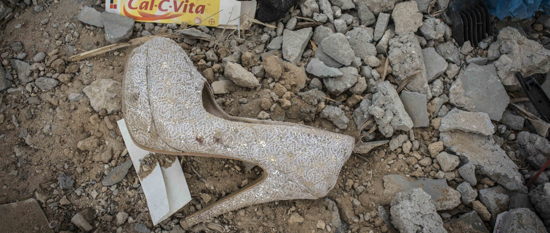 Monique Jaques's 'Gaza'
Finally, at the Orphanage, further down on Palanga Caddesi in Ortaköy, there will be photographs of homeless youth in Toronto by Berge Arabian, musings on daily life in Soviet Russia by the late Anatoly Garanin, the Dutch photographer Arjen Zwart's series tracking the 13-year journey of a Gypsy family, the Istanbul-based photojournalist Monique Jaques's essay on Gaza, street photography by the Japanese master Seiji Kurata, and a series of photographs taken on a night walk in downtown New York by the Brooklyn photographer Ken Schles, and much more. One highlight is definitely Emin Altan's large-scale photographs of the desolate landscape around Lake Aral in Kazakhstan. Click here to download the exhibition brochure.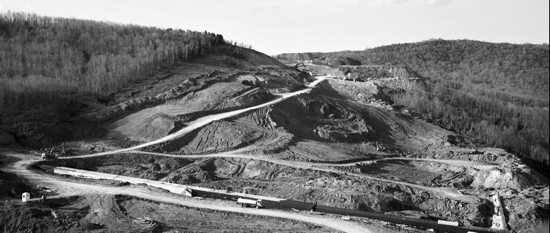 Cem Ersavcı's 'Northern Forests'
The accompanying programme – which takes place during the first week of the festival – sounds scintillating and very diverse. International and Turkish photographers, publishers, designers and editors will discuss and dissect such topics as photographing the city, photojournalism, the future of photography, censorship, new media, photography and society, and urbanisation and photography (a hot topic at the moment). Some discussions will be general, while others will home in on locations such as Istanbul, Gaza, London, Russia and Afghanistan. Every evening at 8pm there will be a masterclass: Thomas Roma will present on Sunday, followed by Murat Germen on Monday, Ken Schles on Tuesday, Yusuf Darıyerli on Wednesday, Christopher Anderson on Thursday and Seiji Kurata on Friday. Mimar Sinan photography students will also present works honouring the late photographer and activist Cem Ersavcı – known for his photographs of the Gezi protests and northern forests – who died in a motorcycle accident in August. All events are free of charge and take place at Bahçeşehir University. Click here to download the brochure for timings and exact locations.
Thomas Roma's 'Higher Ground'
The line-up of workshops is likewise impressive, with some seasoned photographers in the mix. The English publisher and photography curator Dewi Lewis will host a practical two-day workshop on developing a book project from draft to publication (October 22–23). Thomas Roma will lead a workshop on the artistic, technical and commercial concerns in the process of publishing a monograph (Oct 21–22). Ken Schles will host a workshop for advanced photography students hoping to take their projects beyond the 'selfie' and the news cycle to a fuller and more nuanced statement in book form (Oct 19–21). Finally, the young photographer Juliana Beasley will share her experiences and ideas about forming intimate relationships with subjects (Oct 19–22). Please register for all workshops via the website.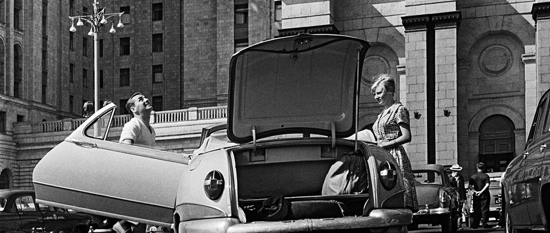 Anatoly Garanin's 'Ballad of Life in Soviet Russia'
The well-designed website is user-friendly and has more information. Although the exhibits and all events except for the workshops are free to attend, it is asked that you register. Click here to do so. Saturday kicks off with an opening ceremony at Barbaros Square at 4pm, followed by cocktails at the Orphanage from 6:30pm. See you there.