The works of the ten Jameel Prize finalists are meticulously placed around the Porter Gallery at the Victoria and Albert Museum (V&A), curated by Tim Stanley, the V&A's senior curator of the Middle East department, with help from the curator of Middle Eastern Contemporary art and design, Salma Tuqan. The dimmed lighting in the gallery only adds to the stunning display. We already know that the Turkish fashion label, Dice Kayek, took the £25,000 prize for their gorgeous dresses (above) – inspired by the robes of Ottoman rulers, Byzantine mosaics and the domes of Istanbul's mosques and palaces – which hang majestically in the far corner of the gallery, inspiring awe from every angle.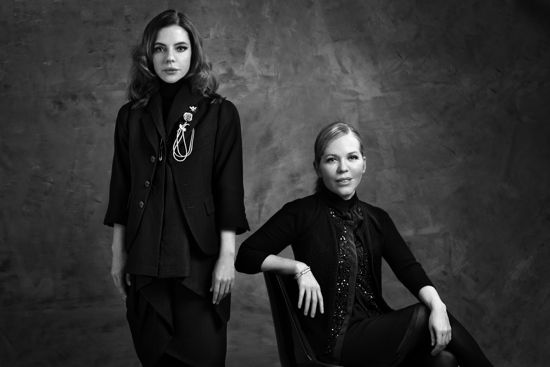 Dice Kayek, courtesy of Emre Dogru
Dice Kayek was launched by the Bursa-born sisters Ece and Ayşe Ege in 1992, who today have studios in Istanbul and Paris. The three dresses submitted for the prize are from their Istanbul Contrast Collection, which was the focus of an exhibition at Istanbul Modern in 2010. The idea behind the collection was to pay homage to Istanbul's architectural and sartorial treasures by designing pieces in which the fabric was sculpted into interesting shapes. As Nilgin Yusuf writes in Cornucopia No 44, 'Dice Kayek's designs are more akin to intricate origami or complex modern buildings than fashion', and Ece herself makes comparisons between dressmaking and architecture. 'The dress is like a building,' she says. 'You put it on and you are all dressed up – all you need is shoes,' she says.
Dice Kayek, 'Caftan', 2009, courtesy of Dice Kayek Archive
'Caftan' (above), in hand-woven lamé brocade, is a reinterpretation of the robes worn by Ottoman rulers.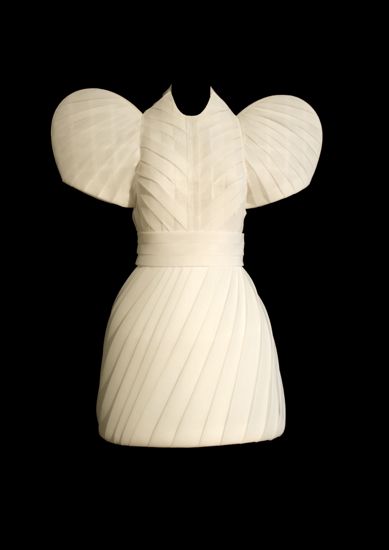 Dice Kayek, 'Dome 2', 2010, courtesy of Dice Kayek Archive
In 'Dome 2' (above), lightweight cotton organdy is folded to echo the ribs of the lead-covered domes of Istanbul's mosques and palaces.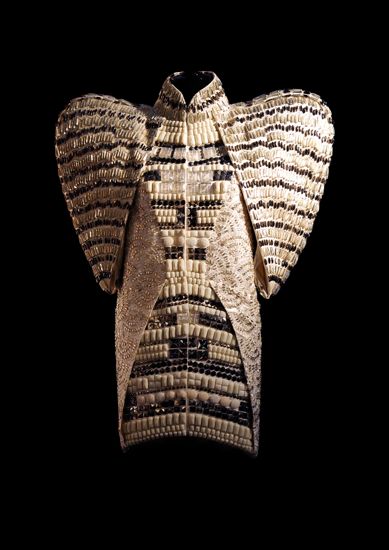 Dice Kayek, 'Hagia Sophia', 2009, courtesy of Dice Kayek Archive
For 'Hagia Sophia' (above), the sisters created a white satin coat onto which complex, hand-stitched embroidery, incorporating ancient glass beads, was sewn on. This exquisite dress was inspired by Byzantine mosaics (hence the name) and for me was the most impressive piece. I can't imagine wearing it (it looks heavy), but haute couture doesn't get much better than this.
The other finalists produced some fine work but it was Dice Kayek who took the prize for their ability to 'use Islamic inspiration in a completely secular context, taking it into a new world, that of contemporary fashion,' as Martin Roth, director of the V&A and chair of the judges put it. Besides ingenuity, I would bet that craftsmanship had something to with Dice Kayek's success, be it in their attention to detail, the quality of their chosen textiles or their ability to meld fashion with architecture. Unlike many of the other finalists, the Ege sisters presented pieces that were highly accomplished, both artistically and aesthetically, rather than delivering any political or social message.
Carpets, textiles and typography featured heavily in the works of the other nine finalists, four of whom presented works concerned with calligraphy or typography. The inclusion of Huda Smitshuijzen Abi Farès, founding director of the Khatt Foundation at the Center for Arabic Typography, on the judging panel might have had something to do with this.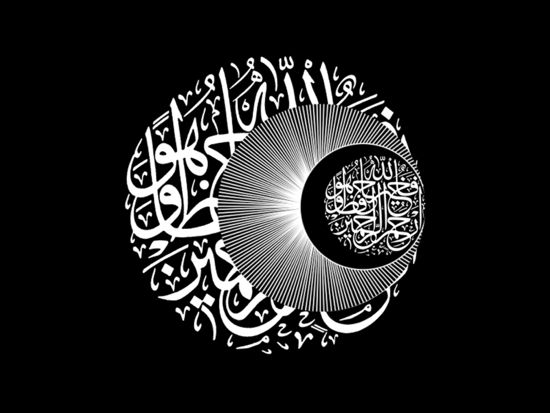 Mounir Fatmi, 'Technologia' 2010, video projection, courtesy of the artist and Paradise Row
The Moroccan artist Mounir Fatmi entered two works, both concerned with manipulating Arabic calligraphy. The main video installation takes up almost an entire wall inside the gallery, but I really like his work, 'Technologia' (above), which greets audiences at the entrance. Here Fatmi links circular Arabic calligraphy with Marcel Duchamp's Rotoreliefs, the first example of kinetic art. His mad black-and-white shapes moving with lighting speed have an almost hallucinatory effect.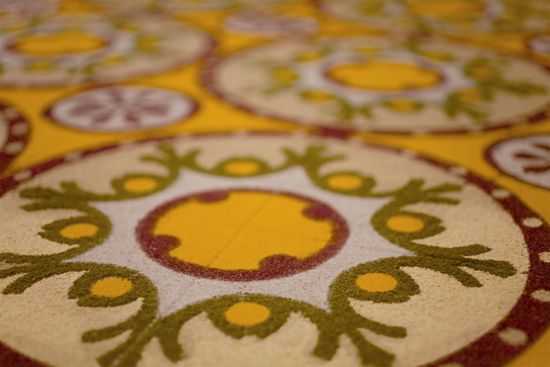 Laurent Mareschal, 'Beiti' (spices), 2011, detail of the installation, CAPC, Bordeaux, courtesy of the artist and Galerie Marie Cini, photo: Tami Notsani
The French artist Laurent Mareschal is interested in the impermanence of life. He often uses Palestinian sources for his work as a way of acknowledging the particular impermanence of Palestinian life. Mareschal has created the above work, 'Beiti' (My house), using spices such as turmeric, ginger, zaatar, sumac and white pepper to create ephemeral patterns made to look like decorative floor tiles. The detail Mareschal manages to achieve using just spices is astounding.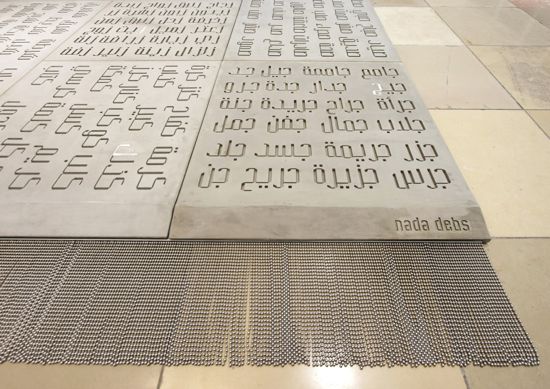 Nada Debs, 'Concrete Carpet' (Detail), 2010, concrete, mother-of-pearl, stainless steel, courtesy of Mathaf: Arab Museum of Modern Art, photo: Marino Solokhov

The Lebanese furniture and product designer Nada Debs presents her 3.5m x 9m 'Concrete Carpet', combining a new, lightweight form of concrete with contemporary Arabic font design (in collaboration with another finalist, Pascal Zoghbi). This reinterpretation of a carpet is divided into 28 panels, one for each letter of the Arabic alphabet. The carpet's design was inspired by Japanese tatami mats and the Arabic script on each panel creates a kind of poetry, inspired by Japanese haiku. Debs also add a little sparkle with mother-of-pearl inlaid into some of the letters, calling to mind an old marquetry art form typical of Lebanon and Syria. By applying ancient practices to a modern medium Debs fuses culture, tradition and design to produce something unique.
The two-yearly Jameel Prize was awarded for the third time last year, with the winner announced in December. It was founded in partnership with the Abdul Latif Jameel Community Initiatives (ALJCI) after the renovation of the V&A's Jameel Gallery of Islamic Art, which opened in July 2006, to 'present the rich artistic heritage of the Islamic world'. Almost 270 nominations from leading curators, designers, artists and cultural figures were received in 2013, including first-time entries from Algeria, Brazil, Kosovo, Norway and Russia. The panel of judges, chaired by Roth, included Thomas Heatherwick, designer of the new Routemaster bus and the London Olympic cauldron; the 2011 winner, Rashid Koraïchi; Nada Shabout, associate professor of art history and director of the Contemporary Arab and Muslim Cultural Studies Institute at the University of North Texas; and the aforementioned Huda Smitshuijzen Abi Farès.
The exhibition runs until April 21, 2014.
Main image: Dice Kayek (c) Victoria and Albert Museum, London