Almost time for Filmekimi! This year over 40 highly rated films will be showcased at this popular festival: a mix of award-winners from the year's festival circuit, indie favourites and thought-provoking documentaries – thankfully without a blockbuster in sight. The !f Istanbul festival is also gaining momentum, but that takes place at the beginning of the year, and the Istanbul Film Festival is often hit-and-miss, so I really look forward to the gems on offer at Filmekimi.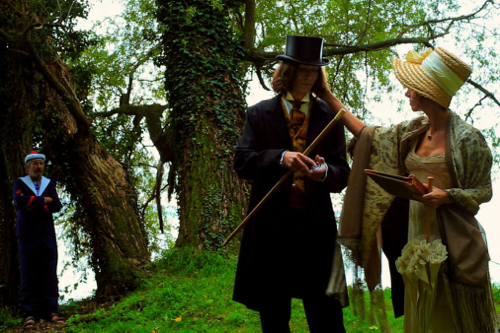 Still from 'Goodbye to Language'
The festival always screens films that won awards or wowed audiences at Cannes, and this year is no exception. There's the Hungarian director Kornel Mundruczo's sixth feature, White God (main picture), an unconventional man-versus-dog adventure dedicated to the late director Miklos Jancso, which took the coveted Cannes Best Film – Un Certain Regard prize. There's the 39th feature from the master himself, Jean-Luc Godard, Goodbye Language, which won the Jury Prize. The 83-year-old proves he's still got what it takes with an interesting film combining drama and experimental 3D. The bold, heavy-going Leviathan, from perhaps the greatest living Russian director, Andrey Zvyagintsev, won Best Screenplay, and Xavier Dolan's heartwarming Mommy – which impressed the jury with its 1:1 screen ratio, colour palette and ground-breaking editing – took the Jury Prize. An Italian production, The Wonders, a moody drama about a beekeeper and his four daughters, came away with the Grand Prix. Timbuktu, the latest from the celebrated filmmaker Abderrahmane Sissako was one of the most striking films at Cannes, taking the Prize of the Ecumenical Jury. The film follows the destroyed lives of families under newly-installed sharia laws in northern Mali. Another Cannes winner was the charming romantic comedy, Love at First Sight – perfect if you're looking for something funny and light (the French are good at that).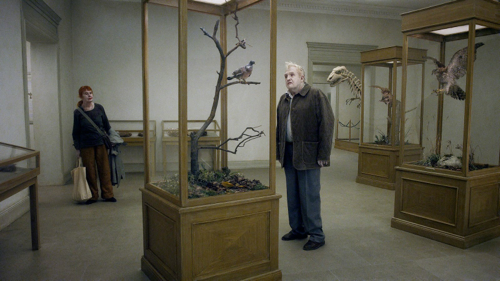 Still from 'A Pigeon Sat on a Branch Reflecting on Existence'
Other festival winners to be showcased include the Nordic black comedy In Order of Disappearance, which won its director Hans Petter Moland the Best Director gong at Festroia (Portugal). Stations of the Cross, a satire about religious fundamentalism, took the Ecumenical Prize for Best Script at Berlin. The renowned American director Richard Linklater's Boyhood, an experimental film in the form of a video memoir, was a big winner, taking the Grand Prix at Fiprescı, Best Director at Berlin and Best Director and Best Actress at Seattle. Return to Ithaca, penned by the acclaimed Cuban novelist Leonardo Padura and directed by Laurent Cantet, best known for his Palme d'Or-winning The Class and Foxfire, won Best Film as part of Venice Film Festival's 'Venice Days' programme. The French Production Two Days, One Night, starring the excellent Marion Cotillard, won Best Film at Sydney. For the more adventurous filmgoer, the master director Roy Andersson's absurd, darkly comic and somewhat disturbing A Pigeon Sat on a Branch Reflecting on Existence – which won the Golden Lion at Venice – is highly recommended. Human Capital, which paints a grim portrait of Italy's economic demise, won its leading lady Valeria Bruni-Tedeschi Best Actress at Tribeca, as well as myriad prizes at Italy's Donatella Awards. Whiplash, about the relationship between an ruthless jazz master and an aspiring young drummer, was awarded the Grand Jury Prize at Sundance. And the 'science versus spirituality' drama I Origins won the Scientific Award at Sundance.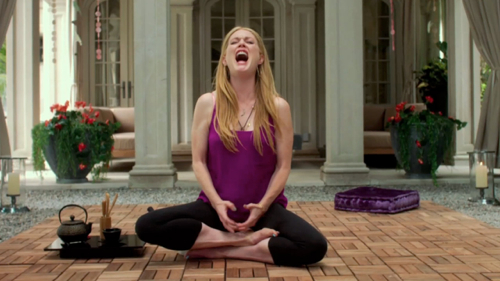 Still from 'Maps to the Stars'
American independent cinema is again highlighted with a few films of interest. Gregg Araki's latest, White Bird in a Blizzard, is a psychological coming-of-age story. The Drop is the final film starring the late James Gandolfini, and a very worthy crime drama. The hipster Palo Alto is the first feature written and directed by Gia Coppola (of the Coppola dynasty), based on a book by the actor James Franco. Expect long scenes and a fantastic score. David Cronenberg's Maps to the Stars, an interesting and rather depressing look at Hollywood, is set to become a cult classic and a much stronger offering than his previous two films. Cronenberg has the phenomenal Julianne Moore in the lead in this one and things are looking brighter (she won Best Actress at Cannes for her performance). And if you're a fan of either Clint Eastwood or Frankie Valli (or better still both), Eastwood's Jersey Boys tells the story of Frankie Valli and the Four Seasons, whose hits included 'Big Girls Don't Cry', 'Beggin'' and 'Can't Take my Eyes off of You'.
Still from 'Corn Island'
Disappointingly, there is not a single Turkish film, though the Georgian-German production Corn Island has been particularly praised for a performance by the renowned Turkish actor İlyas Salman. This almost dialogue-free film follows an elderly peasant (Salman) and his obedient grand-daughter through one farming season.
In Istanbul, each film will be screened a number of times and usually at more than one of the four venues: Atlas Sineması, Beyoğlu Sineması, CityLife in Nişantaşı and Rexx Sineması in Kadıköy. Tickets are now available from Biletix and booking is strongly advised as sessions will sell out. All international films have Turkish subtitles but not all have English subtitles – so do check on the Festival's website before booking.
The festival takes place from October 11 to 17, 2014.