The 18th-century portrait artist Jean-Étienne Liotard, depicted in this miniature self-portrait in the Royal Collection, is widely seen as the first Orientalist. The four years he spent in Turkey from 1738, drawing and painting Western merchants and diplomats as well as Ottoman citizens, made him the first serious European artist to find his subject matter in the East.
On his return to Europe, he used the flamboyant public personality he created as 'Le Peintre Turc' to build up his clientele. Wearing Ottoman costumes, with a flowing waist-length beard, he cashed in on Eastern exoticism. But with his works often in delicate pastel, portraits that hung in private family quarters rather than grand settings, Liotard's fame has long receded. Two major exhibitions in the UK this year, showing now at the Scottish National Gallery in Edinburgh and then travelling to London's Royal Academy in expanded form in October, aim to redress the balance.
For the nosy art historian, there are two curiosities. The first has been the conservation challenge of transporting nearly 40 fragile pastel works, loaned from across Europe. Two works offered from Qatar's as yet homeless Orientalist Museum, and others in the US, were ruled out mostly because of a 'no fly' rule. Secondly, the exhibition has revived the question of what work may have been lost.
An accompanying book sets out to reestablish Liotard's reputation with a series of essays exploring new scholarship on the artist. It is the expert Marc Fehlmann who questions how it is that with over four years in the Ottoman Empire, and ten and a half months in the Ottoman vassal state of Moldavia, 'only a small body of works – not more than eighty including prints after lost drawings – appears to have survived from this period of his career'. The hard-working Liotard might have produced twice this volume of work.
'There really is a question: did he lose half a portfolio on the way back from Constantinople? We just don't know,' says the curator MaryAnne Stevens, herself something of a legendary figure for staging 70 shows at the Royal Academy in a storied 35-year career. 'He was certainly pretty prolific and I'm sure he was making notes and studies throughout the entire four years he was there, and probably receiving quite a substantial number of commissions. Again, not many have survived.'
Liotard was born in Geneva in 1702, the son of a Huguenot refugee, only 20 years after a European coalition defeated the feared Ottomans at the gates of Vienna, and died in 1789, the year of the French Revolution. He trained partly in Paris, and worked there and in London, Constantinople, Vienna, Frankfurt and Lyons, a European cosmopolitan of his era. His Eastern travels played to the new and burgeoning fascination with the Orient and 'Turquerie'.
Liotard travelled to Turkey with the aristocrats John Montagu, 4th Earl of Sandwich, and the Hon William Ponsonby, Viscount Duncannon, who would become one of his greatest patrons, owning 72 works. They enlisted him 'to draw the dresses of every country they should go into; to take prospects of all the remarkable places which had made a figure in history; and to preserve in their memories, by the help of painting, those noble remains of antiquity which they went in quest of.' In Smyrna and for much longer in Pera, Liotard took portrait commissions from European diplomats and merchantmen, but also painted Ottoman men and women in domestic settings with a close and cool-headed accuracy. He found local colour in lighter sketches of Turkish musicians or 'The Dwarf Ibrahim'.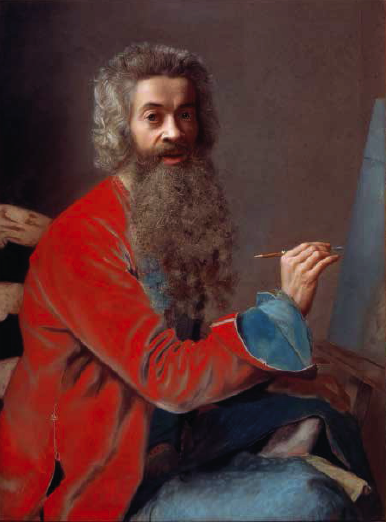 Self-portrait at the Easel, 1751 –52. Pastel on paper (several sheets), 97 x 71 cm. Musée d'Art et d'Histoire, Geneva, inv. CR 196
Setting up shop in London on his return, he styled himself in long beard, exotic hats and Eastern dress, using his own self-portraits to record an exuberant image that helped distinguish him from competitors plying the portrait trade. His contemporary Horace Walpole noted that 'from having lived at Constantinople, he wears a Turkish habit and a beard down to his girdle: this and his extravagant prices, which he has raised even beyond what he asked at Paris, will probably get him as much money as he covets, for he is avaricious beyond imagination.'
Edinburgh's Liotard show opened this month; in just three rooms of the lower floor of the Scottish National Gallery, it feels slightly truncated, but is impressive nonetheless.
Sir Everard Fawkener, by Jean-Etienne Liotard, 1738–40. Black and red chalk on paper, 22.6 x 17.4 cm; Norwich Castle Museum and Art Gallery
Few portraits of Ottomans are on show in Edinburgh, so Londoners will want to wait; but the works do include Sir Everard Fawkener, the British ambassador to the Sublime Porte, dressed in Oriental robe and slippers with local hat; and Laura Tarsi, 'a Grecian lady' from Liotard's circle in Istanbul, in watercolour on ivory with bright blue kaftan, vivid green and gold jacket and an uçkar belt with circular plaques, all rendered in perfect miniature.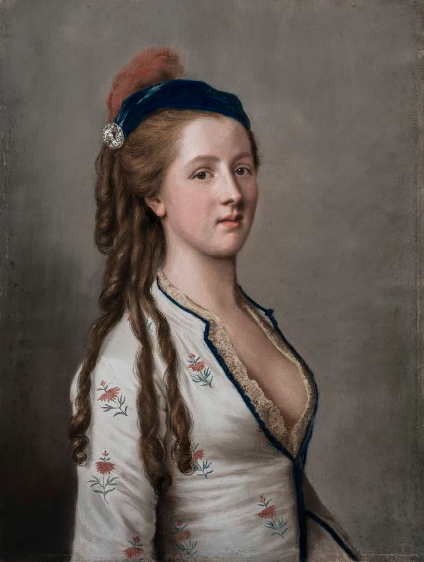 Lady Anne Somerset, by Jean-Etienne Liotard, 1755. Pastel on vellum, 61 x 47 cm; The Trustees of the Chatsworth Settlement, Chatsworth House
Other highlights in Edinburgh include this portrait of Lady Anne Somerset, with a teasingly cut dress 'a la turque', probably supplied from Liotard's own stock from Istanbul.
Richard Pococke, by Jean-Etienne Liotard, 1740; Musée d'Art et d'Histoire, Geneva
The imposing oil portrait of the English traveller Richard Pococke, painted after he'd been in Constantinople about a year, faces the visitor down a line of rooms, at life size or a little over. Liotard visited Büyükada with Pococke, the pioneer archeologist; in the painting his subject wears Turkish garb of 'blew linnen' lined with fur, bought in Izmir, with Seraglio Point and the Princes Islands in the backdrop.
The Liotard exhibitions run from July 4 to September 13 in Edinburgh, with 53 works, and in an expanded version, with 77 works, at the Royal Academy in London from October 24 to 31 January 31, 2016.