There are certain benefits to befriending a pistachio trader, as Serra Taşkent discovered during one of the many childhood summers she spent on Büyükada at the Splendid Palas Hotel – built by her great-grandfather in 1908. There she used to enjoy walking around the tables during dinner service, chatting to all the guests. On one occasion she approached a man who was sitting at a table by himself – an odd sight in a place where people usually ate in groups – and began talking to him. 'Of course my mother showed up a few minutes later and said, "Come along, let the man eat in peace,"' she remembers. But he told her mother that he was alone, and was enjoying her company.
Four days later, several huge bags of pistachios arrived – a luxury in those days – addressed to Serra. Apparently, the man she had befriended at dinner was a trader. Serra reckons that she had probably told him about her daily trip to the market to buy 100 grams of pistachios for her father to enjoy with his nightly drink. 'Next thing you know, this guy sends these sacks of pistachios to us,' she says with a laugh.
The Splendid Palas Hotel, with its twin cupolas. Photographs by Monica Fritz
Serra's tales of growing up in a sumptuous island hotel immediately bring to my mind the Eloise series of children's books by Kay Thompson, in which the mischievous Eloise lives in the penthouse suite of the Plaza Hotel in New York City and runs amok in the luxurious surroundings. It's tempting to imagine the young Serra as Eloise incarnate.
Yet the comparison does not stand up to scrutiny. Whereas Eloise uses the Plaza as her personal playground, irritating staff and visitors alike, Serra describes a childhood where the fun and games were restricted to the family's apartment on the top floor. 'I was a very talkative child, but we were raised to be discreet with everyone. We were not allowed to run, not allowed to chat too much, not allowed to dress poorly in the hotel,' she explains. 'And we couldn't ask for anything from the hotel's waiters, not even a glass of water.'
Serra depicts a Splendid Palas that was both decorous and intimate. In those days it served as part summer residence, part short-stay hotel, with many a guest returning year after year to spend their summer months on the island.
Many of these often elderly guests wintered elsewhere – in the United States, Italy, Greece – but flocked back to Büyükada in the warmer months to see their families and preserve their connection to this wondrous place. Playing backgammon, organising card tournaments, singing in the salon, hosting dinner parties… they relished the chance to be together, and their élan was magnetic. According to Serra, the hotel was 'the life of the island'.
Despite developing a professional career totally unrelated to the hotel and spending less and less time on the island, Serra found herself drawn back into its orbit after joining the family firm, Hamamcıoğlu, in 2001. By this time the Splendid Palas hadn't been renovated in years – if not exactly in a state of disrepair, it was certainly on its way there – and Serra gradually began organising small repairs: 'Nothing decoration-wise, only changes to make the building safer. We were changing the windows, the balconies, the carpets, the walls…'
Around four years ago, though, Serra's family came to a crossroads with the Splendid Palas, which was looking worse for the wear. Would they renovate it completely? Would they sell it?
After mulling it over, Serra says, 'We said no, let's try to fix it because this is our home.' If there was any uncertainty about whether they had made the right decision, it was soon put to rest.
While renovating the bathrooms on the first floor, Serra looked high and low for decorative ceramic tiles – she wanted something different from the marble-effect tiles currently in fashion – and ultimately picked one with a geometric design of circles and triangles in dark blues and reds. When the renovations were almost complete, one of the rooms had a problem. 'So we had to dig down deep,' Serra says. 'And when we did, we found a tile from 1908 that was the exact copy of the one I had chosen. I'd never seen this before; no one had seen this before. Years ago they did that bathroom like that. It was amazing.' She shows me pictures of the tiles on her phone, and they're eerily similar. She pauses, then resolutely declares: 'I decided then that it was fate.'
Yet when it came time to redo the interiors, Serra felt that the job went beyond her skills: 'I'm not an architect, I didn't have a vision.' She struggled to find a designer whose vision chimed with hers and wouldn't risk spoiling the hotel's charm. By a stroke of luck, Serra's brother met his old friend Luc Lejeune of Noor Design while on vacation in February 2015. Within three days Luc was on a flight to Istanbul, and soon after had drawn up plans for the redesign.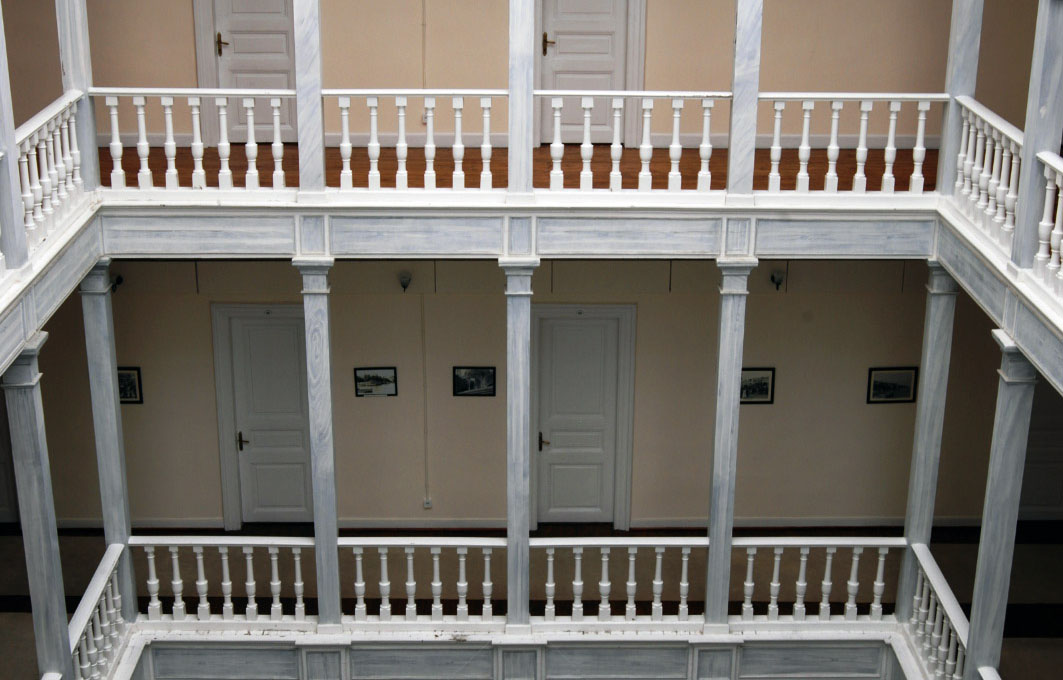 Work began in the middle of March 2015 and the hotel re-opened on April 15 – a very quick turnaround. Serra continued to add a chair here, a desk there, right up until the end of the summer. They were still fine-tuning even after the start of the 2015 Istanbul Biennial in September, during which William Kentridge's video installation 'O Sentimental Machine' was displayed on the first floor.
A corner of the bar, with a photograph of Sakızlı Kazım Pasha, Serra Taşkent's great-grandfather, who built the hotel in 1911
The result is a contemporary reinterpretation of old-world splendour – it still has a certain faded grandeur, but with less emphasis on the 'faded'.
The common areas have been transformed into clean, crisp, bright spaces with white walls and long, gauzy curtains. Breakfast is served in the hotel's finest crystal, and refurbished furniture from the original Pera Palace adorns the entrance and salon. 'We want to remind people of the old days but with new luxuries,' explains Serra. 'And we've found that the small touches make a huge difference.'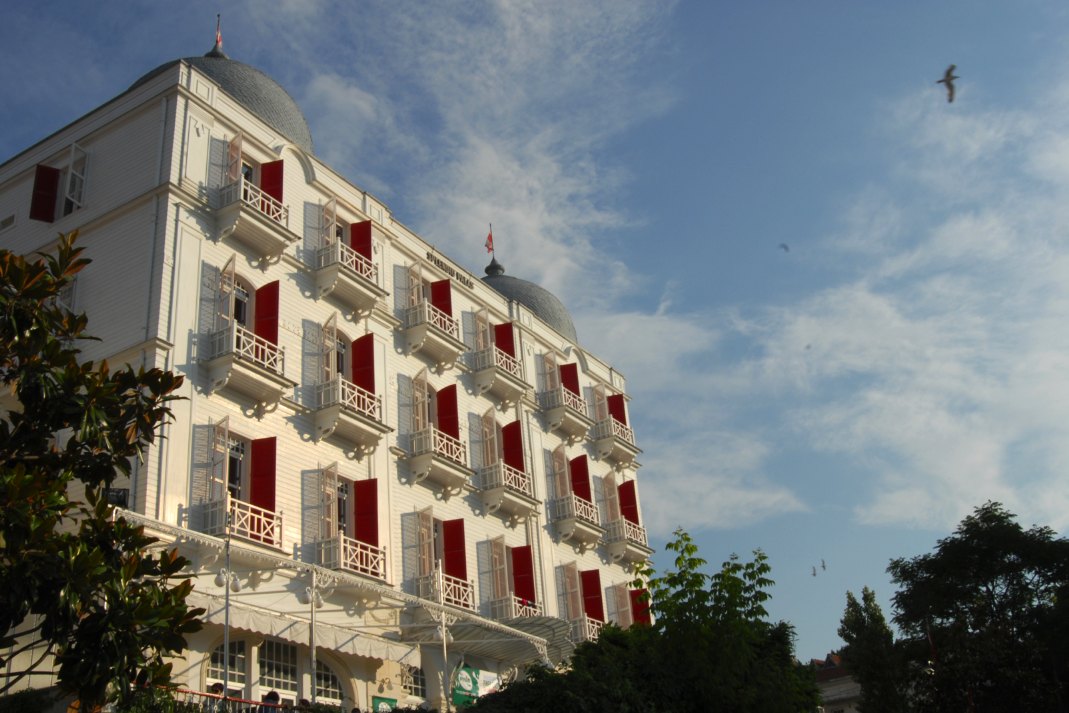 And indeed, despite being only 74 rooms, this feels like a grand hotel, one that harks back to the Splendid Palas of Serra's childhood – a cherished island enclave that melds luxury and homely hospitality.
The Splendid Palas Hotel is closed for the winter season and reopens in April 2016. Online bookings can be made through Cornucopia. Visit the Cornucopia Hotels Collection.