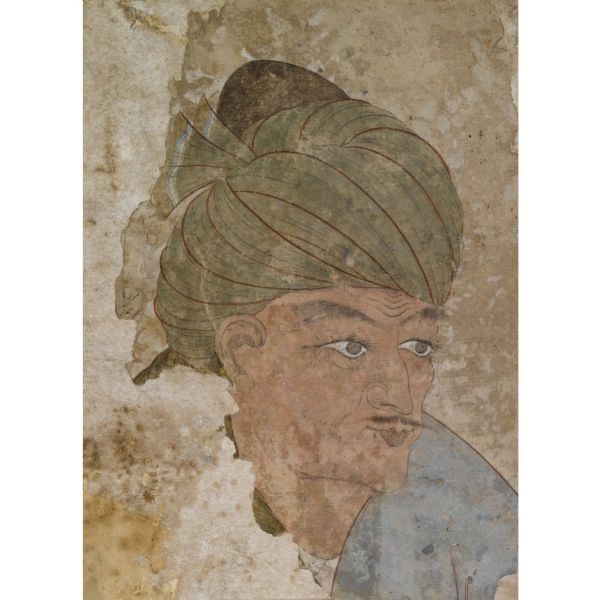 In what promises to be a sparkling Islamic Week at the London auction houses this April, the star turn will undoubtedly come from the Stuart Cary Welch Collection. On 20 March there will be a discussion of the collection at Sotheby's New York branch, in conjunction with Asia Week New York. Convened by the Metropolitan Museum of Art's Navina Haidar, the discussion will feature panelists Sheila Canby, Terence McInerney and Anthony Welch. Entitled "Stuart Cary Welch, Scholar, Curator, Collector: His Life and Legacy", it will be of great interest to collectors and beginners alike. It is also accompanied by a preview of selected works from the sale.
The collection itself is a veritable cornucopia of treasures. A leaf from the Shah Tahmasp Shahnameh (lot 78, above), described as "arguably the greatest illustrated manuscript ever produced, in any culture", is estimated at an eye-watering £2-3 million. Depicting the legendary King Faridun disguised as a dragon to test his sons, it was created by an assembly of the greatest Persian miniaturists and other artists of the book in the mid-sixteenth century. Later, it was considered a worthy gift for the Ottoman Sultan Selim II (r.1566-74), and in the twentieth century it came into the possession of the Barons de Rothschild. A somewhat less expensive but considerably more enigmatic item is the portrait of a man in a green turban (lot 35, top, est. £50-80'000). It is rather reminiscent of the Ottoman pieces executed in the late fifteenth century under the influence of Gentile Bellini - indeed, Cary Welch offered the possibility that it might be the work of Bellini himself. However, it also offers tantalising parallels with Central Asian wall paintings and Persian portaiture, making its exact origins a source of heated conjecture. There are also pieces for first-time buyers as well as big spenders; two lovely stencilled leaves, made in Turkey around 1600 (lot 48) are estimated as low as £150-250. If you can only make it to one of the London sales, make sure it's this one.
Sotheby's New York, 1334 York Avenue at 72nd Street. Sunday, 20 March, 10.30 am. Sotheby's London, 34-35 New Bond Street, W1A 2AA. Wednesday, 6 April, 10 am.