Dolphins joined the 12-strong fleet of extreme sailing catamarans close to the shore at Yenikapı as the Istanbul Extreme Regatta got underway, and they were not the only things that were flying out of the water. The Extreme 40 catamaran was designed to maximise excitement for spectators; about as light as an old Mini Cooper and extremely responsive, speeds can reach 30 knots and the acceleration can be staggering. Collisions, dismastings and fantastically well matched boats would have ensured some memorable racing for the most detached of spectators, but this is also the first time that a Turkish boat has entered the series, and the applause from the crowd as TeamTurX crossed the finish line must have added a knot or two.
Twelve boats from around the world are taking part in the Istanbul series, which largely consists of short races around buoys laid just outside Yenikapı harbour. The Turkish team was founded by Edhem Dirvana, who drove them, after just two weeks training at Tuzla and Yenikapi, to hold their own against legends of sailing including Sarah Ayton, Anna Tunnicliffe, Sir Ben Ainslie and Franck Cammas. Perhaps it was local knowledge that allowed them to sneak up a line of wind to take line honours with aplomb during the second day of sailing; certainly winds were flukey and light, in stark contrast to the day before, when Alinghi (SWZ) and Groupama (FRA) pushed too hard and heard the sickening crunch of their carbon-fibre masts crumpling in gusts of up to 20 knots.
TeamTurX also came out well of the Saturday race down the Bosphorous, steaming downwind under the Bosphorous bridge to finish fourth behind RealTeam (SWZ). The sight of the catamarans replacing the usual Bosphorous traffic, which had been stopped specially for the occasion, is sure to inspire an exponential growth of interest in competitive multihull sailing in Turkey, which until now has been a little becalmed. 'Yacht clubs encourage children to learn on unihulls, and catamarans are seen as not glamorous enough for the big boat enthusiasts,' explained an onlooker. Few could deny the power of racing this good, however, with nerve-clenching twists in every race. The Wave, Muscat (OMN) leads at the moment, but everything could change in the last day of racing today. Racing begins at 2pm at Yenikapı. Catch it while you can...
For those who cannot make it to Yenikapı (easily accessible now by metro), live footage of today's race is available online at www.extremesailingseries.com.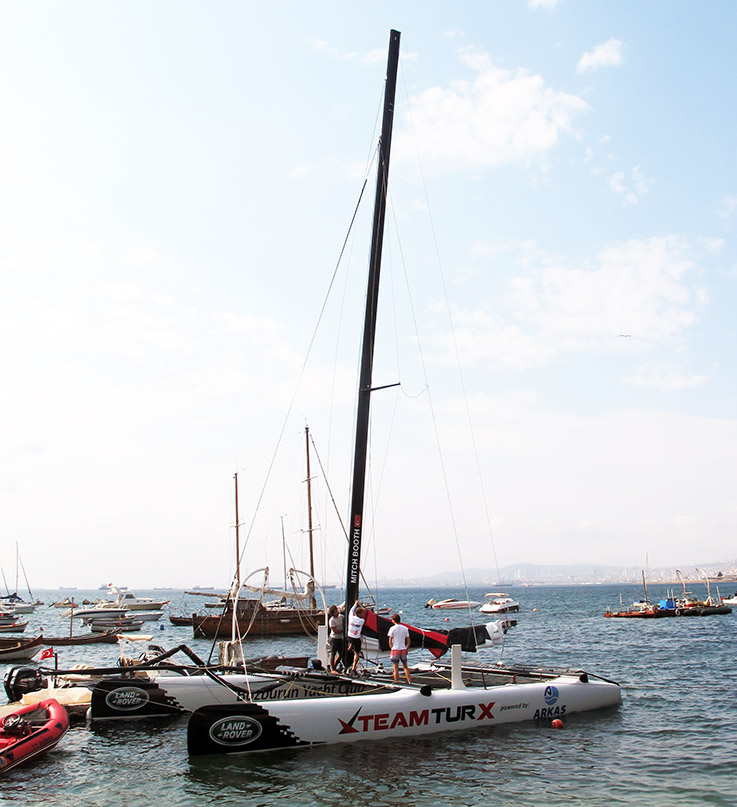 The Team Turx catamaran at the Tuzla Yacht Club, where Edhem Dirvana's Turkish team trained in the run up to their first international competetion. The club is also home to Istanbul's 12-Footer Championships.